Duo Recital at Chandler Hall Launches New CD
There was some tension: would the new CD arrive in time for the recital on August 13, 2011 at Chandler Recital Hall? Guitarist Anibal Acosta produced the new CD Thrum and performed with Stephen Walsh who played piano and recorder. The other member of the trio on the CD, violist Anastasia Migliozzi, was busy with another performance but came late to the reception at the Walsh's home.
As part of an audience of over 50 listeners we heard a fine selection of chamber music from the 18th and 20th centuries. The opening Sonata in G Major by Johann Christoph Pepusch for guitar and recorder was mostly lighthearted with a somber third movement and a dance tune finish. Pepusch was born in Berlin in 1667 and was mainly self-taught. He settled in London in 1704 playing viola and harpsichord in the Drury Lane Theater where he composed music for operas and masques. We know him as the composer of the overture from Gay's The Beggar's Opera. Mr. Acosta mentioned the idea that this growing audience for English musical theater helped create difficulties for Handel in promoting Italian opera in London. According to the Grove Dictionary there seems to have been no animosity between them. Pepusch composed many sonatas, one of which we heard, and lived to be 85 in London teaching at the Academy of Ancient Music where he was a founding member in 1726. The title was revived by Christopher Hogwood in 1973 for an early music ensemble which has made many recordings.
Mr. Walsh moved to the piano for two solo songs by Leroy Anderson (1908-1975), a New England composer of light music. His very famous The Syncopated Clock and the pretty, romantic The Girl in White Satin carried some of us back to Boston Pops Orchestra concerts on early TV.
A piano and guitar performance of Divertimento by Franz Josef Haydn (1732-1809) came next. Haydn, the father of the symphony, who perfected the sonata form, wrote the piece for cello trio. There is a fresh, straightforward sound in this music. The lively first movement gave way to the conversational dance-like tune of the second. The presto final movement had lively lines passed back and forth between the instruments. We have developed a new-found enthusiasm for "Papa" Haydn's music this year and this experience added to it.
After intermission we heard an obscure composer, Bohuslav (Jan) Martinu (1890-1959), a Czech who went to Paris to study with Roussel in 1923. He remained in Paris until 1940 when he escaped to Portugal and in 1941 settled in the United States where he composed five symphonies, commissioned by Koussevitzky. He lived out his last six years in Italy, France and Switzerland with a year at Curtis Institute (1955-56). His impressionist music is full of rhythmical energy and imagination. We heard Loutky (Marionettes) (1912-24) for solo piano. The four movements are characterizations of Commedia del' Arte puppets: Divadlo, Zastavenícko (a man about town) and Columbina (a complex young lady, she was). The second movement is a sentimental waltz for puppets to dance. A treat for a summer afternoon, it was charming, lightly scored and entirely tonal, all with a sense of Czech folk inspiration. Martinu is a composer who deserves to be better known. He devoted his life to composition, seldom edited his output and was not much concerned with its being published or performed. I suspect that there are unknown treasures to be discovered.
Leaving the 20th century and returning to the 18th we heard works for solo lute by John Dowland (1563-1626): three dances and his best known piece, Lachrimae, also known as Cry my tears when sung. Using a capo to change the instrument's tone, Mr. Acosta created a lute-like sound. Mr. Walsh commented "Have you noticed how much time Aníbal spends tuning?" Mr. Acosta: "It's all ambiance."
The last section was Celtic Duos on four anonymous tunes with sounds ranging from sad to forlorn except for a fast, flashy dance tune. Mr. Walsh played recorders, some treble, some bass, to accompany Mr. Acosta's guitar. This set can be found on their just off the press new CD, Thrum.
Also on the CD you will find 2 sonatas in a minor, one by Jean Baptiste Loeillet de Gant (c.1688-1720) and another by G.F. Händel (1685-1759). Staying in a minor key there is Georg Philipp Telemann (1681-1767) Trio in a minor.
The first and last selections on the CD are by J.S. Bach (1685-1750): Trio Sonata I, BWV 525 and Trio Sonata III, BWV 527. The sound of the recording is fresh and natural as if the players are in my listening room. Stylish tempos move at a good pace and the balance of viola, guitar and recorder is pleasant. It's a sound that carries us back to a time of less intensity and stress than our present age.
The food and conversation of the reception rounded out a perfect summer afternoon spent inside, out of the downpour.

Summer in the City
Chamber Works at Chandler Hall
Anastasia Migliozzi, viola; Aníbal Acosta, guitar;
Stephen Walsh, recorders & piano; Daniel Walsh, marimba
Chandler Hall, July 20, 2013
Review by John Campbell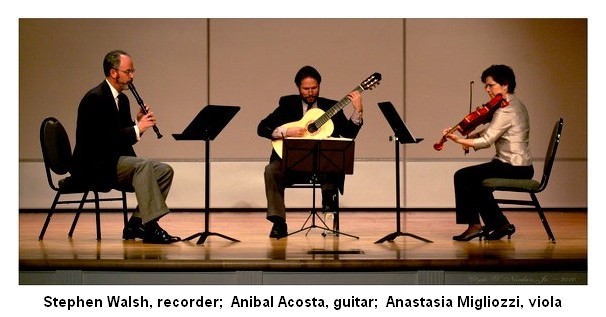 While outside the temperature was soaring, some fifty listeners gathered for an unusual chamber music program in a cool Chandler Hall.
Stephen Walsh gave a brief introduction to the music of Georg P. Telemann (1681-1767), the most prolific composer of all time. With guitarist Aníbal Acosta and Mr. Walsh on alto recorder they played Sonata in A with its four movements: the measured tread of Siciliana followed by the bubbly opening of Spirituoso, light-hearted Andante ending with the dancing recorder joined by gentle guitar tones in the Vivace.
In duet with violist Anastasia Migliozzi, Mr. Walsh played piano in Album Leaves, Op. 39 by a Bohemian violinist, Hans Sitt (1850-1922). Cool music for outrageously hot weather - think of turn-of-the-century parlor music of the pressed leaves variety - emotionally evocative with a tear to end. The second, Andante, movement created a lovely sense of emotional loss followed by a spirited, energetic Allegro to round out the experience.
Marimbist Daniel Walsh was guest artist and played with his father, Stephen Walsh, on recorder in Duet in d by Jean Baptist Loeillet (1680-1730), a Belgian composer, flautist and harpsichordist who introduced the transverse flute to London. Duet in d was written for two recorders. This was the premiere performance of this arrangement with marimba. The sharpness of the recorder was mellowed by the soft, percussive second voice, sometimes in duet, at others, one the echo of the other. It was sweet music-making!
Back at the piano after intermission, Stephen Walsh played Six Variations on an Arietta by Paisiello composed by Ludwig van Beethoven. These Variations are one of some thirty sets composed by Beethoven and are based on an opera aria, "Nel cor piu' non mi sento." Mr. Walsh played with a relaxed confidence. Moving from a simple statement of the theme to the richer and more complex variations, the pianist met the challenge to the piece's moderately dramatic ending.
Billed simply as Music of Argentina, Aníbal Acosta played four popular Argentinian songs on guitar in his own arrangements. They were lovely, emotionally evocative songs that seemed familiar but without details in the program. Afterward Mr. Acosta gave us the song titles and translations. Googling the titles turned-up the following:
1. Se equivoco' la paloma (The confused dove). Carlos Guastavino (1912-2000) set the popular poem in 1941 as part of his song cycle (Canciones populares) of popular songs. It turns out we have this on CD.
2. Por una cabeza (By a head) is a tango by Carlos Gardel from 1935 and was used in the movie Scent of a Woman. The title is a horse racing term used by the singer comparing the women in his life. It is a happy love song.
3. El dia que me quieras (The day that you love me) is also by Gardel from 1935.
4. El Choclo from 1903 has music by Angel Villoldo. The title translates as "Corn" or "Ear of Corn" or "Corncob," the nickname of the nightclub owner written about by Alfredo Lepera in the song's lyrics. It has been recorded by many popular singers, including Nat King Cole. We'd love to hear this set of Argentinian songs again.
The final piece, the Telemann Trio Sonata in C, was delightful. Telemann did counterpoint skillfully and wrote charming music. A few rows in front of us sat a middle aged man. His subtle body movements and huge smile said it all. If you missed the concert or want to see it again, the Acosta, Migliozzi, Walsh Trio will perform this sonata on the first Norfolk Chamber Consort program of the season on September 16, 2013.
Printable Version

Back to Top
Back to Review Index
Home &nbspCalendar &nbspAnnouncements &nbspIssues &nbspReviews &nbspArticles Contact Us