Lucia di Lammermoor by Gaetano Donizetti
Opera della Riva
Hungars Episcopal Church, Machipongo , Virginia
Sunday, July 27, 2014
Review by Jane McCullough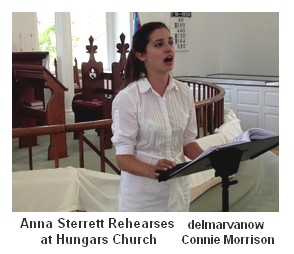 Yes, Virginia, there is a future for the "dying art" of opera, and it is in one of the most unlikely places – the Eastern Shore. The new concert opera company, Opera della Riva (Opera of the Shore) presented its first production at the beautiful and historic Hungars Episcopal Church in Machipongo. A dying art in a small town? Indeed. The church was filled almost to capacity with people who were hungry for this 600 year old art form.
Pianist Stefan Dulcie played the difficult bel canto score with strength and sensitivity, sometimes saving the day when the less experienced cast members lost their way. Jack Womble (the real-life father of our Lucia) started the ball rolling as Normanno with his hefty tenor sound. And then the drama truly began.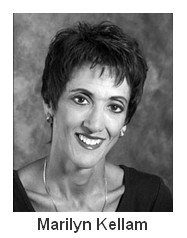 Lucia, sung by the petite and beautiful Anna Sterrett, and Alicia, sung by the Virginia Opera Chorus veteran, Marilyn Kellam, started to bring the life and drama to the score, even though they were behind music stands. Ms. Sterrett's Regnava nel Silenzio, was tenderly sung with beautiful line and effortless coloratura passages.
As Lucia's politically motivated brother, Enrico, lyric baritone Adam Piper was just shy of being, appropriately, a cold character. He was vocally consistently beautiful, but most impressive when singing in his upper range. Bass-baritone, Richard Williams, brought a sympathetic character with a big voice to Lucia's confidante, Raimondo.
The young tenor, Benjamin Legaspi, was somewhat "overparted" as Lucia's doomed groom, though he shows great vocal potential. As Edgardo, Lucia's true love, John Fleming-Wood seemed under-prepared for the role, but had some moments of vocal beauty in his final aria.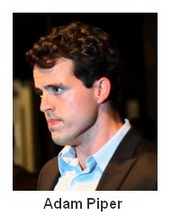 The most important moment in this opera is Lucia's "Mad Scene" after she has stabbed her groom to death in their wedding chamber. This scene alone was worth the price of the ticket. Ms. Sterrett appeared frail and pale; swooning as she sang one of the most difficult arias in operatic repertoire. Her legato lines were heart-tugging, her staccato passages were spot-on, and, to help matters, when she sang her cadenzas which imitated a bird, there was a bird flying about just behind the large window of the altar. Did someone call central casting?
Overall, the performance was extremely effective and very welcome to an area that is somewhat removed from the many artistic opportunities the general Tidewater area has to offer. I hope and trust that Opera della Riva will build on this first success and bring more high-level music to the Shore.

Katie Luther, A New Opera by Glenn Winters
Sung by Soprano Elizabeth Medeiros Hogue with Pianist Ruth Winters
Reformation Lutheran Church, Newport News, October 26, 2014
Review by John Campbell
Glenn Winters' opera Katie Luther was premiered in Baltimore on October 27, 2013 by Elizabeth Hogue and has been performed since in Albuquerque and St. Louis. In this monodrama the known facts are enhanced by a plausible scenario written by Winters based on common human emotions expressed through the voice accompanied by piano.
Martin Luther(1485-1546) was born in Eisleben, Germany. He entered the University of Erfurt where he completed his BA in 1502 and a MA in 1505. He studied to be a lawyer but was drawn to the study of the scriptures and spent three years in the Augustinian monastery there. In 1507 he was ordained as a Catholic priest and went to the University of Wittenberg where he lectured on philosophy and scriptures becoming a powerful and influential preacher.
Katie was born Katherine von Bora (1499-1552). She was a German Catholic nun. From age six she lived in the Cistercian Convent of Nimptshen, near Grimma. Having adopted Lutherine doctrines she ran away from the convent in 1523, and married Martin Luther in 1525.
Written in three scenes, the opera is a little less than an hour long. Soprano Elizabeth Medeiros Hogue is an emotionally expressive and powerful singer; she was accompanied by the accomplished collaborative pianist Ruth Winters. Ms. Hogue, in a black lace floor-length gown with a black shawl and a prominent cross necklace, sings of her anguish because she cannot pray. She tells us of her planned escape from the convent. Her thoughts turn to Martin Luther, who has arranged an escape at the nuns' request. (In fact, twelve nuns were smuggled out in herring barrels.) Setting aside her fear she affirms her faith in God. The piano reflects clearly the unsettled emotions and their triumphant resolution.
The second scene is built around the translated text and re-imagined melodies of A Mighty Fortress is Our God woven into a story of her longing for love in a marriage where she fears she is only a helpmate. Here the dramatist departs from the facts, giving us a ditsy housewife complaining about her absent-minded professor husband with the contemporary clichéd jokes that elicited a laugh, perhaps thought necessary for a general church audience.
It was a jarring contrast for the woman in the first scene with her deep sense of vocation and great admiration for the man who is now her renowned scholarly husband. As a point of fact, it seems that Luther's aversion to marriage was his fear of leaving behind a widow because "…I daily expect the death of a heretic." They married on June 13, 1525 and their first child, Hans, was born a year later when Katie was 27 and Luther was 42 years old. In a letter two months after they married, he wrote: "My Katie is in all things so obliging and pleasing to me that I would not exchange my poverty for the riches of Croesus."
The music of the second scene was lovely and Ms. Hogue's singing of the hymn texts was superb as the separate verses were woven into the story. She was overjoyed to find Luther's letter to a male friend proclaiming his love for her, leading into the triumphal final verse with renewed vigor and power.
As scene two ended, Ms. Hogue sat down in a chair several feet from the podium with her back to the audience. After a pause she rose, transformed by posture and expression into an old woman in pain. Seven years a widow, she has been mortally injured in a carriage accident while fleeing the black plague rampant in the city. In anguish, she prays to be reunited with Martin, humbly accepting God's presence with arms outstretched. She sings of fighting to keep her children and reads a letter to the King of Denmark, asking him to continue the allowance he gave Luther. She had continued farming as she had during Luther's life, but she complained that both crops and animals had failed. Luther's hymn From the Depths of Woe I Cry for You, on a text by Elizabette Terga, was delivered in near delirium. Her life was complete.
The large audience responded most enthusiastically. In his extensive introductory remarks Glenn Winters announced that Katie Luther is being considered for the 2017 Wittenberg Festival in Germany.
Printer Friendly
Back to Regional Opera
Back to Issues Home &nbspCalendar &nbspAnnouncements &nbspIssues &nbspReviews &nbspArticles Contact Us