Articles
Quintiliani Wows Washington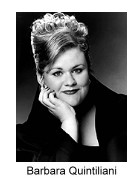 &nbsp&nbsp&nbsp&nbsp&nbsp Governor's School for the Arts graduate Barbara Quintiliani and former student of Alan Fischer sang her debut performance of Elettra in Idomeneo at Washington Opera on November 17th. Alan tells us that "she really is the real thing, too! I was at this same performance and was just amazed at her performance. I've never seen an opera singer 'born' before, and having had some part in her development and love of and for the art, it is a really nice feeling."
&nbsp&nbsp&nbsp&nbsp&nbsp Genevieve McGifffert tells us "Mike & I were at her first performance on Sunday afternoon . . . She was terrific. . .We waited until the curtain calls to leave, and the greatest applause was for her (I admit Placido hadn't come on yet!)."
Joseph McClellan's Review in the Washington Post
'Idomeneo' Cast Change
Soprano Barbara Quintiliani took the role of Elettra, daughter of the Greek war commander Agamemnon, in two performances of the Washington Opera's "Idomeneo", which has just finished its run in the Kennedy Center Opera House. Quintiliani is a member of the company's Young Artist Program of the Americas, and her performance in this, her first major operatic role, is eloquent testimony to the value of that program. Saturday night's audience, which applauded her warmly, saw the beginning of a significant operatic career.
Through most of this rather static opera, Elettra is not the liveliest of roles; she is the third -- and losing -- side of a love triangle with Idomeneo's son, Idamante and the Trojan princess Ilia. She has a bit of recitative, which Quintiliani sang with verbal clarity and fine dramatic sense; she also has arias in each of the three acts. The first two are well crafted but not exceptional, and Quintiliani handled them intelligently, gracefully and eloquently, with glowing tone and fine musical instincts.
The Act 3 aria is something else. A pouring out of rage and disappointment for lost love, it looks far ahead into the young Mozart's future, anticipating the kind of music he would give to the Queen of the Night in "The Magic Flute." Quintiliani took its challenges as opportunities; for the length of the aria, at the end of which Elettra collapses and dies, her voice and gestures dominated the stage and held the audience transfixed.
Spring 2004 Update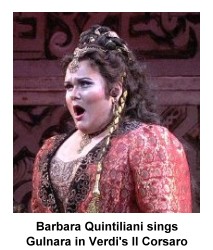 &nbsp&nbsp&nbsp&nbsp&nbsp Barbara Quintiliani began her climb to stardom at the Governor's School for the Arts and credits the program and her teachers with giving her a firm foundation on which to build her career as a singer of art song and opera. Here is her most recent note to Artsong Update:
&nbsp&nbsp&nbsp&nbsp&nbsp ... I am making my Weill recital hall debut next week! Wed. Jan. 28 at 5:30 as a part of "The Song Continues". This is the 10 year anniversary of the Marilyn Horne Foundation. I will be performing works of Strauss, Poulenc, and Beach. Last week I did a residency in Tennessee under the auspices of the Marilyn Horne Foundation, I did a number of outreach engagements to high school kids and I gave recitals at Austin Peay University and Tennessee Tech! I have also just finished my time as a Young Artist at the Washington Opera. I was very lucky that they let me out of my contract early...I was not supposed to be out until May! I had so many job offers I had to leave...I will be singing Gulnara in Verdi's Il Corsaro for the Sarasota Opera in March, and Luisa in Luisa Miller (Verdi) for Opera Boston in April and May. In June I will make my Carnegie Hall debut with the Buffalo Philharmonic. Joann Falletta will conduct and I will sing Barber's Knoxville and the Three Poems of Fiona McLeod by Griffes. I hope you are both well! I enjoy getting your newsletter, especially when I am on the road! It makes me feel at home!
See review of Barbara Quintiliani:
2002 Art Song of Williamsburg
2004 Art Song of Williamsburg
Governor's School for the Arts

Back to Top
Printer Friendly Format
Home &nbspCalendar &nbspAnnouncements &nbspIssues &nbspReviews &nbspArticles Contact Us