Articles
Homage to Jean Berger
by John Campbell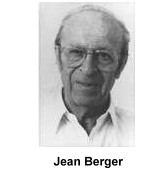 &nbsp&nbsp&nbsp&nbsp&nbsp On May 28, 2002 the internationally known composer and teacher Jean Berger died of a brain tumor. Dr. Berger was born into a Jewish family in Hamm, Germany in 1909. He studied in Heidelberg and at Vienna University from 1928-1932. After he received his doctorate degree from the University of Heidelberg he worked as an assistant conductor at the Mannheim Opera. The year was 1932 and he was "physically removed from the theatre by four brownshirts." (Triangle Magazine, p. 13. Summer 2002).
&nbsp&nbsp&nbsp&nbsp&nbsp From 1933-1939 he lived in Paris and learned French and toured throughout Europe and the Near East as pianist and accompanist. In excerpts from correspondence between Billye Brown Youmans (BBY) and Jean Berger that she titled "Remembrance of My Dear Friend Dr. Jean Berger" are some stories that give the flavor of this period and the mind of this highly creative human being.
"on singing in one's native language"
&nbsp&nbsp&nbsp&nbsp&nbsp "I remember a time when the song recital WAS a major concern in the world of music. My first invitation when I moved to Paris, was to coach and accompany a Parisian singer in Schubert songs, since she had heard of my studies at Heidelberg. When we got together, she pulled out "Gretchen am Spinnrad" but not in the original, but as 'Marguerite au rouet'. It would have been unimaginable to sing it in German, . It was ONLY during those years when singers - great singers - performed in the language of their audiences that the song recital flourished….. As a child, I knew the passage from Carmen as 'Die Liebe vom Zigeuner stammt', and never thought that it might "have lost in translation", since hearing it in French would have been a total loss."&nbsp&nbsp&nbsp&nbsp&nbspFrom a letter to BBY, March 11, 1997
"on the art of art song"
&nbsp&nbsp&nbsp&nbsp&nbsp "I recall an evening when a very mature lady - Claire Croiza - gave a recital, for years it had been said of her: 'she has no voice and what she does have is ugly'. Croiza gave us a recital of Fauré and Debussy. But I, as all present, walked out in a trance. We had been 'given' the songs, to perfection. It is all in a gesture, a minute movement of the eyebrow, an inclination of the head as though in thought. But all this cannot be improvised. The more improvised it seems, the more studied it has to be. This cannot be learned without a teacher." &nbsp&nbsp&nbsp&nbsp&nbsp From a letter to BBY, June 28, 1991.
&nbsp&nbsp&nbsp&nbsp&nbsp In 1939 Jean Berger went to Rio de Janeiro as an assistant conductor of the Treatro Municipal and was on the faculty of the Conservatorio Brasileiro de Musica. He learned Portuguese and toured throughout South America.
&nbsp&nbsp&nbsp&nbsp&nbsp In May of 2000 in a recital titled "Two Divas" Billye Brown Youmans sang his five-song cycle Villanescas in Spanish at the Chrysler Museum Theatre. The fourth song of this cycle is El Despechado. "The high voice version in El Despechado was added, ages ago, at the request of Bidu Sayão , the wonderful soprano of the Met. Bidu gave the first American performance of the Villanescas. And it was during our most animated rehearsals that, one day, she let fly with the final vocalise which was so exactly what suited the ending of the song that I incorporated it as an optional finale." &nbspLetter to BBY, October 1, 1990.
&nbsp&nbsp&nbsp&nbsp&nbsp There is a set of Two Vocalises in the Berger catalogue of art songs. During his last visit to Tidewater in January of 2001, Rita Addico-Cohen beautifully sang Cantiga. "In Cantiga the articulation is entirely left to the singer, as it is also in Etude. If you are comfortable with a continuous 'a', so be it. In addition to their Brazilian folkloric origin both pieces have the sort of sensual character which, would make a variety of vowels quite desirable, from 'o' or 'u' to 'm', i.e. humming - all of this depending entirely on the mood, the voice and temperament of the singer. At best, a score is not much more than a blue-print for the performer. In the case of a vocalise, the "blue" of the blue-print is the merest light blue conceivable. It's all yours." &nbsp&nbsp&nbsp&nbsp&nbspLetter to BBY, September 29, 1990.
&nbsp&nbsp&nbsp&nbsp&nbsp Billye adds: "In 1992, on a recital tour with Jean, he played both the Vocalises and the Villanescas for me. His playing was nearly flawless in these fiendishly difficult pieces."
Berger comes to the United States
&nbsp&nbsp&nbsp&nbsp&nbsp In 1941 with great trepidation, Jean Berger came to New york City. Very soon he decided to stay. In the following year he was drafted into the army. He became a U.S. citizen in 1943 and worked in the Office of War Information as a producer of foreign language broadcasts and USO Camp Shows seen in all theaters of the war.
&nbsp&nbsp&nbsp&nbsp&nbsp After his war service, he did arranging for CBS and NBC and concert accompanying. In 1948 he began a new career as a teacher. For the next twenty years he taught first in Middlebury College in Vermont and then at the University of Illinois in Urbanna, the University of Colorado in Boulder and finally Colorado Womans' College in Denver.
&nbsp&nbsp&nbsp&nbsp&nbsp In Triangle (Summer 2002) the magazine of Mu Phi Epsilon music sorority we find a story of Berger's phenomenal memory for music. While preparing for his music history classes at the University of Colorado, he would look through his collection of scores the night before, selecting sections he planned to play for the class. "The next day he could simply sit down and play them from memory" recalled a former student.
a traveling musical ambassador
&nbsp&nbsp&nbsp&nbsp&nbsp He lived in Denver the rest of his years but starting at age 62 and for the next 30 years worked as a traveling musical ambassador, presenting lectures and seminars on American music at universities and conservatories: Cambridge, Oxford, Glasgow and schools in Germany, Brazil, Portugal, Holland and the United States.
&nbsp&nbsp&nbsp&nbsp&nbsp In 1975-1976 he met Billye Brown Youmans when he came to Belmont University in Tennessee where she was a student. Several years later when they once again met at Belmont, she asked for a private coaching and they found, as he phrased it "they were in the same orbit." They did a "little" recital tour together in the South where she sang his music to his accompaniment.
&nbsp&nbsp&nbsp&nbsp&nbsp Billye brought her friend Jean to the Tidewater area three times beginning in 1992. "…Just back from Vermont where Middlebury College - my first academic home in the United States- gave me an honorary Doctor of Arts degree [his earned Ph.D. was from Heidelburg University]. Far more than this degree, it was your card which gave me true joy….on 9/20 off to Europe where I will be conducting two university choruses in the erstwhile East Germany in 5 or 6 concerts….I did have a phone call from the lady you mentioned…not failing to recommend you as the chief interpreter of my songs…… Love Jean" &nbsp&nbsp&nbsp&nbsp&nbsp Letter to BBY, August 16, 1999.
Berger makes his third visit to Tidewater
&nbsp&nbsp&nbsp&nbsp&nbsp His last trip to Tidewater was in 2001. Norfolk Art Song Society had scheduled a "Meet the Composer" meeting with Dr. Berger for its 2000-2001 season. I had agreed to be Treasurer for NASS, only to find the group in debt. As the new season progressed it was apparent that there would be no money to bring Jean to Tidewater.
&nbsp&nbsp&nbsp&nbsp&nbsp The next best possibility would be to have his friend and fellow musician Billye Brown Youmans speak for his music. Our first awareness of Berger's music was a January, 1999 recital where Billye sang the Norfolk premiere of a cycle of five songs, Cantico de lo frate solo (Canticle of the sun) with a text by St. Francis of Assisi. Our friendship with Billye led me to ask if she could do the program.
&nbsp&nbsp&nbsp&nbsp&nbsp Billye had already spoken with Jean and knew how much he wished to come. She arranged a three-way conference call and I met him by phone. He offered to waive his fee if we'd pay his travel expenses. Billye offered to provide transportation and meals while he was here. The board agreed and he came.
&nbsp&nbsp&nbsp&nbsp&nbsp Karen Scott organized the program of art songs. January 28 was a Sunday to remember. Jean Berger was a well-spoken, petite man with a lively openess, very willing to share his 90 years of experience. His songs were beautiful, intriguing and intimate by turn. Musically, they are rich. On the afternoon of the master class we heard accompaniment by flute, violin, viola, cello and piano in various combinations to songs with texts in four languages.
&nbsp&nbsp&nbsp&nbsp&nbsp At age 84, Jean visited his sister who lived in Israel and had this to say about his linguistic capabilities: "I am off to Eretz Yisrael for a bit over three weeks, and this time for no professional reason at all but simply to roam about the country with my kid sister - who is 1 ½ years younger than I. Some kid. I am presently working on alleviating as much of my negative view on the very existence of a denominationally defined state as I can. I am getting to the point where with luck I might be able to carry on a 4th grader's conversation in Hebrew, improving my knowledge of what would be my 7th language, not counting Latin which I consider to be any civilized person's necessary equipment…" &nbsp Letter to BBY, October 13,1993.
on contemporary music
&nbsp&nbsp&nbsp&nbsp&nbsp Jean Berger had some interesting things to say about his musical legacy. First, a word about contemporary music. "….if I judge correctly, the living composer in Germany - probably in all of Western Europe - is not expected to write music that can please. Tradition has it that government resources keep the species alive but though he is expected - or she, for that matter - to produce new works, nobody expects to like it. And here I appear on the scene, blithely and innocently writing score after score which is unconcerned with what my contemporaries consider the living composer's "problems', and so belonging to an otherwise unknown species. In other words, while I do speak the language and can fall back on to the barbarous ways of holding knife and fork as though [they] were murderous weapons, I am "exotic" to them. And so be it. Here in the US, my time of "relevance" seems to belong to the past..." &nbsp&nbsp&nbsp&nbsp&nbsp Letter to BBY, January 13, 1996.
&nbsp&nbsp&nbsp&nbsp&nbsp With the resurgence of tonal composition and interest in American art song, he spoke too soon about being irrelevant "….I am now invited by one of the truly excellent European choruses - Leipzig University - to conduct my Yiphtah and His Daughter next spring, in a staged version - FINALLY!!! - DURING 5 OR 6 PERFORMANCES. I may have told you that if I ask myself what I might have written that may have any value at all, my answer is: the works for 'staged chorus' for which I find no better term at the moment. Choral conductors in this country, alas, suffer from requiemitis, from Cherubini to John Rutter - a curious aspect of this land of spry grandmothers and Oil of Olay….." &nbsp Letter to BBY, July 17, 1993
&nbsp&nbsp&nbsp&nbsp&nbsp "There is also a faint possibility that I may finally see some interest in those of my scores which, in my own opinion, are where I really have contributed to the musical substance of our age, i.e. works entitled "for staged chorus". My studies of history make me feel that we are gradually seeing the end of the traditional concert, as the main event of our musical life, since the circumstances which created it - i.e. early 19th century Germany - are so totally different from our own. And what next? To this I had to reckon with the major art form of our century, the cinema, and its offshoot, television. And since I am convinced that the Almighty did not ordain that "thou shalt sing a cappella", I have come up with a series of works which steer clear of the conventional fare. The performances have always had huge success and told me that I was on the right track…" &nbsp Letter to BBY, March 2, 1999
&nbsp&nbsp&nbsp&nbsp&nbsp In conversation with Karen Scott (KS) Jean Berger expressed his admiration for Gian Carlo Menotti's The Unicorn, the Gorgon and the Manticore, a madrigal fable which is related to his "staged chorus." Last season this work was presented as a joint collaboration of the Virginia Chorale, the Norfolk Chamber Consort and The Virginia Ballet Theatre. It was extremely well done but my comprehension of the intricate subtleties of text suffered because no subtitles or printed libretto were available. What is the possibility of a similar presentation of one of Berger's "staged chorus" with text furnished?
&nbsp&nbsp&nbsp&nbsp&nbsp During the year after Jean was here he summed up his life: "I do think that I have adjusted fairly well to the many places my life has taken me. All I care to say is that had I not done all the moving I would no longer be here to tell about it. But there is just so much flexibility in us and memories remain strong, possibly the happiest years were ... spent in Paris." He was in his twenties then.&nbsp&nbsp&nbsp&nbsp&nbsp Letter to KS, February 17, 2001.
on Edith Piaf
&nbsp&nbsp&nbsp&nbsp&nbsp Karen Scott wrote telling of a jazz festival in Norfolk and being baffled by the first half of the concert only to be won over when the performer sang a solo with only a bass for accompaniment. "I'm reading a book about Edith Piaf - what a life!"
&nbsp&nbsp&nbsp&nbsp&nbsp Jean: "Ah, Edith Piaf! This was not what she was called in the 'old days.' To one and all she was 'la môme Piaf', 'môme' being a word hard to render in another language, most closely 'pleasant young woman.' I had the chance once to play for her during one of those concerts when all sorts of performers show what they can do.." Letter to KS August 31, 2001.
&nbsp&nbsp&nbsp&nbsp&nbsp "By some quirk of circumstance I again have a publisher in France. Music for Brass, a small publishing house in Boston where I have a number of scores, was bought by the French publisher Alphonse Leduc. My scores, in their catalog, have been doing extremely well. The suggestion was made that I contemplate the idea of writing new stuff...In my young years in Paris, Monsieur Alphonse Leduc, grandson of the Alphonse Leduc who founded the house in the 1880's, thought so well of some of my things that he invited me to become a Leduc composer. Now I am dealing with François Leduc, grandson of the Alphonse of my Paris years…." &nbsp&nbsp&nbsp&nbsp&nbspLetter to BBY April 20, 1994.
&nbsp&nbsp&nbsp&nbsp&nbsp Shortly after Jean Berger's last visit to Tidewater he made at trip to Iowa State University. "We wound-up with a full program of my works. I did not conduct, merely made some remarks about each group of scores...In our colleges and universities we have a remnant of the place music had when these institutions were founded...an intimate rapport with the campus community."
on "the great Luciano"
&nbsp&nbsp&nbsp&nbsp&nbsp He goes on to lament the general lack of attention by the audience to what is to be performed by the performer. "We had a recent recital by... the 'great Luciano', and never mind what he sang, a vigorous blowing his nose to finally make use of that silly hankerchief would have undoubtedly brought down the roof." &nbsp&nbsp&nbsp&nbsp&nbsp Letter to KS April 16, 2001.
&nbsp&nbsp&nbsp&nbsp&nbsp On September 26 and 27, 1998, two birthday concerts of Jean's music were performed at the University of Colorado at Boulder in honor of his many accomplishments. They were sponsored by the American Music Research Center, which has his sizable collection of scores, manuscripts and correspondence and can be accessed at http://ucblibraries.colorado.edu/amrc/collection/berger.htm
&nbsp&nbsp&nbsp&nbsp&nbsp A lecture series has been inaugurated in his name at Middlebury College, home of his first teaching position in America in 1948.
&nbsp&nbsp&nbsp&nbsp&nbsp In a letter to Karen Scott on September 30, 2001, Jean wrote "Finally, I got my ticket for Europe for the end of September. Somehow, I cannot chase the thought that this will be the last time that my sister and I will get together." Karen's letter to him late in 2001 was not answered.
on Artsong Update's raison d'être
&nbsp&nbsp&nbsp&nbsp&nbsp Karen had mentioned to Jean her letter-to-the-editor concerning the unfair and inaccurate newspaper review by a local critic of soprano Meagan Miller's recital . The only place her letter was published was in Issue #3 of Artsong Update. Jean's response: "Most journalists will ignore that vast numbers of people passionately involved in music-making in this country - even if they receive no money from it - these are the people who clamor for new music, whereas our 'professional groups,' symphony orchestras, etc., are quite content with rehashing the same old repertoire. A 2001 program could have been performed just as well in 1901."
Back to Top
Printer Friendly Format
Home &nbspCalendar &nbspAnnouncements &nbspIssues &nbspReviews &nbspArticles Contact Us