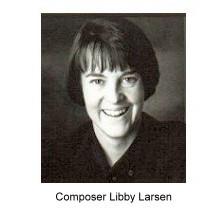 Meet Libby Larsen
What did the recitals of Lisa Edwards-Burrs, Karen Scott and Meagan Miller have in common? The answer is, music composed by Libby Larsen, a contemporary American composer. The pieces are: Songs From Letters: Calamity Jane To Her Daughter Jamey, sung by Karen Scott with Chuck Woodward accompanying, and also sung by Lisa Edwards-Burrs, with Ruth Winters accompanying, and Try Me, Good King: Last Words of the Wives of Henry VIII, sung by Meagan Miller with Steven Beck pianist.
Prior to Art Song of Williamsburg's inaugural concert February 16, 2001, we had never heard of Libby Larsen but found her music dramatic and a lot of fun, allowing the singer to express a wide range of feeling, from pathos to humor, thus capturing the showmanship of the historical character Calamity Jane in a five song cycle that had the audience laughing.
Shortly after, we shared our enthusiasm for the piece with Karen Scott, who was planning to do the same piece for her "Music for Mother's Day: A Mother and Daughter Recital," to be held on May 13, 2001. Karen's interpretation of the song emphasized pathos as a mother reviews her life to her daughter, warning her of pitfalls and celebrating her triumphs. The piece elicited a tear.
The Henry VIII piece is also drawn from actual written documents, set by Ms. Larsen. Again the range of expression is wide; the demands on the singer are great, from timid pleading to fiery defiance, with a wide vocal range and intense expression.
Meagan Miller, presented by the Marilyn Horne Foundation and the Virginia Arts Festival, April 20th 2001, was up to the challenge. We subsequently learned from Barbara Hocher, Executive Director of the MHF that the foundation had commissioned this piece for Meagan because "the song repertoire for dramatic coloratura sopranos is somewhat limited. Strauss and Debussy did write some pieces for higher female voices, but that repertory is generally more appropriate for coloraturas, not dramatic coloraturas. At any rate, we think the Larsen piece is an important addition to the art song repertory, and provides a wonderfully challenging and glorious showcase for Meagan's vocal category."
Libby Larsen (born Elizabeth Brown, now Reece, in Wilmington Delaware, 24 December 1950) was educated at the University of Minnesota, where she teaches and composes. She has received many awards and grants. She studied composition under Dominick Argento, Eric Stokes and Paul Fetter. She is married with one child. (Our info is from Contemporary Composers published by St. James Press, Chicago IL, 1992, and Ms. Larsen's website: http://www.libbylarsen.com/. Ms. Larsen has an extensive catalogue of compositions, several for solo voice. She has also written 8 operas.
Lisa Edwards-Burrs opened her recital titled "Women's Love and Life" with the Robert Schumann cycle of eight songs of the same title. They were wonderfully well sung and the program booklet was clear with German text and translations. The lights were left on in the hall so we could follow the translation.
Next on the program was a seven song cycle by Francis Poulenc, La courte paille(The short straw). After the intermission came the Larsen piece. She next sang four songs from a song cycle titled Seis canciones de cuna (Six Cradle Songs) by Carlos Guastavino - born 1912 in Argentina. His music is rooted in late nineteenth century Romantic tradition and was accessible and was much enjoyed by the writer as a first experience of his work.
It was very exciting to hear live performance of material familiar from recordings by Jake Heggie ( 1961-), a young American composer. The text for the four song cycle Paper Wings is by Fredericka von Stade who sings them on the RCA CD of art songs titled The Faces of Love; The Songs of Jake Heggie. We recommend it.
The encore piece with a special introduction by Genevieve McGiffert , who had also introduced the concert, was Watch and Pray by Undine Smith Moore ( 1904-1988)), a Virginia composer educated at Fisk University.
More on Libby Larsen
Printer-friendly format
Back to Articles
Back to Top
Home &nbspCalendar &nbspAnnouncements &nbspIssues &nbspReviews &nbspArticles Contact Us