Articles
Local Art Song Composers Published in New Anthology
Women composers get equal space in A New Anthology of Art Songs by African-American Composers by Margaret R. Simmons and Jeanine Wagner. Published in 2004, it contains thirty-nine songs, including selections by our local composers Jeraldine Saunders Herbison and Adolphus Hailstork.
It is exciting news that a third anthology is available since the earlier ones (both edited by Willis Patterson) have shaped, to a great degree, the selections that are used in recitals all over the country.
This anthology is unique in several ways. First, almost half of the songs are by African-American women. Second, bound into the book are two CDs that contain the piano accompaniment played by Ms. Simmons. As a reader, you have the option of singing along with an excellent collaborative pianist.
I am sure the question will be raised about overlap. The answer is simple and encouraging. Patterson's volumes and this new anthology have only three songs in common: Compensation and Theology by Betty Jackson King and Difficulties by Dr. Hailstork with text by Martin Luther King, Jr. Fortunately there are many new titles by H. Leslie Adams, Charles S. Brown, Undine Smith Moore, and Robert Owens and a host of other composers, giving recitalists a greater variety to choose from!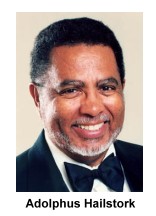 Dr. Hailstork's two other songs are from his 1987 cycle Five Dunbar Lyrics: The Awakening and Good Night, which is a new setting of the text he used for his song Goodnight in Patterson 2. We had the privilege of hearing the fourth selection, Create in Me at a fine recital last evening (February 5, 2005) by soprano Patricia Saunders Nixon, with Dr. Hailstork in the audience. Currently Dr. Hailstork is Professor of music at Old Dominion University in Norfolk, Virginia. His doctorate is from Michigan State University. His chamber, choral and orchestral works are much performed nationally, while his art songs are less well known. Anthologies like these will spread the word that he is a creative, talented and prolific composer of song.
This is the first anthology that has featured songs by Jeraldine Saunders Herbison, who has had a great influence on music education in Newport News public schools. In 1997 Ms. Herbison was the featured composer at a symposium of Black Women Composers at Hampton University. We know of fifteen songs by her and have heard several in recital. Silver Rain, with text by Langston Hughes, is my personal favorite. I'll not forget and We Met by Chance are in the new volume and we look forward to hearing them performed.
In May 2004 while researching African-American art song I found an article from Perspective Magazine published by Southern Illinois University at Carbondale titled "In Search of Song" by Marilyn Davis and learned of the authors, Jeanine Wagner and Margaret Simmons, who are professors at S.I.U.C. At the time of the article they were compiling their anthology and had just presented a recital showcasing more than a dozen composers with whom they were working.
In reply to my inquiry about how their project was coming, Ms. Wagner wrote "We are truly committed to getting these works available and heard. Margaret Simmons (pianist) and I (I am a soprano) have done recitals featuring works from the anthology in recital and at conferences throughout the country and at international conferences. It has been quite a struggle getting this first volume out, but it FINALLY is available and apparently causing quite a stir!"
Together they have been performing art song recitals for over twenty years. Ms. Simmons, from North Carolina, says they found a lack of new material by African-Americans being published and decided to "fill a big hole" in art song literature. At an international music convention some years ago they sang John Carter's Cantata, made up of four spirituals. After the performance a black woman commented to them that "I'm so glad to see white folks singing black composers. We have been singing white composers for years." They decided to explore further and found Willis Patterson's first anthology, published in 1977.
SIUC's School of Music has strong ties with Stillman College, a historically black institution in Tuscaloosa, Alabama. Ms. Wagner and Ms. Simmons had little music to offer their Stillman graduates who wanted to study songs by contemporary black composers. The story of how their search unfolded makes interesting reading and can be found at http://www.siu.edu/worda/persp/sp98/Song.html Out of that search came this exciting anthology. They are busy gathering works for a second volume. In the meantime Patterson's Second Anthology of Art Songs by Black American Composers was published and reviewed in Artsong Update Issue #33, June, 2004.
Holding a review copy in my hands makes me happy for all the new material we are likely to hear at recitals. Their volume is ring bound, as was Patterson 2, which makes for ease of use on the music stand. The book (0-8093-2523-3) is $27.00 and is available at all major booksellers.

Back to Top
Printer Friendly Format


Back to Issues
Home &nbspCalendar &nbspAnnouncements &nbspIssues &nbspReviews &nbspArticles Contact Us