Celebrating Black History Month
Remembering African-American Pioneer William Grant Still (1895-1978)
Reviewed by John Campbell
Recently PBS had a program about the abolitionist William Still and a little research proved my hunch that the path-breaking African-American composer William Grant Still was a descendant of the path-breaking abolitionist.
William Grant Still was born in Woodville, Mississippi on the 11th of May, 1895 to the town bandmaster and a mother who taught school. Was his middle name after Ulysses S. Grant, the general who led the north to victory in the civil war? After his father died his mother took the family to Little Rock, Arkansas. There she met and married Charles B. Shepperson who nurtured his stepson's musical interests. Still grew up in Little Rock and started violin lessons at age 15. He taught himself to play the clarinet, saxophone, oboe, double bass, cello and viola, and showed a great interest in music. His maternal grandmother sang African-American spirituals to him. At Wilberforce College in Ohio he planned to study medicine to please his mother but was lured away by his love for music. There he was also greatly influenced by the Afro-English composer Samuel Coleridge-Taylor (1875-1912) who struggled to "express his negro identity, which he did, following Dvorák's example, by modeling some of his works on negro subjects and melodies."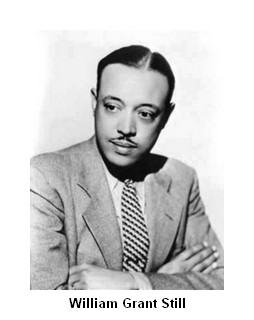 At Wilberforce he played in the string quartet and conducted the band and started to compose and do orchestrations (1911-14). He did not graduate but accepted a scholarship to Oberlin Conservatory of Music. During World War I he served in the Navy. Afterward he settled in New York City and worked as an arranger for W.C. Handy's band and later played in the pit orchestra for Noble Sissle and Eubie Blake's musical Shuffle Along (1921). A first for Broadway, it was a Harlem folk show with few concessions to white taste or to theater clichés, as Eileen Southern puts it in her history, The Music of Black Americans. He continued as an arranger of popular music. Still began composing seriously in 1924. In 1931 his Afro-American Symphony was performed by the Rochester Philharmonic under Howard Hanson. As Alex Ross in his 2007 book, The Rest is Noise: Listening to the Twentieth Century sums it up: "...a black composer finally found a place of respect in classical America."
In 1934 a Guggenheim Fellowship (twice renewed) allowed him time to compose. Still was a pioneer in so many ways. In 1936 he conducted the Los Angeles Philharmonic Orchestra, a first for an African-American. His opera Troubled Island (he wrote nine) set in Haiti, was performed by New York City Opera, also a first. In 1955 he conducted the New Orleans Philharmonic, becoming the first African-American to conduct a major orchestra in the deep south. In 1941 he composed an opera, Bayou Legend which was presented on PBS in June, 1981.
Still was a prolific composer and wrote in many forms. Eventually he moved to California where he arranged music for movies, Pennies from Heaven (1936) and Lost Horizon (1937) among others. He died in Los Angeles in 1978.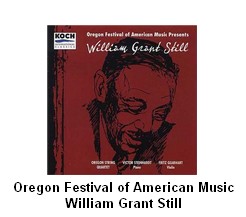 My CD collection has one Still recording of music for string quartet and works for violin and piano on Koch International Classics 3-7546-2H1. The music is well crafted and neo-romantic. In a review by Paul Bowles in the New York Herald Tribune in 1939 of a festival of music written by African-American composers, he noted that the best music he heard was music in "which the truly Negro elements therein had been left alone and not subjected to whitening." He panned the Still Afro American Symphony and exulted in Louis Armstrong pieces. Like Moses, Still led our society toward the promised land of a more integrated musical America. Still was a bridge between complete segregation and today.
Back to Top
Printable Version
Back to Issues
Home &nbspCalendar &nbspAnnouncements &nbspIssues &nbspReviews &nbspArticles Contact Us