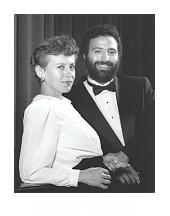 Invencia Piano Duo, Andrey Kasparov and Oksana Lutsyshyn, was launched unexpectedly in 2003, as Andrey and Oksana performed two piano concertos with the Columbus Indiana Philharmonic during the same night . Shortly before the concert, the orchestra's conductor, David Bowden, requested a four-hand selection for an encore. After some hesitation, pianists agreed, performing several of Liebeslieder Walzer by Brahms to the audience's great acclaim. Soon after, the duet was invited around the world to perform a wide range of repertoire from Mozart to contemporary composers.
Both pianists are very active outside the duo as well, touring the world as recitalists, soloists with orchestras and chamber musicians. They were born in the former Soviet Union--Andrey in Baku, Azerbaijan, to a family of Armenian descent and Oksana in Sokal, Ukraine-and educated at the Moscow State Conservatory, where they met. Having arrived to the United States in 1991, they studied and worked at the Indiana University School of Music in Bloomington. Andrey pursued his doctorate in Music Composition, graduating in 1999, while Oksana worked as a Visiting Scholar and collaborative pianist. During that period she teamed up with such renowned artists as violinist Joshua Bell, tenor James King and tubist Harvey Phillips, among many others.
In 1997, the couple moved to Norfolk, Virginia, during which time they released their CDs on VMM and CRS labels. Oksana's recording of Kasparov's Toccata for Piano brought her a nomination for the Grammy Award. She also made a recording with a violinist Joshua Bell for the BBC.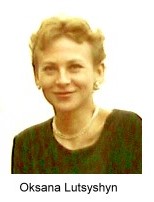 Both members of the duo are recipients of prestigious awards. Oksana won the Second Prize at the Vienna Modern Masters Third International Performers' Recording Awards Competition. She was also a prizewinner at the William Kapell International Piano Competition in College Park, Maryland . As a result of the latter award she debuted in the Weill Recital Hall at Carnegie Hall and the Preston Bradley Hall at Chicago Cultural Center.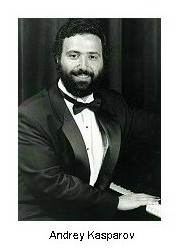 Andrey won the Albert Roussel prize at the 1998 Orléans (France) International Piano Competition for 20th-century music. In 1994, he was a soloist with the Columbus Indiana Philharmonic in a world premiere of a newly discovered edition of Béla Bartók's Third Piano Concerto, revised by the composer himself. In addition to his career as a pianist, Andrey is an active composer. His compositions have been performed at Moscow Autumn; International Forum of Young Composers in Kiev, Ukraine; Internationale Ferienkurse für Neue Musik in Darmstadt, Germany; the Encuentros Festival in Buenos Aires; and many other festivals and venues throughout the world. In 1997 he was awarded the Second Prize at the Sergei Prokofiev International Composition Competition in Moscow, Russia, for his Second Piano Sonata.
Andrey and Oksana presently live in Norfolk, Virginia, where Andrey is an Associate Professor of Music at Old Dominion University. In addition, he directs CREO, an ODU contemporary music group, of which Oksana is a member. He also works as an organist at Freemason Street Baptist Church in Norfolk, VA. Oksana is a Music Director of the Prince of Peace Lutheran Church in Virginia Beach, where she also administers a concert series.
Booking Invencia
This year, the duo has been selected for inclusion in the 2007/2008 Virginia Commission for the Arts Touring Directory. This means that the VAC will pay up to 50% of the fees and expenses associated with the duo's performance in Virginia. The duo's repertoire is extremely extensive, ranging from the Baroque period to the most contemporary works. Please let me know if you have an interest in presenting the duo. I would be happy to send you some additional promotional materials including their CD. Dr. Oksana Lutsyshyn 1460 Harmott Ave Norfolk VA 23509 tel/fax: 757-852-9072 email: oksana_lutsyshyn@yahoo.com
Reviews
Hommages Musicaux
Andrey Kasparov and Oksana Lutsyshyn's New CD
Hommages Musicaux (Albany Records, TROY922, released in 2007) features Norfolk's own Invencia Piano Duo, Oksana Lutsyshyn and Andrey Kasparov, who present us with a bouquet of nuanced, energetic French piano works. Tombeau de Claude Debussy can loosely be translated as "Music Honoring the Memory of Claude Debussy" and is a set of ten pieces, each by a different composer. When Debussy died in 1918, Revue Musicale, the foremost music publication in Paris, commissioned these pieces from leading European composers to eulogize him. Each composer chose a personal way of honoring Debussy and the relationship they shared. These details are in the clear notes in the CD booklet, written by Dr. Kasparov.
Kasparov, on solo piano, was featured in seven of the ten pieces commemorating Debussy.The CD opens with a gentle, spare, even tempered piece by Paul Dukas (1865-1935) and travels over a varied emotional range. Eugene Goosens (1899-1962) called his piece A Claudio Debussy. It has a painfully sad opening and becomes edgier as the musical line struggles for a resolution that will not come. There is a mysterious feeling in the Bartók. Two Chicago musicians, violinist Desirée Ruhstrat and cellist David Cunliffe beautifully played Maurice Ravel's scintillating but somber Duo pour Violine et Violoncelle. His creation is emotionally evocative, revealing his sense of loss.
The other tracks feature Timothy Olbrych on guitar playing music by Manuel de Falla and a brief but lovely song by Erik Satie sung by Lisa Relaford Coston with Kasparov at the piano. Other twentieth century composers are featured, including Stravinsky, Roussel and Malipiero .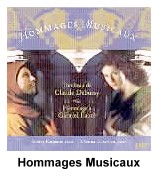 A second set, Hommage ŕ Gabriel Fauré: Seven Pieces on the Name of Fauré, fills out this hour-long CD with Oksana Lutsyshyn as solo pianist in four pieces. After the success of the Debussy tribute the editor, Henry Prunières, of the Revue Musicale came up with the idea ot honoring the elderly, living composer Gabriel Fauré. The seven pieces were published in 1922 and six were by Fauré's fellow French composers. Pavel Ilysahov on violin joins Ms. Lutsyshyn for the opening Berceuse sur le nom de Gabriel Fauré by Ravel. It is short, lovely, moody music as is the second selection by Romanian composer George Enescu (1881-1955) for solo piano. Louis Aubert (1877-1968) uses a conventional piano language as does Florent Schmitt (1870-1958) but his piece is more dramatic. My favorite solo piano piece is the spirited cutting-capers dancing music by Paul Ladmirault (1877-1944).
Our married piano duo brought to life the very French sounding, moody fourhands piece by Jean Roger-Ducasse (1873-1954) and Paul Koechlin's (1867-1950) brief piece with feeling, balance and accuracy.
The CD cover art is a collage by Scott Williams. The duo's faces appear on figures by Spanish artist Francisco de Zurbarán (1598-1664). Kasparov is in a monk's habit looking pious and Lutsyshyn is the beautiful, innocent damsel before a background of Ricolletto Cemetery in Buenos Aires. Only her beauty is true.

Reviewed by John Campbell on Artsong Update.
For more reviews of Andrey Kasparov and Oksana Lutsyshyn's duo, solo and piano fourhands performances, click here.
Listen to Hommages Musicaux:
http://www.emusic.com/album/Andrey-Kasparov-Hommages-Musicaux-MP3-Download/11046414.html

Hommages Musicaux
Albany 922-59 minutes
Tombeau de Debussy; Hommage à Gabriel Fauré
Andrey Kasparov & Oksana Lutsyshyn, piano; Desiree Ruhstrat & Pavel Ilyashov, violin; David Cunliffe, cello; Timothy Olbrych, guitar; Lisa Relaford Coston, mezzo-soprano.

In 1920, shortly after the death of Debussy, the French musical publication Revue Musicale commissioned pieces from many leading composers and performers of the time. The collection was published under the title Tombeau de Claude Debussy, with contributions from Dukas, Roussel, Malipiero, Goossens, Bartók, Schmitt, Stravinsky, Ravel, Falla and Satie. Most are for solo piano, but Ravel contributed a Duo for Violin and Cello, Falla a solo work for guitar, and Satie a brief song. Encouraged by the success of this publication, the editor of Revue Musicale had the idea for a second publication honoring Fauré (who was still alive). Seven of his best-known students contributed works based on a complicated rendering of the letters " Gabriel Fauré" into a series of musical pitches( GABDBEE FAGDE). Ravel contributed a solo violin work; Koechlin and Roger-Ducasse wrote works for piano, four hands; Enesco, Aubert, Schmitt, and Ladmirault did solo piano pieces. This collection was published in 1922. Many of the works in both collections found their way into other instrumental mediums or became parts of larger works at the hands of theirs composers.

Hats off to the Kasparov-Lutsyshyn piano duo team for bringing these fascinating pieces to us in their original forms. They met while students at the Moscow State Conservatory in the 1980s, came to the US in 1991 to pursue advanced training at Indiana University, and have been active performers (solo, duo, and chamber groups) and teachers here for nearly two decades. The five other musicians they have assembled for this project are all topnotch. Recorded sound quality and booklet notes are both very good; and the pianism displayed by this couple, both as soloists and collaborators makes this release well worth searching out.

James Harrington. Reprinted by permission American Record Guide, Jan/Feb 2008.

Sunday, February 17, 2008
Invencia Piano Duo, Palms Away...
The Invencia Piano Duo was featured in concert at Huguenot Road Baptist Church this evening in a 4 hands piano concert which ranged from Schubert and Brahms to Ravel, Gottschalk and a "ragtime" palms away encore. I am not a piano scholar and the program was not printed, so please forgive any errors in the details of the composition names.

This concert was presented in an interesting manner which is far from typical in my experience of concert piano recitals. The concert Baldwin at HRBC is boxed off of the choir loft, as is typical in so many churches. This elevated box obscures both sound and visual lines. To compensate, HRBC used a video camera to provide a closeup view of the keyboard, which was then fed to a projector screen at center stage. This visual element/TV experience viewing of a live concert recital was strangely irritating and intriguing at the same time. It seemed to drag my focus away from the artists themselves and onto the MTV view of their "floating hands" above the keyboard. I was frequently seduced into the screen and the view of the hands, to the detriment of the facial expressions of the artists' themselves. After the intermission, I moved my position in the sanctuary and this was quite effective. Without the screen front and center in my visual field, I was much better able to experience the music. The added benefit was my shift in the hall, positioned me directly in front of the piano and the clarity and energy generated by the instrument were radically different to my ears.

The program, expertly played by Invencia, was interesting and thoughtfully presented with engaging commentary by Andrey Kasparov. The early Schubert marches evoked an atmosphere of regal pomp and circumstance blended with the demure elegance of a Viennese ball. My favorite piece of the evening was Ravel's Mother Goose suite. The dynamics and stunning pianissimos of the upper register created a feeling of space and distance which touched my heart intensely. The fluid chiming of the bells and the "out of time" feeling of the second movement reminded me of Gianni Schicchi with its timeless appeal. The Fairy Garden, "last movement" reminded me of both Copland and Mussorgsky in Fanfare and Great gates of Kiev.. The vignettes and pictures presented by these artists were clear and engaging. Their passion was unquestioned as they shared their talents.

The Gottschalk which was their closing masterpiece was a Euro-American blending with elements reminiscent of Offenbach, Strauss and even a little Bizet (to this opera singer's ears). The rhythmic context and control of the flowing arpeggios and scales was virtuostically played, intermingling flamboyance and joy.

The audience was warm and inviting, and my daughters (9 and 10) were engaged quite effectively by the combination of video and the rich aural textures of 4 hands live piano. I must admit, that my early skepticism with the video model was largely overcome. I enjoyed the concert and this piano duo was certainly worth an evening of my precious time. (even in competition with the Daytona 500)

If you have a chance to see and hear them, don't miss it. I might even be able to pull off that encore piece, which was palms and forearms away... through and through...

Jeff Prillaman
http://vatenor.blogspot.com/2008/02/invencia-piano-duo-palms-away.html

Lutsyshyn and Kasparov Play
Adolphus Hailstork's Piano Works on New CD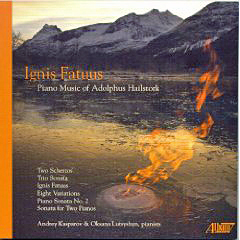 Composer Adolphus Hailstork's piano music is available on a new CD from Albany Records titled Ignis Fatuus, Piano Music of Adolphus Hailstork (Troy 1112). Ignis fatuus, which means "foolish or mysterious fire" is a fourteen minute composition written in 1976 played by Oksana Lutsyshyn. Hailstork said recently "I was then, and still am, a fan of the piano music of Maurice Ravel. I wanted to see if I could write some piano piece that sounded delicate and colorful." The image created in my mind as I listened was of a flowing brook. At times the water gushes over stones, drops down little eddies and always sparkles. The overall mood is gentle, soothing and intriguing. In the third movement - Vivace allegretto, the pace quickens, only to slow once again, lulling me back to relaxation until the quirky little ending.
On November 10, 2007, the performers, Invencia Piano Duo: Oksana Lutsyshyn and Andrey Kasparov, gave a recital at Chandler Recital Hall at Old Dominion University in Norfolk, Virginia of the piano pieces that can be found on this CD. Fortunately we were in the audience, though until now I never got around to writing the planned review.
The CD opens with Two Scherzos written for Dr. Karen Alwyn who recorded Hailstork's Piano Sonata No. 1 for Albany Records' Dark Fires 20th Century Music for Piano CD (Troy 266), 1998. The modern musical language in the first Scherzo is woven around a boogie-boogie base with intense, powerful energy after a repeated quiet figure opening. The second Scherzo has a freer form with brief quiet passages contrasted with sections of grand pianism with many quick notes. Kasparov plays this spiky, showy music with clarity and precision.
In the Trio Sonata from 1991, Hailstork organically incorporates musical influences by the Impressionist and American composers in a set of free variation on a simple Copland melody as a tribute to three New York composers: Virgil Thompson, Leonard Bernstein and Copland. There is a grandeur in the simplicity captured most charmingly by Oksana Lutsyshyn, the pianist in the eight-minute, one-movement solo piece. It has a lovely, quiet last few minutes.
Eight Variations on "Shalom Chaverim" was composed as a prelude for services at the local Unitarian Universalist church where the composer was choir director. He found the lovely melody in the hymnal. The mood of the variations ranges from quiet and gentle to boisterous, offering a challenge of interpretation to Kasparov who plays both this piece and the Piano Sonata No. 2 (1989) that follows on the CD. The musical language of the Sonata is modern, even briefly strident in four movements. In the second, Allegro con brio, we hear a brief section that is not a quote but rather a recapitulation of the structure of Rhapsody in Blue. The bold, slow pace in the third, Molto adagio, movement feels serious, troubled, even pensive. A faint reference to a spiritual tune is so brief that it increases the agony when it does not materialize. The final movement, Misterioso allegro, demands great power but with calculated precision because of the measured pace. Kasparov's technical and interpretative skills shine through, especially when speed and intensity increase, demanding controlled power through a quirky ending.
Sonata for Two Pianos (1987) opens with a volley of fast notes with the second piano punctuating the soundscape. This gives way to dry precision that is slower and less dense. The second movement, Adagietto ma non troppo (slow but not too slow) is close to lyrical from time-to-time. The composer has written that his goal was to blend African-American elements (blues, spirituals) with Euro-American elements (dissonant harmony and classical structures) using uneven meters. For instance : 11/16 in the final "Vivace (third) movement.
As an experiment in composition, the last movement is most successful in meeting the stated goal. The performance by Invencia Piano Duo seems definitive. Lutsyshyn and Kasparov offer the listener polished and perfectly coordinated playing. My advice is to regard as an adventure this demanding piece and grow into it. The other pieces found on this excellent CD will lead you there. I would be interested in hearing other listeners' reactions to Sonata for Two Pianos. The recorded sound is excellent.