Reviews
Spectacular Piano and Orchestra Season Premiere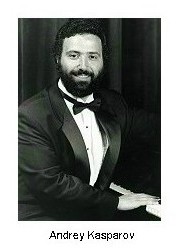 &nbsp&nbsp&nbsp&nbsp&nbsp October 12, 2003. Andrey Kasparov and the Virginia Beach Symphony brought the rarely performed landmark Concerto No. 2 by Sergei Prokofiev to glowing life. I realized that we were in for something special when Dr. Kasparov told us that he had never heard a live performance of this piece. It would likely be a first hearing for his audience also.
&nbsp&nbsp&nbsp&nbsp&nbsp The second concerto by Prokofiev is still just as startling to an audience as it was to its original audience 90 years ago. It is a landmark because here for the first time was a piano concerto that broke from the romantic, lyrical, virtuoso tradition of Chopin and Liszt. He startled the piano world with vigor and exuberance. He blasted out savage, complicated rhythms with percussive, metallic tones. This was 1913 and a twenty-two year-old Prokofiev, who soon earned the nickname "the pianist of steel", had moved the concerto into a new style
&nbsp&nbsp&nbsp&nbsp&nbsp One reason this piece is not played is it is very challenging to both listener and performers. David S. Kunkel and the Virginia Beach Symphony were fine partners to our pianist and produced a wonderful experience. The audience was enthralled, giving seven curtain calls until Andrey Kasparov introduced his encore, three one-minute selections from Prokofiev's twenty piece Mimoletnosi (Fleeting Visions or Fugitive Visions) (1915-1917). The third piece was to be played "sarcastically." Such clever music.
&nbsp&nbsp&nbsp&nbsp&nbsp This was the season opener for the VBSO entitled Russian Masterpieces and included Tchaikovsky's Marche Slav opus 31 and concluded with Mussorgsky's Pictures at an Exhibition orchestrated by Ravel. Don't miss the Virginia Beach Symphony Orchestra's next performance on November 23rd, Mozart for Two which will include John Adams' The Chairman Dances Foxtrot for Orchestra (a personal favorite), Mozart's Sinfonia concertante in Eb for Violin, Viola and Orchestra (KV 364) and Franck's Symphony in D minor. For tickets call 955-5566.

Dynamic Duo's Major Contribution to Tidewater's Musical Life
&nbsp&nbsp&nbsp&nbsp&nbsp Never before has one couple figured so prominently in the musical events covered in a single issue of Artsong Update. In this issue the depth and breadth of their influence on the Hampton Roads musical scene is noteworthy.
&nbsp&nbsp&nbsp&nbsp&nbsp Oksana Lutsyshyn has her masters degree and her doctorate (1991) from the Moscow State Conservatory. She has an international career as a solo pianist and as a chamber musician and has recorded commercially. She is Director of Music at Prince of Peace Lutheran Church and has taught at the Governor's School for the Arts and has accepted a contract with Virginia Opera for the 2006-2007 season as an Assistant Conductor following her success as assistant conductor for the Todi Music Festival's Tragedy of Carmen.
&nbsp&nbsp&nbsp&nbsp&nbsp Andrey Kasparov met Oksana at Moscow State Conservatory. They came to the United States in 1991 and in 1999 he completed his doctorate at the Indiana University School of Music.
&nbsp&nbsp&nbsp&nbsp&nbsp Since coming to this area in 1997 he has been an Associate Professor of Music at Old Dominion University where he also directs the contemporary music group CREO.
&nbsp&nbsp&nbsp&nbsp&nbsp In 2003 at a concert with the Columbus Philharmonic in Indiana after each had performed a piano concerto, the conductor asked them to do a duet as an encore piece. Out of that experience the Invencia Piano Duo was born.
&nbsp&nbsp&nbsp&nbsp&nbsp In the Vienna Modern Masters Third International Performers Recording Awards Competition, Oksana as a winner is one of the featured artists on a CD Twentieth Century Classics. She plays Kasparov's piano composition Toccata on Vienna Modern Masters CD 2025 in the Distinguished Performers Series IV.

Kasparov and Lutsyshyn at the Chrysler Museum of Art
&nbsp&nbsp&nbsp&nbsp&nbsp The Invencia Piano Duo, Andrey Kasparov and Oksana Lutsyshyn playing a single Steinway, gave a lively, accurately played, one hour recital in the Atrium of the Chrysler Museum of Art on the afternoon of August 13, 2006 in conjunction with the show Civil War Photographs from the Hacks Collection.
&nbsp&nbsp&nbsp&nbsp&nbsp What music does a classical piano duo play on a program called Music of the Civil War? Was there any duo piano music by American composers c.1861-1865? Stephen Foster (1826-1864), very popular in this period, wrote some two-hundred sentimental and minstrel show songs but nothing for duo piano. After much research their solution was a selection of pieces played in America around that time by familiar European composers: Schubert, Brahms, Chopin and music by Louis Moreau Gottschalk, born in New Orleans in 1829.
&nbsp&nbsp&nbsp&nbsp&nbsp Gottschalk's music grew out of the international gumbo that was New Orleans in the early 1800s. His father, who was Jewish and German educated, was born in London. He came to New Orleans in the early 1820s. His mother, of French-Creole ancestry, came with her family from Haiti during the slave rebellion in the 1790s. The United States bought the Louisiana Territory in 1803 from Napoleon who'd recently taken it from Spain through war.
&nbsp&nbsp&nbsp&nbsp&nbsp After showing musical promise Gottschalk began lessons with the organist at St. Louis Cathedral at age five. The cathedral is still there in the French quarter where I attended a beautiful Christmas Eve service some years ago. By age seven little Moreau was skilled enough to substitute for his teacher on organ during Mass. The teacher urged his family to send him to France to study. At the Paris Conservatory he was refused an audition by the head of the piano department, Pierre Zimmerman. The Grove Dictionary says it was because of his prejudice against Americans. Gottschalk did find piano teachers, studied composition and shortly before his sixteenth birthday gave a highly successful recital in the Salle Pleyel. Chopin, who was in the audience, predicted that he would become "the king of pianists."
&nbsp&nbsp&nbsp&nbsp&nbsp Before Gottschalk was twenty Bamboula and La savane were heard in public. "These charming reminiscences of his New Orleans boyhood" led to a profitable contract to publish his music. His "Creole" compositions were the rage of Paris and this led to performances around Europe. In 1853 he gave his first concert in New York City and toured America for the next three years with an occasional visit to Cuba. He never married and traveled extensively in the Caribbean and Central and South America. His visits to New Orleans were brief.
&nbsp&nbsp&nbsp&nbsp&nbsp In 1862 while the Civil War raged in America he came back to New York and gave eighty-five recitals, traveling some 15,000 miles around the U.S. in four and a half months. By 1865 he was in California for a western tour when a national scandal broke because of his involvement with a student at the Oakland Female Seminary. This inveterate womanizer had, by his own estimate, given more than 1100 recitals and traveled 95,000 miles in this three years in the United States. From California he booked passage and headed for Panama and points south to avoid local vigilantes. His friends were able to clear his name but he never came back to the U.S. He remained popular and very busy all over Latin America. He died near Rio de Janeiro, probably of a burst appendix.
&nbsp&nbsp&nbsp&nbsp&nbsp Gottschalk's musical material is colorfully entertaining, not "great music" but, as the Grove Dictionary points out, it does forecast American musical development. Gottschalk, like Ives fifty years later, used frequent quotations from other compositions as a musical and psychological device. His syncopated rhythms and jagged melodic lines come to fruition in ragtime and jazz. It took about one hundred years for his music to be rediscovered and republished. Quoting the Grove Dictionary, "Much of the credit for Gottschalk's restored reputation belongs to Jeanne Behrend and Eugene List, two pianists who have militantly championed his music. Currently the English pianist Philip Martin has recorded a series of CDs of Gottschalk's piano music for Hyperion.
&nbsp&nbsp&nbsp&nbsp&nbsp With fleet fingers and a joyous attitude we were royally entertained by a diverse selection of Gottschalk's many duo piano works, including Reponds-moi, danse cubaine, caprice brillant (1859), Radiuese, grande valse de concert, op. 72 (1859-63), La Gallina, danse cubaine, op. 53 (1863) (complete with chicken hats!), Orfa, grande polka, Op. 71 (1859), Marche de nuit, Op. 17 (1855) and Printemps d'amour, caprice de concert, Op. 40 (1855). We learned from the pianists that this music was new to them. They certainly came up to the challenge!

Imperial Russia: Kasparov & Lutsyshyn with Norfolk Chamber Consort
&nbsp&nbsp&nbsp&nbsp&nbsp Another facet of the talents of this versatile musical couple is as chamber musicians. On April 3, 2006 at Chandler Recital Hall we heard a quintet by Nikolai Rimsky-Korsakov (1844-1908) which featured Oksana Lutsyshyn on the piano. The other instrumentalists in Quintet in B flat Major (1876) were Deborah Wendells Cross - flute, F. Gerard Errante - clarinet, Andrew Gott - bassoon and David Wick - horn. In this lively, coloristic piece each player had a chance to shine with the piano bringing it all together into a beautifully wrought whole.
&nbsp&nbsp&nbsp&nbsp&nbsp The Piano Trio in A minor, Op. 50 by Peter Illych Tchaikovsky (1840-1893) featured violinist Yun Zhang, cellist Michael Daniels and pianist Andrey Kasparov. The opening section of the trio is very intense with all three instrumentalists constantly playing. The grand sweep of the structure is impressive. It is not so much a chamber piece but rather a concerto with only three players. Of two movements, the second is a long set of variations demonstrating how instruments can be used - plucked, strummed and bowed strings, concentration on high treble piano keys, the cello bowed gently contrasted with Tchaikovsky's more usual headlong rush of notes.
&nbsp&nbsp&nbsp&nbsp&nbsp The piano becomes a large part of this near orchestral sound. In the piano concertos there are periods of rest for the pianist but here the demands are continual and Kasparov was the mad pianist at his best. The virtuosity of the whole trio won me over. So much is demanded of them by the amazing intensity of this piece and they delivered splendidly.

TodiFest presents Invencia Piano Duo
&nbsp&nbsp&nbsp&nbsp&nbsp Chandler Hall, Sunday, July 15, 2007. We know Andrey Kasparov and Oksana Lutsyshyn for their excellent solo piano work and their Invencia Piano Duo piano four-hands performances. Their artistry reached a new level in this two piano spectacular presenting the music of Sergey Rachmaninov (1873-1943). Festival Director Howard Bender had, as Kasparov expressed it, "challenged us to grow by taking on such a suicidal program." The three pieces, all by Rachmaninov, were set for two pianos.
&nbsp&nbsp&nbsp&nbsp&nbsp The Fantasy (Suite No. 1), Op. 5 (1893) was written by a 20 year old composer. The key to understanding his music is that Rachmaninov wished to explore fully the expressive possibilities of the piano. In this early piece he doubles the possible sonorities by writing for two pianos a large scale piece with the bare minimum of means. For example, in the last two movements he recreated sounds of Russian church bells. He does not write a theme with variations but rather creates sweeping lyricism with a stringent economy of themes. Our performers dazzled the listeners with sumptuous harmonies in this opulent tone painting. It is as if the two performers converged into a single individual with four hands to create a sound that was perfectly coordinated.
&nbsp&nbsp&nbsp&nbsp&nbsp Suite No. 2, Op. 17 comes seven years later in 1900-1901. By now Rachmaninov was at the height of his talent. His most popular Piano Concerto No. 2 comes from this same time. The suite makes prodigious demands on the pianist. The frenzy of the Introduction soon gives way to quieter but very fast-paced music which has greatly enhanced what we think of as popular and film music. Waltz is also furiously fast-paced and is the best known section of the work, appearing in popular piano anthologies. Romance is lush with lots of accidentals that keep the listener intrigued as to what will come next. Take a deep breath, hold on to your seat to prepare for the Tarantella, a seamless stream of accurately placed notes at a breathtaking speed in this tour-de-force display of virtuosic power and beauty, all of it carefully nuanced.
&nbsp&nbsp&nbsp&nbsp&nbsp Observing the interaction of the pianists and their page-turners created an interesting contrast in physical styles. Ms. Lutsyshyn has a quiet physicality; she plays with deep concentration and minimal physical motion. Her turner was a young woman who turned the pages crisply. Even when she turned two pages at once our pianist never faltered. By contrast, Kasparov's gestures are bigger, his body is more involved and his hands have a grander sweep across the keyboard. He signaled with a nod of his head to his turner whose movements seemed slower and graceful.
&nbsp&nbsp&nbsp&nbsp&nbsp The third piece, Symphonic Dances Op. 45, was written 40 years later (1940). Europe was embroiled in World War II and Rachmaninov's health was failing. He had achieved world-wide fame as one of the greatest of pianists; in fact his recordings are still available. He first came to the U.S. to perform in 1909. In the turmoil of 1917 he left Russia for the U.S. and made it his home base while pursuing his international career as a concert pianist. This limited his time for composing.
&nbsp&nbsp&nbsp&nbsp&nbsp Critics praised his playing but were highly critical of his compositions. Paul Bowles, composer and later a famous novelist, writing for the New York Herald Tribune in December, 1942 said "The endless Rachmaninov Symphonic Dances was a thick piece, full of obtuse, arbitrary key relationships, the composer's deficient harmonic sense was very much in evidence in this static parade of chords stuffed with carelessly chosen false notes."
&nbsp&nbsp&nbsp&nbsp&nbsp The nostalgic yearning in his music cuts through these intellectual objections to touch us emotionally. By eliminating the abrupt stops between movements he maintains a sensually appealing flow of melody, his complex harmonies, rhythms and modal elements keep us interested. In the Symphonic Dances there is a world weariness, a quiet nagging tiredness embedded in the dazzle of the aural tricks of this elder master of the piano.
&nbsp&nbsp&nbsp&nbsp&nbsp The first movement, Non allegro, was crisply played, but the music is moody, more introspective than the earlier pieces. The Andante movement has a powerful opening statement by Kasparov while Lutsyshyn has a more temperate flow of many, many notes, but without the youthful glee of the earlier pieces. The cabaret sound reminded us of how much Rachmaninov contributed to the sound of popular music.
&nbsp&nbsp&nbsp&nbsp&nbsp The closing movement, Lento, opens with chords that abruptly break off to be replaced by a quieter melody - this happened twice before we returned to spectacularly muscular playing. His music seemed weary, or was it that I was weary after such an intense musical journey?
&nbsp&nbsp&nbsp&nbsp&nbsp Andrey Kasparov furnished spoken introductions and well researched and detailed program notes. The encore piece, Italian Polka, performed four hands, ended perhaps the best performed instrumental music of the entire festival.
Kasparov and Lutsyshyn CD Reviews

Printer Friendly Format
Back to Top
Back to Review Index
Home &nbspCalendar &nbspAnnouncements &nbspIssues &nbspReviews &nbspArticles Contact Us