Cantabile Project Recital of Mahler
Vocalists: Kathryn Kelly, Stephanie Marx, Brian Nedvin,
with Stephen Coxe, Piano
Chandler Hall, January 10, 2016
Review by John Campbell
A wonderful Mahler Liederabend offered a full program of songs by the local Norfolk, Virginia, Cantabile Project. Gustav Mahler (1860-1911) was born in Bohemia (now Czech Republic) and was late Romantic music's ultimate big thinker who wrote passionate, large symphonies but also art songs of great depth and passion. We heard seventeen of his 44 songs in one bliss-filled recital.
The lovely Kathryn Kelly opened with a self-conscious song about writing songs, Blicke mir nicht in die Lieder (Do not look into my songs). Ms. Kelly captured the coy charm of Friederick Rückert's poem. Continuing, she sang 3 selections from Des Knaben Wunderhorn (The Child's Magic Horn).
Actually 6 songs that we heard were from the anthology of German folk poetry Des Knaben Wunderhorn. These were selected from a total of 24 settings by Mahler. Between 1805 and 1808 Clemens Brentano, half-Italian by birth, and Achim von Armin, a member of the Prussian landed nobility, both young writers, used old manuscripts and people they met—shepherds, peasants, soldiers—to gather hundreds of songs and poems and sayings into their 3 volumes of folk wisdom, some of it centuries old.
Ms. Kelly sang Starke Einbildungskraft (Strong Conceit) where the girl challenges the boy who promised he would take her in summer, to do so. The last two songs are both about cuckoos and nightingales. Ablösung im Sommer (Change in Summer) and Lob des hohen Verstands (In praise of high understanding) is a satire on critics. Because of his big ears, a donkey is made judge of a singing contest between two birds. He chooses the cuckoo! It was presented with finesse and a beautiful vocal sound.
A stem of linden flowers in a vase in a setting of verse by Rückert, Ich atmet' einen linden Duft (I breathed a gentle fragrance!)—a fragrance that embodies love, was sung with beauty by Stephanie Marx. With gesture and an open countenance, Ms. Marx sang of a childrens' ring dance, Hans und Grethe (Hansel and Gretel). In this and Liebst du um Schönheit (If you love for beauty, [do not love me]) she gave a stunning, powerful expression to "if you love for love, love me forever…" Mahler composed this tender and poetic song for his recent bride Alma Schindler. Ms. Marks closed her set with Urlicht (Primeval Light) from Wunderhorn. It is a song of deep longing for the peace of heaven, sung with spell-binding beauty.
Tenor Brian Nedvin sang Lieder eines fahrenden Gesellen (Songs of a Wayfarer) with text by Mahler. Usually sung by a baritone, the lighter voice added an intimate, tearful dimension to this story told in 4 songs. Wenn mein Schatz Hochzeit macht (When my darling has her wedding day) is about a young man's sorrow on the day his beloved marries another man. Ging heut' Morgen übers Feld (I walked across a field) talks of being completely captured by his sorrow, so much so that he ignores nature on this morning walk. In the fast and wild Ich hab' ein glühend Messer (I have a red-hot knife), he describes his pain as a "red-hot knife" in his heart and regrets his life without her. In Die zwei blauen Augen von meinem Schatz (The two blue eyes of my darling) he muses that the these eyes sent him into the world. He walks away. The singing of love and sorrow is mysterious and pained. A piano interlude has the feeling of sun coming up on a new day. Our wanderer falls asleep under a linden tree and rests deeply while the petals cover him like an enfolding blanket. Over the course of the story Mahler's melodies are reckless and the voice soars and swoops, shedding dignity for raw pain, loneliness, poverty and death, only to reach this equilibrium with life.
Ms. Marx scaled down her magnificent, large, vocal sound to sing a Wunderhorn text Ich ging mit Lust durch einen grünen Wald (I walked with joy through a green wood), telling a gentle story of a man in nature and his maiden who comes to him in the night. Rapturous! In Um Mitternacht (At Midnight) from Rückert Lieder the singer wakes to contemplate the psychological questions of life, at first with anxiety—a pulse of agony and suffering to resolve it all in a prayer expressed in overwhelmingly passionate singing.
Ms. Kelly closed the recital with glamorous singing of Wer hat dies Liedlein erdacht? (Who thought-up this little song?). A girl looks out from a mountainside inn and is seen by a man who yearns for her. But no angst here—after a vocal tour-de-force it becomes a playful, light-hearted love song. A Rückert poem gets the last word, Ich bin der Welt abhanden gehommen (I am lost to the world). With its quietly sung lyrics: "The world has not heard from me for a long while. I am only dead to the everyday world with its tumult. I live alone in my heaven, my love, my song—a quiet realm," it is one of the most beautiful songs ever written. We noticed as she finished that the new stage lights gave the wall behind the singer an otherworldly pale lavender tint!
Stephen Coxe was an equal partner to the 3 singers, sometimes as a solo companion, at others standing in for the orchestra. Karen Hoy, who has gathered together the art song lovers through the Cantabile Project, brought us the best evening imaginable. Bravo!

The Snow Maiden of Appalachia
Tidewater Opera Initiative Offers Newly Written Opera
Slover Library, Norfolk, Virginia, January 17, 2016
Review by John Campbell
Some background before the review begins. What you are about to read is the comments of two listeners. This was a read-through of a work in progress and our feedback is intended to be helpful to the composer and the enterprising young opera company that commissioned it. If your experience was different from ours, tell us personally, or if you wish, we will publish your comments for our readers.
"... a good opera composer needs to be flexible and must learn to make his musical language capable of the slightest shift of mood or psychology on the part of his characters. Modernism, with its obsession for purity and rigor in musical rhetoric, had proven to be a debilitating artistic ground for effective music drama. My natural suspicion of orthodoxy and stylistic rigidity gave me a leg up when it came to writing for the stage." John Adams on Nixon in China.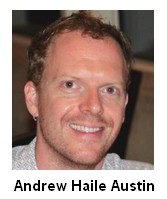 A cast of six vocalists and four instrumentalists conducted by Steven Brindle brought a new opera to the near-capacity audience at the Community Room at the spectacular, new Slover Library in downtown Norfolk. Commissioned by Tidewater Opera Initiative (TOI), composer Andrew Haile Austin was the electronic pianist for the premiere concert performance (stage reading) of The Snow Maiden of Appalachia. Mr. Austin began writing the libretto in May 2015 and continued to revise it up to the performance. He composed the music between September and November 2015. His bio states that he currently studies with Kevin Puts (b. 1972) at Peabody Institute in Baltimore, where he just received his Doctorate in February 2016. We saw Puts' Silent Night a few years ago on PBS at Christmas and were enthralled and we had assumed that with this piece we were in for a treat.
The Snow Maiden is a winter fantasy, a dream that melts away in the spring. Based loosely on a Russian folk tale of a childless couple longing for a child, their wish is seemingly fulfilled when a snow girl comes to life. The characters Wife and Husband, sung by exciting coloratura Anna Feucht and the multi-talented Anthony Smith, are childless and distraught. Wife dreams of an Appalachian snow scene in which she sees a child. Husband builds a snow child and they fantasize being a happy family. When their tears fall on the snow child she comes to life, summoned, it seems, from the land of dreams. The Snow Maiden was sung by the superb Kathryn Kelly. At this, the emotional high point of the opera, the three celebrate at the top of their vocal ranges but the joy in the text is not expressed in the music.
There were three other characters. The community matriarch Lucinda was sung by Adriane Kerr. A secondary plot involves Kelly, sung by Dustin Scott, who comes back after years to try to reconnect with his former fiancé Pauline, sung by Bridget Cooper.
The musicians, in addition to Mr. Austin at the keyboard, included Darla Wilmot, flute; Rachael Stambaugh, violin; and Barrell Davis, cello. Though young, they played with professional polish. The musical language was familiar and was not unlike Britten and Berg, two of my favorite opera composers.
The effective acting and movement were the work of Director Sara Rademacher, currently a MFA Directing Candidate at Columbia University. After the Snow Maiden comes to life Lucinda listens as the indecisive Pauline tries to narrow down what she will sing at the upcoming winter carnival at the grange—In the Bleak Mid-Winter, jazz, a Gilbert and Sullivan patter song, a bel canto fragment, and a crooned love song. Woven into the cacophony of the overall opera there were brief moments of communication with the audience, the most obvious being the snatches of song sung by Pauline, when we heard Ms. Cooper's wonderful voice full of wide possibilities.
Tenor Dustin Scott as Kelly had a pliant, beautiful sound in his tuneful hello to his jilted former lover Pauline. Trying to fit the request by TOI that the work be set in Virginia, Mr. Austin drew on Appalachian stereotypes giving Kelly a backstory of being a boxer and bootlegger. Later in the opera we were presented with the gratuitous information that he had married someone else and seriously contemplated killing her. At the conclusion Pauline decides to walk away from him.
In the last scene of Act One, Husband, Wife and Snow Maiden are bonding, snug inside their cabin, surrounded by winter and singing of love and perseverance. After Wife overhears the sound of the winter carnival in the distance they head out. At the grange Pauline sings a carefree dance tune. Finding Kelly, she suggests that since they've been together for a few months, perhaps they should marry. Instead he goes drinking, sees the Snow Maiden and falls for her. The act ends in tension and confusion with Pauling attacking the Snow Maiden.
Act Two offers solos, duets and trios on the subjects of remembrance, sadness and regret but little action. Descriptions of emotions to a static musical palette made the act seem interminable.
The opera was a very frustrating experience. We know well the vocal quality and capacity of several of the singers. The music given to them was harsh and overblown, pushing singers to the top of their range and asking them to sing full-out over and over again. Singing in this way left them no place to create larger dramatic moments. From the composer's website we learned that he has written musical theater pieces. That is where belted high, thin voices are the norm.
We found no place in the work where we could feel comfortable and bond with the characters. Never did the music invite the audience to care about the events unfolding in the characters' lives. The program speaks of Austin's love of early to mid-20th century music and musical theater— Britten, Poulenc, Sondheim, Bernstein, et al. These composers wrote music that draws you into the story and entices you to care about what happens to their characters. The singers gave their all but the musical landscape was static and consistently astringent and kept us on guard emotionally. This consistency blocked out the possibility of variation, whether nuanced, soft or dramatic. If the story were told primarily using the mid-range of the voices reserving the higher range and loud volume for dramatic effect the piece would have been much more listenable as well as easier on the singers.
One last suggestion: to strengthen Mr. Austin's libretto, the formidable vocal assets of Adriane Kerr could have been used as a decisive Greek chorus to move along the very slow-moving expository second act.
We see Mr. Austin as a hard-working, committed composer. I doubt that his goal was to rebel against the historic role of the voice in opera. Our goal in this review is to give Mr. Austin feedback, hoping that at some future date we can enjoy a full production of a revised The Snow Maiden of Appalachia.
Printer Friendly Format

More Reviews

Kudos, Corrections, Disagree?


To have the Newsletter delivered to your Inbox,
e-mail us at
artsongupdate@whro.net
Home &nbspCalendar &nbspAnnouncements &nbspIssues &nbspReviews &nbspArticles Contact Us