Art Song of Williamsburg
Robynne Redmon, mezzo-soprano & Charles Woodward, pianist
&nbsp&nbsp&nbsp&nbsp&nbsp Many of our area's finest singers turned out to hear this recital by Tidewater's world-class mezzo. The Call of Folklore is the title of the recital series this year for Art Song of Williamsburg. Robynne Redmon sang an exciting selection of art songs based on folk texts for the first recital of the season, November 7, 2003. Her voice was splendid and her interpretations were superb.
&nbsp&nbsp&nbsp&nbsp&nbsp Certainly her performance of five songs by Gustav Mahler (1860-1911) were the finest that I can expect to hear in my lifetime. I don't say this lightly, having listened to recordings and a few live performances of them for 35 years. Ms. Redmon is emotionally transparent as she performs, giving the audience the full impact of the text as she sings it very beautifully. Someone remarked to us that she is the Earth Mother of art song. She is warm and accessible in person as well.
&nbsp&nbsp&nbsp&nbsp&nbsp The text for these songs is from Des Knaben Wunderhorn, an anthology of German folk poetry. Mahler used these poems for twenty-seven of his forty-four songs. I talked about the first selection Das irdische Leben in an extensive article on Mahler's songs and life in Issue #8, February, 2002 (available on our website). Ms. Redmon's interpretation left me weeping for pity at the story of a mother who delays feeding her hungry child until he dies. Rheinlegendchen, a fanciful song of the musings of a man as he mows hay, followed. Next came Wer hat dies Liedlein erdacht?!, a love song, innocent and youthful and with vocal lines that were smooth and so lovely. Wo die achönen Trompeten blasen foreshadows Mahler's vocal symphony Das Lied von der Erde with lines of such vocal beauty and such intense piano accompaniment.
&nbsp&nbsp&nbsp&nbsp&nbsp In this song, the last by Mahler, Lob des hohen Verstands, Charles Woodward played with great strength and clarity as he did throughout this demanding program. It is clear why so many singers seek him out as a recital partner. Obviously he was having a great time playing this music and his enthusiasm communicated to the audience.
&nbsp&nbsp&nbsp&nbsp&nbsp The program opened with Cinq mélodies populair Greques (Five Popular Greek Songs) by Maurice Ravel (1875-1937). This music is most exciting and at times exotic, using texts of very short folk poetry. The delicious songs in this set went by far too quickly.
&nbsp&nbsp&nbsp&nbsp&nbsp From first hearing I have always loved Siete canciones populares Española (Seven popular Spanish Songs) by Manuel de Falla (1876-1946). They are rooted in Spanish folk music with a flavor of flamenco. Emotionally volatile and with striking use of the piano as a percussion instrument, these songs are wonderful to hear. If you do not know this music, find a good recording until you can hear them live, preferably by Ms. Redmon.
&nbsp&nbsp&nbsp&nbsp&nbsp The Mahler songs opened the second half of the program and the contrast of mood and intensity of these compared to our American composer Aaron Copland (1900-1990) was striking. American folk music in Copland's hands danced with a light heart compared to Mahler's seriousness. One would expect this of I bought me a cat and Ching-a-ring Chaw, but even in the lullaby The Little Horses and At the River the folk texts are happy and light-hearted.
&nbsp&nbsp&nbsp&nbsp&nbsp In her first encore, Ms. Redmon reminded us that she sings opera as well as lieder when she gave us a truly sensual rendition of Bizet's Habanera from Carmen. She closed with Can't help lovin' dat man from Rodgers and Kern's Showboat.
&nbsp&nbsp&nbsp&nbsp&nbsp We have two additional opportunities to hear this busy world-class mezzo in Norfolk early in 2004. The first is an eagerly awaited recital at ODU's Chandler Hall on February 23, 2004 at 8 pm. Then five days later she and Thomas Rolf Truhitte sing Das Lied von der Erde with the Virginia Symphony, February 28th at 8 and February 29th at 2:30 pm.
&nbsp&nbsp&nbsp&nbsp&nbsp Art Song of Williamsburg president Dr. Genevieve McGiffert gave a pre-concert talk about the origins of German lieder. We learned that Romanticism followed the enlightenment and was a reaction to the rational view of life. Instinct over reason was popular belief and so folk music became a source to be mined by romantic composers. As we left the theater we were presented with The Romantic Spirit in Song, a beautifully printed booklet by Dr. McGiffert that expands on the talk we had heard.

Another Full House at Art Song of Williamsburg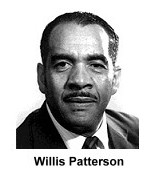 &nbsp&nbsp&nbsp&nbsp&nbsp What wonderful musical evenings we, the audience, experience at Art Song of Williamsburg recitals. The most recent was on January 23, 2004 when Dr. Willis Patterson gave the pre-concert talk introducing us to the composers that we were soon to hear. He had personal reminiscences of many of these African-American composers and shared his experience with us. He also recalled that Lisa Edwards-Burrs' grandmother had been in his church choir four decades ago when he taught at Virginia State University early in his career. Later he taught at Southern University in Louisiana and he retired from the University of Michigan a few years ago to edit the Second Anthology of Art Songs by Black American Composers and The New Negro Spiritual. Dr. Patterson is a bass and concertized extensively.
&nbsp&nbsp&nbsp&nbsp&nbsp The best attended art song recitals in Tidewater are at Art Song of Williamsburg because the high quality programs have attracted a devoted audience. The friendly board members dressed in formal wear provide tickets, programs and smiles and are available during the reception after. This is the setting but the songs sung are the jewels that bring us back again and again. If you've missed these recitals, don't despair, there are still a few available seats for the next one: Heart to Heart, Hugo Wolf's Italian Song Book on March 12 at 8 pm. Williamsburg's own soprano Georgann (Gigi) Paddock and operatic baritone Jonathan Hays will sing with Ruth Easterling Winters at the piano.
The Roots and Flowers of African-American Song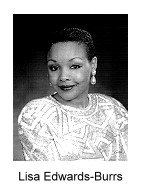 &nbsp&nbsp&nbsp&nbsp&nbsp This recital by the talented and beautiful Lisa Edwards-Burrs, with Melanie Day her very accomplished pianist, was emotionally fulfilling and intellectually stimulating. The program opened with three songs from a cycle by Harry T. Burleigh (1866-1949), Five Songs of Lawrence Hope. From the opening mysterious sound of the piano in Among the Fuscias, through the coming to terms with a lost love in Worthwhile, to the last pianissimo repeat of 'Til I Wake, these are subtle Romantic lyric poems musically set to emphasize the text.
&nbsp&nbsp&nbsp&nbsp&nbsp Betty Jackson King's (1928-1994) A Set of Three Dunbar Poems followed: Dawn, Theology, with its humorous text of heaven and a certainty that there is a hell "For pray if there were not, where would my neighbors go," and Compensation, "because I love so deeply and so long, God in his great compassion gave me the gift of song."
&nbsp&nbsp&nbsp&nbsp&nbsp Three short songs by Lena McLin (b. 1928) followed. Born in Atlanta, where she graduated from Spellman College, she is recognized as one of America's foremost composers. Her compositions number 400 pieces, including art songs, spirituals, solo piano works, cantatas, opera, masses and symphonies. Ms. McLin went to live in Chicago with her uncle, Thomas A. Dorsey, the "father of Gospel music," and completed her graduate studies there. Her cantata Free at Last, a portrait of Dr. Martin Luther King, has been performed in Carnegie Hall, Rome, Berlin and many other venues.
&nbsp&nbsp&nbsp&nbsp&nbspThe text of The Love Cycle by Spencer McLin is modern and understated. The song Silence, is about "the silence between such friends as we is full of deepest speech." The Unlucky Apple brought out the dramatic actress in our singer and If I could give you all I have is about love beyond telling in mere words.
&nbsp&nbsp&nbsp&nbsp&nbsp The first half closed with a set of five songs by four composers. Undine Smith Moore (1904-1989), a native of Jarrett, Virginia, taught at Virginia State University in Petersburg for forty-five years and composed and wrote I am in doubt. H. Leslie Adams wrote Prayer on a text by Langston Hughes. With eyes looking heavenward, Ms. Edwards-Burrs delivered this song with its message of doubt and confusion with intensity. The set of two songs by Adolphus Hailstork, who teaches at Old Dominion University and is a prolific composer, set text by Martin Luther King. Decisions begins with strong piano music, march-like and a little grand. "Every man must decide whether he will walk in the light of creative altruism ..." The text of Love tells us that love is the only thing that can transform an enemy into a friend." The song begins softly and repeats three times and then the sound fades away. The last song is an aria, I Have Two Loves, from Minette Fontaine, an opera by William Grant Still (1895-1978) and has a Mozartian gaiety with a sound of laughter in the piano and a glint in the singer's eye as she decides in favor of her lighthearted lover!
&nbsp&nbsp&nbsp&nbsp&nbsp Willis Patterson recounted an evening of improvised jazz singing in a club with Valerie Capers at the piano. Ms. Capers (b.1935) has been recognized throughout her career for her innovative approach to musical education, having introduced jazz studies into the curriculum at Bronx Community College of the City University of New York. She was born in the Bronx and was the first blind person to graduate from the Juilliard School of Music, having lost her sight at age six. She authored the book Portraits in Jazz (Oxford University Press) and has played jazz in Carnegie Hall and Lincoln Center with many jazz greats.
&nbsp&nbsp&nbsp&nbsp&nbsp Miss Capers' Songs of the Seasons, was beautifully presented by Ms. Edwards-Burrs and Ms. Day, who were joined by cellist James Wilson. The text reflects the changes of the season as metaphor for the seasons of human life. Spring is youth with our "splendid dreams of things to be." Summer brings mature love, expressed with torch singing with low notes. Autumn is the promise kept. Winter is a time to lovingly linger over memories. During the applause Mr. Wilson was presented a well-deserved rose for his fine playing.
&nbsp&nbsp&nbsp&nbsp&nbsp Ms. Edwards-Burrs then sang an aria from the opera Vanqui, with music by her brother-in-law Leslie Savoy Burrs (b.1955). Moremi's Lullaby is a pretty, tonal song, ending in a lullaby.
&nbsp&nbsp&nbsp&nbsp&nbsp Last came the spirituals, Ain't that Good News! and Listen to the Angels set by Charles Lloyd, Jr. (b.1938), His Name so Sweet set by Hall Johnson (1888-1970) and Toccata set by John Carter (1937-1989). This last song from Carter's stunning song cycle Cantata, ends with a proclamation: "No man can-a hinder me!" And indeed the voice of creativity, love and compassion of the African-American composers was presented in all its richness and beauty by our performers.

Art Song of Williamsburg's Fourth Season Grand Finale
&nbsp&nbsp&nbsp&nbsp&nbsp What a lovely treat to have Genevieve McGiffert share her enthusiasm for the songs of Hugo Wolf (1860-1903) with us on March 12, 2004. With Ruth Easterling Winters at the piano, Dr. McGiffert read several poems set by Wolf from the Italienisches Liederbuch and then had Ms.Winters play the piano parts to clearly show how the text and music are interconnected with "exceptional intensity of expression and an exceptional economy of means." The quote is from Ernest Newnan from notes for the five CD set of recordings by The Hugo Wolf Society, EMI Classics 7243 5 6664029 (mono) .
&nbsp&nbsp&nbsp&nbsp&nbsp Paul Heyse (1830-1914) translated poems by anonymous Italian poets into German and Wolf set forty-six of these poems to music. The singers, Georgeanne Paddock, soprano and Jonathan Hays, baritone, presented half of these songs and did a fine job by carefully delineating the texts with gesture and vocal skill. Wolf, to my perception, is the star of the show. By setting the words to evoke a mood appropriate to the poem in these two or three minute miniature operas, Wolf demands great interpretive skill to create the depth of meaning that he requires. But the singer must look to other composers to find songs that allow full vocal expression and to share fully the beauty of their instrument. The pianist plays a major role in creating the magic of the songs and Ms. Winters was excellent throughout.
&nbsp&nbsp&nbsp&nbsp&nbsp The men in these poems tend to be idealistic, adoring and worshipful of the women and ecstatic or deeply pained as appropriate and Jonathan Hays created these characters with an elegant restraint. Ms. Paddock used gesture, facial expression and voice to create the Italian Liederbook women who are much more earthy and practical and at times even sassy or disdainful of the men.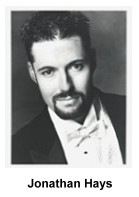 &nbsp&nbsp&nbsp&nbsp&nbsp All of this was before intermission and when the performers returned to the stage it was as if we were treated to a second recital. Mr. Hays sang four selections from Sergei Prokofiev's (1891-1953) Twelve Folk Songs, opus 4. He has a natural affinity with this repertory with its humor and pathos. The beauty of his voice was apparent in the exciting pianissimo at the end of Green Grove, to the flood of sound in Eldertree Upon the Hill, from the humor of the slapstick piano in Dunyushka with it busy, busy piano to The Monk with the flavor of acting out a Rossini aria but with music that is both modern and Russian. I found these songs intriguing exciting and well sung.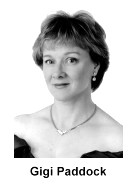 &nbsp&nbsp&nbsp&nbsp&nbsp Gigi Paddock then sang At Grandfather's Knee: Five Judeo-Spanish Folk Songs by Simon Sargon (b.1938). These songs use the Ladino language which developed in Spain. When the Jews were expelled from Spain in 1492 Ladino spread to Holland, England, Italy, South America and the Ottoman Empire. Sargon was enchanted with the range of mood and subject and the beauty of these folk songs and decided to bring them to a wider audience by setting them. Some of the songs reminded one of Ravel's Spanish settings and Ms. Paddock communicated through acting and voice with passion, poignancy and humor. For more information on Simon Sargon and his works, visit: www.simonsargon.com/ .
&nbsp&nbsp&nbsp&nbsp&nbsp Celius Daugherty (1902-1986), composer of Five Sea Chanties, grew up in the Midwest, where, as Mr. Hays said in his introduction, " Dougherty was gay where it was practically illegal to be!" These folk songs brought forth the heroic voice of working class Americans who lived and worked on rivers and oceans. The songs are Rio Grand, Blow Ye Winds, Across the Western Ocean and Mobile Bay and Mr. Hays, with his deep speaking voice and his beautiful singing voice did the songs up proud.
&nbsp&nbsp&nbsp&nbsp&nbsp The last set, once again by Ms. Paddock, was selections from Appalachian Songbook with music by Kenneth Fazelle (b.1955), who was born in Jacksonville, North Carolina where he attended high school at the North Carolina School of the Arts where he now teaches. In between he studied at Juilliard School as a student of Roger Sessions. This is heart music with sophisticated piano lines which showed the incredible skill of Ms. Winters at the keyboard. Our singer seemed to enjoy greatly presenting us with the mountain folk text of Single Again, a lament about being married with kids and a drinkin' husband and Bonnie Blue Eyes, with its sad lyricism of parting, and Groundhog.
&nbsp&nbsp&nbsp&nbsp&nbsp Finally in the encore we heard our singers join voices in Mozart's Pa-Pa-Pa-Papagena from The Magic Flute. Mr. Hays' face lighted up with mischief as he sang Papageno to Ms. Paddock's Papagena and they gave us a happy ending to a rich and complex evening of art song exploration.
&nbsp&nbsp&nbsp&nbsp&nbsp Once again Genevieve McGiffert and the board of Art Song of Williamsburg have offered us an outstanding season. So far we have found no comparable program anywhere else in America and so we appreciate even more the personality and skill of Genevieve as she leads this unique group. Stay tuned for the listing of ASW's fifth season, starting with local favorite soprano Barbara Quintiliani.
Printer Friendly Format
Back to Top
More ASoW
Review Index
Home &nbspCalendar &nbspAnnouncements &nbspIssues &nbspReviews &nbspArticles Contact Us