Art Song of Williamsburg
Art Song of Williamsburg Hosts Duo Nord
&nbsp&nbsp&nbsp&nbsp&nbsp As if by a magic carpet ride the audience was transported to a very different world, one where there is snow in early November but the lakes and ground are not yet frozen. The pines are very tall and thin with only a triangle of green on the top and a long winter is about to begin.
&nbsp&nbsp&nbsp&nbsp&nbsp Stefan Rice, who gave the pre-concert talk, emigrated from the United States to Finland eight years ago and spoke fondly of his new home. Finland has a population of five million people and a shared border with Russia. The people are tough to match the harsh weather. They are self-denying, are lovers of knowledge and are obedient to authority. They have evolved a welfare state with one of the best school systems in Europe. The academy of music offers free tuition and has produced a disproportionate number of composers and performers. Since the year 2000 fourteen new operas have been written in Finland.
&nbsp&nbsp&nbsp&nbsp&nbsp This, the first program of Art Song of Williamsburg's season, The Wide World of Song, is titled Nordic Lights from Duo Nord. Duo Nord is soprano Catarina Lundgren from Sweden and pianist Heikki Pellinen, from Finland. The first half of the program presented Swedish composer Gunnar de Frumerie (1908-1987) and two composers from Finland.
&nbsp&nbsp&nbsp&nbsp&nbsp The de Frumerie set, Fyra Sånger, Op. 72 (Four Songs), composed in 1974, used nature-themed poems by Erik Lindegren (1910-1968) that speak of life's brevity, the grave, snow related to sorrow and finally the seashore and a dream of wild roses. There was a yard-wide cluster of snow-white tulle fabric across the center of the piano which trailed onto the floor and curved around in front of where the singer stood. A polished vocalist with a beautiful tone, Ms. Lundgren, dressed in white, sings "I stoop before the dream of the wild roses" and pulls the fabric from the piano onto the floor in a heap and then drifts stage-right and disappears. She is barefoot. The simplicity of the action heightens the dramatic impact of the music.
&nbsp&nbsp&nbsp&nbsp&nbsp de Frumerie, who began his formal music studies at Stockholm Conservatory at age fifteen, later studied in Vienna and Paris. In the Grove Dictionary of Music he is described as a man of impulsive and florid temperament who absorbed varied influences. He was a composer of powerful music drama. There is a clarity, purity and spareness in his songs which well-served the poetry he set. The Grove lists over sixty songs in cycles and mentions many more. He was an outstanding and colorful pianist but in his songs there is a graceful restraint in the piano part, beautifully played by Heikki Pellinen.
&nbsp&nbsp&nbsp&nbsp&nbsp Ms. Lundgren returned to applause and then performed a set of three songs by Finnish composer Erkki Melartin (1875-1937), who wrote in a Finnish folksong style. Though not overly sentimental, his songs and popular piano pieces are sometimes heard on programs of parlor music. He was a mystic influenced by Eastern religions but his music uses an eclectic European language. His nationalistic symphonies were a major focus of his composing life but continue to be overshadowed by those of Jean Sibelius. His songs are enjoyable. Skymning (Twilight) opens with a hymn-like processional and moves to a wave-like agitation in the piano mid-song. It is essentially a sad song reminiscing on a lost love sitting by the lake as the sun sets.
&nbsp&nbsp&nbsp&nbsp&nbsp Stum Kärlek (Wordless Love) opens in a minor key. The boyfriend has left with no stated goodbye but the text tells how she reads each gesture and word of his as symbolic of his love and the music changes to a major key. Flickans klagan (Girl's Lament) tells of one who passionately addresses her own heart troubled by a special someone. There is a grandeur in the piano interlude between verses that showcases the fine playing of Dr. Pellinen.
&nbsp&nbsp&nbsp&nbsp&nbsp The Finnish composer Aulis Sallinen, born in 1935 in what is now part of Russia, is primarily an opera composer, completing his sixth opera in 1999. The song cycle we heard, Neljä laulua unesta, Op. 30 (Four Dream Songs, 1972-1973) on texts by Paavo Haavikko (b.1931) are his only listed songs for soprano and are a precursor to what became his first opera Ratsumies (The Horseman, 1973-74). He also has written two cycles for baritone. He is the master of a somber tonal palette. The singer's beloved was a horseman, now dead, who comes unbidden to her dreams. His sorrow never ceases and smothers her life. In the third song the woman carries an unborn child who also dreams of being born and then dying. The fourth song ends with these lines: "There is no stream that journeys so swiftly as life itself, 'tis evening when you have crossed the river." The poetic drama of the opera to be is heavily symbolic in character and meandering in shape. Sallinen showed an unusual talent for creating large spans of coherent dramatic music. As a listener I was intrigued but it did not impact me emotionally.
&nbsp&nbsp&nbsp&nbsp&nbsp The somber theme continued after intermission with the song cycle Colección de Tonadillas (Collection of Little Songs, 1913) by Enrique Granados (1867-1916) : La maja dolorosa I, II and III. Ms. Lundgren, in a black dress and Spanish-style shawl, starting with her back to the audience and her arms outstretched as wings, sang of the death of her beloved. Kneeling, she holds the shawl as if it were her missing love, wrapping it around herself as the piano ends the second song with a dizzy little dance. The singing was accurate and clear without the lilt and liberties taken by many singers.
&nbsp&nbsp&nbsp&nbsp&nbsp Finding two unfamiliar Claude Debussy (1862-1918) songs, Nuit d'étoiles (Starlit Night) and Dans le jardin (In the Garden) was a most pleasant surprise. Yes, they were sad, continuing the theme of the evening. Apparition was familiar to me with its intriguing music and moments of great passion.
When we think of Pyotr Il'ich Tchaikovsky (1840-1893), art song is not the first thing that comes to mind, but recmusic.com lists 120 of his songs. Finland and Russia share a border and the sad, romantic texts of Tchaikovsky's Den' Li Carit (Whether in the Realm of Day) and Strashnaja Minuta (The Fearful Minute) fit nicely into this Scandinavian evening. In the soft passages the vocal tone becomes pale as the strength of the line is lost and yet our singer was able to communicate vulnerability and pain effectively. The piano underscores the sadness, especially in the last song Otchego? (Why?).
&nbsp&nbsp&nbsp&nbsp&nbsp The encore piece, Drömmen (The Dream) by Jean Sibelius (1865-1957), finished this most interesting intellectual musical journey to a land foreign to this reviewer's experience.
Nordic Composers on CD
&nbsp&nbsp&nbsp&nbsp&nbsp If you missed the Scandinavian recital, or if you want to hear more, there are several interesting CDs currently available to further our education in this repertory. Carol Kimball, in her book Song: A Guide to Style and Literature, offers an outline of Nordic composers. The top tier includes Edvard Grieg (1843-1907), who achieved international fame and brought Norwegian music to the world; Jean Sibelius (1865-1957), who is credited with establishing a national musical style for his native Finland; Yrjö Kilinen (1892-1959), also a Finn, has been compared to Hugo Wolf in his close fusion of music and poetry; and Carl Nielsen (1865-1931) a Danish composer who has created songs with an amazing sense of force and energy. His many songs, like those of Kilinen, are greatly admired by his countrymen but are not widely known outside of Denmark.
&nbsp&nbsp&nbsp&nbsp&nbsp Several Swedish composers, including Withelm Sternhammer (five songs), Hugo Alfvén (two) and Carl Sjoberg (one), are represented on Barbara Bonney's Diamonds in the Snow (Decca 289 466 762-2), as well as songs by Grieg (thirteen) and Sibelius (five). It is a wonderful introduction to this music by a voice as clear and crisp as a mountain stream.
&nbsp&nbsp&nbsp&nbsp&nbsp We are great fans of mezzo-soprano Annie Sophie von Otter. Her CD Sings Sibelius (twenty-five songs) is on BIS CD 757, where you will find Ms. Lundgren's encore piece, The Dream, from the Williamsburg recital. This one is listed as Vol. 3; obviously there are other CDs but I don't know the serial numbers. Otter's CD of Grieg Songs (twenty-five songs) is on Deutsche Grammophon (D 174269). Speaking of Grieg, baritone Håkon Hagegård has recorded for RCA Victor Red Seal a two-disc set (09026-61630-2) of his songs. You may recall that Hagegård is Papageno in Ingmar Bergman's film of Mozart's Magic Flute. RCA also offers historic recordings of Grieg (09026-61827-2).
&nbsp&nbsp&nbsp&nbsp&nbsp For songs with orchestral accompaniment, Finnish soprano Karita Mattila, on Warner Classics (CD 8573 80243-2), offers Grieg (six) and Sibelius (eight) songs that are also a good introduction to the Scandinavian sound.
&nbsp&nbsp&nbsp&nbsp&nbsp If you have favorite recordings of Nordic repertory we haven't listed here, please e-mail us and we'll share those titles with our readers.

Baritone Andrew Garland & Pianist Donna Loewy in Williamsburg
&nbsp&nbsp&nbsp&nbsp&nbsp In the poem A Man Said to the Universe by American poet Stephen Crane (1871 -1900) and set by Jeffrey Wood (b. 1954) the man says "Sir, I exist" with full baritonal bathos. The Universe quietly replied without animosity: "However . . . the fact has not created in me a sense of obligation." The singer's face reflected the surprise the man must have experienced at this answer, not of irony or condescension but rather disinterest. Thus began an adventurous, complex, entertaining evening of art song.
&nbsp&nbsp&nbsp&nbsp&nbsp Wood's second song from the set Four Deadly Serious Songs was Master and Boatswain set to a text by W.H. Auden (1907-1973) and is a world-weary observation on drink, loose women and leading a life of freedom: "Tears are round, the sea is deep: Roll them overboard and sleep." The third setting, The Telephone with text by Ted Hughes (1930 -1998), sings of a man's maniacal resistance to the telephone, used as metaphor for all in life that is destructive and leads to death. The overheated text dramatically sung and acted in facial gesture and body language, ends with page turner Millie Young bringing the singer a flip phone which he opens and closes making it "bow" to the audience.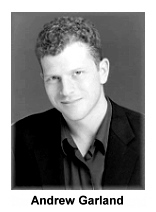 &nbsp&nbsp&nbsp&nbsp&nbsp This was the opening set of songs by baritone Andrew Garland and pianist Donna Loewy, both of Cincinnati, Ohio, who presented a wonderful recital to a large audience for Art Song of Williamsburg on Friday, February 10, 2006. Titled American Art Song Lives, the program showcased the songs of six living American composers who are making new music. Mr. Garland explained from the stage that he has had the privilege of meeting each of the composers. Though early in his career, this accomplished recitalist has been presented by the Marilyn Horne Foundation throughout the U.S., including New York, Washington, D.C., San Francisco, Boston, Cincinnati and Flint Michigan. He is also actively building a successful opera career. His accompanist, Ms. Loewy, who is Accompanist-in-Residence at the Cincinnati College Conservatory of Music, was one of Garland's teachers when he studied there. Ms. Loewy, an excellent pianist, has a busy career around the world as a vocal coach and accompanist.
&nbsp&nbsp&nbsp&nbsp&nbsp The age range for the composers on this program is from 45 to 52 except for Lee Hoiby who turned 80 on February 17. Born in 1926, Hoiby lived through the period of atonal and electronic music but remained true to his Romantic roots, composing lyrical music that allows the voice to present well-chosen texts in a natural and understandable way. He studied with Gian Carlo Menotti (b.1911) and the drama in his songs reflects this as does the warm lyricism of Barber whom he claims as his mentor and "spiritual guide by osmosis." With the cultural change in attitude toward lyricism, Hoiby's songs are finally being sung.
&nbsp&nbsp&nbsp&nbsp&nbsp The Hoiby cycle was I Was There: Five Poems of Walt Whitman (1995). Whitman freed American poetry from European roots and captured the immense open spaces and freedom of our land in his texts. The intellectually intriguing first poem, Beginning My Studies captured my full attention and drew me into that world. The ecstatic expression in the voice and on the singer's face demonstrated the ecstasy Whitman experienced as he began to explore the world of form and consciousness, the power of motion and love.
&nbsp&nbsp&nbsp&nbsp&nbsp Mr. Garland's skill at creating an experience is so great that the pathos of I Was There moved me to tears at the story of the heroic ship's captain who spent days helming a rudderless ship in a storm to keep the passengers safe. In A Clear Midnight there is a peacefulness and rest created while the soul ponders "Night, sleep, death and the stars." This quietude emotionally prepares us for O Captain! My Captain! where one weeps for pity of those left behind when Lincoln lies cold and dead on the deck of the ship of state. Joy, Shipmate, Joy! closes the cycle and speaks of the fulfillment of life as the ship, long at anchor, sets sail for the beyond. Mr. Garland told us that this is his favorite song cycle and that he has had the honor of being accompanied by Mr. Hoiby in recital.
&nbsp&nbsp&nbsp&nbsp&nbsp At the pre-concert lecture Genevieve McGiffert, Artistic Director of Art Song of Williamsburg, had prepared us to hear I Was There, explaining the piano's part in creating the drama of this song but had not prepared me for how completely I would be taken over by the experience, due to the totality of superb piano playing combined with the extraordinary communication skill of the singer. I suspect Hoiby would be pleased since his goal for setting poetry is to "elucidate the feeling, the meaning of the words . . ." (quoted by Robin Rice in an unpublished doctoral thesis).
&nbsp&nbsp&nbsp&nbsp&nbsp Lori Laitman's (b. 1955) cycle of songs came second on the program. Men with Small Heads on a text by Thomas Lux (b. 1946) based on his actual childhood memories, captures what it is like to be six years old. The singer used a falsetto voice to emphasize meaning, especially the word "small." In Issue #34 of Artsong Update you can find my review of this music on Ms. Laitman's CD Dreaming - Albany Records Troy 570. It is an altogether different experience to see the kinetic Mr. Garland present these songs on stage. Ms. Laitman sets language with such natural intelligence and in the hands, body and voice of our singer the experience is even richer.
&nbsp&nbsp&nbsp&nbsp&nbsp Refrigerator is an exploration of maraschino cherries as an icon of sensuality, history and joy. A Small Tin Parrot Pin describes a child's pleasure at choosing a trinket for himself even though the adult in his life is not impressed. In Snake Lake, with lots of gestures, rolled eyes and aversive movements, the performer created the child's giddy, even delicious fear.
&nbsp&nbsp&nbsp&nbsp&nbsp Just a few words create big, powerful emotions in a set of songs by Tom Cipullo (b. 1960) titled Glances. The text is by Polish poet Agata Tuszynska (b. 1962) . With only a fourteen word text there are eleven meter changes in Echo. Impossible and Unbroken are equally brief and complex for the performers. Between Verses is longer but still less than fifty words which attempt to encompass the lifetime of a couple together. The other songs, A Plea for Mercy, Glance and Echo 2 are each a dozen words or less but packed with meaning.
&nbsp&nbsp&nbsp&nbsp&nbsp Mr. Garland suggested that Steven Mark Kohn's (b. 1957) Folk Songs is the most important setting of old American songs since Copland; he may be right. Kohn, an award-winning composer of children's films, is currently director of the electronic music studio at the Cleveland Institute of Music. Our performers have chosen for this program songs with strikingly deep emotional content and these folk settings are no exception. The light-hearted The Bachelor's Lay is followed by Down, Down, Down, the story of a young man who ignores a father's advice to avoid coal-mining if he wants to have a healthy, long life. The humorous The Farmer's Curst Wife left us all laughing while The Ocean Burial left us in stunned silence and California captured the flavor of the gold rush.
&nbsp&nbsp&nbsp&nbsp&nbsp Jake Heggie (b. 1961) has been a boy wonder of American art song and his operas Dead Man Walking and The End of the Affair have added to his reputation as a lyrical composer who has much to say musically. Mr. Heggie was approached by bass-baritone Bryn Terfel to write songs that allowed him to have interesting characters to present on-stage. He set five poems by Vachel Lindsay (1879-1931) for his cycle The Moon is a Mirror. Lindsay was born of pioneer stock in Springfield, Illinois and idolized Lincoln. The Moon is a Mirror is a cycle of five fairy-tale characters: The Strength of the Lonely (What the Mendicant Said, What the Miner in the Desert Said, The Old Horse in the City, What the Forester Said and What the Snowman Said.
&nbsp&nbsp&nbsp&nbsp&nbsp As the music unfolded, Mr. Garland's great skill as an interpreter created the characters with stunning intensity. When he became the horse his use of his mouth to show the animal chewing his feed was amazing. This was not an isolated event but part of a flow of mime, facial expression, gesture and even a little dancing. It was effective and is a positive trend in keeping the art song genre alive and competitive in the market place of entertainment.
&nbsp&nbsp&nbsp&nbsp&nbsp The encore piece returned to a Tom Cipullo song Another Reason I Don't Keep a Gun in the House in which themes from Beethoven's greatest hits are used to create a humorous song on the annoyance of a barking dog.
&nbsp&nbsp&nbsp&nbsp&nbsp Mr. Garland is a very confident, friendly, talented singer and actor with an expanding career in the opera house and on the recital stage. From the stage and in conversation afterward he shared his enthusiasm about his new baby daughter, Ava Vilette Garland. We were most fortunate to have Art Song of Williamsburg bring him to us while, as Genevieve McGiffert said, "We can still afford to have him."

Andrew Garland Sings Composer Lee Hoiby's Setting
of a Last Letter Home on YouTube
Private First Class Jesse Givens, a setting for voice and piano of a last letter home from an American soldier who died in Iraq, performed by baritone Andrew Garland, is viewable on YouTube at http://www.youtube.com/watch?v=5wqnPjkqu20

US Army Pfc. Jesse Givens died in Iraq in the service of his country on the first of May, 2003, in his 34th year. He wrote this letter to his wife Melissa, his five year-old son Dakota (nicknamed 'Toad') and his unborn child Carson (nicknamed 'Bean'). He asked Melissa not to open the envelope unless he was killed. 'Please, only read it if I don't come home,' he wrote. 'Please put it away and hopefully you will never have to read it.'

The work was originally written for a consortium of male vocal ensembles led by Cantus of Minneapolis, Minnesota. Cantus first performed it in March 2006. An audio file of Cantus's performance can be downloaded at www.cantusonline.org.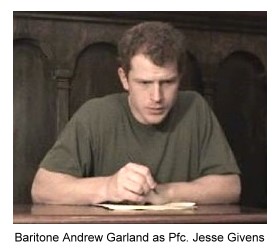 Shortly thereafter Hoiby made a version for baritone and piano which had its first performance by Andrew Garland with Mr. Hoiby accompanying at a concert of Hoiby's music presented by the music department of the University of Wisconsin at Madison in honor of the centenary of the birth of Gunnar Johansen, the Danish piano virtuoso who was Hoiby's musical mentor. The entire concert, which took place on September 17, 2006, can be found at www.music.wisc.edu/events/eventcalendar.jsp on the September page. The Youtube video dramatization features Mr. Garland lipsynching the Madison audio.

Baritone Simon Chausse of Montreal performed the song in October in Montpelier, Vermont. The music critic of the Montpelier Argus, Jim Lowe, wrote: "A new American song-one that is likely destined for worldwide importance-was presented just months after it was written . . . and because of the song's timeliness and fine crafting, it proved emotionally devastating. . . . Hoiby's simple, never maudlin, melodic lines were never histrionic, only quietly dramatic. Still, there was an underlying cataclysmic feel that was subtly interwoven into the modest tonal accompaniment."

Further information about Andrew Garland can be found at www.andrewgarland.com Further information about Lee Hoiby can be found at www.schott-music.com/news/komponistennews/show,16353.html -- and - www.leehoiby.com

Art Song and Opera Composer Lee Hoiby
(February 17, 1926 – March 28, 2011)
Lee Hoiby wrote some 100 songs over his long life "making singers sound good" as he expressed it. I first heard his songs when Leontyne Price sang Autumn, The Message and The Serpent at Chrysler Hall on October 5, 1980. Many of his texts were selected by his life partner, Mark Shulgasser, who survives him.
My fondest memories are of his tender, evocative Lady of the Harbor as sung by Karen Hoy and more recently young, upcoming baritone Andrew Garland who sang the cycle I Was There: Five Poems of Walt Whitman when he appeared at Art Song of Williamsburg (February 10, 2006) and then there is his singing Private First Class Jessie Givens, now renamed Last Letter Home, a setting of a soldier's last letter home from Iraq. Mr. Hoiby is the pianist and a link to a video of the piece can be found at www.artsongupdate.org/Announcements/Announcements.htm . We heard a fine performance of Four Dickinson Songs by Scott Williamson in 2009 at a Virginia Wesleyan concert.
Hoiby's best known opera is a setting of Tennessee Williams play Summer and Smoke. His songs are tuneful and from the heart and will survive him, I am sure. More details can be found in the March 29, 2011 New York Times obituary.

Mezzo-soprano Keri Alkema and Pianist Michael Baitzer
at Art Song of Williamsburg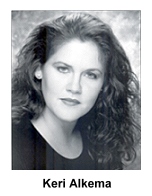 &nbsp&nbsp&nbsp&nbsp&nbsp Keri Alkema, speaking from the stage, told her audience "I pick the music that means the most to me. I don't have to look for music; it finds me." The music that has found her provided a joyful experience for all present at the Williamsburg Regional Library Theatre on March 10, 2006. As she said, it was a recital from the heart. "I do not follow the form and structure taught in college. I follow my heart." And hers is a good heart!
&nbsp&nbsp&nbsp&nbsp&nbsp In La Regata Veneziana, a cycle of three very operatic songs in Venetian dialect by Gioacchino Rossini (1792-1868), a young woman recounts for us a rowing contest. At first her boyfriend seems to falter in his rowing, eventually wins and is rewarded by a kiss from his Angelina. All this was delivered with a voluptuous, sassy sensuality that lets us know that Rossini's piano setting of rowing was about more than rowing.
&nbsp&nbsp&nbsp&nbsp&nbsp In contrast to the pyrotechnics of the Rossini, we next heard five songs by Eric Korngold (1897-1957). Unfortunately Korngold's songs have mostly been neglected. He was a remarkable child prodigy who at the age of ten played his cantata Gold for Mahler who pronounced him a genius. His lush, rich, romantic songs are melodic settings of emotionally evocative texts. In 1934 he came to Hollywood and because he was Jewish was prevented from returning home to Austria to stage his fifth opera Die Kathrin. From 1935 through 1954 he composed some of the finest movie music ever written. He wrote some forty art songs throughout his composing years. We heard Fünf Lieder (Five Songs), Op. 38 (1948). Three were sung in German and two in English. The program booklet translations were by Dr. Gary Smith of William and Mary. The first song, Glückwunsch (Wish for Happiness) showcased the beauty and rich deep range of Ms. Alkema's voice. The musical setting creates a caressing, nostalgic feeling for home, loved ones and a joyful life. The sad beauty of the song's ending highlighted the fact that life brings both joy and sorrow. The depth of feeling of the closing down of a life in Der Kranke (The Invalid) captures the contrast of our love for earthly life and our desire to be free of earthly bonds. In Alt-spanisch (Old Spanish Song) a maiden looks at distant hills at twilight and ruminates on the fact that her beloved will not return. Old English Song has the feeling of a child at play but is a seafarer's celebration of the regal glory of England after the defeat of the Spanish Armada. In Sonnet 130 by Shakespeare he humorously denigrates his mistress's eyes, lips, smell, her everything. Perhaps he has a new love and defends himself against his old feelings for her?
&nbsp&nbsp&nbsp&nbsp&nbsp Michael Baitzer at the piano was an equal partner in bringing this music, with its complex musical settings, to life. Mr. Baitzer is currently on the faculty at the Juilliard School and the music staff at Washington National Opera. He is also an avid recitalist and has been heard in over two-hundred fifty recitals with vocalists of the Marilyn Horne Foundation, Young Concert Artists and others.
&nbsp&nbsp&nbsp&nbsp&nbsp It has not been so long ago that I reviewed a performance of Spanish composer Xavier Montsalvatge's (1912-2002) Cinco Canciones Negras (Five Black Songs) and it was great to hear them so well performed once again. I was especially impressed by the rich, powerful but not always beautiful voice in Chévere (The Dandy) underscored by violent piano chords - a picture of a slashing knife as he cuts "the flesh of his bad black woman."
&nbsp&nbsp&nbsp&nbsp&nbsp Carol Kimball, in her book Song, points out that this cycle is full of contrasts with its lush harmonic textures, sensual melodies, diverse array of moods, West Indian rhythms and musical style with texts that seem diverse and yet are all bound by underlying themes: the disintegration of a native culture, colonialism and racism. The lullaby Canción de Cuna Para Dormir a un Negrito (Cradle Song for a Small Black Child) shows up on CDs regularly because of its hypnotic simple lyricism.
&nbsp&nbsp&nbsp&nbsp&nbsp After intermission we heard contemporary music by some of America's finest composers: Jake Heggie (b.1961), Dominick Argento (b. 1927) and Leonard Bernstein (1918-1990).
&nbsp&nbsp&nbsp&nbsp&nbsp Dominick Argento received a Pulitzer Prize for his song cycle From the Diary of Virginia Wolf. We heard four of the eight songs and learned that most of Argento's compositions are vocal. His understanding of the voice is apparent in these innately dramatic songs. In the text of The Diary April 1919 her first entry questioned what sort of diary she wished to create. In Last Entry March 1941 Wolf wrote that she would "observe perpetually" even her own despondency which was part of her struggle to hold onto her own life. She lost and took her life. The other songs, War June, 1940 and Parents December, 1940 are equally touching. Ms. Alkema's performance was intensely dramatic, at times unsettling, at others ferocious or serene to illuminate the text. The pianist gave full weight to the words.
&nbsp&nbsp&nbsp&nbsp&nbsp Jake Heggie's songs were featured on Art Song of Williamsburg's last program and again on Ms. Alkema's program we heard his music. These terifically singable, easily accessible songs are favorites of singers and audiences alike. Ms. Alkema Sang I Shall Not Live in Vain on a text by Emily Dickinson and written for and recorded by Renée Fleming. This was my first time hearing it by a mezzo-soprano. There was a palpable urgency in her performance. With Danny Boy came a beautiful sound of voice and I smiled at the pleasure of hearing Ms. Alkema and noticing the shining cascade of her dark hair. And yet, Heggie's setting of the last line "And I shall sleep in peace until you come to me" was especially unsettling coming in the midst of so much beauty. My True Love Hath My Heart on a text by Sir Philip Sidney (1554-1586) is not a statement of giddy romance or puppy love as it first appears because the angst of all human relations is woven into this setting.
&nbsp&nbsp&nbsp&nbsp&nbsp The program closed with three selections from Collection of Songs by Leonard Bernstein. My House from Peter Pan sets conventional human desires in a straightforward sentimental but celebratory way. Silhouette, a birthday gift in 1949 for Bernstein's friend the singer Jennie Tourel, uses Jewish and Arab materials. So Pretty, first performed by Barbara Streisand, and taken together with the previous song, makes an eloquent plea that we see beyond war to our common humanity. Next came Take Care of this House from the musical 1600 Pennsylvania Avenue. The text is a call for vigilance to keep the American dream of freedom and humanity alive.
&nbsp&nbsp&nbsp&nbsp&nbsp In conversation with Keri Alkema we learned how she met Marilyn Horne. At Florida State University Ms. Horne gave a recital and master class and Ms. Alkema sang in the master class. "What an experience! Everyone else seemed to melt away and it was just her and me working. We clicked. I understood what she wanted and was able to do it well. Later I auditioned for her Young Artist program [at the Music Academy of the West in Santa Barbara, California] and they offered me a scholarship and off I went to study with her for the summer."
&nbsp&nbsp&nbsp&nbsp&nbsp In the competition for a spot on the Marilyn Horne Foundation roster later that summer Ms. Alkema was not chosen but later was invited to join the foundation with a recital in New York and has since given several others for the foundation. "Whenever I am in the New York area I try to see her, not only to coach but just to say hello."
&nbsp&nbsp&nbsp&nbsp&nbsp "She told me that I could sing the Rossini repertory. I did not believe her, until after Washington National Opera offered me, while in their Young Artist program, the cover of Angelina in La Cenerentola with one performance of my own. I tore the role apart, performed it and later that year was in her New York home singing the aria for her. In April 2006 I go back to DC to cover the role of Isabella in L'Italiana covering Olga Borodina and I am trying to work out schedules to sing the role for Ms. Horne before I get there. I am truly blessed to have her be a part of my life and career."
Printer Friendly Format
Back to Top
More ASoW
Review Index
Home &nbspCalendar &nbspAnnouncements &nbspIssues &nbspReviews &nbspArticles Contact Us