Art Song of Williamsburg
Art Song of Williamsburg Ventures into American Musical Theater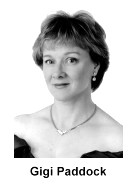 &nbsp&nbsp&nbsp&nbsp&nbsp Soprano Gigi Paddock sang The Ladies Who Lunch from Stephen Sondheim's (b.1930) musical Company (1970). She was wonderful in this satirical number, a tip of the hat to wives who have nothing to do but shop and gossip and drink over long lunches. Her performance was just right, capturing the energy of the lyrics. One of our favorite pianists, Ruth Easterling Winters accompanied in this program shared by baritone Christopher Mooney who is on the vocal faculty at Christopher Newport University.
&nbsp&nbsp&nbsp&nbsp&nbsp Titled Vienna Dreams - Broadway Lights, the first program of Art Song of Williamsburg's seventh season, November 3, 2006 at the Williamsburg Library Theater, opened with songs drawn from European operetta. During the two decades before Word War I, in addition to Gilbert and Sullivan's light-hearted shows, European operetta dominated the American musical stage. The first set was titled "Europe Inspires: The Reign of Operetta." Well known selections by Franz Lehár (1870 -1948), Johann Strauss (1825 -1899) were followed by less well known pieces by Victor Herbert (1859 -1924), Art is Calling for Me, a song of thrills, frills and the expression of a diva's burning ambition; Sigmund Romberg's (1887-1951) Golden Days and Rudolf Friml's (1879-1972) Indian Love Call made famous by Nelson Eddy with Jeannette McDonald in a film of the musical Rose Marie. We much prefer Dr. Mooney's performance to Nelson Eddy's.
&nbsp&nbsp&nbsp&nbsp&nbsp The rest of the sold-out program was by American Broadway composers. When we arrived we were given, along with the program, a carefully researched and beautifully presented booklet with illustrations, Musical Theater in America, written by Dr. Genevieve McGiffert. It included a history of musical theater from its beginnings in America to the works of Bernstein and Sondheim and many other composers in between.
&nbsp&nbsp&nbsp&nbsp&nbsp The set titled America Creates included works by Jerome Kern, Cole Porter and George Gershwin and surveyed the seminal changes in American musical theater in their era. Ms. Paddock sang Kern's Can't Help Lovin' Dat Man (Showboat, 1927) with an intimate tenderness that was totally convincing. Her polished theatricality informed Gershwin's The Man I Love (Strike Up the Band, 1927) and Porter's Let's Do It (Paris 1928) with its clever, risqué lyrics. Though often performed as a solo, here it was sung as a duet as it is in the musical.
&nbsp&nbsp&nbsp&nbsp&nbsp The next set "Musicals and Politics" uses music of the 1930's - the time of the Great Depression - and the texts reflect the impact of poverty on ordinary people. Mack the Knife is from Kurt Weill's (1900 -1950) The Three Penny Opera. The original story, set to music by John Gay in 1728 in London as The Beggar's Opera was adapted by Bertolt Brecht with music by Kurt Weill as Die Dreigroschenoper for the Berlin theater on the eve of the Nazi takeover of Germany. Marc Blitzstein (1905 -1964) translated it into English. A second Blitzstein song, The Freedom of the Press, is from the controversial labor opera The Cradle will Rock (1937). It seems relevant today in our era of concentrated media ownership that often lacks balanced reporting. Dr. Mooney's diction was excellent. A more emotionally expressive singer would have won my heart as well as my mind. The exception was Lonely House (Weill's Street Scene, 1947) where his serious and emotionally restrained singing was appropriate to the painful emotion of the text.
&nbsp&nbsp&nbsp&nbsp&nbsp In a set of songs titled "The Golden Age" with music from Rogers and Hammerstein's Carousel (1945) and Lerner and Loewe's Camelot (1960) we heard songs that were familiar and much enjoyed by the audience. The duet My Heart is So Full of You from The Most Happy Fella (1956) by Frank Loesser (1910 -1969) is a song of forgiveness. The story is of a love triangle of an older husband, a young pretty wife and the young man who fathered her child. I was charmed by Ms. Paddock's ability to become every character she sings.
&nbsp&nbsp&nbsp&nbsp&nbsp I'll end this review where I began. The last set titled ". . . and Beyond" included music by Sondheim and Bernstein. In Sondheim's Sweeney Todd, the Demon Barber of Fleet Street the barber cuts the throats of his enemies and Mrs. Lovett, who wants to succeed at business, use his victims in her meat pies. When the barber threatens to use his razor on her a simple but good young man offers his protection in the song Not While I'm Around, "...nothing's going to harm you." The closing selections were from Leonard Bernstein's Candide (1956). Oh Happy We and Make Our Garden Grow brought the evening to a happy end.
&nbsp&nbsp&nbsp&nbsp&nbsp Art Song of Williamsburg's next concert, Once Around the Sun - Seasons of Song, is January 26th at 7:30. Audience favorite, tenor Steven Tharp and pianist Rachelle Jonk perform and highlight the songs of American cabaret.

Steven Tharp Sings Cabaret in Williamsburg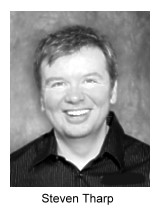 &nbsp&nbsp&nbsp&nbsp&nbsp It was a joy to hear the polished professional singing of Steven Tharp with Rachelle Jonck at the piano in a wide-ranging selection of cabaret songs at Art Song of Williamsburg on January 26, 2007. Using the full range of his tenor voice from falsetto to deep tones, he shared a large selection of his favorite songs in a program titled "Once Around the Sun - Seasons of Song." As an opera performer he has developed great skill as an actor who brings alive the characters he portrays. There were standards aplenty but even more exciting was new material like Rufus Wainwright's Cigarettes and Chocolate Milk with its stream of consciousness text and quirky humor, Errol Flynn with music by Amanda McBroom (lyrics by Gordon Hunt) that explores a father/daughter relationship, Sting's Fields of Gold and Since You've Asked by Judy Collins. Several texts were by Johnnie Mercer including Autumn Leaves though we heard Mr. Tharp sing the French original first. He brought a depth of expression to I Will be There by Van Morrison, Jimmy Webb's The Moon is a Harsh Mistress as well as a host of other tunes. The encore was Cole Porter's Ev'ry Time We Say Goodbye.
&nbsp&nbsp&nbsp&nbsp&nbsp The singer's program notes are impressive, giving a history of Cabaret and sharing his personal experiences with the music he sings. We asked to use them as an introduction to cabaret for our readers and he graciously agreed.

John Campbell.
Notes on Cabaret by Steven Tharp
Cabaret was born in the cafes of Paris in the 1880s and spread to Germany a few decades later. You can still hear wonderful songs from those early years in cabaret performances today, but cabaret as a performance art has come to mean something far more diverse, reflecting the individual tastes and sensibilities of its performers. If the early French and German cabaret offered only contemporary vernacular songs, the singers who currently charm audiences at Feinstein's or the Café Carlyle in New York will often as not present songs of varied styles from several decades, and often in more than one language.

The cabaret canon grows continually more diverse: Kurt Weill, a defining figure in the cabaret scene of Germany in the 20s, is still part of the canon, but so is Jacques Brel, the Belgian troubadour of the 1950s and 60s. Rodgers and Hart's famous theater songs are part of the mix, and so are obscure numbers from less commercially successful Broadway teams like Tommy Wolf and Fran Landesman. Stephen Sondheim's songs show no sign of losing popularity, but composers young enough to have grown up listening to Sondheim alongside rock music are finding their own voices.

Today's cabaret mixes ballads and blues, pop and jazz, folk, Broadway, novelty songs, and original material of all genres. Even the occasional classical or operatic number finds its way in. One of our best young pop composers, Rufus Wainwright, recently opened a concert with a song from Les Nuits d'Été by Berlioz that most of his fans assumed was a new song of his. Years ago I heard the excellent cabaret singer Tommy Bogdan deliciously combine the torchey doo-wop ballad "Desiree" with "Lascia, ch'io pianga" from Handel's Rinaldo, and it worked.

Of course, it helps to know a lot of songs, and to really develop a love for them. I was lucky enough to grow up with parents who had a substantial and varied record collection. Between those old LPs and the 45-rpm singles my sister and I bought with our allowances, I learned early the delicious joy of becoming addicted to a song. Back then we called LPs "albums", and there were lots of albums that I loved to listen to from beginning to the end of Side 2: Ella in Hollywood, Benny Goodman in Hi-Fi, Ray Bryant's Con Alma and the first few Beatles albums come immediately to mind. But for me it was the song that was the measure of musical value. With an LP, I would carefully move the tonearm forward to the favorite song, and I would often play it four or five times in succession. Or I would hear a new song on the radio that would become an obsession, necessitating a trip to the local dime store to buy the single, so that I could listen to it "on demand." There were times when incessant repetition of the latest hit 45 from the Hollies or Simon and Garfunkel drove my parents nearly mad.

One of my sweetest childhood memories is of something that occurred when I awoke to hear a beautiful song coming from the radio in my sister's room. I remember that it had a melody of such sweetness (or what I might now call yearning) that it seemed almost dream-like. I heard it on the radio a few more times in the following weeks, but I didn't learn the name of the song or the performers before its popularity ran its course. Years later, probably in my early twenties, I heard it again and instantly recognized my lost song: it was the lovely ballad "Walk Away, Renee" by a one-hit band called the Left Banke. Yes, it came out in 1967; I would have been nine years old. It's still one of my favorite songs

Being blessed with eclectic tastes is one thing, but when it comes to putting together a cabaret evening reflecting all those genres, the dilemma is how to make them work together on the same program, how to put them in the same room and not have a fight break out. One could proceed chronologically, starting with Weill (or Kern if you have a gentler spirit), work through Brel if you're feeling serious and theatrical or perhaps Noel Coward or Cy Coleman if you're feeling chic and playful, and ending with Sondheim and Adam Guettel, or maybe Leonard Cohen and Joni Mitchell. That's a valid approach, but one that seems more like a lecture-demo than entertainment.

I wanted a looser thematic organization for tonight's program. Loose, but able to catch some overriding themes. Traveling frequently between North America and my new home in Argentina, where the seasons are reversed, my mind kept returning to the idea of seasons: the seasons of the year, and also the seasons of life. One literary theory holds that Comedy corresponds to spring, Romance to summer, Tragedy to autumn, and that Satire and all forms of irony are represented by winter. Just as there are transitions between seasons, so are there works that bridge the seasons. Comedy in its gentlest and sweetest form approaches Romance, while Romance in its emotional extreme becomes Tragedy. A tragic story with a heavy dose of irony gives you satire at its blackest, and satire with all tragic weight removed joins hands once again with comedy, like winter giving way to spring.

It's fairly easy to categorize certain types of songs using this method. Early-to-mid-20th century theater songs from Broadway and London's West End are full of comedy (spring) and romance (summer): the pure comedy of Irving Berlin's "You'd Be Surprised" or Noel Coward's "I Went to a Marvelous Party," the romantic comedy of Vincent Youman's "I Want to Be Happy" or George Gershwin's "How Long Has This Been Going On?" and the pure romance of songs like Jerome Kern's "The Way You Look Tonight" and Cole Porter's "So in Love." There is relatively little tragedy or irony in this era of Anglo-American musical comedy.

To find roughly contemporaneous "winter" and "fall" songs, you have only to turn to Germany. European songwriters were always way ahead of their British and American colleagues when it came to treating tragic and satiric themes in song, and nobody was farther ahead than Kurt Weill, especially when he worked with Bertolt Brecht on The Threepenny Opera, Happy End, and The Rise and Fall of the City of Mahagonny. Songs like "Mack the Knife," "Surabaya Johnny," "Alabama Song," and "Pirate Jenny" have long served as the template for a kind of cabaret song. They present cabaret at its darkest and most dangerous, propelled from tragedy to satire and back. Other European songwriters, like the Hungarian Joseph Kosma or the Belgian Jacques Brel followed the same path, while Weill at least partially abandoned the colder climes of song when he moved to America and started composing in a more "springlike" vein for the Broadway stage.

Ultimately, the literary classifications seem a little academic. To encompass the widest possible variety in tonight's program, I have combined the seasons of comedy, romance, tragedy and satire with the idea of the seasons of life. The human heart finds resonance with the progression of the seasons. They remind us that life is cyclical: innocence gives way to experience; love, fame and fortune are gained and lost; achieving wisdom teaches us how little we know. Perhaps from that knowledge a new kind of innocence emerges, like spring emerging again from winter.

Steven Tharp
Steven Tharp's Discography
&nbsp&nbsp&nbsp&nbsp&nbsp Mr. Tharp has a busy career in opera as well as recital and can be heard on several CDs. His world premiere recording of the complete songs by Edward MacDowell is on Naxos. Extremely well presented, it earned a Grammy nomination and is recommended for anyone building an American art song collection. His recording of Frank Martin's Le vin Herbé was the "Editor's Choice" in Opera News. Albany recently released his recording of Vaughan Williams' On Wenlock Edge with Ciompi Quartet, and Delos has just released a recording of Handel's Messiah with the American Bach Soloists on which Mr. Tharp sings the tenor solos.
Printer Friendly Format
Genevieve McGiffert
Back to Top
Review Index
Home &nbspCalendar &nbspAnnouncements &nbspIssues &nbspReviews &nbspArticles Contact Us