Genevieve White McGiffert
Artsong Editor Seeks New Muse
In examining why I have had such difficulty writing the last three issues of the newsletter, I have concluded it is because Genevieve McGiffert is not here to read them. She was my muse - a most experienced, educated, inspiring, discriminating and demanding reader. Her project in 2000 was to bring art song performance to Williamsburg. In late May her announcement was mailed out, pointing out that the musical culture in her city, as rich and full as it was, offered no regular solo concerts of art song.
That spring Steve and I had agreed to be on the board of Norfolk Art Song Society (NASS, later Virginia Art Song Society) and the president shared Genevieve's letter. It excited me to read of her vision: "To encourage young professional regional singers in this important area of vocal expression by presenting them in public performance, in the best available venues, and supported by the best professional collaborating artists. From time to time, when artists from outside the region are available, we would hope to present them also in our city." No small task, but Gen, the consummate professional did not think small.
Her achievement was remarkable, bringing together a lifetime of learning and a network of musical friendships developed in her work as director of the Virginia Opera Chorus, director of the Williamsburg Choral Guild and teaching voice privately. Audiences trusted her and came to be part of her new venture. The volunteer board came also. Grant money and an audience of over 200 per performance meant that this arts organization thrived until the final concert presented the week before she died.
Our tenure on the board of NASS is a cautionary tale, but the goal was to have a forum to educate while providing a platform for singers at many levels of achievement to sing art song for an audience. Early in 2001 Art Song of Williamsburg (ASW) with a unified, dedicated board backing Genevieve, presented in concert the lovely soprano Lisa Edwards-Burrs who teaches at Virginia State University and Ruth Winters, one of Tidewater's finest accompanists. The program was a rich mix of songs: classical, German, twentieth century French, Argentinean and contemporary American works. The encore was by an African-American woman composer. Over the next six years there would be twenty more recitals of interesting, often intriguing, sometimes challenging and enjoyable music highlighting the wide world of song.
We met at a May 23, 1999 NASS meeting when Genevieve came to speak to the group about the songs of Benjamin Britten. Her doctoral dissertation was on Britten's opera Peter Grimes. Afterwards I went up to chat. Britten is a favorite of mine and I had recently read the biography she highlighted in her talk. Though we did not know it, we were both born in small towns in the mountains of West Virginia where art song was in short supply. An internal hunger for art sent each of us on a quest for wider experience. I had only a curious mind but she also had musical ability and educated parents who were teachers and they found her a piano teacher who had trained at Juilliard.
For my part, I bought a console stereo player with my first pay check as an elementary school teacher and started checking LPs out of the library. I decided that I wanted to focus on collecting songs in English and exploring contemporary music. Somewhere along the way I heard French songs and was captivated by the sound of the language. Slowly, bit by bit, my circle of interest grew to include other art song composers and other countries and I became a dedicated listener.
Our experience with NASS made Steve and me aware of how limited communication about locally produced musical events was and when we decided to leave the board we had a database of people interested in art song and a desire to remedy the lack of a comprehensive and complete calendar of local musical events.
Genevieve greeted our endeavor with enthusiasm, immediately grasping the idea of what we were up to. She wrote to us: "Artsong Update of June 23, (2001) is an excellent addition to our information file ... your service is very useful." Her words were music to our ears and the delight grew when she asked for permission to print out and send copies to her board of Mary Ann Malloy's article. "This summation of her research on Art Song is a good introduction for many people." She even offered to pay for the service if there was a fee. Fortunately there never has been a fee for our labor of love and Mary Ann's article, "What is Art Song," is still available on our website.
Ours was a working relationship: ASW presented programs, Steve's calendar announced them and I reviewed them. She and her husband Michael talked with us by email, answered questions, sent corrections of fact and once or twice she said she disagreed with my written opinions.
We were mutually supportive when she was dealing with her cancer and while I was dealing with mine. We exchanged Christmas letters and discussions about social issues (no disagreement there, all four of us are liberals).
Now she is gone. Art Song of Williamsburg is gone. NASS folded years ago. Only Artsong Update is left to carry the torch and so we will go on, inspired by her memory, buoyed up by the legacy of singers and pianists whom she taught and inspired and who continue to practice the art of song in Tidewater and far beyond.

A Celebration of the Life of Genevieve White McGiffert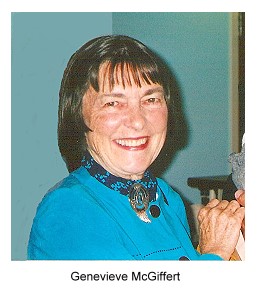 "Death ends a life but not a relationship - Genevieve touched the life of everyone here today." With these words the Rev. Jennnifer Ryu began the memorial service celebrating the life of Genevieve White McGiffert on April 28, 2007. The light streaming into the simple, modern hall of the Williamsburg Unitarian Universalist Church was alive with the promise of spring. Filling the room, her family and friends had gathered, three hundred strong, to say goodbye; saying goodbye is easier when we are together. The lyric voice of bass-baritone Branch Fields singing Still wie die Nacht sounded so comforting, so beautiful. Written by Karl Bohm (1844-1920) in English, it is "Quiet as the night and deep as the sea, your love should be!" Branch and Michael McGiffert, Genevieve's husband, shared a hug as the singer left the podium.
Mildred Andrews (Millie) Young was pianist. She is a long-time friend and collaborator of Genevieve. Soprano Jennifer Barron from Connecticut gave us An Die Musik by Schubert celebrating the art of song. During the first period of sharing we were reminded of the 5 foot 2 inch ball of energy who gave your hand a firm grip, looked you in the eye and gave you encouragement."

Mike told us: "Music was the medium in which Genevieve moved; her life was filled with song. No, I don't mean that she used to go about the house humming or caroling; she had a fine soprano voice, but not for merely private or domestic use. Her mode was always public, presentational, always related to people. And in all the professional venues of her life, performing and teaching and conducting and staging song, she gave more than mere profession required. Teaching song and singing, she taught, I think, the artwork of enhanced humanity. And I like to believe that those she led-choir, chorus, audience, her fellow servants of the art of song-learned something, something worth learning-some point of instruction and inspiration, about art, about life. I know I did."
The church choir was joined by members of Williamsburg Choral Guild in Mozart's "Laudate Dominum" from Vesperae de Confessore with featured soprano soloist Kayla Werlin from Massachusetts.
Internationally known conductor and musical scholar Will Crutchfield, whose professional duties didn't allow him to attend the service, sent the following remarks that were read by his father, Dr. Robert Crutchfield, a distinguished, local tenor and member of Genevieve's Art Song board. He wrote:

"Those who were lucky enough to have her friendship over many years knew something else - we knew a friend who could accompany us into any topic whatever, from the most abstract to the most intensely personal or even painful, with relentless clarity. I don't think I've known anyone so completely uninterested in skirting an issue or avoiding a point. These personal and professional qualities were completely linked: Genevieve had the gift of perpetual self-dissatisfaction. Anything done well could have been done better; no matter how much one had learned there was more one ought to have learned; next year's results should be based on considering last year's results insufficient.

"Some people would consider this a burden, and some of you might say you saw Genevieve suffer under it, but I am adamant in calling it instead a gift. Her constant striving brought her a joy I'm sure she would not have traded for any other - and did not, right down to the last few days of her life.

"What such a 'striver' can give to the people around her is immeasurable. I'm one of many, many lucky people to whom Genevieve paid the compliment of rigorous attention. She not only taught, but listened - and not just for the social courtesy of listening. She was sometimes kind enough to say that she learned a thing or two from me - and I assure everybody that if that is true, it came only after she tested every opinion I ever expressed in the most exacting way. If I went out into the professional world pretty confident of my opinions, it was because I had help in honing them, and because I learned how to vet them so that they just might pass muster in the next phone call with Gen."

Will continues: "The Peninsula Civic Opera was not accustomed to the professional standards Gen had learned at conservatory and in New York. I am pretty sure she was appalled by the finished production. She certainly struggled with every element. But in the course of struggling, she gave one teenage accompanist a complete, detailed picture of how a professionally prepared production ought to function. Each year that's gone by has left me more amazed at the sheer comprehensiveness of the 'instruction manual' Genevieve provided. More times than I can count, I've watched colleagues scramble to learn things that were already clear to me, and realized that if I hadn't had her example, I would have been scrambling too."
As the time for sharing ended we had further evidence of her teaching and inspiring singers when the choir sang Brahms' How Lovely is thy Dwelling Place from Ein Deutches Requiem. The passion of their glorious sound made my eyes pour out tears.
We learned that Genevieve was a brilliant cook, and a perfectionist who could fold a fitted sheet like no other. Doug Price told us how he couldn't give her up as a voice teacher. When she retired from directing the WUU Choir he decided to take private lessons with her.
Mike told us that Genevieve loved light. At dawn on March 15, 2007, she lay in a coma facing the hospital window. She waited for the morning, he said, and died with her face to the rising sun. She did not expect life after death. Pause a moment and think how the love and passion she brought to life might be expressed unfettered by a failing body or a physical world. How might that music sound?
To honor her memory a fund has been established by Linda Baker as part of the Greater Williamsburg Community Trust. The first grant from the Genevieve McGiffert Memorial Fund for the Musical Performing Arts will be given in February of 2009. For information call 757-259-1660 or go to www.williamsburgcommunitytrust.org.
Our Readers Write
In response to our articles on Genevieve McGiffert in Issue #63, we received the following note from Charles Staples. He accomapied mezzo-soprano Martha Slay for an Art Song of Williamsburg recital on November 15, 2002.

"I have an interesting story about Genevieve. I was to do a recital with a soprano from New Jersey and I happened to be on a short trip to Williamsburg. I had gotten word of a group of (I think) 8 Schubert songs, a couple of which were quite unfamiliar. I was going to NJ to rehearse in a few days, so I called Genevieve to see if she had scores that I might borrow. She was so gracious and invited me into her home and we worked for an hour or so on the songs to prepare for that first and somewhat nerve-wracking rehearsal. I certainly didn t know her THAT well, but I took a chance on calling her, and she treated me like we were old friends. I haven t been in contact with her for a number of years, and am very saddened by her death. Thanks for writing such a nice article." Charles Staples

The Genevieve McGiffert Collection of Vocal Music Finds a Home
Genevieve McGiffert, who died in March, 2007, wanted her library to go intact to an institution of higher education where its value would be recognized and its contents needed and actively used. That goal has been met and the entire collection of hundreds of books, opera scores, cassettes, CD's and LP's has found a home at James Madison University.
The university is located in the Shenandoah Valley town of Harrisonburg, some 150 miles from Williamsburg. JMU was founded about a century ago and has long had a strong undergraduate music program. Recently they have added a doctor of musical arts degree. Being given the collection now is a serendipity as they plan to expand the study and presentation of vocal music. A 400 seat concert hall is projected.
A dear friend of Genevieve, Kevin Kennedy, perceived the need and proposed the match. He was one of her rehearsal pianists and coaches in the 1960's when she began to produce operas and conduct musicals at the University of Denver. An accomplished pianist, voice teacher and coach, he played for many of her productions and became a friend for life and beyond. He was at JMU last fall coaching singers and preparing them for their production of Merry Widow.
Genevieve's husband, Michael McGiffert, who sent us the information, told us: "Genevieve's home studio is now bare. There remain only items of personal value that will be kept in glad and loving memory of her life-long dedication - as singer, pianist, coach, teacher, stage director, conductor and producer- to the art of song at every point of personal engagement and professional accomplishment. She would have rejoiced at director of opera program Don Rierson's report of the great enthusiasm of the students who have had a look at the contents of the collection.
The gift will be formally received and acknowledged at a ceremony on or about April 17 in connection with the music school's spring opera production.

Genevieve McGiffert Music Library Dedication
On Thursday afternoon, April 17, Dr. Genevieve McGiffert's music library will be formally received and dedicated at James Madison University in Harrisonburg. The library was presented to the university after her death last year by her husband, Michael McGiffert, in her honor.
Gathered over sixty years, the Genevieve McGiffert Collection of the Vocal Performing Arts consists of hundreds of books, opera scores, CDs, LPs, cassettes, and professional journals. It will be received for the university by Dean Jeffrey Showell, Director of the School of Music, and Professor Don Rierson, Director of the JMU Opera Theater.
Remembrances will be offered by Kevin Kennedy, a former student and associate of Dr. McGiffert at the University of Denver, by the Rev. Robert Crutchfield of Newport News, a long-time friend who will also bring a message from his son, conductor and musicologist Will Crutchfield, and by Mr. McGiffert, of Williamsburg. Students in the JMU music program will offer songs by Schubert ("An die Musik"), Elgar ("Speak, Music"), and Mozart ("Soave il vento" from Cosi fan tutte).
The dedication will take place at 5:00 p.m. in room 142 of the music building. At 8:00 in Anthony Seeger Hall the university's opera theater will present its spring production consisting of Purcell's Dido and Aeneas and Ibert's Angelique. The ceremony and the performance are open to the public.

This Just in from Mike McGiffert
Tuesday, June 16, 2009
Hi, all you musical people! Here's a report on Genevieve's latest gift of music to Williamsburg. As some of you know, the Williamsburg Community Foundation has a fund in her name for advancing the vocal musical arts hereabouts. Last evening the first gift from the fund supported the first get-together in a new venture by the Wmsbg Choral Guild, which as you know she directed from 1993 to 1999.
It was the first of three summer sings. Four professional soloists--very good. Scores available as needed. Director, the (female) ass't conductor of the Richmond Symphony--fine, funny, and firm. Place: the WUU church. Piano: the Baldwin grand that Gen gave the church; it had come to her with the studio she bought in Virginia Beach in the '80s. Singers: open to all, and I would estimate that nearly a hundred vocal chords showed up. Next week: Haydn's Requiem in Time of War; week after: Faure's Requiem.
The music last evening was Mozart's Requiem. I found a seat next to a friend who, it turned out, could have sung it almost without the score. I, for my part, had never sung it. So I listened and hummed the runs and sang out in the slower passages, and enjoyed myself thoroughly, and thought how wonderful that Genevieve is still making music with these people in that place.
Had I been asked to say a few words at the start, I would have said something like this:
Genevieve gave her life to music and to the art of making music.
Studying at Cincinnati, she lived to sing. Teaching in Denver and here in Williamsburg, she lived to help others sing well.
That is why she would take joy in being here tonight.
In fact, when you think about it, she is here, and she is expecting something really musical to happen!
Yes! And it did.
Affectionately, Mike McGiffert
Printer Friendly Format
Back to Top
Review Index
Home &nbspCalendar &nbspAnnouncements &nbspIssues &nbspReviews &nbspArticles Contact Us