Agnes Mobley Wynne Teaches American and British Song
In the third workshop and masterclass in a series of four organized by Karen Scott Hoy at the Academy of Music, Agnes Mobley Wynn presented a brief overview of music by British and American composers on January 20, 2004
Ms. Wynn quoted her son Clinton: "Teachers teach you what they know, not necessarily what you need to know." She invited us to ask questions as she gave an outline of the differences and similarities of British and American song. "British songs reflect power with aristocratic formal grandeur even if they are settings of folk or church music." American music, by contrast, has incorporated folk songs of other countries, music of American Indians and African-Americans." Our composers do not have to be born into the intelligentsia - if you have talent you can succeed." Spirituals and hymn tunes have greatly influenced American art song as has blues and jazz.
The song Hark I Hear the Harps Eternal, with its part singing taken from Alice Parker's Appalachian Sketches was used to illustrate the beautiful simplicity of American song.
For this review I turned to Carol Kimball's book Song, A Guide to Style and Literature for a brief overview of British song. Kimball notes that the Elizabethan period was a high point. William Shakespeare (1564-1616) was the poet and John Dowland (1563-1626), Thomas Campion (1567-1620), Henry Lewes and others composed the music. More than 20,000 songs have been set to Shakespeare's texts.
Henry Purcell (1659-1695) was the last great English composer until the twentieth century. "Purcell's songs endure as the cornerstone of British vocal music...his one true opera Dido and Aeneas is the last great English opera until Benjamin Britten. Many of his best-known and most-performed songs are found in his five operas..."
In the Victorian period (1838-1901) parlor songs with sentimental texts, strophic form and with only a tenuous relationship between text and music were widely popular and commercially profitable. Edwardian song composers Roger Quilter (1877-1953), Percy Granger (1882-1961), John Ireland (1879-1962), Gustav Holtz (1874-1934) and Ralph Vaughan Williams (1872-1958) shaped music of the twentieth century. There was cross-fertilization of English music by German romanticism, French impressionism, neoclassicism and modernism. This developing diversity can be heard in songs by Peter Warlock (1894-1930), Gerald Finzi (1901-1956), Frederick Delius (1862-1934) and George Butterworth (1885-1916).
Into this fertile mix came Benjamin Britten, the most prolific and famous English composer of the twentieth century. "His original and appealing songs to texts of the highest quality demand a singer of intelligence and musicianship."
Ms. Wynn gave a sketch of Ralph Vaughan Williams' (1872-1958) life to illustrate British composers and did the same for Americans Samuel Barber (1910-1981), Lee Hoiby (B.1926), Charles Ives (1874-1954) and as a contemporary, very active composer, our own local Adolphus Hailstork (b.1941). Her sung demonstrations of Dr. Hailstork's works included a setting of an Apache text translated as Go Now to Your Dwelling Place composed for her stepson's wedding, as well as Christmas Everywhere and A Woman's Song. Hailstork plumbs emotional depths with these complex, interesting settings that satisfy our modern understanding of issues of vulnerability and shared humanity.
In the masterclass that followed Didi Granger sang Vaughan Williams' When Icicles Hang by the Wall and explained before she sang "I love this song. I like the words, the tempo. There is something funky and old fashioned about it." She was directed to "Try singing at a slower tempo that illustrates the sense of cold." The piano setting uses "cold" keys played in a detached way, ably performed by Rachel Crumbly, pianist for the workshop. Ms. Wynn suggested that looking at the audience and connecting is necessary. "Don't feel judged, feel supported."
Later Ms. Granger sang The Daisies by Samuel Barber. Here they worked on singing through consonants to maintain a well shaped legato line. Ms. Granger's way of singing the song with a slight Irish brogue was very effective.
Barbara Paul sang The Call by Vaughan Williams. Ms. Wynn: "We could understand your words, the emotion shows through the lush musical foundation. "Your 'fs' and 'th' eat up your breath. By working on word emphasis you highlight certain phrases - elongate and live in those phrases.
Ann Scott sang John Duke's (1899-1984) I Carry Your Heart with text by e.e.cummings. There was an enormous excitement in the singer's expression. Ms. Wynn: "A song I do not know and it is just gorgeous. A good example of rule-breaking by an American composer. The chromaticism does not let the voice settle anywhere. You have a ton of breath; use it on selected passages. Pull back on the last 'heart' to almost a whisper. Think of being onstage and the influence of musical theater. Slow tempo allows the words to come through."
The sweetness and clarity of Ms. Scott washed over us with incredible power as she repeated the song. One can conclude that Ms. Wynn's own sense of drama and her romantic feel for the music informs her skill as a teacher.

A Master Class with Robynne Redmon
What a Great Way to Start the New Year!
The fourth and last art song workshop at the Academy of Music in Norfolk was held Saturday, January 8, 2005 with Robynne Redmon as presenter.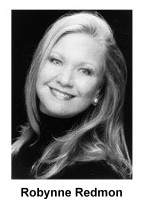 Ms. Redmon focused on the subject of becoming a professional, full-time singer and shared her wisdom, gleaned while doing just that. She has brought her open, immediate communication to stages throughout the world and this masterclass was a rare opportunity to get the inside scoop on what it means to be a career opera singer. It is not a job but a way of life based on a deep commitment. A few singers become superstars but most opera houses present performers who have chosen to devote their life to their art without the money and adulation offered to the few.
Having a good voice and being trained in how to care for it and use it are just the beginning. "Becoming a singer will inevitably require determination and a willingness to sacrifice. Singing is a calling. You do not choose music; you are chosen by music. It is something you must do."
In exploring the question of how to get started, she emphasized the importance of having written long-term goals linked to a critical self-examination. She stressed the importance of looking realistically at your work habits, talent and financial resources to pay for a good voice teacher, health insurance, living expenses, audition fees, music, travel expenses, etc. The practical considerations alone would discourage most singers. Even successful singers continue to sacrifice an ordinary life. Travel sounds like fun but living in hotels, eating out all the time and having only long-distance friendships can be daunting. Marriage, even long-term friendships or being part of any group, is difficult for the successful singer. Only your love for singing can sustain you.
To succeed as a professional singer you must be so well-trained that you can turn in a good performance even when illness or a director, conductor or colleague is sabotaging your work. You must learn to accept rejection and not take it personally but if you hear the same complaint against you again and again, you need to address it with your teacher or coach. Developing the ability to practice efficiently learning new material, understanding the text of the role and then memorize it are all necessary considerations. Be on time; be extremely pleasant! Singing well is not enough, although it helps. Drink plenty of water … and on and on the list goes.
Visualization is an important tool in working with one's body and also in teaching, as we saw demonstrated in the masterclass. Sarah Brown sang Batti, Batti from Mozart's Don Giovanni. Ms. Redmon told us that the breath furnishes energy to the voice. "Think of breath as everything in a vertical column until you get to a certain point where you can open up horizontally. The air must be flowing while you produce the sound which can then move back and forth. This can only happen when you are relaxed. Tenseness restricts the flow of air, the flow of sound."
This theme continued as she worked with Barbara Paul, who sang Deh viene non tardar from Mozart's Le Nozze de Figaro. Ms. Redmon demonstrated speaking the text up there in your head in a "high-domed hoot." She paused to give the accompanist Charles Woodward a pat and a kiss on his head for his superb playing as she worked with the student.
Claudia Wooten sang Ave Maria from Otello by Verdi and was encouraged to sing even bigger. If one holds back the performance sounds mannered. Let the anxiety of the character energize your performance to give even more.
The last performer, Ann Scott, sang Dove sono from Mozart's Le Nozze di Figaro. Ms. Scott has enormous vocal power. They worked on smoothing the legato sound of her voice and on how to enhance her communication of the character.
By word, demonstration and attitude, being instructed by Robynne Redmon is a rich experience. Her ability to communicate so openly was a joy to behold. My only regret was that only a few of Tidewater's aspiring student singers were there to share this masterful presentation.

The Academy of Music presents
Claudia Turner Wootton in Recital
&nbsp&nbsp&nbsp&nbsp&nbsp When I arrived at the Second Presbyterian Church in Norfolk on a sunny spring afternoon, May 7, 2005 to hear a recital by soprano Claudia Wootton and pianist Christine Matthews I wondered if I was at the right church. There were families with young children going in the side entrance. When I found the front door locked my puzzlement grew. I backtracked to the side entrance and was greeted by a friendly young man. I saw others going toward the sanctuary and followed. Along the way the kitchen was abuzz with activity.
&nbsp&nbsp&nbsp&nbsp&nbsp The programs were on a podium inside the sanctuary door and I was greeted by John Dixon, Director of the Academy of Music, and Gil Hoy, whose wife Karen is Ms. Wootton's voice teacher. I felt reassured but still puzzled. The beginning was delayed a little while the lawn service completed their noisy work. By then the children and their parents were seated to hear their friend sing. Ms. Wootton is Director of Worship Arts at Trinity Presbyterian Church in Norfolk and she met her accompanist there when Ms. Mathews played for a choir program on short notice.
&nbsp&nbsp&nbsp&nbsp&nbsp The recital opened with two lengthy selections from G.F. Handel's (1685-1759) Judas Maccabaeus with Ms. Wootton joined by soprano Karen Hoy in duet: To Heav'n's Almighty King We Kneel and Oh Lovely Peace (Spread thy blessings all around).
&nbsp&nbsp&nbsp&nbsp&nbsp Later, as we made our way to the reception one of the listeners commented on how we heard songs in five languages. She was correct. The second set, in German, was by Robert Schumann (1810-1856) and included Im Walde (In the Forest) where the mood shifts from a sunny day with a wedding party and a merry hunt to nightfall with its stillness striking fear in the heart of the speaker. The terrified look on Ms. Wootton's face effectively communicated the mood to her listeners. With facial expressions she captured the pallid, pained face in Dein Angesicht (Your Face) and in Waldesgespräch (Conversation in the Wood) where the broken-hearted bride encounters the witch Lorelei late in the evening. Yet by body language our singer indicates great determination in standing firmly against the witch's statement "It is already late, it is already cold - you shall never again leave this wood."
&nbsp&nbsp&nbsp&nbsp&nbsp Three songs by American composer Ned Rorem (b.1923) followed to close the first half. The challenge here for the performers was to capture the diverse moods of these three songs in English. Early in the Morning, with poem by Robert Hillyer, is about a happy experience of a person in love in a Paris café on a summer morning. Memory creates a world from a dream of making love in natural setting and having the grass under foot change to stone. Root Cellar creates a world of stinks in a dank cellar where "Even the dirt kept breathing a small breath," where shoots and roots dangled and drooped and lolled about.
&nbsp&nbsp&nbsp&nbsp&nbsp There is a CD recording of these songs by American soprano Carole Farley on Naxos (8.55 9084). Though the recording contains thirty-two Rorem songs and is commendable, I prefer Ms. Wootton's natural, straightforward approach. In conversation she credits her teacher Karen Scott Hoy with her success in interpretation. I recently heard a recording by Ellen Faull, Ms. Hoy's teacher and the progression from one to the other is apparent.
&nbsp&nbsp&nbsp&nbsp&nbsp After a brief intermission we heard Ave Maria in Italian from Giuseppe Verdi's (1813-1901) opera Otello as an art song with piano accompaniment. This song, so familiar with orchestra, has a lovely simplicity as performed here. Desdemona prays knowing she is about to be killed by her husband. There was a wild wonderful sound in her final "Ave" just before the quiet Amen, and a look of true piety on her face.
&nbsp&nbsp&nbsp&nbsp&nbsp A rapid change of mood brings us to three Spanish songs by Enrique Granados (1867-1916) where the coquette's smile of La Maja de Goya is in voice, body and words. El Majo Discreto has an air of mystery because her lover will not reveal who he is nor will she. In El tra la la y el Punteado our pretty young woman answers all questions with a song with strong Spanish rhythms and a dance motion in the body.
&nbsp&nbsp&nbsp&nbsp&nbsp The three songs by Erik Satie (1866-1925) sparkled in this performance. The charm of this quirky music with its French text was communicated exceptionally well; I have never heard them so well presented. She sang and acted La Statue de Bronze, Daphénéo and Le Chapelier.
&nbsp&nbsp&nbsp&nbsp&nbsp The encore piece, Habanera from Bizet's Carmen, followed her gentle little girl presenting her with a bouquet. After the second round of applause, her young son and his father Rob Wootton, who had greeted each of us at the side door as we arrived, brought more bouquets.
&nbsp&nbsp&nbsp&nbsp&nbsp The reception that followed continued the sense of caring community created by the recital and I feel privileged to have had the experience. The children were attentive and the audience was very focused on understanding and enjoying the songs.
&nbsp&nbsp&nbsp&nbsp&nbsp The Academy of Music is to be congratulated for this unique program that shows clearly the vitality of the art song recital and its appeal to a wider audience that came together to celebrate the accomplishment and talent of their friend. The Woottons, Rob and Claudia are leaving for St. Louis this summer to attend Covenant Seminary.
Back to Top
Back to Review Index
Printer Friendly Format
Home &nbspCalendar &nbspAnnouncements &nbspIssues &nbspReviews &nbspArticles Contact Us