Adolphus Hailstork's Ventriloquist Acts of God
&nbsp&nbsp&nbsp&nbsp&nbsp Soprano Agnes Mobley-Wynne sang four songs from Dr. Hailstork's cycle of five songs with Jeanette Winsor, piano. The text is by Ellen Wise, a friend of Ms. Mobley-Wynne's since junior high. Agnes reports that she's still baking bread for the composer to pay for these songs. She approached the composer with her friend's poem Ventriloquist Acts of God and asked if he would set it for her. Before long she was asking him to write a cycle. Sun, Luna Moth and Deep in the Dark grew out of this request.
&nbsp&nbsp&nbsp&nbsp&nbsp The poetry is based on natural events, birds singing and soaring, insect symphonies, the earth's constant pulse, the heat of the sun, the flame of a new love's intensity, a moth's night flight and the experience of human struggle with "songs of weeping, songs of praise." Poems of ecstasy wanting almost too much life.
&nbsp&nbsp&nbsp&nbsp&nbsp At times the singer and pianist created great clouds of beautiful shimmering sound, at others the text came to the foreground. It was an altogether life-affirming experience. Ms. Mobley-Wynne promises we will hear the entire cycle on her recital this fall.

The Art Songs of Adolphus Hailstork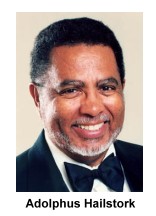 &nbsp&nbsp&nbsp&nbsp&nbsp Dr. Adolphus Hailstork, Composer-in-Residence at Old Dominion University, has been much in the news of late. In early November he received the prestigious Vianne Webb Award for Lifetime Achievement in the Arts at the 2005 awards ceremony of the Cultural Alliance of Greater Hampton Roads, held in the Music and Theatre Hall at the beautiful new Ferguson Center for the Arts at Christopher Newport University in Newport News.
&nbsp&nbsp&nbsp&nbsp&nbsp In late October his newly written cantata Crispus Attucks was given its first performance at the recently restored Attucks Theatre in Norfolk. The piece took three years to compose and tells the story of Crispus Attucks, who in 1770 was the first person to be killed in the American Revolution, during the Boston Massacre. The text is by Dr. Herbert W. Martin, Poet-in-Residence at the University of Dayton and a professor of creative writing and African-American literature. Attucks was considered a hero but his legacy as a great patriot was complicated by his position as a runaway slave.
&nbsp&nbsp&nbsp&nbsp&nbsp In mid-November the Virginia Symphony gave the local premier of Dr. Hailstork's Violin Concerto in three movements to critical acclaim at the beautiful and acoustically superb Symphony Hall at the Ferguson Center.
&nbsp&nbsp&nbsp&nbsp&nbsp "Dolph" Hailstork has written some terrific art songs. They have gotten some notice of their own in recent years in Willis Patterson's Second Anthology of Art Songs by Black American Composers (2002), where you can find the scores for thirteen songs, and Simmons and Wagner's A New Anthology of Art Songs by African-Americans (2004) which includes four songs. But they need to be better known and sung and more easily available.
&nbsp&nbsp&nbsp&nbsp&nbsp Since I am a writer with a flawed memory I carefully catalogue all the songs I hear, both live in concert and from our CD collection. It seemed like a simple enough task at first, to find a complete list of Dr. Hailstork's art songs. At recmusic.com you can often find a complete list, sometimes with text and translation of the works of classical composers but for many contemporary composers the information is not available there. A call to the Diehn Composers Room at ODU and a visit to their website gave me only the titles of works they have in their collection, far from a complete list. A visit to www.presser.com, Dr. Hailstork's publisher, was no help at all. They do not list his solo art songs, though for his other compositions it is an excellent source.
&nbsp&nbsp&nbsp&nbsp&nbsp Our first introduction to Dr. Hailstork's art songs was in January, 1999 at a "Meet the Composer" program presented by the Norfolk Art Song Society. There were a dozen selections, often sung by the singers for whom they were composed. There was a sweet, loving energy in the Harrison Opera House second floor foyer where we met. The singers seemed delighted to sing for the composer and he expressed gratitude to be so honored. These words simply do not capture the magic of the synergy of that afternoon.
&nbsp&nbsp&nbsp&nbsp&nbsp Agnes Mobley-Wynne has been a champion of Hailstork's songs, having performed them often. Lorraine Bell has presented his songs at workshops around the country as well as performing them in frequent recitals and teaching them to her students.
&nbsp&nbsp&nbsp&nbsp&nbsp Lisa Edwards Burrs, Lisa Relaford Coston, Karen Hoy, Charlene Marchant, Patricia Saunders Nixon and Frank Ward have all given memorable performances of his songs. Alvy Powell, the world's foremost Porgy in productions of Porgy and Bess, has recorded Slave Song, available on the CD Sence You Went Away (Albany Records, Troy 387) and Darryl Taylor, who is perhaps America's most active tenor recitalist of African-American repertory, included Hailstork's Invitation to Love in his 2004-2005 recital.
&nbsp&nbsp&nbsp&nbsp&nbsp Dr. Hailstork is planning to have all his songs available in the Diehn Composers Room at ODU very soon. Now that the list is done I plan to make it available to his publisher, making the case that it is important that his songs be more widely available. This list is the culmination of over a year's work and I hope to hear from readers who have any additional information, corrections and especially stories of how the songs came to be, first performances, etc.
Songs of Adolphus Hailstork (b. 1941)
List compiled by John Campbell
Key to source for listed songs
1st. - Anthology of Art Songs by Black American Composers, compiled by Willis Patterson. Separate CD available.
2nd. - Second Anthology of Art Songs by Black American Composers, compiled by Willis Patterson. CD of complete songs bound in book.
3rd. - New Anthology of Art Songs by African American Composers, selected by Margaret Simmons and Jeanine Wagner. CD (of piano part only) bound in book.
ODU. - Diehn Composers Room, Old Dominion University.
A Charm at Parting (1977)
1. Call this whatever name (Stephen Schipachev
2. I Loved You (Alexander Pushkin, translated by Zola Essman) 1st
3. Finis (Waring Cuney)
4. A Charm at Parting (Mary Phelps) 1st
Common Ground: An Operatic Songfest (1994) (Paul Lawrence Dunbar) ODU
1. Ode to Ethiopia/Compensation (Soprano 2 and Baritone)
2. A Love Letter (Tenor and Cast)
3. A Frolic (Cast)
4. The Awakening (Soprano 1)
5. Thou Art My Lute (Soprano 1 and Tenor)
6. Little Brown Baby (Baritone)
7. A Negro Love Song (Tenor and Baritone)
8. Discovered (Soprano 1 and Soprano 2)
9. Accountability/A Hymn/An Ante-Bellum Sermon (Cast)
10. He Had His Dream (Soprano 2, Soprano 1, Tenor, Baritone)
11. Finale: Ode to Ethiopia/Compensation (Reprise) (Cast)
Five Dunbar Lyrics (1987) ODU
1. Morning
2. Day
3. The Awakening (second setting of same text as in Common Ground 4.) 3rd
4. Sunset
5. Good Night 3rd
Four Love Songs (1994) (Dunbar) 2nd
My Heart to Thy Heart
Invitation to Love
Longing
Goodnight (not to be confused with Good Night, Five Dunbar Lyrics #5.)
I've Seen the Day (Soprano and string bass) contact Artsong Update
1. Midway (Naomi Long Madgett)
2. For My Unborn Son (Robert J. Abrams)
3. Where Have You Gone? (Mari Evans)
4. Midway (Repeated to end the cycle)
Preach the Word (2005) (Holy Bible)
Give Thanks to the Lord
Listen
Open the Gates
Songs of Love and Justice (1992) (Martin Luther King, Jr.) 2nd
Justice
Difficulties 3rd
Decisions
Love
Summer. Life. Song. (March, 2004) (Emily Dickinson) written for the Ritz Chamber Ensemble, Florida
1. I Shall Keep Singing (serves as an introduction to the set)
Summer Songs:
2. Answer July
3. As Children Bid the Guests Goodnight
4. Perhaps You'd Like to Buy a Flower
5. Over the Fence the Strawberries Grow
Life Songs:
6. It's Easy to Invent a Life
7. If I Can Stop One Heart from Breaking (1993)
8. This is My Letter to the World
9. Tie the Strings to My Life, My Lord
Sunset and Night (1995) (Dunbar) written for Mary Matthews Garrett contact Artsong Update
1. Sunset
2. Night
Three Simple Songs (1993) written for Emma Goldman, soprano 2nd, ODU
In Vain (Emily Dickinson)
The Daffodils (William Wordsworth)
Christmas Everywhere (Phillips Brooks)
Two Biblical Songs (1984) Lorraine Bell premiered ODU
Song of Mary
Song of Ruth
Two Sonnets (Elizabeth Barrett Browning) written for Lorraine Bell
1. If thou must love me contact Artsong Update
2. Thou hast brought me many flowers
Ventriloquist Acts of God (2003)(Ellen Wise) written for Agnes Mobley Wynne
Ventriloquist Acts of God
Sun
Luna Moth
The True Story of Adam and Eve
Deep in the Dark
Miscellaneous Songs
A Song (Thou Art the Soul of a Summer's Day) (1997) (Dunbar) written for Lorraine Bell ODU
A Woman's Song (1972) (Glen Allen) written for Joyce Dismuke in Youngstown, OH ODU
Create in Me (3/23/92, Virginia Beach) (Holy Bible) written for Lorraine Bell 3rd
Go Now to Your Dwelling Place (unknown translator of Apache Indian text) written for Agnes Mobley Wynne's stepson's wedding
If We Must Die (1978) (Claude McKay) 2nd, ODU
i thank you God (e.e. cummings) (late 2000, early 2001) written for Adele Andrews, Unitarian Church of Norfolk, VA
Slave Song (1996) (Frederick Douglas) written for Willis Patterson 2nd , ODU
Surrounded by Color
Tell Me Trees: What Are You Whispering (1997) (Wilson Harris) written for Lorraine Bell ODU
Vocalise: A Morning Song (for soprano, viola, clarinet or flute) written for Lorraine Bell and violist Jennifer Snyder
Who is Sylvia? (Shakespeare) (for soprano, violin and flute) written for Louise Toppins
Back to Top
Back to Review Index
Printer Friendly Format
Home &nbspCalendar &nbspAnnouncements &nbspIssues &nbspReviews &nbspArticles Contact Us