Adolphus Hailstork's Ventriloquist Acts of God
&nbsp&nbsp&nbsp&nbsp&nbsp Soprano Agnes Mobley-Wynne sang four songs from Dr. Hailstork's cycle of five songs with Jeanette Winsor, piano. The text is by Ellen Wise, a friend of Ms. Mobley-Wynne's since junior high. Agnes reports that she's still baking bread for the composer to pay for these songs. She approached the composer with her friend's poem Ventriloquist Acts of God and asked if he would set it for her. Before long she was asking him to write a cycle. Sun, Luna Moth and Deep in the Dark grew out of this request.
&nbsp&nbsp&nbsp&nbsp&nbsp The poetry is based on natural events, birds singing and soaring, insect symphonies, the earth's constant pulse, the heat of the sun, the flame of a new love's intensity, a moth's night flight and the experience of human struggle with "songs of weeping, songs of praise." Poems of ecstasy wanting almost too much life.
&nbsp&nbsp&nbsp&nbsp&nbsp At times the singer and pianist created great clouds of beautiful shimmering sound, at others the text came to the foreground. It was an altogether life-affirming experience. Ms. Mobley-Wynne promises we will hear the entire cycle on her recital this fall.

Agnes Mobley-Wynne at Chandler Hall
&nbsp&nbsp&nbsp&nbsp&nbsp On March 18, 2004 at Old Dominion University's Chandler Recital Hall, Agnes Mobley- Wynne gave a Faculty Recital with Jeanette Winsor at the piano. When Ms. Mobley-Wynne stepped on stage the audience gave the longest welcoming applause in memory.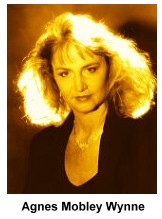 &nbsp&nbsp&nbsp&nbsp&nbsp Headlining this recital was the complete song cycle Ventriloquist Acts of God, with music by Adolphus Hailstork on poetry by Ellen Wise, presented with composer and poet in the audience. It had been almost one year since we had heard Ms. Mobley-Wynne sing four songs from this cycle at the Unitarian Church of Norfolk's annual choral concert. The fifth, The True Story of Adam and Eve is fine story telling with the word-painting emphasizing the deep and passionate thrust of the poem. It is love that compels Adam to follow Eve: "Not wanting to follow her from Paradise, but the hollow she leaves is the home of desire, a cave at the edge of the sea."
&nbsp&nbsp&nbsp&nbsp&nbsp The four other songs are Ventriloquist Acts of God, with its sense of awe and percussive piano; Sun, with jazzy low notes and an incredible riff for the soprano voice; Luna Moth, with the questioning motif in the piano and Deep in the Dark, with its psychological quest of living on the edge, experiencing terror and delight.
&nbsp&nbsp&nbsp&nbsp&nbsp "Ellen Wise and Adolphus Hailstork are two of the most original thinkers I've ever known" was Ms. Mobley-Wynne's introduction to the songs. Her commitment to getting this poetry set to music is praiseworthy. After a year the songs have settled into her voice. Click here to read last year's review.
&nbsp&nbsp&nbsp&nbsp&nbsp The program began with Ain't it a Pretty Night from the opera Susannah by Carlisle Floyd with its expression of the raw energy of a young woman on the edge of the discovery of the complexity of adult life. Ms. Mobley-Wynne delivered the lines with a wonderful conversational quality, especially suited to this repertory. Later she sang The Trees on the Mountain from the same opera. Here Susannah laments that love, like summer, vanishes as the leaves fall, leaving a stark bareness in her heart.
&nbsp&nbsp&nbsp&nbsp&nbsp In the Claude Debussy (1862-1918) songs, Beau Soir, Mandoline, La Chevelure, Voici que le Printemps and Paysage sentimental, the rapport between pianist and singer was comfortable with excellent support. With her silky smooth legato the singer captured the feeling of French style in some of Debussy's best-loved songs.
&nbsp&nbsp&nbsp&nbsp&nbsp The program ended on a high note when Dennis Zeisler on clarinet joined the duo on stage for Franz Schubert's ( 1797-1828 ) hymn to the indomitable human spirit, Der Hirt auf dem Felsen (Shepherd on the Rock). In the soft contours of these luscious vocal lines intertwined with the well-played instrumental lines, Ms. Mobley-Wynne once again demonstrated that she is a natural, easy with what she is singing, .
A Personal Note
&nbsp&nbsp&nbsp&nbsp&nbsp The exceptionally long applause for Agnes Mobley-Wynne when she first stepped on stage was an acknowledgement of what a warm, creative and dedicated person and musician she is. This was her first recital in several years after four bouts with cancer (all different), including four surgeries and two rounds of radiation therapy.
&nbsp&nbsp&nbsp&nbsp&nbsp Many audience members were her voice students and they know first hand how knowledgeable and involved she is in their vocal development.
&nbsp&nbsp&nbsp&nbsp&nbsp Personally I have received constant encouragement and useful information as I dealt for six months with a cancerous lymphoma tumor in my hip. The chemotherapy completely shrank away the tumor and I am quickly recovering from the side effects of the drugs. As I regain my stamina it is time to thank everyone who sent energy, prayers and good wishes my way. Especially Agnes. Thank you!

Soprano Agnes Fuller Wynne and Friends in Recital
&nbsp&nbsp&nbsp&nbsp&nbsp On March 14, 2006 at Chandler Recital Hall, we were treated to a superb evening of chamber music. With her colleague at Old Dominion University, Dr. Amanda Halstead on the piano, Agnes Wynne opened the program with four art songs by Mozart.
&nbsp&nbsp&nbsp&nbsp&nbsp "Agnes makes the hard stuff look easy" was the comment we heard that points up the quality of this performance. Though Mozart predates the Romantic Movement in art song, Abendempfindung (Evening Thoughts) has a darkly sentimental text and a rich musical setting. Das Veilchen (The Violet), the poster-child of Mozart's art songs, was followed by Dans un bois solitaire (In a lonely forest). Ridente la calma (May a happy calm arise) showcased the vocal gold that Mozart can draw forth.
&nbsp&nbsp&nbsp&nbsp&nbsp Guitarist Dr. Anibal Acosta, a professor at ODU, played a set of four songs by John Dowland (1563-1626) for Ms. Wynne, who was seated during the set to "create a sense of ensemble." The first three songs were elegantly sad, all about frustrated love. I was especially pleased by the smooth high notes and lovely legato singing in What if I never speed? There was a most happy ending in Come Again, where the dying spoken of is not of mortality. Dr. Acosta was excellent and a fine sense of ensemble was achieved.
&nbsp&nbsp&nbsp&nbsp&nbsp The first half closed with a song by Hector Berlioz (1803-1869) for French horn, piano and voice. Emilie Sargente from Ohio was the guest French horn player. The story of how Berlioz's Le jeune pâtre Breton (The young Breton shepherd) came to be on this program is interesting. It seems a friend had suggested it to Ms. Sargente who sent a copy to Agnes only four days before the performance. We know the song from DG CD Hector Berlioz Melodies (D 206306) where it is sung by tenor John Aler. The text by Auguste Brizux is wacky. The lover is hiding from her grandmother on this dewy summer morn with the thrushes singing. She tells us that grandmother thinks she is too fond of her cow, but really it is the shepherd boy across the hill that has won her heart.
&nbsp&nbsp&nbsp&nbsp&nbsp Instead of an intermission the audience was entertained with two pieces for French horn titled Jazz Set by Douglas Hill (b.1946) who began his career as a player and now teaches and composes. Ms. Sargente, who spent her spring vacation in Virginia Beach, performs and teaches in northwest Ohio where she is second horn with the Toledo Symphony. In her private studio she has brought together students from several school districts to form the horn group Klaxon.
&nbsp&nbsp&nbsp&nbsp&nbsp Ms. Sargente explained that when she was a beginning horn player her parents had given her a recording of twentieth-century horn music played by Doug Hill. "The music often sounds wrong, even if it is right." To prepare us to listen, she demonstrated some of the changes in sound the French horn player can create by the way she places her hand in the bell of the instrument. The delightful piece Lost and Found with the flat-sounding microtonal notes reminded me of a road trip in central Ohio when I was young. The two lane road took you up and down over little hills. I was reminded of driving fast over these hills and the sense of vertigo created upon reaching each crest and the feeling of possibly flying off into the sky.
&nbsp&nbsp&nbsp&nbsp&nbsp The second piece, titled Lullaby Waltz, opens with a sad sound, breaks into fragmented jazz riffs, morphs into a waltz that seems distant, in fact fading away as the player's hand in the horn's bell manipulates the sound. A short ending races the piece to a close.
&nbsp&nbsp&nbsp&nbsp&nbsp Then followed two arias from secular cantatas by Johann Sebastian Bach (1685-1750) with Natalia Kuznetsova on violin. The pacing was excellent and the duet of voice and violin was breath-taking in its excitement. Her first Bach selection, Der zufriedengestellte Aeolus (The King of the Winds) was written for the birthday of a philosophy professor at the University in Leipzig in 1725. Cantata BWV 204 #4, Ich bin in mir vergnügt (Let what the wide world values leave my soul in peace), followed. For more information see Artsong Update Issue #48.
&nbsp&nbsp&nbsp&nbsp&nbsp The program closed with a Schubert song new to this listener. Auf dem Strom (On the river) D. 943 was written in March of 1828 for voice, piano and horn (or cello). Like the popular Der Hirt auf dem Felsen D. 965 (Shepherd on the rock) written in October 1828, this is a beautiful chamber art song from the last year of Schubert's life. The songs tells of having found a true love on the river but having to part, never to meet again.
&nbsp&nbsp&nbsp&nbsp&nbsp This vocal chamber program was lovely throughout. Congratulations to all the performers. Miss Kuznetsova graduated from the Ural State Conservatory in 1997 and is working on a degree in music education at ODU. She recently established a string program at Greenbrier Christian Academy in Chesapeake.

Soprano Agnes Mobley-Wynne Gives Art Song Recital
On October 5, 2008 at Chandler Recital Hall, Old Dominion University voice teacher Agnes Mobley-Wynne presented a fine vocal recital with musician friends. Ms. Mobley-Wynne came trooping out in round glasses, longish blond hair and the energy of a happy, little girl and sang a song of delight about the peaceful valley home and the joy of roaming freely in the hills at dawn, enjoying nature. Heimathlied (Home Song), Op. 117 was by the little-known Bohemian composer Johann Wenzel Kalliwoda (1801-1866).
Franz Schubert Romanza included pianist Harold Protsman and clarinetist Dennis Zeisler. The worry and pain of the singer in this song was created by Ms. Mobley-Wynne and enriched by the instrumentalists. Later, to round out the program, Protsman and Zeisler played Sonata for Piano and Clarinet by Leonard Bernstein, written for a fellow student when he was at Harvard. The two independent instrumental voices show off Bernstein's fluent musical skill at age 24. The second movement is mellow, even melancholic before it breaks into a syncopated rhythm demonstrating a range of moods. A shrill clarinet with percussive piano ends the piece.
Songs in English with word-painting texts followed. Two are by British composer Arthur Bliss (1891-1975). The Ragwort is all about thistles and gold emperor ragwort who stand in state. The singer is accompanied by piano. This in contrast to The Dandelion who is gay and brave. Here voice and clarinet give us the quirky text with modern music. Next Ms. Mobley-Wynne read the text of three Blake poems from Songs of Innocence set by Arnold Cooke, Piping Down the Valleys Wild, The Shepherd and The Echoing Green. The conventional musical language uses the instrumental colors to enhance the lovely singing.
Anibal Acosta, a fine young guitarist, accompanied five of Seite Canšiones Populares Espa˝olas (Six Popular Spanish Songs). Our singer, elegant in a silvery lace blouse and a plain black skirt, ventured into Manuel de Falla (1876-1946) songs that draw on the most primitive source of Spanish music, Byzantine chant and Moorish music. El pa˝o Moruno (The Moorish Cloth) is a lively, rustic setting of a folk tune. Canšion is a graceful, charming and plaintive melody. Asturiana tells the tale of weeping over a lost love. In Jota we hear a popular dance tune. I am pleased that Ms. Mobley-Wynne has added Spanish songs to her repertory and encourage her to approach the dramatic bits with more abandon. Mr. Acosta's playing was excellent, even inspired throughout.
Back to Top
Back to Review Index
Printer Friendly Format
Home &nbspCalendar &nbspAnnouncements &nbspIssues &nbspReviews &nbspArticles Contact Us