Soprano Ann Elizabeth Scott and Pianist Charles Woodward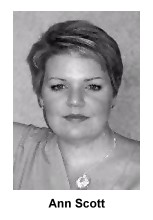 &nbsp&nbsp&nbsp&nbsp&nbsp On June 25, 2005 at Virginia Wesleyan's Hofheimer Theater, Ann Scott sang a terrific Benefit Recital to help support her trip to Graz, Austria. There she will attend a six week Opera Studio Program at the American Institute of Musical Studies (AIMS) from July 5 through mid-August. She will have vocal lessons, opera and lieder coaching, master classes, diction classes for several European languages, stagecraft, career guidance and an audition training seminar and lots of opportunities to perform.
&nbsp&nbsp&nbsp&nbsp&nbsp It is a career building experience and Ms. Scott is vocally ready to expand her career from choral singing to solo performance. The evidence I offer is the well structured high quality recital she gave with the superb pianist Charles Woodward supporting her with intelligence and vigor. Ms. Scott just completed her fourth season with the Virginia Chorale and the Virginia Symphony Chorus.
&nbsp&nbsp&nbsp&nbsp&nbsp From the first selection, G.F. Handel's (1685-1759) Piangero, la sorte mia there was a new glow in her voice, a shimmer that also added excitement to three selections by Earnest Chausson (1855-1899). We had heard her sing Dans la foręt du charm et de l'enchantement, Le charme and Le temps de lilas in November, 2004 but here we encountered a singer who sings with a new confidence that allows her to share the meaning of the text with her audience. In the time since, Ms. Scott has continued to study with her mother, Karen Hoy, and recently in Washington, D.C. with Anna Gabrieli of Boston who has helped another local favorite, soprano Barbara Quintiliani polish her skills.
&nbsp&nbsp&nbsp&nbsp&nbsp In three selections by John Duke we heard lovely floated phrases to end the song Here in this spot with you. In I can't be talkin' of love there was a mischievous grin on her face and jazzy beat in the voice and piano. The high notes in I carry your heart were breathtaking.
&nbsp&nbsp&nbsp&nbsp&nbsp At this point the performers left the stage but this was only a pause in this demanding repertoire. When they returned Ms. Scott tore into the opening line of Richard Strauss' Schlechtes Wetter (Terrible Weather) with a ferocious passion. Die Nacht and Zuiegnung were explored with equal skill, emphasizing the beauty of the voice. In Die Nacht, night settles over the earth, robbing the world of its form and color, symbolic of the fear of loss we experience when we open our heart to a beloved. It was overwhelmingly beautiful. Zuiegnung demands high notes and committed piano technique that were a joy to experience.
&nbsp&nbsp&nbsp&nbsp&nbsp The closing song was the Verdi aria Morrň, ma prima in grazia from the opera Un Ballo in Maschera. Sung in a liltingly beautiful voice with clean, natural sounding high notes, this highly dramatic role was totally convincing. Somewhere Over the Rainbow by Harold Arlen was a fitting encore piece for this recital.
&nbsp&nbsp&nbsp&nbsp&nbsp The judges at the National Association of Teachers of Singing competition earlier this year awarded Ms. Scott first place in her division, at both the state and regional level. Joann Falletta of the Virginia Symphony chose her for the role of First Fairy in Mendelssohn's Midsummer Night's Dream performed this spring. We can all feel satisfied that this young singer is on her way to a career on the other side of that rainbow.

Soprano Ann Scott in Austria
A Note from Ann
&nbsp&nbsp&nbsp&nbsp&nbsp This summer I had the wonderful opportunity to study singing in Europe. I auditioned for and was accepted to the American Institute of Musical Studies in Graz, Austria. This program was created to facilitate the introduction of American singers to the European opera community. Currently, AIMS provides opportunities to sing for German opera house agents, participate in and observe master classes with renowned singers, learn German and the art of being a singer.
&nbsp&nbsp&nbsp&nbsp&nbsp The first week was devoted to learning to negotiate Graz, placement auditions and best of all, a master class with Gabriela Lechner, dramatic soprano, who is a regular performer with the Wiener Staatsoper (Vienna Opera), Oper Zurich and Graz Oper. Her classes were always interesting and entertaining and singing for her was a true experience. I sang Morró, ma prima in grazia from Un Ballo in Maschera. She is very direct and focused and did not hesitate to work on technical issues but always insisted on the dramatic truth of the character. In her week at AIMS she probably worked with sixty singers, but she remembered each of us and would stop in the hall to suggest a new aria or role to learn.
&nbsp&nbsp&nbsp&nbsp&nbsp The next five weeks were packed! I was busy with German language class every day, classes in audition techniques, stage artistry classes and private diction coachings, individual lessons and coachings twice weekly. There were also group lessons and coaching weekly. The evenings were devoted to recitals, concerts, presentations and master classes as a performer or listener. Finding practice time was a challenge! It was exciting to do my first agent audition for Neill Thornborrow of the Heissler-Remy Opera Agency. He was very kind and encouraging, asked about my future plans and suggested some roles to learn.
&nbsp&nbsp&nbsp&nbsp&nbsp A major highlight was singing Schlectes Wetter (Terrible Weather) by Richard Strauss in master class conducted by internationally known baritone Bo Skovhus. Mr. Skovhus was in Vienna performing with the Wiener Volksoper, and graciously traveled to Graz to offer a 4-hour master class on German art song. He was very generous offering a wealth of information on stylistic issues related to individual composers.
&nbsp&nbsp&nbsp&nbsp&nbsp In the AIMS Meistersinger Competition program participants must have permission from teacher, coach and diction coach to perform. Out of some one-hundred-thirty singers, forty-eight of us were chosen for the first round where my selections were Come scoglio from Cosi fan tutte, Und ob die Wolke from Der Freischütz and Tu che de gel sei cinta from Turandot. Twenty-two of us made it to the semi-finals. Eight of us were chosen for the final round which was a gala concert where I sang Come Scoglio with the AIMS Festival Orchestra, conducted by Edouardo Mueller, a familiar face on the podiums of the world's opera houses including the Metropolitan, Houston Grand, Chicago Lyric, La Scala, and Covent Garden. Each finalist was privately coached by the maestro who guided us and shared our excitement through the three orchestral rehearsals. Singing in that gorgeous hall, with a stage full of amazing musicians and a wonderful, excited audience was a most perfect farewell to an experience I will never forget.
Back to Top
Back to Issues
Printer Friendly Format
Home &nbspCalendar &nbspAnnouncements &nbspIssues &nbspReviews &nbspArticles Contact Us