Barbara Quintiliani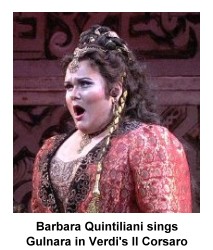 &nbsp&nbsp&nbsp&nbsp&nbsp Barbara Quintiliani began her climb to stardom at the Governor's School for the Arts and credits the program and her teachers with giving her a firm foundation on which to build her career as a singer of art song and opera. Here is her most recent note to Artsong Update:
&nbsp&nbsp&nbsp&nbsp&nbsp ... I am making my Weill recital hall debut next week! Wed. Jan. 28 at 5:30 as a part of "The Song Continues". This is the 10 year anniversary of the Marilyn Horne Foundation. I will be performing works of Strauss, Poulenc, and Beach. Last week I did a residency in Tennessee under the auspices of the Marilyn Horne Foundation, I did a number of outreach engagements to high school kids and I gave recitals at Austin Peay University and Tennessee Tech! I have also just finished my time as a Young Artist at the Washington Opera. I was very lucky that they let me out of my contract early...I was not supposed to be out until May! I had so many job offers I had to leave...I will be singing Gulnara in Verdi's Il Corsaro for the Sarasota Opera in March, and Luisa in Luisa Miller (Verdi) for Opera Boston in April and May. In June I will make my Carnegie Hall debut with the Buffalo Philharmonic. Joann Falletta will conduct and I will sing Barber's Knoxville and the Three Poems of Fiona McLeod by Griffes. I hope you are both well! I enjoy getting your newsletter, especially when I am on the road! It makes me feel at home!

Diva Barbara Quintiliani's Latest Triumph
&nbsp&nbsp&nbsp&nbsp&nbsp Opera Boston's production of Luisa Miller featured Barbara Quintiliani, age 27, as Luisa, April 30 and May 2. The critic T. J. Medrek of the Boston Herald characterized her voice as warm and full-bodied with a "magnificent natural gleam." He praised her ability to "shape Verdi's long luxurious phrases with an energized, impassioned Italianate thrust..."
&nbsp&nbsp&nbsp&nbsp&nbsp If this were not enough, this Governor's School for the Arts graduate sang with the Buffalo Philharmonic at Carnegie Hall with JoAnn Falletta conducting on June 6th. Her selections, two American works, were Three Poems of Fiona MacLeod by Charles Tomlinson Griffes and Knoxville: Summer of 1915 by Samuel Barber. Boston Globe critic Richard Dyer praised the conductor, orchestra and singer. Of the singer he said "She may have the best natural pipes of any American soprano since Leontyne Price and she is learning how to use them - and more, why she is using them. She never fails to make her singing meaningful."
&nbsp&nbsp&nbsp&nbsp&nbsp Ms. Quintiliani will next be heard here when she opens Art Song of Williamsburg's fifth season on November 5, 2004 at 8 pm at Williamsburg Regional Library. The program titled Bel Canto in Song and Aria will feature music by Bellini, Donizetti, Rossini and Verdi. We'd love to see her in a Virginia Opera production. How about Luisa Miller, Maestro Mark?
&nbsp&nbsp&nbsp&nbsp&nbsp Opera Boston, April 28, 2006. Barbara Quintiliani sang the title role in Lucrezia Borgia. "Singing with opulence, radiance and sheer visceral power, Quintiliani found layers of passion and resolve at once dark, complex and primitive." This former GSA student is fast becoming a bel canto superstar. To read the entire review, see the July Opera News, page 42.

Printer Friendly Format
Back to Top
Back to Review Index

Home &nbspCalendar &nbspAnnouncements &nbspIssues &nbspReviews &nbspArticles Contact Us