A Rare and Exciting Recital
&nbsp&nbsp&nbsp&nbsp&nbsp I use the word "rare" because the music featured was by John Carter, an African-American composer, probably not heard in Tidewater before and Samuel Barber's Knoxville: Summer of 1915 with piano accompaniment rather than orchestra. Barber's Knoxville is much sung and recorded with orchestra, but with piano and voice alone it becomes spare and more powerful. In thirty years of listening to this piece the plaintive melancholy of the closing words of the child narrator have never cut so deep. He is well loved and cared for, but as an adult reflects that these loving people "will not ever tell me who I am." In the orchestral version the edge of this existential dilemma of life somehow gets buried in the music.
&nbsp&nbsp&nbsp&nbsp&nbsp Soprano Billye Brown Youmans partnered by Lisa Crawford on piano presented a superbly executed program of American art song on March 2, 2003. The Barber is a long continuous piece of 15-16 minutes and the Carter Cantata is of similar length. Both make great demands on vocalist and pianist.
&nbsp&nbsp&nbsp&nbsp&nbsp The front of the program booklet in bold type reads "Virginia Beach Christian Church presents Billye Brown Youmans, soprano" and in very small type on a line below "assisted by Lisa Crawford, piano." This self-effacing billing belies the fact that it was Ms. Crawford who invited Ms. Youmans to do this concert and actually requested that they do the Barber and Carter pieces together. Ms. Crawford, a graduate of Virginia Commonwealth University and St. Mary's teaches at the Governor's School for the Arts and is an excellent pianist with deep feeling for this repertory.
&nbsp&nbsp&nbsp&nbsp&nbsp For the third set Ms. Youmans chose new arrangements of hymns from her childhood, giving us the experience of new songs with familiar words: Love Lifted Me and Jesus Loves Me arranged by Michael T. Smith and Come Thou Fount arranged by Richard Walters. Her sweet voice and spiritual expressiveness worked well.
African-American Composer John Carter (1932-1981?)
&nbsp&nbsp&nbsp&nbsp&nbsp John Carter, born in St. Louis, Missouri in 1932, was a student at Oberlin College in Oberlin, Ohio (we estimate from 1948-1952). He was a roommate of Dalton Baldwin, the well-known art song pianist (b. 1931). Carter was a talented and prize-winning pianist as well. He served as composer in residence with the National Symphony Orchestra, Washington, DC in 1968 and taught at Federal City College in the 1970's.
&nbsp&nbsp&nbsp&nbsp&nbsp His best known work Cantata opens with Prelude for piano. Rondo uses the spiritual "Peter go ring dem bells." The line is repeated many times with many vocal and instrumental variations until the phrase "Wonder where my mother has gone...heard from heaven today" is sung and elaborated. I understand this to mean that his mother has died. Recitative uses "Sometimes I Feel Like a Motherless Child" as melodic source material. The feeling is pathetic, focusing on being in the world alone, rather than as the usual caressing lullaby. Air uses "Let us break bread together" as text for this song. The closing piece Toccata (Ride on King Jesus) uses a vocal attack with a forward intensity of melody and a complex piano accompaniment played fortississimo. It created a wide-eyed excitement in this listener. The phrase "No man, no man" is repeated as a variation a number of times and finally resolves with "no man can hinder me."
&nbsp&nbsp&nbsp&nbsp&nbsp In her remarks before she sang this piece, Ms. Youmans raised the question of what impact this piece might have had on his audience when first performed in 1964 during the civil rights movement. I suspect that it spoke to the resolve of those freedom fighters.
&nbsp&nbsp&nbsp&nbsp&nbsp Editor's note: There is very little information about John Carter on the world-wide-web. Once this issue goes on-line there will be a bit more. If you have additional information we will add it to the website article so others can have it too. By making his biography available we would like to do for John Carter what we have done for Jean Berger. If you can help, please let us know.

Christmas at Great Bridge Presbyterian
&nbsp&nbsp&nbsp&nbsp&nbsp Many of our readers will have their own list of favorite musical experiences from this Christmas season just past. Here is ours: Three quarters of the Ambrosia Quartet, violinist Yun Zhang, violist Jennifer Snyder, cellist Rebecca Gilmore Shoup, plus Beverly Kane Baker (sitting in for Elizabeth Coulter) on second violin played for A Carol Service, Sing Noël by Hal H. Hopson on December 21, 2003 at Great Bridge Presbyterian Church.
&nbsp&nbsp&nbsp&nbsp&nbsp Billye Brown Youmans is director of music and works her magic to bring together the choir and musicians, including organist Cheryl Madison, percussionist Bob Simmons and handbell players Eloise Schooley and Vel St. Onge into a unified performance. The trained readers were an integral part of the performance. Hopson's Sing Noël is a well-constructed holiday celebration in poetry and song. The song Sing Noël follows the opening reading of the poem Chanticleer about the sun rising as the choir enters from the narthex, clapping and singing. Rousing music! The events of the Christmas story unfold with the choir singing, interspersed with congregational songs. Hopson has done a masterful job of constructing a one-hour program that tells the Christmas story in a way that is fresh and new and deeply traditional.
&nbsp&nbsp&nbsp&nbsp&nbsp On Christmas eve Billye Brown Youmans, soprano gave us the gift of her voice when she sang O Holy Night at Great Bridge Presbyterian Church at the 10 p.m. service. The setting was a traditional celebration of the night of Jesus' birth with a candlelight service and communion.

Billye Brown Youmans as Choral Director
&nbsp&nbsp&nbsp&nbsp&nbsp Great Bridge Presbyterian Church was filled with glorious music on April 10, 2005 when John Leavitt's Requiem and selected Alleluia's were presented in the church's Candelight Concert Series. Ms. Youmans assembled a choir of fifty-six voices accompanied by twenty orchestra players. The choir combined the church's chancel choir and guest singers from Providence Presbyterian's choir and also guest soloists, which included Steve Kelley, Kathleen Franz and Frank Aiello.
&nbsp&nbsp&nbsp&nbsp&nbsp In conversation we learned that the seven individual sections of Leavitt's Requiem can stand alone for use in regular worship services. In it you find a setting of the 23rd Psalm, the 47th Psalm (Oh, clap your hands), the Prayer of St. Francis, Psalm 27 (The Lord is My Light and My Salvation), the Easter Carol (a celebration of nature in spring that morphs into a hymn of praise), a setting of Robert Lowry's always popular How Can I Keep from Singing and A Gaelic Blessing.
&nbsp&nbsp&nbsp&nbsp&nbsp Before the requiem, a selection of Alleluia's were sung. First there was Randall Thompson's comprehensive and lovely treatment, followed by Ed Harris' arranged by John Dixon for this performance that prominently featured the harp and tympani. Then came J.S. Bach's Alleluia from Cantata No. 142 and Alleluia, Amen also by Thompson to close. Along the way we had the overture in D. major from Bach's Orchestral Suite BWV 1068 with its charming dance rhythms.
&nbsp&nbsp&nbsp&nbsp&nbsp Interesting and exciting colors were achieved by judicious use of the impressive ensemble of well trained performers. It is rare that the listening community is offered a performance of such scope, supported only by a free-will offering. We are blessed by Ms. Youman's commitment to quality.

Billye Brown Youmans and
Our 2007 Tidewater Christmas Music Experience
The holiday season just isn't complete unless we hear Billye Brown Youmans sing O Holy Night. This year she sang it in a beautiful program, A Wesleyan Christmas, at Virginia Wesleyan College on December 3rd. Some of our other favorites were :
&nbsp&nbsp&nbsp&nbsp&nbsp Come, Thou Long Expected Jesus, (text by Charles Wesley from 1744) sung by VWC Choir from memory, as they did all their pieces. This premiere performance with music by Hal Hopson had a popular sound. The strong voices packed a punch. Dr. David Clayton was the conductor with George Stone at the piano and student Geoffrey Bell '09 at the organ. On the lighter side, P.D.Q. Bach/Peter Schickle's A Consort of Choral Christmas Carols captured the spirit of fun that the season can have. Oh Little Town of Hackensack, Good King Kong with kazoos and Manhattan Transfer style harmonies added to the merriment.
&nbsp&nbsp&nbsp&nbsp&nbsp The Wesleyan Singers were showcased in the moving spiritual Go Tell it on the Mountain.
&nbsp&nbsp&nbsp&nbsp&nbsp The Virginia Handbell Consort, led by Director Agnes French did a gentle dulcimer-like For Unto Us a Child is Born (Handel's Messiah) and a spirited Danse Russe Trepak from Tchaikovsky's Nutcracker. Bells were struck with padded drumsticks while tambourines added rhythmic energy as tempos went faster and faster. We are not usually great fans of handbells but the Virginia Handbell Consort won us over with their diversity of technique and creativity.
&nbsp&nbsp&nbsp&nbsp&nbsp A very fine piano four-hands performance of Bach's Sheep May Safely Graze with Music Department head Lee Jordan-Anders and student Geoffrey Bell playing.
Then on December 8, 2007 there was Billye Brown Youmans as conductor. The venue was the historic Trinity Episcopal Church (founded 1762) where the congregation hosted The Cantata Chorus for a performance of Handel's Messiah . Billye Brown Youmans, Interim Artistic Director, led a scintillating performance with soloists Georgeanne Paddock (soprano) Kathleen Franz (alto), Douglas Lynch (tenor) and Chris Mooney (bass). The chamber orchestra included eleven string players, two trumpeters, two oboists, a basoonist, and a tympanist with Jim Guthrie at the harpsichord.
When Jeffrey Ward left the helm to take a college teaching position in North Carolina we were concerned that the Chorus would lose its momentum. Thankfully that did not happen. The Chorus sang with energy, clarity and accuracy. The soloists were fine, with Doug Lynch outstanding in his ornamented tenor lines. Seems he and Billye had worked together on Baroque ornamentation in years past. Chris Mooney's powerful bass was most satisfying.
In conversation Ms. Youmans said that "it has been a joy to work with the Cantata Chorus. They are an esteemed choral group with a long and celebrated history. The chorus will celebrate their 50th anniversary next year. Our aim with our Messiah performance was to strive for accurate Baroque performance practice articulations. It was a particular pleasure to hear the musician's comments regarding our efforts. Several singers said that they felt as if they were singing this magnificent work for the first time."
The Symphonicity, (the symphony orchestra of Virginia Beach), "Handel Messiah Sing-Along" was December 23, 2008 and Billye Brown Youmans was soprano soloist with alto Lisa Relaford Coston. Their duet He Shall Feed His Flock Like a Shepherd was a wonderful blend of timbres, warm, bell-like and resonant. Tenor Olindo Marseglia and bass Steve Kelley both gave exciting performances and the chorus, led by Mark Hudgins, sounded better than ever in their new Sandler Center home. Ms. Youmans' ornamentation of the soprano solos added a new excitement to this very familiar music. In an interview she said "I was very fortunate in graduate school. One of my professors, Dr. Larry Peterson, was quite an expert in Baroque embellishment. For several years, I sang in early music ensembles and coached with him privately." With commitment and inspiration, David S. Kunkel led this twenty-fifth annual performance as he has done all the others.
Billye's mother passed away December 28, 2007 and left her family with a beautiful legacy of service to others. "She was an amazing woman. At 91 she was still concerned about others. Both of my parents were singers, my father a resonant bass, and my mom a lovely soprano. I received musical genes from both sides of my family. My mother's mother was a music teacher. One of my cherished family heirlooms is a hand tooled leather music roll that my grandmother put her music in when traveling to and from students' houses. I also have her baton; a larger, rather sturdy version of the one's used today."

Celebrating Fifteen Years of Billye Brown Youmans
as Music Director at Great Bridge Presbyterian Church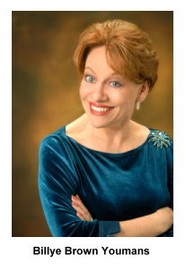 As the capstone of fifteen years of loving service by Billye Brown Youmans as music director at Great Bridge Presbyterian Church, she conducted the first of this season's Candelight Concerts on November 1, 2009. The large, modern sanctuary was filled to overflowing with parishioners and friends who came to celebrate her gift of music in a program titled "I'll Praise My Maker."
The last selection was glorious: Hallelujah from Christ on the Mount of Olives by Ludwig van Beethoven (1770-1827) sung in English by a choir of 80 voices and an orchestra of twenty-six instrumentalists drawn from the Virginia Symphony Orchestra. This concluded a program of contemporary arrangements of old and new hymns and anthems. The program booklet with texts gave the date and occasion of each work's entry into the choir's repertory. Two anthems were newly commissioned for this occasion by the Chancel Choir: Praise the Lord! Sing Hallelujah, an early American hymn arranged by John Leavitt scored for orchestra featuring trumpet and piano and Dearest Lord, Be a Bright Flame Before Us, an ancient Celtic prayer altered by Hal H. Hopson in a sweet choral arrangement.
The cross fertilization of popular music and religious choral music was much in evidence in the arrangements we heard. Hopson is a powerhouse composer from Texas who draws on Southern hymnody and has 1300 published works. Two other selections by Hopson were on the program: a triumphant A Mighty Fortress is our God with an edgy organ in the third verse accompaniment and the gossamer sound of an emotionally provocative Thou Shalt Know Him When He Comes.
John Leavitt, from Kansas, arranged River of Judea with a snare drum and a rocking gospel tune in the piano and strings. Throughout, the choreography of Ms. Youmans conducting using hands, arms and her entire body drew forth amazing musicality from the well-trained choir. Visiting singers, some of Tidewater's finest voices, fleshed out the sound. We were immediately impressed by the crisp diction of the opening O, When Shall I See Jesus? from the Shaker hymnbook, The Sacred Harp, 1844. Simplicity and amazing vitality were displayed clearly. Many other current arrangements were not as tied to their origins, obscuring the original tunes.
The orchestral prelude of the anthem Unto Us a Child is Born by Johann Friederick Peter (1746 -1813), a Dutch composer who settled in the Moravian community of Salem, North Carolina, was wonderfully well played. John Rutter's The Lord is My Shepherd sounded like a choral arrangement of a French folksong about shepherds set by Canteloube. Rutter's setting of Amazing Grace featured a prominent plucked harp but with a glissando and several arpeggios in a very gentle, understated setting. The very comfortable pews were lulling me when a wake-up call in the form of a Southern Gospel song, Just a Closer Walk with Thee, began. Arranged by Ed Lojeski as a toe-tapping, 50s girl-group do-wop, with a second verse with a rhythm-and-blues tempo by male choristers, the snare drum set the pace throughout.
Two groups also organized, coached and conducted by Ms. Youmans were included in the program. The six member Great Bridge Presbyterian Church Harmonious Flutes played a lovely How Can I Keep From Singing. All Nature Sings was arranged by Brian Childers for the dozen Ringers of the GBPC Ringers handbell choir with flutist John Bell, percussionist Tim Bishop and PowerPoint tech Kevin Ellis. A refined and refreshing break from choral singing.
A standing ovation, a dozen red roses and a tasty reception came as the program concluded. It was a full spectrum of Billye Brown Youmans's talents except that she did not sing a solo art song, and that is this reviewer's favorite thing that she does, superbly well.
Back to Top
Back to Review Index
Printer Friendly Format
Home &nbspCalendar &nbspAnnouncements &nbspIssues &nbspReviews &nbspArticles Contact Us