Art Song Recital: By Special Request
Mezzo-Soprano Bonnie Lambert-Baxter & Pianist Michael Regan
Larchmont United Methodist Church, June 9, 2013
Review by John Campbell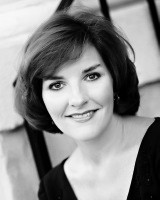 Bonnie Lambert-Baxter began her vocal studies at age 13 with the renowned late Genevieve McGiffert of Williamsburg. At age fifteen she became a paid soprano soloist/section leader here at Larchmont United Methodist Church. She joined the Virginia Opera Chorus two years later. College, singing lead roles in musical theater, a time as an unpaid singer with the Virginia Symphony Chorus and time off to raise her children followed. In recent years she has been a professional singer with the Virginia Chorale and soloist here at LUMC and Ohef Sholom Temple.
Venturing into a solo recital was a welcome event that drew an audience of over 100 listeners from all over the region. We were treated to a lovely musical experience. Michael Regan played the organ for the opening selection, Alleluia by W.A. Mozart, usually a soprano vocalise. Ms. Lambert-Baxter's fuller mezzo-sound in lower notes and the naturally produced soaring high passages were thrilling to hear. The theme of the program was to experience again fleeting moments of love, ecstasy and perfect peace captured in song. What they have in common is emotional intensity and expressive impact.
A set of three German language songs (we were furnished translations) came next. Johannes Brahms' (1833-1897) Wir Wandelten (We wandered together) was wonderfully caressing. Meine Liebe ist Grun (My love is green) opened with a rolling piano accompaniment, dramatic from the first note. The poet was Felix Schumann (1864-1879), Brahms' godson. The awkward verse is given a glorious setting. Gustav Mahler's (1860-1911) Ich bin der Welt abhander gekommen (I am lost to the world) is considered Mahler's greatest song. The poet Fredrich Rückert, years for an internal world of art and love through tranquility and solitude. The timid, tentative mood of the opening gives way to soaring vocal lines that are the more striking. A gentle piano coda is consoling but the final note seems to hang in midair unresolved.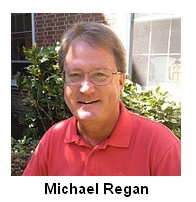 After applause Ms. Lambert-Baxter began the French language set with Après un rêve (After a dream) by Gabriel Fauré (1834-1924). The dreamer, in her slumber, is with her beloved as they soar above the clouds. Drawn into the cool heat of suspended rapture, it was oh-so-lovely and the audience responded with extra applause. The languorous loveliness of rapture of Beau Soir by Claude Debussy (1862-1918) was so very seductive in this lament for the brevity of life. A quick-paced tune of early love, Notre amour by Fauré is delicate, juicy and sacred as the singer's ecstasy grows. Michael Regan had the right touch throughout.
After intermission the mood changed. Quando m'en vo, sung by Mussetta, the lovable flirt from the opera La Bohème by Giacomo Puccini (1858-1924), set the tone for songs from American musicals. Her soaring voice late in the song was so exciting!
If I Loved You from Carousel with music by Richard Rodgers (1902-1979) came after Ms. Lambert-Baxter thanked the audience for coming and told us she wanted to share some of her favorite songs with us. Her sound was so richly grounded, only to swell upward. The cabaret, jazzy feeling in the Jerome Kern (1885-1945) Can't Help Lovin' That Man of Mine led to her vocal glee at the lovers coming home and then came You'll Never Walk Alone. The low, rich sound at the beginning was a smooth platform supporting her voice as the notes go higher and higher.
Two encores were given to the enthusiastic audience. Vilja from Lehar's Merry Widow and My Lord, What a Morning with its text from the African-American spiritual with music adapted and arranged by William Farley Smith (1987) form the United Methodist Hymnal.
We very much hope that this is the first of a series of solo recitals by Bonnie Lambert-Baxter. Her natural, clean sound is ideal for art song.
Back to Top
Back to Issues
Printer Friendly Format
Home &nbspCalendar &nbspAnnouncements &nbspIssues &nbspReviews &nbspArticles Contact Us