Virginia Chorale Fundraiser Is a Great Success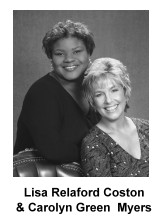 &nbsp&nbsp&nbsp&nbsp&nbsp The recital, titled How Can We Keep From Singing? was a benefit for the Virginia Chorale and featured soprano Carolyn Myers, and mezzo-soprano Lisa Coston at Churchland Baptist Church on September 19, 2004.
&nbsp&nbsp&nbsp&nbsp&nbsp With the singers positioned midway down each outside aisle, Ms. Coston sang the first verse of How Can I Keep from Singing? Ms. Myers sang the second verse and the singers' voices joined as they sang the third verse as they walked toward the chancel. The beauty and power of this a capella singing brought tears to my eyes. The blend of a sweet, delicate soprano and the rich, soulful sound of the mezzo was wonderful in J.S. Bach's Cantata 78 selection, Felix Mendelssohn's I Waited for the Lord and especially in the Amen from Giovanni Pergolesi's Stabat Mater, where the voices on my recordings have less contrast. Patricia Price was wonderful as she accompanied on the organ.
&nbsp&nbsp&nbsp&nbsp&nbsp With George Stone at the piano our singers gave us a set of three arias from opera. Baritone Harris Ipock joined his mother, Ms. Myers and Ms. Coston onstage in Soave sia il vento from Mozart's Così Fan Tutte. Next came the very beautiful duet Viens, Mllika…Sous le Dôme épais from Léo Delibes' Lakme. For a scene from Hansel and Gretel they were joined by the high soprano of Virginia Vail in the Sandman Scene and Prayer by Engelbert Humberdinck. As the sandman, Ms. Vail sprinkles fairy dust on the sleeping children who awake to say evening prayers.
&nbsp&nbsp&nbsp&nbsp&nbsp After intermission Ms. Coston told us that the program is a fund raiser but also a consciousness raiser of what the singers of the Chorale are capable. "Now we will do a set we four wanted to sing together" as mezzo-soprano Julia Coberly joined the three others in Think on Me by Mary Queen of Scots (arranged by Mulholland), Hymn to the Waters from Gustav Holst's song cycle Choral Hymns from the Rig Veda and Softly as I Leave You by A. de Vita (arranged by Ms. Myers). It was marvelous, living up to the high expectations for our only professional choral group in Tidewater.
&nbsp&nbsp&nbsp&nbsp&nbsp Three folk songs, arranged by Richard Waters, featured the solo voice and comic timing of Ms. Myers. In Soldier, Soldier Will You Marry Me? his questions of how he can marry with no shoes and no coat are soon answered. His third query is harder to answer: "How can I marry such a pretty little girl with a wife and baby at home?" The lament Once I Had a Sweetheart proved that Ms. Myers knows how to use her voice to full dramatic effect. In Beware, Oh Take Care the perky character warns against booze and cards and other entanglements - a comic send-up.
&nbsp&nbsp&nbsp&nbsp&nbsp Ms. Coston then charmed us with a comedy of her own in Scandalize My Name arranged by Hall Johnson and brought us tears with the intense plaintive arrangement of Give Me Jesus by the late Moses Hogan. A duet of He's Got the Whole World in His Hands by Margaret Bonds once again demonstrated superb cooperation as they joined their voices to make a joyful noise.
&nbsp&nbsp&nbsp&nbsp&nbsp With over $1000 raised, it was a very successful fundraiser!

Lisa Coston Gives Broadway Recital
by Margaret Gupta
Green Acres Presbyterian Church, October 5, 2008, Portsmouth, Virginia. All from memory, mezzo-soprano Lisa Relaford Coston sang a program of some popular and some obscure Broadway music. Beth Smallwood at the piano offered thoughtful support.
Ms. Coston brings an extra measure of meaning and enjoyment to anything she sings. From Jerome Kern's The Song is You to Harold Rome's Nobody Makes a Pass at Me (from Pins and Needles) and Sondheim's I Remember (Evening Primrose) she created nuanced moods. In Harold Arlen's Somewhere Over the Rainbow and Somewhere from Bernstein's West Side Story to Gershwin's Summertime and Kern's Can't Help Loving that Man, you experience her mastery of this repertoire. Her encore was Rodgers and Hammerstein's You'll Never Walk Alone. Everyone went home happy!

Margaret Gupta, an avid listener.
Back to Top
Back to Review Index
Printer Friendly Format
Home &nbspCalendar &nbspAnnouncements &nbspIssues &nbspReviews &nbspArticles Contact Us