Celebrating Charles Woodward's 25th Anniversary
as Music Director of Ohef Sholom Temple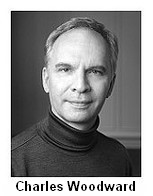 "My house shall be called a house of prayer for all peoples." (Isaiah, Cpt. 56, v.7). Engraved on the entrance to the synagogue, this quote seemed especially appropriate for the Sabbath service on September 8, 2007. An invitation arrived in August inviting Charles Woodward's musical friends to join the congregation for this special celebration of "twenty-five years of dedicated service of our beloved Music Director, Charles Woodward" as expressed by Cantor Jennifer Bern-Vogel. She continues: "At one time or another, everyone here has been privileged to experience Chuck's extraordinary musical gifts, whether as a member of the symphony, opera, chamber ensemble, chorale, choir member of St. Paul's or Ohef Sholom Temple, or simply...as an appreciative listener."
She went on to explain "When I became Ohef Sholom Temple's Cantor eleven years ago, few people knew or understood what the role of a cantor in a Temple was. From Day One, Chuck was a true colleague - encouraging and supportive. Chuck's dedication and meticulous attention to all sacred traditions, has nurtured and helped preserve the integrity of the music that is so much a part of the fabric of Ohef Sholom."
We visitors were treated to a profoundly moving Sabbath service, the last before the beginning of the High Holy Days. Musical selections, prayers and the beautiful ceremony of taking out the Torah scrolls from the Ark for the readings and then their return, were led by Rabbi Rosalin Mandelberg and Cantor Bern-Vogel.
In the elegant program booklet there was a list of music used in the service. A little research to satisfy my curiosity has led me to a few facts. There were five pieces, a quarter of the whole by Salomon Sulzer (1804-1890), an Austrian Jewish cantor and composer. He set out to purge traditional tunes of tasteless embellishments and bring them back to an earlier purity. He was a passionate singer of fiery temperament with a beautiful voice and his compositions became the model for synagogue ritual (Grove Dictionary of Music, Vol.18, p.366). Franz Liszt said of his singing "[We were] deeply stirred by emotion . . . so shaken that our soul was entirely given to meditation and to participation in the service." (Quoted in the Music of Israel by Peter Gradenwitz).
Another historically important composer whose work was used in the service was Samuel Naumbourg (1815-1880) who worked in Paris and created synagogue music influenced by opera composers. Both Meyerbeer and Halévy contributed to his two-volume synagogue service. Louis Lewandowski (1821-1894) in Berlin masterfully blended traditional and modern - the Eastern European and western elements. His pieces with their fine melodious lyricism were the first and last in the service. From this blending of Eastern European elements with western classical music has come music that was used to create a beautiful, deeply moving service.
Twentieth century composers, Abraham Wolfe Binder to name one whose music we heard, applied modern harmony and counterpoint to reconstructed and ancient modes, stripping away the romantic cloak added in the 19th century.
After all the words of praise for his talent it was a dramatic moment when Charles Woodward left the choir loft where he had played for the service to appear on the bima (platform) for the special music part of the event.
After a thorough musical education, Chuck returned to Tidewater and took a job as rehearsal pianist with Virginia Opera. Edith Harrison, the opera's founder and after whom the opera house is named, met Chuck and soon after asked him for a favor, to fill in as Assistant Music Director at the Temple. Within a few months he was appointed Director.
Special music followed the concluding prayer and the mourner's Kaddish. Each selection highlighted a facet of Chuck's musical diversity in the greater Tidewater community. Virginia Opera's Joe Walsh led the Ohef Shalom Temple Choir in Va, pensiero from the opera Nabucco by Giuseppe Verdi. Mr. Woodward was at the piano. In addition to members of the congregation, this truly ecumenical choir includes, Lisa Coston, Kathleen Franz, Kerry Jennings, Steve Kelly, Doug Lynch, Ann Scott, James Weaver and Billye Brown Youmans, many of the area's finest singers.
Chuck at the piano was joined by Virginia Symphony Conductor Jo Ann Falletta on guitar as they played Mario Castelnuovo-Tedesco's Andantino from Fantasia, Op.145. Praising Chuck as the star pianist for the symphony, she brought greetings from the entire orchestra.
To highlight the fact that he is much in demand as an art song collaborator, he played Glückwensch by Erich Wolfgang Korngold, sung by mezzo-soprano Robynne Redmon. Ms. Redmon returned to Tidewater in 1994. She had left the area as a student and "Chuck welcomed me back to the community."
As an "honorary Jew", the always unassuming Chuck was presented a shofar by Susan Hirschbiel, hand worked with silver in Israel. Marty Einhorn sounded the shofar, the ram's horn trumpet, a musical instrument unchanged for over 5000 years. It was interesting to hear the sound as it developed and changed in the acoustic space of the synagogue. Rabbi Lawrence A. Forman gave the benediction and we adjourned to a sumptuous lunch.
Back to Top
Back to Review Index
Printer Friendly Format
Home &nbspCalendar &nbspAnnouncements &nbspIssues &nbspReviews &nbspArticles Contact Us