Darryl Taylor Gives Powerful Reital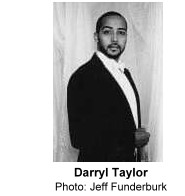 &nbsp&nbsp&nbsp&nbsp&nbsp Columbus, Ohio, October 9, 2002. Darryl Taylor was guest artist at a recital at Ohio State University titled Langston Hughes in Song at 8:00 pm at Weigel Auditorium. The series entitled Wednesdays in Weigel, was founded by Don Harris who has said "Langston Hughes is the most important African-American poet of the Harlem Renaissance. The more we know about him, the better. Also Darryl Taylor is a wonderful African-American tenor, and performs wonderful art songs."
&nbsp&nbsp&nbsp&nbsp&nbsp We did not hear this concert but the CD Dreams A Portrait of Langston Hughes was released by Naxos (8.559136) in September and "it grabs you and doesn't let go" as my editor says. Darryl Taylor's new CD is a collection of some twenty art songs that covers a wide range of expression and demonstrates just how versatile this singer can be with formidable powers of expression and a beautiful voice.
&nbsp&nbsp&nbsp&nbsp&nbsp The songs vary widely from contemporary settings like My People set by Ricky Ian Gordon and the five-song cycle Dreams by Erik Santos to the more traditional. Several outstanding songs by earlier well-known African-American composers are The Negro Speaks of Rivers and Minstral Man by Margaret Bonds, Lovely, Dark and Lonely One by Harry T. Burleigh, Song of the Dark Virgin by Florence Price, Black Pierrot by William Grant Still, March Moon by Hale Smith and a setting of In Time of Silver Rain by Herriette Davidson. We are familiar with this text set by local composer Jeraldine Saunders Herbison.
&nbsp&nbsp&nbsp&nbsp&nbsp Two selections by Jewish composers who came to America during the Nazi era are set to text by Hughes: Lonely House by Kurt Weill and Carolina Cabin by Jean Berger. These songs create opportunities for the singer to express every mood imaginable. Two selections by Italian-American composer John Musto, Island and Litany strengthen this point.
&nbsp&nbsp&nbsp&nbsp&nbsp The CD ends with Dreamer a song cycle by Erik Santos, commissioned by Mr.Taylor and first performed by him at New Yorks City's Merkin Concert Hall in January 2001, with the composer at the piano and Patricia Terry Ross on the harp. One of the songs, Down Where I Am, is marked "dark, tough blues, really drag the beat" and has the intensity and feeling of a field holler by Odetta, the much revered clasically-trained folk singer. The other extreme are songs with a light delicate tone with high sweet notes: Sandman which opens the cycle and To Artina, a passionate love song. The cycle concludes with The Dream Keeper but in between he sings Bound No'th Blues with great intensity. This modern piece demands of the singer an encyclopedic production of the vocal sounds found in spirituals, gospel music, blues, field hollers, and new age music and Darryl Taylor meets them all with no apparent strain or effort and with clear diction.
&nbsp&nbsp&nbsp&nbsp&nbsp Darryl Taylor and Erik Santos met in graduate school at the University of Michigan. Upon hearing Santos' work, Taylor resolved to commission a piece by him. Dreamer is the fruition of this desire.
&nbsp&nbsp&nbsp&nbsp&nbsp This CD should win a greater audience for African-American art song with its world-class singer, high quality sound and the last recorded work of William Warfield reading/singing eight poems by Langston Hughes as an added bonus. For ordering information, see Issue 14#, Recent News/Discography.

Darryl Taylor at the Kennedy Center
&nbsp&nbsp&nbsp&nbsp&nbsp Darryl Taylor usually gives powerful, insightful and educational recitals and his 6 pm performance in Washington D.C. at the Kennedy Center for the Performing Arts on Thursday, March 9, 2006 continued this tradition. With Joseph G. Holt at the piano he presented American Giants: Paul Lawrence Dunbar and Langston Hughes at the Terrace Theatre as part of the Millennium Stage series.
&nbsp&nbsp&nbsp&nbsp&nbsp Traveling to Washington D.C. for an early evening recital on a workday was not possible for us and my attempt to find someone to attend and write a review failed. But technology saved the day with a watchable video on the Kennedy Center website and an excellent downloadable audio burned to CD for repeated listening. We recorded the audio portion while we watched the recital from a front row seat and I can review the performance after all.
&nbsp&nbsp&nbsp&nbsp&nbsp It is impossible to read a biography, even the short one in the program notes about Paul Lawrence Dunbar without realizing what an exceptionally brilliant person he was. Born in Dayton, Ohio in 1872, he was fortunate to be born in a northern state in that period of American history. His mother, a slave, was freed only when the Emancipation Proclamation was signed. His father was a runaway slave and became a soldier in the Massachusetts Colored Cavalry Regiment during the Civil War. The family was poor and hard working. His mother had a love for songs, poetry and storytelling which she shared with her children, especially her youngest son, Paul.
&nbsp&nbsp&nbsp&nbsp&nbsp At Dayton Central High School, Dunbar, the only black student there, was named to the debating society, was president of the literary society, editor of the school newspaper and wrote for the community newspaper. He had written his first poem at age six and was reciting publicly by age nine. His first book of poetry, Oak and Ivy was published when he was twenty. He sold copies for a dollar a piece while he worked as an elevator operator, paying the publisher as he sold his book as his reputation grew.
&nbsp&nbsp&nbsp&nbsp&nbsp A doctor who was superintendent of Toledo State Hospital read the book, became a friend and with a local attorney put up the money to publish his second book, Majors and Minors. William Dean Howells gave it a favorable review in Harper's Weekly, making Dunbar a national literary figure overnight. A major publisher then brought out a single volume combining his two books, titled Lyrics of a Lowly Life. After a recitation tour to England, he came back to the States, married a New Orleans woman and found a job at the Library of Congress. The dust aggravated his tuberculosis so he quit and instead of resting gave readings. He wrote both in classical English and dialect about the joys and sorrows of life - especially those of his own race.
&nbsp&nbsp&nbsp&nbsp&nbsp President William McKinley invited him to ride in his inaugural parade. By age thirty-three he was back in Dayton where he died from tuberculosis. He was a part of the struggle for equality with his friends Booker T. Washington, W.E.B. Dubois and Charles Chestnut. On this program that part of his legacy is most clearly expressed in a cycle of three songs Mr. Taylor commissioned from Edward Hart (b.1965), The Caged Bird Sings. Originally scored for tenor, cello and piano, at the Kennedy Center Mr. Taylor premiered the cycle arranged for piano and voice alone. The title comes from a line in the Dunbar poem Sympathy and was popularized as a book title by Maya Angelou. We Wear the Mask is the opening song and expresses the hurt and anger of black Americans, using choppy piano rhythms and dissonant chords to accompany a demandingly set vocal text. Dreams is melodious with a twinkling piano that looks forward to a life that is sweet. The pace of the song slows to savor this experience before returning to grim reality. There is a tentative quality in The Caged Bird Sings with its long held notes at the end of the lines of poetry and then an urgency in this metaphor of a caged bird beating its wings on the bars, yearning to be on a tree bough, natural and free. The demand for vocal control to create an intense experience of the text demonstrated what an excellent artist Mr. Taylor is. His performance made clear what a powerful piece of musical writing this is.
&nbsp&nbsp&nbsp&nbsp&nbsp Mr. Taylor began the program with Charles Neuschwanger's Invitation to Love, a mellow, inviting song and followed it with Response by George Walker, also melodic but with rhythmic shifts and greater demands on the vocalist. Love Memory by H. Leslie Adams, has a high tessitura and is a lament on the fading of young love as time moves onward. Thomas Kerr, Jr., who taught at Howard University in Washington, D.C., wrote a fine song, Riding to Town. The piano creates the sound of a trotting horse and the voice becomes slower and meditative as the singer wishes that such a happy trip with his sweetheart could be twice as long.
&nbsp&nbsp&nbsp&nbsp&nbsp Next the contrast in two songs is explored with A Death Song by Howard Swanson (1909 -1986) and Life by Zenobia Powell Perry (1908 -2004). In Life Ms. Perry uses the contrast of two ways of looking at any situation. Will we focus on "the pint of joy or the peck of trouble" and that will make all the difference to our experience of life! By contrast Swanson's Death Song has a light touch and a jazzy feeling in the piano for such a serious title. His text tells us that his spirit will rest, content in familiar surroundings, near the pool fed by a little stream that will whisper "sleep honey, take your rest at last." It was a pleasure to hear once more Mr. Taylor's lovely tenor voice and to revel in his superb powers of expression.
&nbsp&nbsp&nbsp&nbsp&nbsp Langston Hughes (1902 -1967) is considered poet laureate of the Harlem Renaissance which spanned roughly 1920 -1940 when highly gifted African-Americans from all over found their way to New York City's Harlem and created an intense community of high quality expression in every cultural medium: visual arts, dance, music, theater, literature, poetry, history and politics. From Wikipedia, "For the first time African-American painting, writings and jazz became absorbed into mainstream culture and crossed racial lines, creating a lasting legacy."
&nbsp&nbsp&nbsp&nbsp&nbsp After intermission we heard a reading of Simple's Monologue from the book Simply Heavenly by Langston Hughes. A compilation of his weekly columns written for the Chicago Defender newspaper, it introduced Jesse B. Semple (or "Simple") to his readers. In five volumes of humor from 1950 -1965 he chronicles the experiences of a Harlem Everyman. This piece is about Simple's whipping by Aunt Lucy when he finally grasps what she is trying to teach him. How a person who "cries over you and loves you can straighten out your soul." Superbly read by Mr. Taylor, you can hear clearly the voice of an authentic human being.
&nbsp&nbsp&nbsp&nbsp&nbsp Hughes was four years old when Dunbar died and his was a very different time in the American saga and a different consciousness imbues his poetry and writing. To me, Dunbar was fighting for his place inside white society's norms and literary structure that had never admitted a Black voice before. But with Hughes we have the free expression of what he personally saw and experienced. How African-American society was - its strengths and weaknesses - he laid out with an accepting clarity and an emotional authenticity. My People, the second Hughes selection, is a setting by Ricky Ian Gordon and celebrates the beauty of face, eyes and soul of his people. Celebration continues in Joy, a one-minute song packed with musical expression by Howard Swanson (1909 -1986) and Carolina Cabin, set here by Robert Owens (b.1925) who went to Europe during WWII, came back to America, met Hughes who gave him a copy of Fields of Wonder and suggested he see what he could do with it. After returning to Germany to avoid American discrimination he set most of the forty-five songs. Mr. Taylor has a CD of Owens songs, with Owens at the piano, to be released on Albany Records in the fall.
&nbsp&nbsp&nbsp&nbsp&nbsp After a reading of Sylvester's Dying Bed, a humorous story of a ladies man's easy passage to glory, we heard Lovely Dark and Lonely One a beautiful love song by Harry T. Burleigh (1866 -1949).
&nbsp&nbsp&nbsp&nbsp&nbsp Jazz in the local cabarets and nightclubs had a great influence on Hughes's poetry which in turn led to classical musical settings by black and white composers. Jazz Boys set by John Alden Carpenter (1876 -1951 ) is an example. This last set also includes a reading of The Weary Blues, a poem that is so lyrical and rhythmic that hearing it read aloud the line between song and poem blurs. Adding a dimension to this expression, Mr. Taylor sang Homesick Blues, set by H. Leslie Adams and sang Could Be and Island from the song cycle Shadow of the Blues set by Italian-American composer John Musto (b.1954).
&nbsp&nbsp&nbsp&nbsp&nbsp From the stage Mr. Taylor praised his pianist, and well he should. They had met less than twenty-four hours before the program when the pianist received the music, and yet Mr. Holt turned in a polished performance.
&nbsp&nbsp&nbsp&nbsp&nbsp Darryl Taylor, who grew up in Detroit, currently teaches at the University of California, Irvine and holds degrees from the University of Southern California and the University of Michigan. His website, The African-American Art Song Alliance, is a compendium of useful information, featuring black composers, past and present.
&nbsp&nbsp&nbsp&nbsp&nbsp CDs to consider: I realize that I failed to review a CD of Adams songs with Mr. Taylor as soloist on twenty-two selections in 2003. I plan to rectify this oversight soon. We'll blame it on the chemotherapy I was undergoing at the time.
&nbsp&nbsp&nbsp&nbsp&nbsp For our readers who want to add song repertory to their recitals on in the studio: from my research for this review I learned that there is a CD Music of Zenobia Powell Perry, Art Song and Piano by her daughter Janis-Rozena Peri with John Crotty on piano and Jaye Cataffano, flute.
&nbsp&nbsp&nbsp&nbsp&nbsp Mrs. Perry, who has since passed away, was ninety-six years old when the CD was issued. The CD can be ordered from Jaygale Music, P.O. Box 8144, La Crescenta, CA 91224-0144 or by calling 1-818-446-0082. They are also preparing professional editions of her scores for purchase. Visit the website at www.zenobiaperry.org.

Back to Top
Printer Friendly Format
More Darryl Taylor
Back to Review Index
Home &nbspCalendar &nbspAnnouncements &nbspIssues &nbspReviews &nbspArticles Contact Us