David Krohn, Baritone & Aurelien Eulert, Piano
Hackney Theater, Meredith Center for the Arts, Norfolk Collegiate
Valentine's Day, February 14, 2016
Review by John Campbell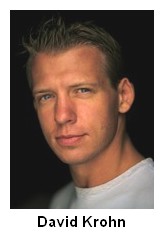 It is wonderful when the reality of a recital exceeds expectations and that is what happened as David Krohn ('02) visited his high school alma mater, Norfolk Collegiate, to perform a program titled If Music be the Food of Love, Play On—Song and Arias Inspired by the Great Bard to commemorate the 400th anniversary of William Shakespeare's death. He designed a program of art songs, arias and Broadway songs. Mr. Krohn's appearance was sponsored by the Betty M. & William B. Jones Humanitarian Speaker Series.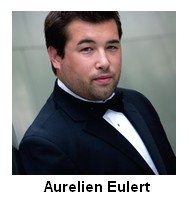 This musical voyage through the life and works of William Shakespeare began with the monologue from Twelfth Night set by Henry Purcell (1659-1695), If Music be the Food of Love. Mr. Krohn offered passionately intense singing in a clear, firm, refined, decisive voice. His vocal instrument has matured greatly since we last heard him in 2010 and pianist Aurelien Eulert was completely with him, no matter that they had only met 24 hours before.
From Two Gentlemen of Verona, settings of An Sylvia (Who is Sylvia?) by Franz Schubert (1797-1828) and Who is Sylvia? by Gerald Finzi (1901-1956), offered contrast. Schubert's driving, locomotive piano and Finzi's rollicking allegro tempo for a love song that celebrates a woman's beauty and temperament, were appropriate for Valentine's Day.
Mr. Krohn's spoken introduction for each set of songs was both entertaining and educational for the audience. He sang two settings of the dark monologue, Come Away Death from Twelfth Night, by Finzi and also by fellow Englishman Roger Quilter (1877-1953). In his piano accompaniment Finzi uses irregular phrases and heavy piano rhythms while in the voice there is a 6-measure melisma on "weep" that ends this despairing lament, stunningly performed. Quilter offers a sense of gentle mystery that intensifies, then quietens on "to weep."
The tortured, indecisive character of Hamlet was represented by O vin dissipe la tristesse (Oh wine dissipate the sadness) from the 1865 opera Hamlet set by French composer Ambrose Thomas. David pointed out that The Lion King is also based on Hamlet. Who knew? He sang Can you feel the Love Tonight? with music by Elton John. With rolled rrrs and with a natural, masculine sound, he gave powerful voice to this simple, repetitive song.
Three Verdi arias came next, delving into Verdi's deep involvement with plays by Shakespeare, with background on the composer and the characters and texts described. The first was Perfidi! Pieta, rispetto, amore (Traitors! Honor, respect and love) from Verdi's 1847 opera Macbeth, Act V, with Macbeth first boasting of his power and the inevitability of his kingship, then despairing his certain downfall. Written 40 years later, Credo in un Dio crudel (I Believe in a Cruel God) for his 1887 opera Otello, Verdi added this to Shakespeare's text to explain Iago's behavior. In the aria the villain Iago lays out his cruel, nihilist creed in a showcase for any baritone. Mr. Krohn was marvelous! Long past retirement age, Verdi returned to Shakespeare to write his 1893 comedy Falstaff, based on The Merry Wives of Windsor and Henry IV, parts I & II. In the aria E sogno? O realta? (Am I dreaming or is this true?) Ford, the husband of one of the merry wives, despairs when he comes to believe that his wife is unfaithful. It's a comedy and she is not unfaithful. Backed by an orchestra, Verdi baritones need lots of breath and power. In this art song recital Mr. Krohn pulled back on the power and accentuated the nuanced expression in all 3 arias.
Cole Porter wrote Kiss Me Kate based on Shakespeare's The Taming of the Shrew and from that David gave us a witty, accessible, friendly So In Love, lacking in operatic grandiloquence, something not all classical singers can do. Also from Kiss Me Kate was Brush Up Your Shakespeare, a send-up of serious prose.
The enthusiastic 100 person audience was given an encore, Maria and Tonight from West Side Story, by Bernstein and Sondheim, based, of course, on Shakespeare's Romeo and Juliet.
David Krohn is now Associate Director of Development for Houston Grand Opera and Cantor at Congregation Brith Shalom which gives him time for his passion, art song recitals like this one. Lucky us!
Printer Friendly
Back to Top
Back to Review Index
Home &nbspCalendar &nbspAnnouncements &nbspIssues &nbspReviews &nbspArticles Contact Us