Just Great Songs a New CD by Soprano Karla Goettel
and Pianist Tony Nickle
We met Iowa native Karla Goettel at Ohef Sholom in Norfolk, Virginia when she gave a joint art song recital with Cantor Jennifer Bern-Vogel in celebration of the musical talent, life and music of Jennifer's father, Julian Bern.
From Iowa, the heartland of America, comes a CD titled Just Great Songs, a collection of soprano Karla Goettel's favorite songs: from Antonin Dvorák's Song to the Moon (Resulka), to Andrew Lloyd Weber's All I Ask of You (Phantom of the Opera) and Memories (Cats), George Gershwin's Summertime (Porgy and Bess) and Giacomo Puccini's O mio babbino caro (Gianni Schicchi).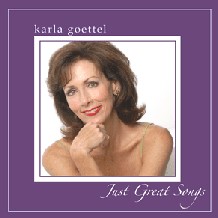 There is Send in the Clowns with text on the ironies of life from A Little Night Music by Stephen Sondheim and Sun and Moon from Miss Saigon by Claude-Michel Schönberg. Unique to this collection is the music of Robert Lindsey-Nassif, a Broadway composer and a native of Cedar Rapids, Iowa who arranged his music for string orchestra for this CD. The players are drawn from the Cedar Rapids Symphony. In three selections Ms. Goettel's high, light soprano gives us every word with an exciting clarity: in Why Can't We Be Human? from Eliot Ness in Cleveland we hear his appeal for civility in human interaction; we also heard Castles in the Air from Hoods and Hoofers and When We Meet Again, all with lyrics by the composer.
The art songs are Joy by Ricky Ian Gordon with text by Langston Hughes and Heart, we will forget him by Aaron Copland with lyrics by Emily Dickinson.
Though Ms. Goettel says she was encouraged by a 2006 article in Artsong Update on cabaret singing to compile this very diverse collection of songs, I do not hear this CD as cabaret. Rather, it is a refreshing summer listen of lighter fare, a diversion offering familiar Broadway songs, opera arias, some art songs and a few traditional songs in new arrangements sung with a gentle sweetness

For information on ordering Ms. Goettel's CD, visit www.karlagoettel.com
Back to Top
Back to Review Index
Printer Friendly Format
Home &nbspCalendar &nbspAnnouncements &nbspIssues &nbspReviews &nbspArticles Contact Us