My Yiddishe Momme: A Concert
&nbsp&nbsp&nbsp&nbsp&nbsp A Mother's Day Concert at Ohef Sholom Temple brought together Cantor Jennifer Bern-Vogel, visiting Cantor Frances Goldman from Richmond and pianist Natan Berenshteyn in a song fest to remember.
&nbsp&nbsp&nbsp&nbsp&nbsp The songs were drawn from several sources: Yiddish theatre, operetta, folk songs and popular music. The program notes say it best:
Generation to generation we pass on our family stories about love and marriage and children...about young and old seated around the table for Shabbat dinner...about life in the shtetl. As we come though the gates at Ellis Island, we take a new identity but hold fast to our memories and our traditions. Today, we remember our roots, through the sweet melodies of folk tunes, wedding songs , and Yiddish theatre. We remember a long-ago culture where little girls clung to the skirts of their Yiddishe Momme - a culture which continues to live today through our community of voices.
&nbsp&nbsp&nbsp&nbsp&nbsp Early this year when we bought a book The Music of Israel by Peter Gradenwitz, our hope was to become familiar with composers whose music we hear at Ohef Sholom. But on this program we find only one composer listed in the book. Sholom Secunda in 1973 published his Yiddish song Bei Mir Bistu Sheyn. Many of us heard it by the Andrews sisters in English when we were young. "The song become world famous and was even popular in Nazi Germany, where it was thought to be an American folk song." In this program it was the anchor song in a "swing medley" that concluded the program. The audience sang along and a good time was had by all. A second song by Secunda, Mayn Yidishe Meydele (My Nice Jewish Girl) (pub. 1927), also pleased the listeners.
&nbsp&nbsp&nbsp&nbsp&nbsp For Mothers Day the singers presented songs for the day: lullabies Oyfn Pripetshik, (At the Fireplace) by Mark Warshawsky (1840-1907), Rozhinkes Mit Mandlen (Raisins and Almonds) by Abraham Goldfaden (1840-1908); student songs; songs of a girl becoming a woman desiring a visit from the matchmaker; wedding celebration songs, and A Brivele der Mamen (a Letter to My Mama). The last is a sad song by a mother disappointed by a son who doesn't write, set by S. Shmulewitz (1868-1943). The first half ended with My Yiddishe Momme by Jack Yellen and Lew Pollack (pub. 1925).
&nbsp&nbsp&nbsp&nbsp&nbsp The music in the second half was often improvised by the excellent pianist Natan Berenshteyn on folk songs and more popular fare. The warmth and joy of the occasion can best be expressed in the following: All of the women in the audience were given red roses. One table spontaneously collected many of these into two bouquets and presented them to the the two singers.

Jennifer Bern-Vogel sings Kurt Weill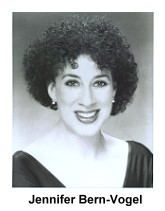 &nbsp&nbsp&nbsp&nbsp&nbsp Stepping back in time to Germany's Weimar Republic between the two world wars, we were treated to music by Kurt Weill (1900-1950) at ODU on Saturday, April 5th. Drawn from several stage works, the songs were knitted together by introductory dialogue by the actor Ethan Marten as the character Mac the Knife in a program titled Celebration of Kurt Weill: 75 Years of the Three Penny Opera, with text by Bertolt Brecht. We heard Pirate Jenny and Song of the Cannon in English and Barbara-Song in German. These tough characters have been buffeted by life and have a slightly dangerous, tawdry quality. In European peasant costume Ms. Bern-Vogel sang these emotional songs with a certain sweetness. With great skill and powerful expression Charles Woodward used the piano to set the mood for this music from that decadent era.
&nbsp&nbsp&nbsp&nbsp&nbsp Die Dreigroschenoper (The Three Penny Opera) was brought to the stage in Germany in 1928. When Hitler came to power all of the Brecht-Weill works were banned and Weill and Brecht relocated to the U.S. in 1933. Weill's wife Lotte Lenya, who created the role of Pirate Jenny in the original production, also sang the role in the American adaption which opened in New York City in 1954 after Weill's death. Some three-quarters of a million people saw that off-Broadway production. In explaining the play's continuing appeal Lenya commented "Corruption and poverty don't go out of fashion."
&nbsp&nbsp&nbsp&nbsp&nbsp Dr. Guy Stern, American Secretary of the Kurt Weill Foundation in New York, gave an introduction which framed the musical program. Dr. Stern was born in the Weimar Republic and fled the Nazis as a very young man and served in the American army in WWII. He is today one of the last great German-Jewish scholars of German literature in America. He sang a very poignant September Song recreating the role of an elderly man who has experienced it all.
&nbsp&nbsp&nbsp&nbsp&nbsp In Surbaya Johnny, from the musical Happy End, Ms. Bern-Vogel sang convincingly in German this song of a girl wronged by a sailor. In the first verse she is pleading, in the second she sings with anger and in the third with sad resignation.
&nbsp&nbsp&nbsp&nbsp&nbsp The song What Good Would the Moon Be on a text by Langston Hughes was from American Tragedy. The last selection was Blessing of the Wine from Kiddush and very movingly performed by Ms. Bern-Vogel, Cantor of Ohef Sholom Temple in Norfolk. The piano has a prominent role in this piece with an American sound from the 30s and 40s.
&nbsp&nbsp&nbsp&nbsp&nbsp It was an interesting and entertaining afternoon, bringing together the German and American years of Kurt Weill.

My Father's Music
A Celebration of the Life and Music of Julian Bern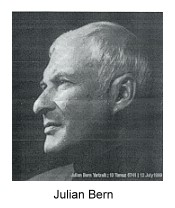 &nbsp&nbsp&nbsp&nbsp&nbsp On Sunday, December 3, 2006, the Chapel at Ohef Shalom Temple in Norfolk was the setting of a celebration of the life and music of Julian Bern, born Yehudah Bernstein in Lithuania on December 5, 1911. His daughter Jennifer Bern -Vogel, Cantor at Ohef Shalom, was joined by soprano Karla Goettel from Iowa and pianist Charles Woodward to present a recital of Bern's music in a concert titled My Father's Music.
&nbsp&nbsp&nbsp&nbsp&nbsp The program opened with Out of the Stars, sung by Ms. Goettel who premiered the song many years ago with Bern at the piano. The message of this song is that out of the stars in their flight, out of the dust of eternity, we have come. Let us celebrate the wonder of it all. The poem is by Robert T. Weston and the music strives toward capturing the ineffable spiritual grandeur of the words. In this and six other songs Karla Goettel sang beautifully with clarity of text that made the stories completely understandable. Bern set English poets Robert Herrick, Edward Lord Lytton , W.B. Yeats and Cecil Day-Lewis (father of actor Daniel) in other songs. With text by Moses Medes (1750) Song tells how a man distances himself from his vow of love until death, because after all, a year has passed and he is still discontented.
&nbsp&nbsp&nbsp&nbsp&nbsp Charles Woodward, celebrating his twenty-fifth year as Ohef Shalom's Music Director played two solo piano pieces by Bern, Variations on Twinkle, Twinke Little Star, two variations by M. Nevin and two in a minor key by Bern. His Hora he often included in his own recitals and then would curse himself for writing such a difficult piece.
&nbsp&nbsp&nbsp&nbsp&nbsp After intermission Jennifer Bern-Vogel shared reminisces of her father and sang a lullaby with text translated from the German by her mother Marianne Bern and a setting of Torah liturgy composed for her brother Dan's Bar Mitzvah. But the finest of all was when she sang a cycle of four songs, Lithuanian Memories. The German texts were by Julian's brother, Leon Bernstein. They were the only members of their family to survive the Holocaust. Centered on the brothers' relationship to their mother who was murdered in the marketplace of their town, the songs elicited a passionate performance by Ms. Bern-Vogel with Charles Woodward being an equal partner at the piano.
&nbsp&nbsp&nbsp&nbsp&nbsp Steve Brockman's response was shared by many in the audience though his note to the singer is more eloquent than what I might say. "Dear Jennifer, Your openness and the emotional authenticity in your singing as well as the text and music, especially of Lithuanian Memories, enabled me to go deeper into my own grief over the recent death of my mother. This has not been an easy process for me. Thank you (and Chuck and Karla) for helping to create a beautiful and safe space for this to happen."
&nbsp&nbsp&nbsp&nbsp&nbsp In Wiegenlied (Lullaby), a song in a minor key, the last note of the piano transforms into a major key. Bern had explained to Ms. Goettel when he taught her the song that the last note is a consolation. The song that follows is Wiederauferstehung (Resurrection). Here the piano is reminiscent of Schubert. The recital closed with Father with text by Eva Stark:" All I have of you are pictures, especially one in the sunshine. We all sit smiling and smug, I on your lap, your arm around me, and it's certainly summer forever. It'll be summer again." This was a soothing conclusion to a unique and emotionally challenging recital for both performers and audience.

Soprano Jennifer Bern-Vogel Says Farewell to Tidewater
A very special luncheon was held at Ohef Shalom Temple on May 3, 2009 to honor Cantor Jennifer Bern-Vogel as she leaves Norfolk with her husband Ira and 5 year-old son Sammy to relocate in Los Angeles to care for Ira's elderly parents and run the family business.
As a farewell gift, Ms. Bern-Vogel offered a recital after the luncheon titled "Songs of Love, Laughter and Farewell" with Ohef Shalom Director of Music Charles Woodward at the piano. The recital was a snapshot of all the ways her music-making has touched our lives, both at Ohef Shalom and beyond. As Chuck Woodward has written: "Cantor Jennifer has had a profound impact on music at temple and in this community." We first met Jennifer at the Norfolk Art Song Society in November 1998 and enjoyed her singing. Wanting to hear more we were drawn to her temple recitals - for us new realms of song in Hebrew, Yiddish and Ladino. Her commitment to Jewish musical literature and her positive, inviting persona have been a warm and happy experience for Steve and me.
Jennifer and Chuck opened the recital with Leonard Bernstein's I Hate Music, appearing to the audience to be in the midst of a very public spat, a performance very much in the spirit of the song which followed. A classical selection, Oh, had I Jubal's Lyre from George Frederic Handel (1685-1759) Joshua was followed by an opera aria, the beautiful Rusalka's Song to the Moon by Antonin Dvorák (1841-1904).
The next selection, What Good Would the Moon Be recalls a complete recital of music by Kurt Weill (1900-1950) to celebrate The Threepenny Opera. Jennifer was vocalist for a program that featured Guy Stern, American Secretary of the Kurt Weill foundation in New York, actor Ethan Marten and pianist Charles Woodward at Old Dominion University in April, 2003.
We first heard music by Lazar Weiner (Russian born American-Jewish composer, 1897-1982) at a March 12, 2001 recital at Ohef Shalom. Today's song, A Nigun (A Melody) is the story of a poor man whose quarrel with God led to his singing a beautiful melody. In the song wine pours forth and he drinks; bliss pours forth and he leaps for joy.
A selection by Cole Porter, The Little Oyster is not kosher, she told us, but it was entertaining, She followed it by picking up a microphone and singing the heart-wrenching The Rose by Amanda McBroom. She finished the program with a Klezmer folk song Shalom. "This isn't goodbye, I'll see you again" she reassured her audience.
I recall two outstanding recitals that gave us great pleasure. Her Mother's Day concert, "My Yddishe Momme" when she shared the stage with Cantor Frances Goldman of Richmond, Virginia in May 2002 was a time for members of Ohef Shalom congregation to, as she said, "remember our roots through the sweet melodies of folk tunes, wedding songs and Yiddish theater." It was a whole new world of music for me. In "My Father's Music" (December 2006) singer Karla Goettel from Iowa shared with Jennifer a program of songs composed by Jennifer's father Julian Bern. Soprano Goettel had collaborated on numerous recitals with pianist Bern, premiering several of his songs. This time Charles Woodward was at the piano. Especially moving was a set, Lithuanian Memories, in which poet and composer Bern recalled his childhood and his love with his mother and the profound pain that unfolded as the Nazis came to power and destroyed his world and took his mother's life.
Cantor Jennifer Bern-Vogel's CD From Generation to Generation
This CD is a way of continuing the rich heritage of Jewish Sabbath services. The texts are traditional, several from scriptures set by contemporary composers. Others are texts of prayers and blessings sung and recited countless times each year and here refreshed by new music. Several of the composers are cantors.
Of the ten selections on From Generation to Generation, one features a childrens chorus. The others feature Cantor Jennifer Bern-Vogel and pianist Charles Woodward, sometimes with the Ohef Shalom Temple choir. Joining the choir drawn from the congregation we hear some of Tidewater's favorite vocalists: Billye Brown Youmans, Kathleen Franz, Lisa Relaford Coston, Steve Kelley and Michael Daley.
Three selections are by Debbie Friedman, a successful singer/guitarist who creates settings from her Jewish folk heritage: Mi Shebeirach (a healing prayer), L'chi Lach (Genesis 12: 1-2) and Birkat Halevana (Exodus 12:2). Canadian composer Ben Steinberg encourages a younger generation to create settings for services. On the CD you will find Shalom Rav (prayer book text) and Lakol Zman (To everything there is a season and a time).
Other composers on the CD are Lori Corrsin, who set a blessing, Paul Zim set Shabbat Shalom, Stephen Richards - a prayer, Michael Isaacson B'ni (Proverbs 3, 1-6) and Meir Finkelstein set the prayer L'dor va Dor (From Generation to Generation).
There is heartfelt singing throughout by the cantor and fine piano work by Mr. Woodward. They, with the choir, created high points of excitement that assure that traditional can be refreshed and modernized effectively.
Back to Top
Back to Review Index
Printer Friendly Format
Home &nbspCalendar &nbspAnnouncements &nbspIssues &nbspReviews &nbspArticles Contact Us