Eun Kyong Jarrell Plays Chopin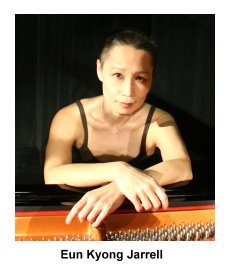 As a Frédéric Chopin bicentennial celebration, Eun Kyong Jarrell of Newport News played a program of Chopin piano music at First Presbyterian Church at the oceanfront, Virginia Beach, on November 14, 2010. It is so very unusual to hear an entire recital of Chopin and even more rare to hear a set of all of his ballades and impromptus as the total program. Once a pianist has a career as a recitalist, which is Ms. Jarrell's longtime goal, the agent helps construct programs of the popular pieces that attract a larger audience. This recital was programmed by the artist because she loves to play this music.
David Kunkel, the music director of the church, gave a spoken introduction to the music. At intermission he asked if I knew the background of the ballade form. According to the Oxford Dictionary of Music it is a term given by Chopin to a long, dramatic type of piano piece that he originated. It is the musical equivalent of a heroic poetic ballad. Later Liszt, Brahms, Grieg and Fauré wrote ballades. Chopin was born in 1810 and lived until 1849. His first Ballade, No. 1 in G minor, Op.23 was written from 1831 to 1835. Opus 38, 1836-39; Opus 47, 1840-41 and Opus 52, 1842.
The second part of the program was the four Impromptus: No. 1 in A flat Major, Op. 29 (1837), No. 2 in F-sharp major, Op. 36 (1839); No. 3, G-flat major, Op. 51 (1842) played in the order written. No. 4 in C-sharp Minor, Op. 66 (1835), also known as Fastasie Impromptu, was saved until last to create a dramatic conclusion. Fastasie means fancy or a short mood piece, the end of which I found deeply moving. Back to the Oxford Dictionary: an impromptu literally means "improvises" or "on the spur of the moment," often in a song-like piece of instrumental music.
There is a written report by Joseph Filtsch, the brother of one of Chopin's most talented students, who described how Chopin worked: "The other day (this was March 1842) I heard Chopin improvise at George Sand's house. It is marvelous to hear Chopin compose in this way. His inspiration is so immediate and complete that he plays without hesitation as if it had to be thus. But when it comes to writing it down and recapturing the original thought in all its details, he spends days of nervous strain and almost frightening desperation. He alters and retouches the same phrases incessantly, and walks up and down like a madman." (Lives of the Great Composers, Harold C. Schonberg).
Though the language of the quotation seems a little overheated, it does explain the dates given for the Ballades, some covering several years from start to finish. We also learn that Chopin, despite his Romantic music, had a strong classical streak, always had a metronome on the piano and insisted that his pupils play in strict time. He allowed no liberties with time and taught lots of Bach and Mozart.
Eun Kyong earned her Masters in Piano Performance from Yeungham University in South Korea. In 1995 while visiting her aunt who lived in Tidewater, she was introduced to Max Jarrell, and as he says, "I kept her." After their marriage she continued her piano studies at Ecole Normale de Musique in Paris, France, receiving a certificate de perfectionnement after studying with Michael Wladkowski, whom she credits with her approach to playing Chopin.
Ms. Jarrell lets the composer speak through her hands. The composer, not the performer, was the center of our attention. His poetry was there in the loud-to-soft contrasts. From Ballade No. 1 all of these characteristics emerged. The fleet, intense passages gave way to relaxed melodies of unsurpassed beauty, all seamlessly woven together by her skill at the Baldwin piano keyboard. In Ballade No. 3, oncoming notes seem to push the one just struck aside as the structure of the piece rushes onward.
Impromptu No. 1 was short and sweet. In Impromptu No. 2 the lines in right and left hands parallel until the left hand becomes restive and powerful and even exclamatory. When the lines reunite the sound settles into a bell-like clarity. Impromptu No. 3 has a short motive that is woven into the fabric of the piece, not developed but oft repeated in a newly created context. The toe-tapping rhythm of Op. 66 was a dramatic closing piece.
The Träumerei (Reverie) by Schumann from his Kinderszenen Op. 15 (1838) was the encore, with an apology from the pianist for not having time to memorize the piece. I first heard Ms. Jarrell at Hampton University playing Professor Harvey Stokes Piano Sonata No 1 in the spring of 2010. She was equally committed to playing this tour-de-force, hard-edged, modern piece with breathtaking precision and commitment to what the composer had written.

All Things Liszt
November 20, 2011
Hidenwood Presbyterian Church
Reviewed by John Campbell
Accomplished Concert Pianist Eun Kyong Jarrell Seeks Wider Audience
October 22 was Franz (Ferenc) Liszt's 200th birthday (October 22, 1811-July 31, 1886). To celebrate, Eun Kyong Jarrell played his Transcendental Studies. Ms. Jarrell has been working since last season's Chopin solo piano concert to master the twelve Etudes d'exécution transcendante to honor his birth. She told us her concert was "a birthday gift to the composer." On this concert she played seven of the twelve studies.
Liszt's Transcendental Studies have their origin in a work he wrote in 1826 at age 15 under the influence of his teacher Carl Czerny (1791-1857). He returned to his early composition in 1837 and expanded and amplified it in an extraordinary way – these are fantastic virtuosic pieces that only he could play. By 1851 he made yet another version, the one we heard today. After a life of constant travel and concertizing, in 1847 Liszt met Princess Carolyne Sayn-Wittengenstein in Kiev and they fell in love. Though married, she moved with Liszt to Weimar where he had taken a full time job as conductor of the orchestra. In the next twelve years he wrote or revised most of his major works including this one, removing some of the formidable difficulties of playing the studies.
Eun Kyong chose six of the twelve studies for her recital. She opened with No. 6, Lento, titled Vision. The deeper notes of the lower third of the piano were played slowly and only gradually were mid-range notes added. The pesante (heavy) chords made a dramatic opening surrounded by arpeggios. It was powerful and dramatic. The lyrical study No. 3, Paysage (Landscape), was next. Notes were played slowly, creating an unsettling energy challenging the listener into more emotionally loaded territory. The middle section has syncopations that create a lighter, more glamorous sound.
This was followed by No. 12, Chasse-neige (Snow Squall) with a walking cadence and a relentless flow of notes. Rippling runs create a deep roar of sound, giving one the feeling of a landscape being buried by blowing snow.
Her fourth selection, Appassionata, Liszt title In A, also known as Allegro agitato molto (with lively, restless motion), has a deeply romantic intensity. Eun Kyong's hands were often placed one-over-the-other, playing keys close together. Playing fleeting scales created much intensity.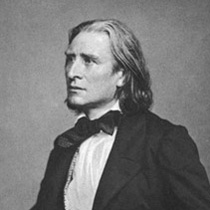 Ms. Jarrell ended the program with two more lyrical studies. No. 10, Harmonies du soir (Evening harmonies) gave hints of impressionist sonorities. Then the mood shifts to somber. The great beauty of the playing intensifies and the playing remains poetic in the most virtuosic and demanding passages. No. 9, Recordanza (Remembrance) is a nostalgic evocation of the past. Rippling high notes created a melody reminiscent of Italian opera arias performed in legato style. There is even a section for the left hand alone.
To introduce her encore, Ms. Jarrell told us that twenty years ago she had wanted to play Liszt but was told by her teacher that her hands were too small and that she did not have the power to play his music. We knew once again that her teacher was wrong when for an encore she played No. 1, Preludio, a big, brilliant, splashy piece that lasted one minute.
In conversation we learned that Ms. Jarrell is seeking additional venues to present the other Transcendental Studies. Her passion it to perform the music she loves and she charges no set fee. If you're the director of a church music series, a local music club or would like to host a musical salon in your home, we'll put you in touch with her.
My reference recording of this music is by Claudio Arrau (Philips 416 458-2). The Penguin Guide to CD's says "Other players have brought more virtuosity to these pieces but Arrau's playing is masterly and poetic. He played with great panache and musical insight." If you have a favorite recording, tell us about it.
Back to Top
Printer Friendly Format
Back to Review Index
Home &nbspCalendar &nbspAnnouncements &nbspIssues &nbspReviews &nbspArticles Contact Us