Lisa Edwards-Burrs
A review of Lisa Edwards-Burrs' Richmond recital
by Gary Smith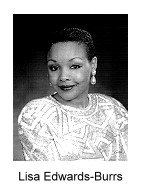 &nbsp&nbsp&nbsp&nbsp&nbsp In its August Musicale series, Grace Covenant Presbyterian Church in Richmond presented a concert on Wednesday, August 28, with soprano Lisa Edwards-Burrs, pianist Russell Wilson, and flautist Leslie Savoy Burrs (Ms. Edwards-Burrs' brother-in-law). The artists, well-known in the Richmond area and throughout eastern Virginia, attracted an audience which filled the large fellowship hall of the church.
&nbsp&nbsp&nbsp&nbsp&nbsp Ms. Edwards-Burrs demonstrated her linguistic and artistic versatility by performing songs from a variety of periods in five different languages by Purcell, Händel, Schubert, Bellini, Rodrigo, de Falla, and Obradors, as well as spirituals and settings of poems by 20th century American and English composers. Her diction was absolutely perfect in the languages with which this reviewer is familiar, and sounded just as clear in the others. She possesses a wonderful ability to project the meaning of the words not only through her voice, but also through her facial expressions and body language, and thus is an ideal art song performer.
&nbsp&nbsp&nbsp&nbsp&nbsp In her performance of two songs by Händel, Meine Seele hört im Sehen and Das zitternde Glänzen der spielenden Wellen, and Schubert's Der Hirt auf dem Felsen, the listener could clearly recognize in the words and in the music the contrast between Enlightenment and Romantic outlooks. Ms. Edwards-Burrs was especially strong in interpretation of the spiritual Talk About a Child That Do Love Jesus by William L. Dawson and My Tribute by the well known gospel singer André Crouch, as well as Toccata by John Carter.
&nbsp&nbsp&nbsp&nbsp&nbsp The addition of a flute to the usual piano-voice art song combination enhanced two of the songs. Another highlight of the evening was a jazz duet Stella by Starlight performed by Russell Wilson and Leslie Savoy Burrs, which caused many in the audience to tap their feet and nod their heads to the beat.
&nbsp&nbsp&nbsp&nbsp&nbsp Ms. Edwards-Burrs originally sent the announcement of the recital to Artsong Update. Let's hope that other performers in the Richmond area will do the same, so that the audience for artsong will continue to grow.
&nbsp&nbsp&nbsp&nbsp&nbsp Gary A. Smith is an Associate Professor in the Department of Modern Languages and Literatures, College of William and Mary and serves on the board of Art Song of Williamsburg.
Printer Friendly Format
Back to Top
Back to Review Index
Home &nbspCalendar &nbspAnnouncements &nbspIssues &nbspReviews &nbspArticles Contact Us