Bass Morris Robinson and Pianist Ken Noda in Recital
by Patrick McCoy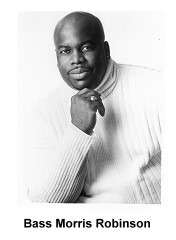 Bass Morris Robinson was presented in recital at the National Academy of Sciences in Washington, D.C. on October 19, 2008. His accompanist was the highly respected pianist, Ken Noda, who serves as Musical Assistant to James Levine at the Metropolitan Opera in New York City. From football to fioratura, Mr. Robinson's bass voice has been heard through opera houses around the world, including at the Metropolitan Opera. For this recital, Mr. Robinson offered a serious but well balanced program of music by Mozart, Schubert, Wolf, Mussorgsky, Verdi, Bernstein, Niles, Bonds and African-American spirituals.
To open Robinson sang a concert aria, Mentre ti lascio, O figlia! K. 513 by W. A. Mozart, with great warmth and resonance, yet with an elegant sense of restraint. Next came an emotionally complex rendering of Der Doppelgänger, D 957 no. 13 by Schubert. In this familiar lied, Robinson used the intensity and color of his lower register to vividly convey the concepts of night and torment. The conclusion of this song demonstrated Robinson's great ability to deeply connect at an emotional level with his audience. Two short songs by Wolf with texts by Michangelo on the trouble and brevity of life followed, Wohl denk ich oft and Alles endet was entstehet. Though not long, both songs showcased Robinson's exceptional vocal phrasing and effective use of dymamics, all to dramatic effect. Mussorgsky's Trepak was sung by Robinson in Russian. This work further revealed the virtuosic talents of his wonderful collaborative partner, Ken Noda. Rounding out the first half of the recital were two opera arias: Il Lacerato Spirito from Simon Boccanegra by Verdi and O, wie will ich triumphieren from Die Entführung auf dem Serail by Mozart. At the conclusion of the first half, Mr. Robinson was greeted with rapturous applause.
The second half of the program opened with the short, but direct Greeting by Leonard Bernstein. Next were three familiar art songs by John Jacob Niles: Black is the color of my true love's hair, Go' way from my window and closing the set was The Lass from the low country. All were sung with a sense of great intimacy; Robinson's voice caressed the ear of every listener. Next came two selections from the cycle Dream Portraits by Margaret Bonds, Dream Variation and I, Too. The setting of the great text I, Too by Langston Hughes always stirs up deep emotions in me. Robinson's dark hued voice used the text painting to great effect as he declared "I Am the Darker Brother!" Ending the program were spirituals by Wendell Whalum. Whalum was known for his choral arrangements of spirituals and his lovely anthem There is a Fountain for chorus and organ. Though there is no known solo arrangement of this anthem, Robinson, who went to high school with his son, Wendell Whalum, Jr., and performed his spirituals, sang it as a tribute to Wendell Whalum, Sr. Encores included Ole Man River. At the conclusion of the recital, the audience showed great appreciation for a young artist who is destined for greatness.
On a personal note, I was able to forge a friendship with Morris after his appearance with the National Symphony Orchestra, performing the Beethoven 9th Symphony conducted by Leonard Slatkin. Among the other soloists was the young Afro-Canadian soprano Measha Bruggergosman (another singer to watch). After that performance, I had the opportunity to greet both singers and have made it a point to attend their performances when they are here in the DC area. I have remained in contact with Morris and follow his illustrious career. Attending the concert with me was Mrs. Mayme Wilkins Holt, mother of the late Metropolitan Opera baritone Ben Holt. We ended the evening greeting Morris and were off to our next concert!

Patrick D. McCoy
Largo, MD
Printer Friendly Format
Back to Top
Back to Review Index
Home &nbspCalendar &nbspAnnouncements &nbspIssues &nbspReviews &nbspArticles Contact Us