Soprano Patricia Saunders Nixon & Pianist Geraldine T. Boone
In Recital at Virginia Wesleyan College
&nbsp&nbsp&nbsp&nbsp&nbsp This is a first, at least in my experience: an art song recital consisting of nothing but classical compositions of spirituals! There was a restrained elegance in Mrs. Nixon's singing and an exceptional sweetness in her sound. She was partnered by Ms. Boone, an accomplished pianist who brought just the right touch to a variety of songs by a diverse group of African-American composers.
&nbsp&nbsp&nbsp&nbsp&nbsp For once, the Virginian-Pilot announced the 7:30 performance at Hofheimer Theater for that evening, Monday, November 27, 2006. A large audience turned out for a performance that was a stunning display of voice, acting ability and all with a passionate spiritual authenticity.
&nbsp&nbsp&nbsp&nbsp&nbsp The opening set of three sets of songs by early twentieth-century composers was by Henry "Harry" Thacker Burleigh (1866 -1949). A very lyrical Didn't My Lord Deliver Daniel? with all three verses sung was followed by Joshua Fit De Battle Ob Jericho with a spear in her hand created by gesture alone. In Were You There?, even in powerful climaxes, Mrs. Nixon's confidence in her vocal instrument left me feeling secure that she had vocal power in reserve. With a fascinating piano part this lullaby setting of Sometimes I Feel Like a Motherless Child was soul-soothing.
&nbsp&nbsp&nbsp&nbsp&nbsp The second composer on the program was John W. Work, Jr. (1871-1925). Represented by a single song, This Little Light of Mine, with a straightforward accompaniment, was a fine setting for this lovely soprano voice. Dipping deeper into the rich heritage of spirituals we were given four songs from Hall Johnson's (1887-1970) songbook: Honor! Honor! with its gospel feeling in the chorus and an accompaniment followed by verses of a solemn refrain. City Called Heaven is a deeply moving, almost operatic lament with chords of great strength in the piano. This was followed by the happy Cert'ny, Lord celebrating being right with one's Lord. Ms. Nixon was glorious in her well-modulated Ride On, King Jesus!.
&nbsp&nbsp&nbsp&nbsp&nbsp When Ms. Nixon appeared for the second half of the program she was wearing her second African printed fabric outfit of the evening to sing Oh, What a Beautiful City! by Edward Boatner (1898 -1981). The city has twelve gates so there will be plenty of access for all to get in. Boatner's I Want Jesus to Walk with Me has a searching energy that makes me think of Schubert but Boatner uses modern sonorities in the piano, accompanying a lament, pleading for help in times of trouble and the end of life.
&nbsp&nbsp&nbsp&nbsp&nbsp In Margaret Allison Bond's (1913 -1972) Sit Down Servant with its jazzy, quirky, modern sound, she tells of a child of God who is so happy that she refuses her master's request that she sit. Ms. Nixon created both characters as she sang. Dry Bones was a tour de force for the acting ability of our singer who used interesting gestures for each bone as the dry bones reassembled - we can assume - at the resurrection. A longer piano introduction to Lord, I Just Can't Keep from Cryin' helped me realize how different Bonds' creative expression is than the older classcial composers. A jaunty You Can Tell the World has an exuberant piano accompaniment that was practically shouting for joy.
&nbsp&nbsp&nbsp&nbsp&nbsp A single selection by Roland Carter (b.1942) Is There Anybody Here? (who loves my Lord) has a popular song feeling which has been the trend of settings in the late twentieth century.
&nbsp&nbsp&nbsp&nbsp&nbsp After the program we learned that Mrs. Nixon had been singing through a cold which makes her performance all the more remarkable. To quote our singer: "I couldn't even talk when I woke this morning."
&nbsp&nbsp&nbsp&nbsp&nbsp You can purchase a CD of this program from Ms. Nixon. Email us and we'll pass it on to her. You'll get the chance to experience the glory of it all as often as you wish. The magic of a live performance, when it happens, is the energy between the singer and the audience. It happened at Virginia Wesleyan and as good as the CD is there is no way to package such an experience.

Music by Harry T. Burleigh Featured in Concert
Soprano Patricia Saunders Nixon & Pianist Geraldine T. Boone
Little Zion Baptist Church, Chesapeake, Virginia
November 25, 2012
Review by John Campbell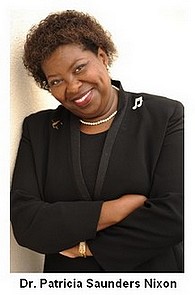 An art song recital focused on works by Harry T. Burleigh (December 2, 1866, Erie Pennsylvania – September 12, 1949, Stamford, Connecticut) was performed by two of Tidewater's champions of the art song recital, soprano Patricia Saunders Nixon and pianist Geraldine T. Boone. The mission of these talented women is to keep alive the historical legacy of African-American song and to add contemporary African-American repertory in an on-going series of recitals over many years.
Two things stand out in this concert: first the venue is the historic Little Zion Baptist Church founded 150 years ago. The church dates its beginning to 1863. The Emancipation Proclamation was signed by President Abraham Lincoln effective January 1st of that year. Out of the tumult of that period of great social upheaval and change came a congregation of people having a right to have their own church for the first time and for the first time to praise God as they wished. Slaves, regarded as property by the state of Virginia, fled servitude and were taken-in by Fort Monroe and held by the Union Army as contraband of war. Contraband is a strange term to us today but denial of the humanity of dark-skinned people was part of the U.S. Constitution. The recent film Lincoln tells the story of the 13th Amendment to the Constitution that gave former African-American slaves citizenship.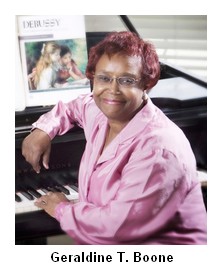 The second is that Mrs. Nixon structured this recital around the songs of Harry T. Burleigh. The program opened with a set of songs drawn from European classics with spiritual texts sung in English: J.S. Bach's joyful My Heart Ever Faithful, Sing Praises, and O Divine Redeemer from Gounod's opera Faust. Marguerite, a fallen woman, repents and sees the light of heaven gather round her soul in this dramatic and beautifully sung aria. Come to Me, with music from Ludwig van Beethoven's Moonlight Sonata, Op. 27, No. 2 using as a text Matthew 11:29-30. "Take my yoke and learn of me…and find rest." The steady pulse set by the piano supports the voice as it blossoms to a glorious fullness. Bist du beir mir (You are with me) was sung sweetly in German with translation provided in the program.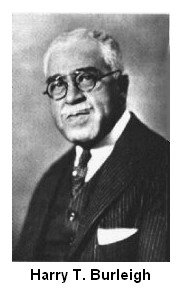 Dr. Nixon's dissertation is titled Harry T. Burleigh's Art Songs: A Forgotten Repertory. She sang His Word is Love, a consoling song of never being forsaken by the divine. The song lay in the rich, sweetest part of her voice; the third verse was especially dramatic. In the highest register of her voice she sang He Sent Me You! giving the sense that each listener had the full attention of the soloist. In Savior Divine (from this day I'll be wholly Thine) her voice opened up, pouring forth lovely sounds. Steve heard it as an aria of praise.
Though many of Burleigh's spiritual arrangements are in active vocal repertories, even there we find ignored gems. The program's final set was drawn from this repertory. He's Just the Same Today is a dramatic telling of Moses parting the Red Sea and of David slaying Goliath with the message that the same God will aid you today. I Stood on the River of Jordan encourages the brothers and sisters to be ready as the ship sails by —shout "glory hallelujah." In Oh Rocks Don't Fall on Me Dr. Nixon sang in a low-pitched voice of the fall of Jericho's walls and related it to the judgment day. The sustained note to end was wonderfully dramatic. She closed with the well-known spiritual Ride on King Jesus but this Burleigh arrangement had deep, rich lower notes. It is no wonder that the arrangement by Hall Johnson is more popular; it is less demanding on the singer.

Printable Format
Patricia Saunders Nixon 3
Back to Review Index
Home &nbspCalendar &nbspAnnouncements &nbspIssues &nbspReviews &nbspArticles Contact Us