Robert Sims' Recital in Petersburg
Reviewed by Patrick D. McCoy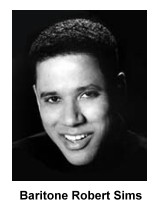 &nbsp&nbsp&nbsp&nbsp&nbsp The Southside Virginia Community Concert Association presented Chicago-based lyric baritone Robert Sims in recital on April 10, 2004 in Petersburg, Virginia, at the Petersburg Auditorium. Mr. Sims is an accomplished singer, appearing as soloist in prestigious venues such as the Ravinia Festival, The Crystal Cathedral and in 2005 will make his Carnegie Hall recital debut. He was accompanied by Byron Sean, an excellent accompanist.
&nbsp&nbsp&nbsp&nbsp&nbsp Mr. Sims, a champion of the African-American spiritual, devoted the first half of the concert, divided into four sections, to this repertory. Section I, Spirituals of Affirmation featured an arrangement of He's got the whole world in his hands by Moses Hogan. Mr. Sims was often a featured soloist with the Moses Hogan Singers and Chorale and was in several of the ensemble's recordings.
&nbsp&nbsp&nbsp&nbsp&nbsp Section II, Underground Railroad Songs featured three arrangements: Steal Away (arr. Lee Cloud), and an a cappella arrangement by Mr. Sims of I'm Goin' Home on Mornin' Train and Don't You Let Nobody Turn You 'Round by Lena McLin.
&nbsp&nbsp&nbsp&nbsp&nbsp Section III, The Life of Christ, was one of the most moving moments in the recital. This group of spirituals journeyed with Christ from his birth to his resurrection. The spirituals in this group, arranged by Roland Hays, were Sister Mary Had But One Child," Lit'l Boy , He Never Said a Mumblin' Word and Children Did you Hear? Mr. Sims requested that the audience hold their applause until after the fourth spiritual of this grouping. This was very effective, and so appropriate to the Lenten/Easter season.
&nbsp&nbsp&nbsp&nbsp&nbsp Two spirituals were grouped in Section IV, Bible Stories. The lively, Ezekial Saw the Wheel (arr. Margaret Bonds) and a testimony song Witness (arr. Hall Johnson.)
Returning after intermission, Mr. Sims, who was a student for one year at Virginia Union University, dedicated the first selection to his two former teachers, Dr. Karen Savage and Mrs. Virginia Carson, who were present at the recital. Mr. Sims sang three Broadway Songs, Try to Remember (Harvey Schmidt from The Fantasticks), I Got Plenty O' Nuttin, from Gershwin's Porgy and Bess and O'l Man River from Kern's Showboat.
&nbsp&nbsp&nbsp&nbsp&nbsp Four American Songs by Aaron Copland followed: the familiar melody Simple Gifts, the timeless At the River, Ching A- Ring Chaw, a proven tongue twister and I Bought Me A Cat, a hilarious journey through the barnyard.
The recital returned to a more reflective mood as Mr. Sims offered his last section , Songs of Conviction. God is a God (arr. Jacqueline Hairston) and Is there anybody here who loves my Jesus? These selections were sung with great devotion and invoked a sense of thankfulness for the one who gives and sustains life.
&nbsp&nbsp&nbsp&nbsp&nbsp Mr. Sims was greeted with much applause and presented the audience several encores. I am thankful to the Southside Virginia Community Concert Association who brought Mr. Sims to the local community. Robert Sims is an inspiration to young singers everywhere. He is indeed a wonderfully trained musician, but his humility and graciousness will definitely secure his place as one of the world's finest performers.

Mr. McCoy, of Petersburg, Virginia is a graduate student at Shenandoah Conservatory.
Printable Version
Back to Top
Back to Review Index
Home &nbspCalendar &nbspAnnouncements &nbspIssues &nbspReviews &nbspArticles Contact Us