Virginia Chorale's New Music Director Sings!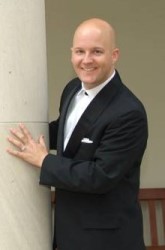 Some 200 people gathered at Churchland Baptist Church in Portsmouth, Virginia to hear a vocal concert featuring the Virginia Chorale's new music director, tenor Scott Williamson and his wife, soprano Amy Cofield Williamson. They literally met on stage in Annapolis, Maryland, which explains the title of the program, Love at First Duet. They honored that occasion by singing O, qual pallor! E strano! Ah, fors'e lui...Sempre libera! from their first opera together, La Traviata by Guiseppe Verdi.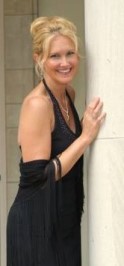 They opened the program with I waited for the Lord from Mendelssohn's Elijah. Letting us sample his fine musicianship solo, Scott Williamson sang Maria from West Side Story by Bernstein. Amy Williamson overwhelmed us with the loveliness and power of her voice in the exceptionally beautiful Depuis le jour from Gustave Charpentier's Louise. The aria is seldom heard but is a showpiece featured on CD's by Price, Fleming, Battle, Te Kanawa and others.
Other duets and solos by Lerner and Loewe from Broadway filled out the program: Almost Like Being in Love (Brigadoon), and On the Street Where You Live and I Could Have Danced All Night (My Fair Lady), all accompanied on piano by the incomparable Chuck Woodward.
They completed this excellent get-acquainted concert with the concluding music of Act I form Puccini's La Bohème where Mimi and Rudolfo meet, get better acquainted and fall in love. You are Love by Jerome Kern from Showboat was the encore. We all left the recital reassured that Virginia Chorale audiences can look forward to a grand renewal.
The recital was marred by Scott's pretty, precocious 2 year-old niece giving a performance of her own in the balcony. In an email discussion with the Williamsons they reassured me that consideration for the audience will come first in future recitals.
Back to Top
Back to Review Index
Printer Friendly Format
Home &nbspCalendar &nbspAnnouncements &nbspIssues &nbspReviews &nbspArticles Contact Us