Contralto Sondra Gelb in Recital
&nbsp&nbsp&nbsp&nbsp&nbsp The beautiful sanctuary of Christ and St. Luke's Episcopal Church on Sunday, March 7, 2004 was the setting for a recital with unique selections of art song by Sondra Gelb. In her deep, rich contralto voice she opened her program with Two Monodies by Giovanni Legrenzi (1625-1690), who was the choirmaster of St. Mark's in Venice. Quandodolce e quell' ardore and ad altro amante in seno are love songs of great passion and with rich low notes that lent themselves to ornamentation, well executed by our vocalist. Michael Murphy did a fine job accompanying Ms. Gelb on the lute.
&nbsp&nbsp&nbsp&nbsp&nbsp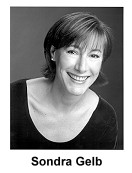 Four songs by Gustav Mahler (1860-1911), with Charles Woodward at the piano, followed. Ms. Gelb gave an assured performance of Das irdische Leben (The Earthly Life), Aus! Aus! (Out! Out!), Nicht wiedersehen (Never to meet again) and Selbstgefühl (Self confidence). Drawing on her experience in opera and musical theater, she used her face, body and hands to create these characters and their loves, sorrows and pain. The lyrical moments and extroverted bombast were all there in the piano and in her fine interpretation.
&nbsp&nbsp&nbsp&nbsp&nbsp Next on the program was Let Us Garlands Bring, five songs on texts by Shakespeare set by Gerald Finzi (1901-1956). From the exuberance of Who is Sylvia to the pathos of Come away, come away death, this cycle, written for baritone, was very effective. Fear no more the heat of the sun, which ends with the words "come to dust", and beautifully placed low notes and O Mistress Mine and It was a lover and his lass gave a variety of challenges to the pianist and singer. I especially enjoyed the pieces with slower tempos which allowed us to savor the sound of this rare voice.
&nbsp&nbsp&nbsp&nbsp&nbsp The last set, Cinco Canciones Negras (1945), was written by the Catalan Spanish composer Xavier Montsalvatge (b.1911). In an attempt to break away from stereotypical Catalonian music he created a style known as "West Indian" which seeks to view the world through the eyes of children. The style has an immediacy and charm, a sublime artlessness. What a joy to hear these sensual texts brought to life with such verve. The rhythms created in the piano were enchanting for the listeners and most demanding for Mr. Woodward. Cuba Dentro de un Piano (Cuba on a keyboard) is a gentle protest of Cuba becoming Americanized. Of course Fidel Castro came later and changed all that. Punto de Habanera (A humorous flirtation) is a bawdy song about a Creole girl in a white crinoline walking by the docks with sailors watching. Chevere has a disturbing verismo energy. The lullaby Cancion de cuna para dormer a un negrito (Cradle song) was followed by Canto negro, a feverishly paced tale of dancing where the singer used her whole body to ride through this song.
&nbsp&nbsp&nbsp&nbsp&nbsp At encore time Ms. Gelb exclaimed "Opera is so much easier than this!" and gave us The Mad Song from The Mad Show by Stephen Sondheim. She later told us that the Broadway musical is her first love. Her dramatic sense served this song well.

Sondra Gelb presents an Evening of Sondheim
Sondra Gelb was billed as a New York City Opera veteran and voice instructor in the first program of a new series at the Simon Family JCC "saluting the world's most honored Jewish composers" on December 2, 2009. For this evening, titled Simply Sondheim, she was organizer, MC and vocalist in half of the fifteen songs. My attraction to Stephen Sondheim above other Broadway composers is that his intricate lyrics of great wit intrigue and engage my mind and Ms. Gelb has great timing to communicate nuance of meaning by voice, facial expression and gesture.
The other Players were Marilyn Kellam, a local recitalist and Virginia Opera Chorus member; Anna Womble, an up-and-coming coloratura soprano; Cantor and tenor Wally Schachet-Briskin of Ohef Sholom Temple and pianist Charles Woodward, one of Tidewater's busiest accompanists who is also music director of Ohef Sholom.
Ms. Gelb wove Sondheim's biography into introductions to the songs. Born March 22, 1930 in New York City, he studied at Williams College and later privately with Milton Babbitt. The most important influence of his young life was Oscar Hammerstein II, a neighbor from summers in Bucks County, Pennsylvania. At age eleven his parents split-up and he was mentored by Hammerstein who gave him musical theater writing assignments, critiquing his work without condescension (NY Times, 2006). He learned theater craft in the summer of 1947 as a gopher on Allegro, a Rodgers and Hammerstein musical that flopped. "It's really educational to see a group of experienced professionals put on a show that doesn't work" was Sondheim's comment in the same New York Times article.
At the beginning of his career he wrote texts for other composers: Bernstein's West Side Story (1957), Jule Styne's Gypsy (1959), Shevelove and Gelbart's A Funny Thing Happened on the Way to the Forum (1962) and Rogers' Do I Hear a Waltz? (1965, Hammerstein had died in 1963). The first selection of the evening, Invocation, sung by The Players, was written as the opening number for Forum but not used. It was eventually used by Sondheim in The Frogs (1974). This seems a good place to note that songs written for one musical often show up in another, sometimes in more than one other show.
Ms. Gelb's first solo was the popular Send in the Clowns (A Little Night Music), made famous by Judy Collins. Ms. Kellam sang The Girls of Summer, all about the girls being undone by the sun and touched by the moon, unlike the singer who has no fun and is blue. Poignant! Ms. Womble sang the funny tune Lovely from Forum and later Green Finch and Linnett Bird (Sweeny Todd) in her beautiful, powerful voice.
Speaking of Sweeny Todd, it is one of the darkest, grimmest stories in all of musical theater history, a tale of revenge that leads to murder, cannibalism and corruption. We are fascinated by what our fellow humans can do and Sondheim has plumbed the depths of the human soul. From the same play Cantor Schachet-Briskin sang Johanna, a love song, almost a lullaby, to his beloved. In his early work Sondheim followed in the footsteps of Hammerstein who occasionally touched on issues like racism and other social problems. You've Got to be Carefully Taught (South Pacific) gently speaks to the rampant racism of the time. But as Sondheim has found his own voice he has demonstrated that commercial Broadway can support something besides "witless pop operas and corporate cooker-cutter confections" as Chip Brown put it in a Smithsonian magazine aricle in August, 2000. The Cantor has a gentle, 1960's aura about him but made us fully aware of what a theater animal he is when he sang Everybody Says Don't (from Anyone Can Whistle) and he went on making the point in I Remember (Evening Primrose).
In that Smithsonian article Chip Brown speaks of his near-mystical conversion experience which came when he heard Another Hundred People (Company) (we heard it sung for us by Ms. Gelb), "a kind of awakening at the end of a protracted adolescence into the beginnings of adulthood with its cultivated ironies, bittersweet pleasures and continually more complex forms of folly."
My conversion song was Send in the Clowns. I had listened to the song for years but at one point, single again and almost forty and looking back on missed connections, I identified deeply and knew it was my song. Events moved on but I had learned to listen for Sondheim's profundities. Dr. Kellam had the last word: Loving You (Passion) is about how someone's love for you can crack you open.
The many facets of human reactions are in the songs: from Barcelona (Company) in which she's going, he wants her to stay, she decides to stay, and he sings "O God!" as his reaction, sung by Ms. Gelb and Cantor Wally. Or Losing My Mind, powerfully sung by Ms. Gelb. The woman thinking she is in love sees the beloved other sliding further away. Years ago my musical mentor sent me a recording of Into the Woods. All the characters from nursery rhymes are all grown up now and they encounter each other in the woods as adults with all the complexities of contemporary adulthood. From this show comes Children Will Listen. With Sondheim there is a genuinely mature exploration of our time in history. We listen, we feel and are richer for having done so. Thanks to all The Players, so talented, so eager to communicate.
A Fine Romance
Back to Top
Back to Review Index
Printer Friendly Format
Home &nbspCalendar &nbspAnnouncements &nbspIssues &nbspReviews &nbspArticles Contact Us