The Many Talents of Walter Swan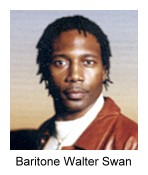 &nbsp&nbsp&nbsp&nbsp&nbsp A caressingly beautiful mahogany glow in three songs by Richard Strauss was the best surprise of the evening. Having heard baritone Walter Swan on several occasions as soloist in choral works and on his CD, we expected a fine performance. But I found his ability to express the feeling and meaning in the German text deeply moving. When he sang Allerseelen, Morgen! and Zueignung the beautiful silken legato of his voice soothed the heart!
&nbsp&nbsp&nbsp&nbsp&nbsp With the superb piano playing of Charles Woodward, the Old Dominion University Faculty Recital at Chandler Hall on April 5, 2006 was the first of several evenings where the multiple talents of Walter Swan were presented in that venue.
&nbsp&nbsp&nbsp&nbsp&nbsp On the following Wednesday, April 12, he was Musical Director, Set and Stage Designer and Conductor for a charming student production of HMS Pinafore by Gilbert and Sullivan. Everyone seemed to have a good time. In talking with students after the performance they confirmed my sense that Dr. Swan had drawn the participants together into a community and their sense of enjoyment of what they were doing was infectious.
&nbsp&nbsp&nbsp&nbsp&nbsp On April 24 and 25 he was on stage as a performer in CREO's production of Tom Johnson's Four Note Opera as one of four principal singers. That wonderful performance will get its own review in a future issue. He created a character full of warmth and humor.
&nbsp&nbsp&nbsp&nbsp&nbsp With an urgency to communicate the text, Dr. Swan's right heel left the floor as he leaned toward his audience in the opening songs by Giuseppe Sarti (1729 -1802) and Leonardo Vinci (1690 -1730). Vinci wrote thirty-five operas and should not be confused with the painter born in 1452. Vinci, who is given two full pages in the Grove Dictionary of Music, made a fairly radical break in opera seria giving extra attention to the voice part. As a friend to poetry, he simplified and polished the melodic setting of the words. There was an excitement in Teco, si that gave us our first taste of the glorious voice and musicianship that imbued this recital. Betrachte, Meine Seel' from the Passion According to St. John and Et in Spiritum sanctum from the B Minor Mass by J.S. Bach followed. The grandeur of the piano in Bach's stately music, the melodious voice with well shaped trills and mezzo-voce passages was wonderful.
&nbsp&nbsp&nbsp&nbsp&nbsp A sample of the singer's skill in operatic arias followed with Deh, vieni alla finestra, a song to seduction from Act II of Mozart's Don Giovanni. Bella siccome un angelo from Don Pasquale by Gaetano Donizetti followed and left us with a chuckle as Dr. Swan became the character, Malatesta, singing the praise of a beautiful woman in a plan to deceive the Don.
&nbsp&nbsp&nbsp&nbsp&nbsp A most seductive C'est ainsi que tu es by Francis Poulenc opened the last half of the program, followed by two songs by Gabriel Fauré. A rocking piano sound accompanies a lyrical vocal with only one outburst of intense power in Les Berceaux. In L'hiver a cessé (Winter is over) sad hearts must give way to the warmth of a clear blue sky.
&nbsp&nbsp&nbsp&nbsp&nbsp After the Strauss songs the program ended with four songs by African-American composers. The first, For You There is No Song with text by Edna St. Vincent Millay was set by the gifted and prolific composer H. Leslie Adams (b.1932, Cleveland, Ohio).
&nbsp&nbsp&nbsp&nbsp&nbsp Compensation by Charles Lloyd, Jr. (b.1948) followed. The text of this short gem of a song is by Paul Laurence Dunbar: "Because I had loved so deeply - Because I had loved so long - God gave in his compassion, the gift of song." Dr. Swan, using his own arrangement sang Amazing Grace. His fine arrangement can be found on his CD He's Got the Whole World in His Hands. The sixteen songs have a peaceful, soothing energy and it is available from the singer. The last song was He Never Said a Mumblin' Word, arranged by Moses Hogan (1957-2003). The singing was wonderfully animated throughout these songs.
Printer Friendly Format
Back to Review Index
Home &nbspCalendar &nbspAnnouncements &nbspIssues &nbspReviews &nbspArticles Contact Us