CD Review: Come Down Angels and Trouble the Water
(2014, Albany Troy 1489)
Bass-baritone Oral Moses & Pianist Rosalyn Floyd
Review by John Campbell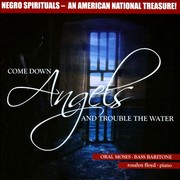 The rock-solid bass-baritone voice of Oral Moses can be heard on this 2014 release of a collection of 19 spirituals arranged by major African-American composers of the 20th century. Oral Moses' smooth, classical delivery, supported by the decisive piano of Rosalyn Floyd, gives this music a new life.
Shut out of mainstream American orchestral performance, these talented composers can be heard here in their arrangements of traditional spirituals in an art song format. It began with Harry T. Burleigh who was encouraged by Antonín Dvořák in 1900 to set the songs of his people in a European form. For this CD Burleigh's Sometimes I Feel Like a Motherless Child is given an added flute voice by Erik Lundgren (b. 1954) that deepens the sense of sorrow.
Other early composers include William Grant Still (1895-1975), represented by his Here's One and Hall Johnson (1888-1976) with his Oh, Graveyard and Ev'ry Time I Feel de Spirit. The CD title song, Come Down Angels and Trouble the Water and Is there Anybody Here That Loves My Jesus are by the pioneer woman composer Undine Smith Moore (1904-1989).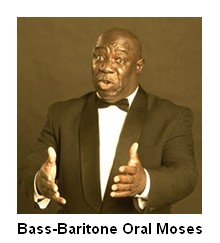 Five mid-twentieth century songs are by Robert Owens (b. 1925), including his repetitive, weighty "mumblin' word" in They Crucified my Lord and his fast-paced, jazz-influenced Go On Brother.
Four other composers, Uzee Brown (b. 1950), Moses Hogan (1957-2003), Charles Lloyd, Jr. (b. 1949) and Evelyn Simpson-Curenton (b. 1953) are represented by two songs each. Hogan's very popular Give Me Jesus offers an expansive feeling of assurance and we are regaled by Moses' deep voice in Deep River. We hear Lloyd's powerful setting of Death is Gwinter to Lay His Cold Icy Hands on Me and his peppy celebration in Do Don't Touch-A My Garment because "I'm going home." The sparkling, expanded piano in Lil' David was set by Simpson-Curenton and a declarative Sinner Please Don't Let This Harvest Pass has an extended vocalise at the end. With a traveling rhythm, Good News, set by Brown, tells the story of being on the way to heaven. The piano also offers a marching tune rhythm in Trampin' with the goal of "making heaven my home."
The spine of the CD reads "Negro Spirituals-An American National Treasure." Inside, the booklet tells the story from 2007 of how the 110th Congress of the United States passed a bill to declare spirituals a National Treasure, this only 140 years after the Fisk Jubilee Singers popularized the art form that is in no way diminished by the passage of time.

CD Review: Mystical Voices, The Choral Music of Michael John Trotta
Review by John Campbell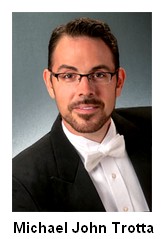 Dr. Michael John Trotta (b.1978) is currently director of choral activities and assistant professor at Virginia Wesleyan College, holding the position since 2012. Two big events in Dr. Trotta's musical life in 2014 were, first a set of his songs being sung in Carnegie Hall where he conducted the Voices of Virginia Wesleyan College on May 26. The second was the release of his CD in December.
The first two songs on the CD offer a poem by John Donne, Break of Day and In This Present Little Moment by Fra Giovanni Giocondo. There is a rich, enfolding longing in these gentle settings. The plaintive oboe ever so sweetly winds lush harmonies around the vocals.
A traditional ninth-century text Vene, Veni, Emmanuel breaks into the somnolence of the opening songs with percussive, propulsive, short vocal phrases with the familiar tune of Come, O Come Emmanuel that is associated with the Christmas season.
His texts are carefully chosen, some from traditional liturgy, others from familiar English language poetry and one by the composer and another by his wife. New settings with steady pacing display careful craftsmanship and a penchant for sweet, gentle mood painting, with a goal of engendering reflection and transcendence, or to quote the liner notes: "an opportunity to slow down time long enough to allow the beauty of life to catch up to you." Many selections are with well-played strings.
The ninth song, Hidden in Plain Sight with text by Rachel Trotta with Patti Watters flute and George Stone, piano is a peppy setting for women's voices, followed by Kyrie for treble voices also with flute and piano. Soprano Sarah Brown is featured soloist, sometimes with choir, in texts by Rainer Maria Rilke and Rabindranath Tagore.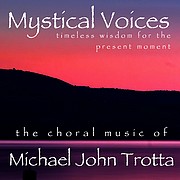 The CD booklet is a fine experience—beautiful color, notes and text for each of the 17 songs. The list of performers includes 32 singers (with some of the area's finest voices) and instrumentalists. No percussionist is listed.
Put on this CD and relax into a lovely ethereal space. The final selection, Veni, Veni, Emmanuel remix, with its bips, bops and sparkling sound will certainly wake you up, signaling that your blissed-out state is over.
Digital copies can be purchased at http://www.mysticalvoicescd.com. Hard copies of the CD and sheet music can be purchased at: http://hamptonroadsmusicgroup.com. Released 12/8/2014 by Hampton Roads Music Group LLC, P.O. Box 68572 , Virginia Beach, VA 23471.
Back to Top
Back to Review Index
Home &nbspCalendar &nbspAnnouncements &nbspIssues &nbspReviews &nbspArticles Contact Us