New CDs: Paul Bowles Complete Piano Works
Vol 1 and Vol 2 Naxos American Classics 8.559786 & 87 Issued 2016
Played by The Invencia Piano Duo
Review by John Campbell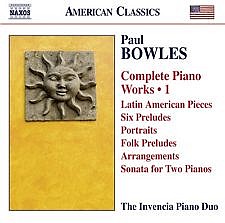 Holding the CDs in my hands felt good. We had watched the project develop over several years. Paul Bowles, who excelled in both literature and music, was not motivated by fame or fortune. It looks like Bowles was willing to take whatever composing job came his way to pay for an easy lifestyle which included doing what pleased him at the moment. Once he discovered writing and found it would provide the money he needed, he settled in Morocco, ending his burgeoning development as a composer.
In Morocco he found a raw, primitive energy that gave him a sense of freedom and young Arab men that fascinated him. He, in turn, fascinated the younger generation of writers and composers in America. His shabby apartment in Tangier became a point of pilgrimage for as long as he lived (1910-1999).
Bowles is now best known, not for his music but for his short stories and novels, especially The Sheltering Sky (1949), which was made into a movie in 1990. After he settled in Tangier he continued writing incidental music for plays at the American School of Tangier. He wrote incidental music for several classical plays in the 1960's. The last was for Oreste in 1978.
Bowles loved to travel and to explore local music wherever he visited and this informs what he composed, like a chameleon who takes on the color of wherever he is. Bowles in adolescence discovered automatic writing (1927) and everything seemed to come easily to him. Though he studied with Aaron Copland, he was not motivated to pursue academic music or instruction beyond the basics and reflected the musical light he found in his travels. He offers a showcase of assimilated music of other cultures—many of them in Latin America. And all of this before world music was a category!
It became difficult to hear his piano music until this project came to fruition. By living outside the musical establishment of New York City his music never became part of the mainstream. Various solo piano pieces have appeared on recorded collections of American piano music with pieces scattered over several CDs. It can be difficult to see that his diverse piano music is all by the same composer. Driving rhythms see to be the most recognizable unifying characteristic.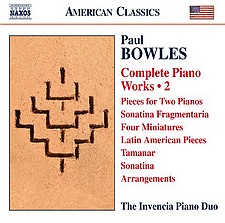 For many of his short pieces the CDs are world premiere recordings. Fully one-half of the music here is has never appeared on a CD before. The large-scale new work is the Sonata for Two Pianos (1947) that concludes CD 1 and was written for and dedicated to Arthur Gold and Robert Fizdale, a prominent American piano duo from the mid-20th century. This sonata marks the beginning of Bowles' final, large-scale compositions: Concerto for Two Pianos and Orchestra, etc. Up to this point he had written very inviting, brief incidental pieces for plays, ballets and some just to amuse himself, all of which are here. On the second CD, Three Pieces for Two Pianos selected together by Kasparov: Night Waltz (1949), Nocturne (1935) and Cross Country (1976) clock-in at a bit less than ten minutes. The six minute Tamanar ( 1931-1933) and the the seven and a half minutes of the Sonatina are like riding a fast train through a diverse geography of sound and mood.
In these crisp, beautifully recorded CDs, several single compositions have been grouped either by cycle, style or theme by Kasparov. This is appropriate as Bowles often reconfigured pieces into new groupings. A perfect example is the Four Latin American Pieces describing landscapes/places. To quote Bowles "The Huapango was originally a dance form native to the provinces of Tamaulipas and Vera Cruz in Mexico. It was danced on a table-like board with the dancer's feet sharply accenting the rhythm. My Huapango No. 1 (1937) uses actual folk material…" Kasparov's playing was fast, glittering and brilliant. Iquitos (Tierra Mojada) (Dead Earth) (1947) is a rhythmic romp, with fiery playing with a sweet mid-section, but alas, it's fast and short. Guayanilla (1933) offers music in the mood of a soft, warm rain that enfolds the listener. An urgency comes, then melts away in this personal favorite of mine. The set concluded with Huapango No. 2 (El Sol) (1937). The pianist is totally warmed-up and uses all of this heat to give a blistering performance. There is a dark feeling of madly rushing through life.
Two pictures of Andrey Kasparov and Oksana Lutsyshyn grace the back of the two CD booklets. Facing the camera side-by-side looking grave in Vol. 1 and back-to-back looking quizzical, if not smug, for Vol. 2. Local Tidewater, Virginia fans have heard Bowles pieces by the duo in several venues before but there is also much, new material here. There are brief, musical portraits of Bowles by Virgil Thomson and Leonard Bernstein For Paul Bowles (1943), Three Piano Duo Arrangements by Gold and Fizdale (mid 1940s): Colloque Sentimental (1944), is the only material left from Bowles' ballet of the same title. Caminata, Turkey Trot. Never recorded before, Kasparov found the manuscripts in the library at The Juilliard School and after he "deciphered and reconstructed the manuscripts" the duo brought them to listeners. On each CD there is a set of songs arranged for piano duet by Kasparov, including Bowles' best known Blue Mountain Ballads on Vol. 2.
Printer Friendly
Back to Top
Back to Review Index
Home &nbspCalendar &nbspAnnouncements &nbspIssues &nbspReviews &nbspArticles Contact Us