Soprano Bonnie Pomfret and Pianist Laura Gordy's
CD of American Women Composers
&nbsp&nbsp&nbsp&nbsp&nbsp Released on October 1, 2005, the CD De Todo La Eternidad, Songs of American Women Composers is an affirmation and celebration of the high level of creativity achieved by American women composers, poets and performers. With songs by Libby Larsen (b. 1950, Wilmington Delaware), Louise Talma (1906-1996), Augusta Read Thomas (b. NYC, 1964) Margaret Bonds (1913-1972) and Gabriela Lena Frank (b. Berkley, 1972), this CD makes available the first recording of thirteen of the twenty-four songs.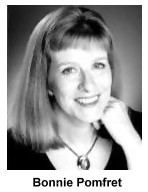 &nbsp&nbsp&nbsp&nbsp&nbsp The title of the CD is drawn from the opening song cycle by Libby Larsen - De Todo La Eternidad and was commissioned by Ms. Pomfret who became acquainted with the poetry of Sor Juana Inés de la Cruz (1651? - 1695) while studying Spanish and Cultural Studies at the University of Salamanca, Spain in 1998. When she came home and looked for settings of Sor de la Cruz's poetry she found none, leading to her commission of these settings by Ms. Larsen which were premiered on February 6, 2003 at Emory University with Ms. Gordy at the piano.
&nbsp&nbsp&nbsp&nbsp&nbsp The booklet tells us that Ms. Pomfret selected texts by women with a woman's point of view. "A crucial requirement was the adherence of the vocal line to the original inflections of the spoken text." This point is born out by the natural pleasing sound of the singing by Ms. Pomfret who is a most accomplished art song interpreter. Laura Gordy at the piano is an equal partner in bringing these songs to life.
&nbsp&nbsp&nbsp&nbsp&nbsp The first song on the CD, Un instante me escuchen has gentle music and explores a moment outside of time that gives us a taste of eternity. Of the other song texts, one tells of the excitement of watching the rising sun, two are passionate love songs and the last is an exploration of the balance between happiness and strife. All this is quite contemporary even though written 350 years ago by a Mexican woman, Sister Inés de la Cruz, who was taught to read and write Latin and Spanish by her grandfather. Upon his death she went to live with a wealthy aunt in Mexico City where her good looks and intelligence secured for her a lady-in-waiting position at the court of the Viceroy where she was a favorite. Wishing to live alone and continue her studies, she entered a convent. Later taking vows at a lenient order she had a modern apartment which became an intellectual salon for the city. Her personal library included several thousand books and musical and scientific instruments. We know little of the eight years during which the Viceroy was replaced by a priest but in 1680 with a new Viceroy she again became a favorite of the court. Her life changed radically when her private letter criticizing a priest was published, giving the Archbishop, who despised women, a chance to attack her. She defended herself and all women's right to be educated. After he stole her library and instruments she ceased publishing and died of an unspecified epidemic in 1695.
&nbsp&nbsp&nbsp&nbsp&nbsp The second set is Five Songs by Louise Talma, who died in 1996 and was a force in American music during her long life. Born in New York, she began her musical studies there and later continued with Nadia Boulanger in France (1926-1939). In the early 1940s Talma began her visits to the MacDowell Colony in Peterborough, New Hampshire where her gifts as a composer blossomed. When she died she left the Colony one million dollars to support future generations of artists.
&nbsp&nbsp&nbsp&nbsp&nbsp In her setting of a poem by Emily Dickinson, One need not be a chamber to be haunted (a first recording), Talma makes the piano equal partner to the voice in terms of interesting colors and momentum. This turns out to also be true of her other songs, including two poems by Gerard Manley Hopkins: Glory be to God for dappled things and Spring and Fall; to a young child (another first recording). I especially enjoyed Leap Before You Look with its most interesting piano accompaniment. The poem is by W.H. Auden and challenges us to live life beyond the confines of convention and social approval.
&nbsp&nbsp&nbsp&nbsp&nbsp Augusta Read Thomas, who was born in New York in 1964, is Composer-in Residence with the Chicago Symphony Orchestra through 2006. She has written several song cycles performed during the 2004-2005 season, including Gather Paradise on poems by Emily Dickinson for soprano Heidi Grant Murphy and the New York Philharmonic Orchestra. The selection here is among dawn flowers with haiku text by Basho (1644-1694) and demonstrates Ms. Thomas' affinity for the voice. These are delicious settings with some open plucked strings of the piano and elongated cadence of speech achieving a chant-like feeling. The second setting ends with these words: "How I long to see among dawn flowers the face of God."
&nbsp&nbsp&nbsp&nbsp&nbsp Margaret Bonds' best known art song cycle is Three Dream Portraits on poems by her friend Langston Hughes. Minstrel Man shows how the black man masks the pain of being denied equality to show a persona of the entertaining singer/dancer with his "mouth wide with laughter." The music draws on the minstrel tradition to make the point. Dream Variations is full of hope where, out of public view in her own heart, the singer celebrates "...to fling my arms wide in the face of the sun, to whirl and dance till white day is done," words that follow with a lovely tone, "then rest at cool of evening beneath a tall tree, while night comes on gently, dark like me." I Too opens with triumphant piano chords setting the mood for this poem of anticipated equality for one who now eats in the kitchen but someday will be welcomed at the table because "...they'll see how beautiful I am and be ashamed."
&nbsp&nbsp&nbsp&nbsp&nbsp The current generation of American composers is represented by Gabriela Lena Frank, born in Berkeley, California in 1972 and educated at Rice University and with a doctorate from the University of Michigan in Ann Arbor. Her set, Cuatro Canciones Andinas has text by José Maria Arguedas - a Peruvian folklorist and poet and an advocate for the Quecha Indians. The texts draw on Indian poetry collected and translated by Arguedas from Quecha into Spanish. Frank uses modern vocal techniques including whispering, Sprechstimme (half-singing, half-speaking) and speaking to create the diverse worlds for each song. Despidida (Leave Taking) creates whimsical miniature worlds where our traveler plays a flute made from the bone of a fly, a banner made from a spider's web and his hat is a hummingbird's nest. In Yo Crío una Mosca (I am Nursing a Fly), a fly that carries love, that carries death, is kept in a ginger ale bottle. The mood of Carnaval de Tambobamba is somber and dramatic with a poem that tells of a young woman who weeps beside the river because her beloved, a flute player and guitarist no longer exists. Yunca tells of the father who makes a journey into the forest, the great forest from which he will never return. These dramatic songs are fully presented by our excellent performers.
&nbsp&nbsp&nbsp&nbsp&nbsp The last cycle returns to the work of Libby Larsen. Songs from Letters: Calamity Jane to her daughter Janey, 1880-1902 is a reminiscence on the mother's life, beliefs and how difficult it is to be old and blind with dignity and honesty. Emotionally moving, this is truly an American woman's tour de force.
&nbsp&nbsp&nbsp&nbsp&nbsp I have listened again and again to this excellent CD and keep finding it a rich collection both musically and intellectually. I highly recommend it. It wipes away any notion that women composers have nothing to say that hasn't been better said by men.
&nbsp&nbsp&nbsp&nbsp&nbsp To order this CD call Albany Music Distributors toll free at 1-800-752-1951 or visit www.arkivmusic.com. Issued by ACA Digital Recordings, Inc. of Atlanta, Georgia, the CD number is ACA CM 20090 and is listed under the title Songs of Women Composers. ACA Digital Recordings has an interesting catalogue of titles, much of it originating from Atlanta.

American Songs
A New CD by Soprano Patrice Michaels
and Pianist Elizabeth Buccheri
&nbsp&nbsp&nbsp&nbsp&nbsp From the heartland of America comes a superb album of American art songs composed between 1952 - 2002. Patrice Michaels concertizes extensively in America and around the world and is joined by pianist Elizabeth Buccheri, one of Chicago's most sought-after musicians, an experienced recitalist who has performed extensively in the U.S. and Europe.
&nbsp&nbsp&nbsp&nbsp&nbsp In the CD booklet Ms. Michaels says "My idea for this disc is to share some of the best and most varied current literature for voice and piano. I hope this sampling will leave you inspired by the breadth and depth of contemporary American song." Of the twenty-seven songs, eight are world premiere recordings.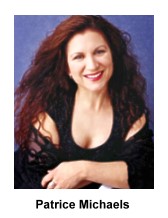 &nbsp&nbsp&nbsp&nbsp&nbsp Repeated listening has led me to conclude that the most unusual song and my favorite is Richard Pearson Thomas's (b.1957) Amarilli, mia bella with 17th century Italian text by Guarino Guarini (1624 -1683). Beginning recitalists know this text set by Giulio Caccini (1546 -1618), an early Italian song still often performed. Accompanied by mallet-struck piano strings played by percussionist Matthew Duvall of the new music ensemble eighth blackbird, this contemporary setting has an Indian raga inflected sound creating a peaceful energy and an enticing sensuality.
&nbsp&nbsp&nbsp&nbsp&nbsp The CD opens with five songs by Lee Hoiby (b.1926) and each has its appeal. In What If the text by Samuel Taylor Coleridge (1772 -1834) tells us that while sleeping you dream, pluck a beautiful flower while visiting heaven and awake with the flower in your hand. "Ah! What then?" Several texts are by earlier English poets. My favorite of his songs is In the Wand of the Wind with text by contemporary poet John Fandel. It is a coloristic piece about nature, a moment in time captured in a poem and set to wild, passionate music with a simultaneous sensitivity to language.
&nbsp&nbsp&nbsp&nbsp&nbsp Three songs by Cleveland composer Leslie Adams (b.1933), Branch by Branch II (text by Edna St. Vincent Millay), Homesick Blues (Langston Hughes) and The Wider View (R.H. Grenville) are familiar to me as sung by tenor Darryl Taylor, but this is the first time I've heard them sung by a soprano. Ms. Michaels sings with a sensuous, warm-toned clarity. Two women composers broaden the diversity of this collection: Lita Grier (b.1937) who now lives in Chicago set Who Has Seen the Wind and Libby Larsen (b.1950) is represented by Perineo, a song that examines and celebrates breathing and uses the sound of breath as an extended vocal technique.
&nbsp&nbsp&nbsp&nbsp&nbsp John Musto was nominated for a Pulitzer Prize for his cycle of five songs Dove Sta Amore (Where Lies Love) and this is their premiere recording. Three are settings of text by mid-western poet Carl Sandburg. Let me urge you to hear these songs at your first opportunity.
&nbsp&nbsp&nbsp&nbsp&nbsp Next come Eric Ewazen's (b.1954) Three Lyrics of Edna St. Vincent Millay and then Dan Tucker's (b.1925) Mots d'Heures: Gousses, Rames. This amusing song cycle uses Luis d'Antin van Rooten's playful poems constructed of "Fraudulent French" words which, when spoken aloud, sound like Mother Goose rhymes in English. Tucker says he only realized the worth of his piece once he heard it sung by Ms. Michaels.
&nbsp&nbsp&nbsp&nbsp&nbsp Bingo by Robert Bowker (b.1945) is a tango version of Maureen Flannery's poem of double-entendres evoking adolescent sexual desire and romance. John Harmon's (b.1935) Light Feet is a scat , a jazz vocalise of meaningless syllables sung to a melody. Composed in 2002, it is a tribute to jazz composer/pianist Bill Evans, written especially for Ms. Michaels.
&nbsp&nbsp&nbsp&nbsp&nbsp The singer has intelligently assembled a versatile selection of songs by living American composers and has created an impeccable CD that deserves a wide audience. The liner notes include an introduction by the singer, texts, needed translations and capsule biographies of the composers. American Songs (CDR 90000 091) is Ms. Michael's thirteenth recording for Cedille (pronounced say-DEE') Records, a non-profit label that is part of the Chicago Classical Recording Foundation, dedicated to showcasing the most noteworthy classical artists in and from Chicago. Ms. Michaels can be reached at her website www.patricemichaels.com.

Printer Friendly Format
Back to Top
Back to Review Issues
Home &nbspCalendar &nbspAnnouncements &nbspIssues &nbspReviews &nbspArticles Contact Us