Elizabeth Hogue's CD of Arias and Portuguese Songs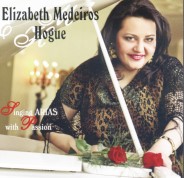 In Elizabeth Medeiros Hogue's 2007 CD we first hear her lush, caressing voice in a traditional Portuguese song, Olhos Negros (Dark Eyes). It is a song of longing for love and her suffering because the beloved lacks faith in the relationship. There is a gentle melancholy, a fatalism and sensuality in these songs, wonderfully alive in her singing. A Casinha Pequenina (Tiny Little House) is a Brazilian folk song. It is a meditation on the house where love was born and now is only a memory of false promise sealed by a kiss. Her third Portuguese song, Canção do Mar (Song of the Sea), is a fado (Portuguese cabaret song) used in a popular film. This tune, in an English translation, may be familiar to the listener from Sarah Brightman's CD "Harem." Ms. Hogue's producer, Hernãni Raposo, did the arrangements, playing the bass, Portuguese guitar (pitched a little higher than a Spanish guitar), classical guitar, keyboards, drums and other percussion, creating a musical setting for Ms. Hogue's passionate, fearless, powerful singing.
Our Tidewater readers know her voice from roles she created on stage with Virginia Opera, especially as Queen of the Night in Mozart's Magic Flute and as one of the Valkyries in Wagner's Die Walküre. Honoring her parents and siblings in the liner notes, Ms. Hogue sings eight arias on the album titled Singing ARIAS with Passion. With a joyous spontaneity she gives us the most popular soprano arias from Puccini's Tosca and La Rondine; Verdi's I Vespri Siciliani, Il Trovatore and eight minutes of glorious singing from La Traviata, Vilia from Lehar's Merry Widow and Casta Diva from Bellini's Norma. She was understudy for many of these roles at Virginia Opera and has sung others in Virginia Opera outreach programs.
Ms. Hogue studied at the New England Conservatory of Music for one year, then returned home where she took a degree in theater at San Jose State. Her father, Aries Medeiros, was a popular radio host on the Portuguese language station in San Jose. He is now in New Bedford/Fall River honoring requests for the most popular song from his daughter's CD, the Brazilian folk song A Casinha Pequenina on the Portuguese language station there. The Portuguese Times in New Bedford in January of 2008 honored Singing ARIAS with Passion as CD of the year. The reporter Francisco Resendes wrote that her CD was the best within the community of Portuguese artists. He states that it is extraordinary that Ms. Hogue's powerful voice is able to interpret and transmit the emotion suggested in any poetry and that she is truly a great artist.
To order Singing ARIAS with Passion visit Elizabeth Hogue's website at www.elizabethhogue.com

Guitarist Anibal Acosta on CD
The eloquence of a beautifully played guitar offers a counterpoint to the frantic pace of modern life. Guitar music has been said to come up inside you from the earth through the soles of your feet. Anibal Acosta's beautifully shaped guitar phrasing has been an important part of several concerts this season in Tidewater. We have also happily listened to his CD Sonnet (S62003), a collection of Renaissance solo guitar music from England, France, the Netherlands and Spain. The music was written for lute and vihuela de mano, a stringed instrument plucked by hand and found mainly in Spain in the 15th and 16th centuries and a forerunner of the modern guitar.
The CD booklet is a short course in the development of lute music which evolved in the Renaissance period (1430-1600) from an accompaniment for vocal music into a solo instrument with "music rich in style, variety and number." The best known piece is Lachrimae by John Dowland (1563-1626) but Dowland's compositions are only the beginning of this sampling of the pleasures of early guitar music.
Now settled in Virginia Beach, Dr. Acosta took his doctorate in classical performance from the Manhattan School of Music and taught in New York City for five years. In 1995 he gave his New York debut at Weill Recital Hall at Carnegie Hall. Later that year he suffered injury to his right hand which forced him to concentrate mainly on composition. In 2002 he resumed his concert career. The CD Sonnet was released in 2003.
A second CD, released in 2007, is a collection of Baroque duets for recorder and guitar with Stephen Walsh on recorder. The CD is titled Music from the Lower Tree House Tavern. The title comes from a Hamburg, Germany tavern where Georg Philipp Telemann (1681-1767) played his secular compositions. Music by Handel (1685-1759) and Bach (1685-1750) are featured along with Telemann. The surprise is two sonatas by Johann Christoph Pepusch (1667-1752), another German transplant to England, like Handel. He came in 1704 as a viola and harpsichord player and moved there as a protest, looking for the protection of a government founded on better principles. He lived in London for 48 years and died there. He probably wrote the overture for John Gay's The Beggar's Opera but there is no evidence that he arranged the airs. He was the most learned musical antiquarian of his day. He wrote lively theater music and elegant cantatas and many chamber sonatas including the D minor and G Major on the CD. His is very inviting music and well played here.
Stephen Walsh, a self-taught recorder player has a degree in music history from West Virginia University and has studied piano with June Trayhern of the Eastman School of Music. He plays some nimble dance tunes floating above the guitar but there are somber moods created in other movements. The natural flow of melody in duets gives a feeling of the rightness of the players' skill and understanding of this historic music.
Anibal Acosta and Stephen Walsh's CDs are available at their concerts.

Printer Friendly Format
Back to Top
Back to Review Issues
Home &nbspCalendar &nbspAnnouncements &nbspIssues &nbspReviews &nbspArticles Contact Us