Songs of George Whitefield Chadwick
Glenn Siebert, tenor; Peter Kairoff, piano
CD Review by John Campbell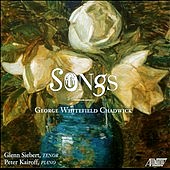 In late 2012 Albany Records issued a CD (TROY 1387) by a major composer of the New England classicists from the turn of the nineteenth century, George Whitefield Chadwick. This CD, with twenty-five selections, fills a large gap in the recorded repertory of this bygone era.
Chadwick 's songs display energy, humor and a kind of audacity giving them a refreshing American flavor, this in a time when German Romantic music dominated the classical scene in the United States. In the period from after the Civil War until the First World War aspiring American composers went to Germany to study. They returned home to compose and to teach, raising the technical level of American music making to a par with Europeans.
Chadwick was born in Lowell, Massachusetts. His parents were musical amateurs, probably having met at a New Hampshire singing school. After college he gave up business and at age 23 went to study music in Munich and later Leipzig.
After study in Germany the twenty-six old Chadwick returned to Boston in 1880 and began his career as a composer, teacher and conductor. Within two years he was hired to teach at the New England Conservatory of Music. Fifteen years later he became director of the conservatory and remained so until his death. His innovations at the NEC included an opera workshop, a repertory student orchestra and courses in orchestration and harmony, studying actual music rather than abstract principals as it had been before.
The singer, Glenn Siebert, has a pleasing voice and crystal-clear diction. The balance of voice and piano is excellent. The CD booklet has complete texts and some brief descriptions and a pretty cover picture "Giant Magnolias" by Childe Hassam (1859-1935).
The opening song, When Stars are in the Quiet Skies (1910), is one of only four Chadwick songs we previously had on CD. The text by Earle Bulwer-Lytton (English poet 1803-1873) is described as "an exquisite work" by tenor Robert White who sings it a full minute faster than Mr. Siebert.
The Lupine is typical of the cycle of twelve Flower Songs with texts by Arlo Bates, a fellow Boston men's club member. The cycle is like a bouquet of flowers with imagery evoking romantic longing, flirtation, sensuality or loss. The pace and liveliness reminds one of Schubert. In The Jasmine the singer tells of the sweet perfume of the flower in a warm, moonlit night creating a musical sense of passion.
There are several songs of sweet innocence. The Curfew (Henry W. Longfellow) is about the coming of night at close of day. The Daughter of Mendoza (M.B. Lamar) is a love song with a Spanish flavor and comes after a crooned Lullaby. The Recruit is a rollicking Yankee dance.
Two songs that make a strong impression have texts by David Stevens who also wrote the libretto for Chadwick's only tragic opera The Padrone which had its premiere in a concert performance in September, 1995 (New York Times 9/24/99). The songs are That Golden Hour which speaks of a rapturously sensual encounter and Yesterday which wishes to turn back time to a romantic event in the past.
While in Europe Chadwick joined a group of young vagabond painters for a summer trip to Giverny, France and was tempted to stay in France to study with César Franck. How different his status might be today if he had. In America he championed performances of Berlioz, Saint-Saëns, Glazunov and Brahms. His success in introducing wider repertory helped break the grip of German music on American audiences. With the coming of Impressionism his songs were swept away. This CD is a step toward reclaiming this part of our American art song heritage.
If you want to explore further there are three other Chadwick songs on Song of an Innocent Age (Albany TROY 034-2) with tenor Paul Sperry and pianist Irma Vallencillo: Adversity, Euthanasia and The Danza. The CD has thirty other songs with many of them written to be sung around the piano in the parlor composed by Amy Beach, Edward MacDowell, Carrie Jacobs, John Alden Carpenter and a dozen others. Most of these songs became popular and made their way to the concert hall only to be abandoned when recordings came into vogue.

CD Review: In This Moment, Women and Their Songs
Albany Records TROY 1432
Katherine Eberle, mezzo-soprano; Ksenia Nosikova, piano
Review by John Campbell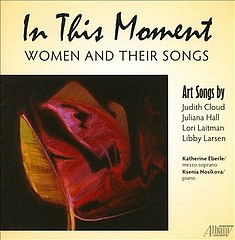 There will always be new songs to discover and the CD In this Moment, Women and Their Songs (2013) offers twenty-one recent songs by living women composers: Judith Cloud, Juliana Hall, Lori Laitman and Libby Larsen.
This CD is a labor-of-love for the singer, mezzo-soprano Katherine Eberle, currently a professor at the University of Iowa. She is joined by Ksenia Nosikova, a professor of piano at the University of Iowa. Both women have had substantial professional careers as prize-winning performers and educators inspiring students to excellence. Their biographies are outlined in a very attractive CD booklet which also gives biographies of the composers and includes texts of all the songs.
Composer Juliana Hall's Letters from Edna (1993), 8 Songs on Letters of Edna St. Vincent Millay open the CD. The whimsical, sensuous personality that comes through in the letter texts set to music here show us facets of a great American poet who called herself Vincent.
In 1923 she was the first woman to win the Pulitzer Prize for Poetry. In the first, coquettish song, titled To Mr. Ficke & Mr. Bynner she is protesting their thinking that she is a forty-five year-old man rather than the twenty year-old woman she is (as described in her bio in the poetry collection titled The Lyric Year). This volume also contains poetry by Arthur Davidson Ficke and Whitter Bynner who had been friends since their days at Harvard.
Two other letters are also to Ficke who became a lifelong friend. Bynner eventually proposed to Vincent who accepted, then he backed away from her. His homosexuality may have played a role in this. (Savage Beauty by Nancy Mitford).
To Harriet Monroe is all about asking for an advance. Monroe was editor of Poetry Magazine. Other letters are to her sister, Norma Millay (Ellis) and the last selection is a letter to her much-loved and admired mother who encouraged her gifts. (Savage Beauty).
Ms. Eberle's singing has a "fraffly" English quality and not the plain-spoken American sound I had expected.
Two songs by Lori Laitman (b.1955), Homeless (Michael Flack) and Echo (Christina Rossetti) have been recorded before by baritones but this is the first time by a mezzo-soprano. Ms. Laitman's sense of musical narrative is strong and emotionally inviting.
Libby Larsen's Raspberry Island Dreaming is a set of three river songs: The River Is (Joyce Sutphen) captures the sense of the flow of a river described in metaphoric images; Where the River Bends (Sutphen) tells a tale of a group outing and captures the experience of a blissful moment in time. Raspberry Island paints a picture of activities on or near the river and incorporates the text of the hymn Shall We Gather at the River at the end, re-imagined by the fertile imagination of our beloved Libby Larsen.
Judith Cloud (b. 1954) is a composer new to me. The CD offers eight of her songs. She received her undergraduate degree at the North Carolina School of the Arts before study at Florida State University where she earned her doctorate. She later was on the faculty of the North Carolina School of the Arts. Currently she is Coordinator of Voice at Northern Arizona University in Flagstaff where she teaches voice and vocal pedagogy.
I struggled to like the songs by Ms. Cloud. There was a glimmer of hope in her setting of The Shape of Laughter (Betty Andrews) (1994) with its lively piano and its brief, expressive text. When I was Young, also with text by Andrews, had a nice energy speaking of the seasons of love but phrase endings of long-held wobbly notes soon overwhelmed my patience. Songs from 2002 on poetry of Silvia Cubelo were The Lake has Swallowed the Whole Sky, The Room was a Pond and Death of the Tango. All had steady, slow-paced settings of probing texts. Even Drinking Song was ponderous and overdrawn. The text spoke of myriad emotions, but these were never captured in the music and the sound of the voice did not help relieve the monotony. Hearing the poetry read aloud by a more dramatic voice would be superior to this experience.
It is important to have this repertory on CD to bring the songs to the attention of a wider audience. But to build an audience for art song in our time with so much competing media content, a voice of vocal beauty and wide ranging expression is essential. Think of this CD as a reference recording for the art song specialist.

Printer Friendly Format
Back to Top
Back to Review Index
Home &nbspCalendar &nbspAnnouncements &nbspIssues &nbspReviews &nbspArticles Contact Us