Open Thine Heart, Albany Records Troy 1431 (August 2013)
Art Song Recital: Soprano Marcía Porter & Pianist Valerie M. Trujillo
Contemporary American Songs by Tom Cipullo, Antonio Carlos DeFeo, Jacqueline B. Hairston & Gary Powell Nash: 2013
CD Review by John Campbell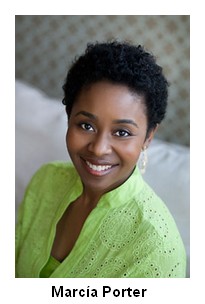 On this excellent CD of contemporary compositions, the program opens with songs by Antonio Carlos DeFeo in a cycle Songs of Separation. The first song, When We Two Parted, with text by Lord Byron (1788-1824), is the story of a secret love that ends when the lovers part. The setting is well-paced and tuneful with a pause in the last stanza after the question of "How should I greet thee after long years." After a long piano interlude the answer comes: "With silence and tears."
Not all separations are to be regretted. The text by poet George Meredith (1828-1909), By this he knew she wept with waking tears sparked music that honored the depth of his words. The parting ended "their dead black years" in a setting that is emotionally powerful. The third song is of parting from an impossible former lover, Since there's no help, come let us kiss and part, text by Michael Drayton (1563-1631). There is hope that cleanly letting go may rekindle love after all. Ms. Porter's lovely sound and a composer who allows the words to breathe naturally are a winning combination.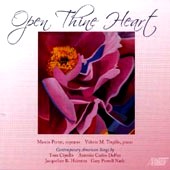 DeFeo's second set has texts from Sonnets from the Portuguese by Elizabeth Barrett Browning. I read these heady, romantic poems first as text and then listened to see if the settings added to my understanding and feeling. Yes! They are excellently illuminated by the composer. The album title comes from the closing line of Sonnet XXXV: "Open thine heart wide and fold within… ." In the second, Sonnet XI, the poet does not feel worthy of his love: "I am not of thy worth nor for thy place." She decides to love in vain and bless him and "yet renounce him to his face." In Sonnet XXIII she forgoes her sweet view of heaven for time on earth with him.
On conscious streams is the title of Jacqueline B. Hairston's song cycle and the first song. The text is assembled by the composer out of clichés. For example, "Tomorrow will wait for no one," "Lest he knows from whence he comes." It is a very short song with uplifting energy and a display of vocal beauty. Thou alone canst inspire is a translation of a text by Ludwig von Beethoven, set for a laser-precise high voice. The third song, The season of remembrance (text, Dr. Howard Thurman) is the longest song and has the most substantial message. Ms. Porter sings of the renewal of hope after anguish, when dreams are reclaimed in a "Time of Recollection."
The cycle Two Songs (of Paul Lawrence Dunbar) (1872-1909) speaks of birds, bees, robins, roses and a maiden who meets a youth in innocent love poems set by Gary Powell Nash. In Song I there is a boogie-woogie beat as the robin sings a madrigal to his love sitting on the nest nearby. In Song II the bird is empowered to stay near the poet's beloved and use his eloquence on the poet's behalf. All are sung in a high soprano setting that soars and lingers there. Even in this high tessitura Ms. Porter's diction was superb and her voice was pleasant to the ear.
Tom Cipullo's setting of three contemporary poems is called Late Summer. The caressing sound on the word "Crickets", also the titleof this song with text by William Heyen (b.1940), celebrates evening with lightning bugs on lawns not sprayed with poisons, urging us to listen to crickets with legs scraping together. Ominously set, he wants us to listen, maybe for the last time. …Summer into Autumn Slips (Emily Dickinson, 1830-1886) opens with a bold piano that after a brief verse captures the ambivalence of giving up our love of summer for autumn. Touch me, with text by Stanley Kunitz (1905-2006) feels sad. He is resigned to the brevity of passionate love recalled many years later. It showcases the pianist's and singer's ability to create somber moods equally well.
A second song cycle by Cipullo, In the middle of life (2000-2002) completes the album. All are settings of poems by Linda Pastan (b. 1932). The first song, Because, is a list of contradictory whimsical statements, with the great line "because Stanly Kowalski shouted 'Stella.'" The solution was to say yes to a new love after voicing all her contradictions. The song Drift is a gently set poem of being comfortable in a relationship. The poet explores, then explores more deeply, each partner's unique needs.
In back of has a rippling, fast-paced piano accompaniment and is about the ambivalence of staying in a relationship. RSVP Regrets Only is a total renunciation of the couple's ever having meet. The title song, In the middle of life, closes the cycle and explores reaching a kind of stillness—an equanimity of internal peace, just letting life (or death) unfold. There is potent singing by Ms. Porter with excellent support from Ms. Trujillo. Do not miss this CD.
Texts are in the booklet as are biographies of the composers and pictures of the artists.

As you set out for Ithaka
Music by David Ashley White
Albany Records TROY 1419, 2013 Release
Review by John Campbell

The CD opens with Two Choral Sketches, a lovely, gently flowing Beauty is in the Garden of Love (French folk text in English) and by contrast Oliver Cromwell (Suffolk, England nursery rhyme). Betsy Cook Weber conducts the Moores School Concert Chorale of the University of Houston. This recording grew out of a 2009 concert organized by Ms. Weber to celebrate composer David Ashley White's birthday. Students and current and former faculty of the Moores School of Music performed then and for the CD.
This vividly recorded selection of White's compositions includes five choral pieces, three chamber music settings of art song cycles, two solo piano pieces and a trio for saxophone, viola and piano—nearly 70 minutes of music.
The second selection, Homages, features the full, rich mezzo-soprano voice of Melaine Sonnenberg accompanied by evocative viola (Wayne Brooks) and piano (Timothy Hester). The four songs, performed as a single unit, use English metaphysical poetry by John Donne and George Herbert. It is heart-wrenching music of great beauty to texts that speak of sin, righteousness, tears and death and shows a kinship to the overwrought passion of the late Romantic composer Alban Berg. There is a depth and strength in this piece rarely touched by contemporary composers.
Ms. Sonnenberg is superb here and in the title song that completes the album: As you set out for Ithaka (C.P. Cavafy). There is humanist grandeur in the texts composer White chooses. The poem Ithaka, used at Jackie Kennedy's memorial service, emphasizes the journey through life as what is important, the experiences we gain, not the end we reach. Ms. Sonenberg originally suggested the poem to the composer.
Bass-baritone Timothy Jones, with Nancy Weems on piano, sings the cycle To Hear in Rapture, settings of Journey to the Interior (text William J. Smith, b. 1918) and A Dream of Nightingales (David Bergman, b.1950, an early leader in Gay Studies). The voice is excellent as he sings "every road leads on within and none leads out" in the first song and in the second song, about death – "Did he then reveal himself as last as you believed he'd be – pure and beckoning?"
Five Glimpses for solo piano (Timothy Hester) grew out of a graduate class assignment that evolved into a five-minute work that shows a lighter side of White's work. Phantasy and Toccata is weightier, with a modernist musical sensibility. Aria from Songs and Dances for a Celebration features Karen Wylie on alto saxophone, Rita Porfiris on viola and Ruth Tomfohrde on piano. They give a singing, soulful reading of music that is adapted from a hymn tune by the composer.
The other four selections are choral. Inspired by Gerald Finzi's masterful solo setting of Fear no more the heat of the sun, White set this text as a funeral dirge for Ms. Weber's women's chorus a month or so before 9/11/2001. He now sees it as a fitting tribute to all those who died on that fateful day.
Two songs from White's cantata This Bitterly Beautiful Land draw from early Texas life - the minor key white revival hymn I will arise and go to Jesus (a hymn I loved as a child) and the traditional black spiritual Oh, my lovin' brother. Carols for the Nativity (1981), written for a commission, use Middle English macaronic ( a mixture of Latin and English) carol text: Blessed May Thou Be, found in the British Library and A Song to Sing form the Bodleian Library.
The last choral songs are Evening-Star, I Saw Eternity and To be Sung on the Water from the suite The Blue Estuaries, named after a collection of poetry by Louise Bogan. Atmospheric washes of vocal color set off the earthy ecstatic poetry.
Over the three months I have had this CD I have returned to it again and again and enjoyed it each time. There is fine music-making to be found here. Listening with the furnished texts in hand is recommended.
Printer Friendly Format
Back to Top
Back to Review Index
Home &nbspCalendar &nbspAnnouncements &nbspIssues &nbspReviews &nbspArticles Contact Us