CD Review: In My Memory: American Songs and Song Cycles
Music by Libby Larsen, Lori Laitman, Tom Cipullo and Richard Pearson Thomas
Kerry Jennings, tenor and Amanda Asplund Hopson, piano
Centaur Records CRC 3296 (2013)
Review by John Campbell, May 22, 2014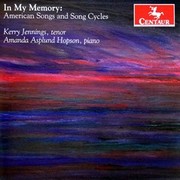 The CD opens with a cycle of seven songs, My Antonia, by Libby Larsen on prose text chosen from Willa Cather's book My Antonia, published in 1918. Willa Cather (1876-1947) was born in Winchester, Virginia but her formative years were spent in Nebraska. Her text captured the challenge and beauty of life for a woman during the settling of the Great Plains.
We were privileged to chat with Libby last evening at Old Dominion University where the John Duffy Composers Institute is in full swing and she shared with us her enthusiasm for the CD: "Kerry's recording is the definitive reference of this music." Libby Larsen had met Kerry Jennings at a masterclass organized by Karen Hoy at ODU in 2009 during the Duffy Institute when he was coached by her in another of her songs. Libby Larsen suggested that he record the My Antonia cycle. It took several years because, as Kerry says: "I have been searching for music that I loved that could stand-up to her genius."
I would recommend that readers first read the poetry set by the composers for they have all carefully chosen deeply personal, meaningful texts—moments in time, nostalgic moments that offer to the listener a genuine experience. Nature is an anchor point for 3 of the poets and human nature, for all of them. No description by me can capture the beauty and pain and sense of openness of the Great Plains but Libby Larsen's songs do.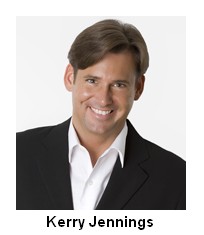 The line, "I am drifting back into your body" from Invocation is set by Tom Cipullo from poems from William Heyden's 1992 book Long Island Light. Cipullo's set of four songs distills the essence of his youth in Long Island Songs when nature and small moments of being alive are remembered. All of this before traffic jams and strip malls existed—a bittersweet memory now. Of the CD, Cipullo has written to Mr. Jennings: "In My Memory is a beautiful disc, beautifully performed. The artistry and conviction of both you and Amanda is compelling."
There are two songs by the prolific composer of art songs, Lori Laitman. The Apple Orchard with text by Dana Gioia is a reminiscence, recalling that moment long past, of being in love but never lovers on an April day with blossoms open and he hesitatingly unsure. The second song, On A Photograph…, on a poem by John Wood, is a superb example of her art song writing skill. The poet looks at a photograph of two men and imagines their life together as a couple. Mundane events and their deep understanding of each other are captured convincingly in the flexibility of tempi matching the conversational tone of the poem. Ms. Laitman wrote to Mr. Jennings "…The tempo changes in On a Photograph are so important and so difficult, but you and Amanda nailed them. I am delighted." This is the debut recording of On a Photograph I Found of Two Young Factories Workers Standing beside a Piece of Heavy Machinery Inscribed on the Reverse "Sacred to the Memory of Friendship."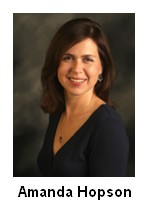 The 53 minute CD offers six related songs by Richard Pearson Thomas titled Far Off. The text is by the beloved Greek poet Constantine Cavafy, translated into English by Rae Dalven. The cycle is bookended by poems that suggest that an old poet is recalling through the fog of time, flashbacks to events that feel ageless. The music is modal, and the distant sound of strings strummed inside the piano enhances the timeless quality of the text. Standing on the edge of the Morning Sea the poet has visions of sensual delight, of a Body Remembered… A boy's beautiful body seen At the Café Entrance...One Night "on a much-used lowly bed I had the body of love…the voluptuous rosy lips of such ecstasy…even now as I write after so many years in my solitary house, I am drunk again." In Despair the poet looks to find that past perfection "on the lips of others." Far Off is about memory—faded now…remembering the eyes…blue, yes blue, a sapphire blue." Poets, composers, singer and pianist all conspire to give the listener a superb journey through a variety of experiences—all memories, all so very real.
There is a maturity of thought that carries us into a new century of intelligent art song. Demanding musically, the challenges are met by Kerry Jennings and Amanda Hopson, allowing the listener to revel in the calm, thoughtful beauty of it all. This CD is not to be missed.

CD Review: The Lyric Clarinet
F. Gerard Errante, clarinet
Review by John Campbell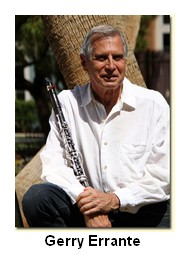 In 1970 Clarinetist F. Gerard Errante took a teaching position at Norfolk State College (now University) and promptly joined the Norfolk Chamber Consort. The following year, he and fellow musician Allen Shaffer became the leadership team of NCC where the focus was on new music. Errante was often featured in music for clarinet, sometimes electronic pieces with live clarinet accompanying a computer-generated second voice. Errante relocated to Las Vegas, Nevada in 2008 and has since been an occasional player with NCC.
Still performing, he can be heard on two CDs: Delicate Balance (2010) (www.aucourantrecords.com) with 10 pieces that "are intended to be calm, peaceful and tranquil" and feature his clarinet in electronic works—more crossover than classical.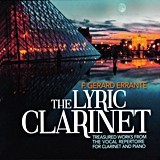 In early 2014 Gerry Errante released The Lyric Clarinet with 21 tracks. The voice is Errante's clarinet. The repertory ranges from three songs by Carlos Guastavino (1912-2000) and Veron Duke's I Carry Your Heart to Lori Laitman's The Apple Orchard, Barber's Sure on this Shining Night and Triste/Send in the Clowns by Alberto Ginastera and Stephen Sondheim. The longest set is 7 French tunes by Debussy and Poulenc. German lieder, 6 in number, features Brahms, Schubert and Schumann.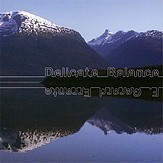 Errante's musical collaborators on the CD are Philip Fortenberry—a new age and inspirational pianist, Voltaire Verzosa, Principal pianist for the Las Vegas Philharmonic who is also a countertenor and college professor, and clarinetist D. Gause, a widely traveled performer and composer of popular and new age music. One of the most interesting tracts is her song Lunar Lace. On the earlier Delicate Balance CD, Gause's composition rain of the heart, rain of the soul can be heard as well as pieces by nine other innovative, living composers , including Judith Shatin of the University of Virginia.
The Lyric Clarinet can be ordered at www.ravellorecords.com.

CD Review: Deep Water: The Murder Ballads by John Allemeier
Albany Records Troy 1488 (total time: 56:23)
Recorded Acoustic Barn Studios, Charlotte, August 2011 – June 2013
Review by John Campbell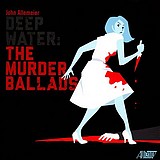 This CD contains the instrumental music of an evening-length collaboration by composer John Allemeier and dancer/choreographer E.E. Balcos premiered at the University of North Carolina, Charlotte College of Arts and Architecture on May 31, 2014. Both are on the faculty there. Three, nineteenth-century "high country" North Carolina murder ballads furnished the narrative for the ballet. The music is not folk music but rather audio abstractions that capture the emotions of the stories. There is no vocal music but the texts are included in the CD booklet.
The music, in three sections, begins with Poor Ellen, Part 1: Overture and Contradance and is an emotionally potent string quartet piece that captures the underlying grief of a sad subject. A young woman, Ellen, is murdered by her lover. Performed by the Madison Park String Quartet, the opening has a static quality of folk music played with open strings on all four instruments. The faster section that follows features strumming and finger-picking on the prominent cello with syncopated double-stops on viola and second violin and modal passages on the first violin. A country dance follows with plucked cello strings and fiddle melodies.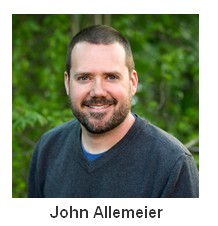 Poor Ellen, Part 2: Tragedy and Regret has a spare, tender opening. A folk-like theme unfolds very slowly and is replaced by a frantic "Tragedy" movement depicting the violence of Ellen Smith's murder. The climax is intense, only to give way to "regret" with the added texture by the second violin pizzicato.
The second section, Pieces of Silver, contains three titles: Hunting, Lullaby and Confrontation. Clocking in at a little under 20 minutes, Shawn Smith conducts the five-member ensemble of violin, cello, flute, clarinet and percussion. This somber music is slow-paced with colors by a variety of instrumental timbres, especially percussion with an African/jazz flavor. Hunting is suspenseful with a repetitive phrase that brings to mind "Water Wheel" by Hamza El Din, recorded some years ago by Kronos Quartet. The quiet Lullaby is followed by Confrontation, still, slow-paced and meditative but with more complexity. Musical lines chase each other, punctuated by deep, bass drum-strikes that create an irregular unsettling rhythm—a sort of fast paced, off-center dance.
The third ballad, Deep Water, eliminates the strings and adds saxophone, English horn, flugelhorn, trumpet and piano. Floating opens with a drum solo and a sweet piano tune followed by horn, moving steadily toward a climax. Seduction is Schoenbergian in its troubled mood. If these are birdcalls they must be jailbirds in Monster with its deep piano notes at the end. The final movement, Struggle/Reprise, after repeating earlier material, is more spectacular with a rush of piano, horn and quiet drums in an improvisational, jazzy exploration. It winds down to a spare, quiet end.
The online review of the accompanied dance pieces can be found at Classical Voice North Carolina (www.cvnc.org) and is a very different experience than listening to the recording I heard.
Back to Top
Back to Review Index
Home &nbspCalendar &nbspAnnouncements &nbspIssues &nbspReviews &nbspArticles Contact Us