Countertenor Chris Dudley: Three CD's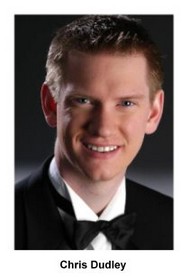 The most recent (2010) of Chris Dudley's three CD's featuring Renaissance music - early 15th to early 17th century, is Claudio Monteverdi Vespro della Beata Vergine (Vespers of the Beloved Virgin). The Countertop Ensemble has fourteen singers with Chris Dudley as countertenor and artistic director. The work is a collection of fourteen motets composed and performed in Mantua, Italy in 1610. Five are settings of Psalms 109, 112, 121, 126 and 147. The Orchestra of the 17th Century (11 players) on two CD's offers this major work of the Renaissance. Sections are often performed with other period pieces but seldom is there a complete performance.
Monteverdi has been compared to Shakespeare in his importance in the Renaissance era. Using traditional forms he transformed every genre using available styles in imaginative new ways. (The Oxford Dictionary of Music).This is not stuffy, old church music – there is color and drama here. Elements from Monteverdi's operas and secular madrigals inform his settings. He offers sections of traditional polyphony contrasted with the rich concert style of expanding orchestral forces and dramatic singing. For example, the instruments include three cornettos (cornets), three sackbuts (early trombones), three strings, theorbo (a type of lute) and organ. The vocalists include five sopranos, two countertenors, one alto, four tenors and two basses.
The CD from 2005, Seraphic Flames, features duets, trios and quartets of Renaissance and Baroque pieces by composers from England, Spain, Germany and Italy. Soprano Kathryn Muller is billed as "top" of the Countertop Quartet; Marjorie Bunday sings as alto and mezzo-soprano. The remaining members are two countertenors from Great Britain, Nick Pepin and Chris Dudley, who are also featured singers on the 2007 CD titled Reflections Across the Pond with Neil Weston, organist.
On both of these CD's you will find songs by Henry Purcell (1659-1695), acknowledged as among England's greatest composers in his lifetime but he had been dead 200 years before this judgment of his worth became widely accepted. Benjamin Britten (England's 20th century phenom) and other British composers helped restore Purcell to his rightful place in concert halls. The authentic style revolution in the last half of the 20th century has also helped. His brilliance of invention, his sense of drama and his "common touch" let us feel close to his music. On these CD's the communication of the music is direct, immediate and the singing is unfussy. Refections . . . includes songs by John Dowland, Britten and other recent English composers: Percy Grainger, Roger Quilter and Peter Warlock.
The pianist is June Clark who trained at the Royal Academy of Music and is well known to BBC broadcast audiences. She is also a composer and has 35 published works and is also Nick Pepin's mother. For Reflections . . . she arranged seven spirituals as countertenor duets. With the great familiarity of Deep River, Where You There?, Balm in Gilead and Shenandoah these comfortable duet arrangements are not likely to become favorites in America but … across the pond they may introduce a new audience to these powerful songs.
Notes, text, translations and how to acquire these CD's can be found at www.countertopquartet.org and http://dudleyalto.com/. The performance and sound quality are all first rate.
Printer Friendly Format
Back to Top
Back to Review Index
Home &nbspCalendar &nbspAnnouncements &nbspIssues &nbspReviews &nbspArticles Contact Us