So Much Beauty
by Janeanne Houston, soprano
and Robert Jorgensen, piano
&nbsp&nbsp&nbsp&nbsp&nbsp An early March e-mail brought us an offer of a new CD to review. It sounded good to us and so we said yes. A few days later from Seattle, Washington we received the CD in the mail. It has given me much joy to become acquainted with this music as I come back to hear it again and again.
&nbsp&nbsp&nbsp&nbsp&nbsp This CD is a labor of love by all the artists involved. The artwork on the cover catches the eye and inside the booklet there are quotes about nature by the naturalist John Muir (1838-1914) and an exquisite pastel drawing of a poppy by Darwin Nordin. The songs are a collection of contemporary pieces with a single exception, Rhapsody by Gerald Finzi (1901-1956), who sets the poem by Thomas Traherne in which we are asked to experience the world of nature as a newborn baby would, the raw newness of the beauty of Eden as Adam might have experienced it. I cannot capture the essence of this song. You must hear it!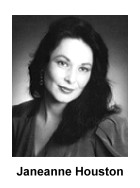 &nbsp&nbsp&nbsp&nbsp&nbsp Ms. Houston has an excellent high soprano voice and her accomplished interpretations of this eclectic selection of songs has depth and variety. The CD opens with three selections by Richard Hundley (b.1931): Straightway Beauty on Me Waits, Softly the Summer and perhaps his most poignant song, Come Ready and See Me. With their conventional texts, they are a contrast to the quirky, intriguing poems by Emily Dickinson set by Lori Laitman (b.1955): Wider than the Sky, Good Morning, Midnight and If I. The settings seem just right for these poems, both melodic and accessible.
&nbsp&nbsp&nbsp&nbsp&nbsp The pianist, Robert Jorgensen, proves himself to be an excellent composer as well as performer in his song You Are, Vicky Edmonds' light-hearted exploration of a deep psychological message.
&nbsp&nbsp&nbsp&nbsp&nbsp This is followed by In the Almost Evening (A Nocturne for Soprano, Clarinet and Piano) by Dan Locklair (b.1949), a native of Charlotte, North Carolina, who set three poems by Joy Kogawa, one of Canada's most acclaimed writers: In the Almost Evening, Snake Dance and Breezes, make up the subtle text about human loneliness and the complexity of communication even between partners. The clarinetist is the able Craig Rine. The composer has described the second movement, Snake Dance, as a "slippery dance for soprano and clarinet alone." The first and third movements are for the trio of performers. "Here the reverberant and rippling piano provides a tapestry on which the movements rest. Above the piano, the soprano - as both a traditional singer of text and as a textless instrument - and clarinet interweave . . . to express the contemporary words."
&nbsp&nbsp&nbsp&nbsp&nbsp The ambience of the recording space often enhances the songs. Al Swanson, who has been the recording engineer for the Seattle Symphony since 1984 and specializes in audiophile acoustic recording, did the engineering, editing and mastering of this CD. The two selections by Welsh composer Hilary Tann (b.1947) with poems by Welsh poet Menna Elfyn, written especially for the composer, have the flow of a clear mountain stream: A Girl's Song to her Mother and Wings of the Grasses. Ms. Houston is accompanied here by Shannon Spicciati on oboe.
&nbsp&nbsp&nbsp&nbsp&nbsp The haunting song Before Winter asks the beloved to "wait with me" through cold, harsh and lonely times, and ends with this line: "Convenience is seldom the right visit, but we are made real by sacrifice." Carol Sams (b.1945) has set texts by Arthur Mampel for this song and also The Uneasy Story and Aware. Unified in mood, these songs were written at a time of personal challenge "and are a spiritual exploration of meaning in ordinary human events and their place in our comprehension of our lives."
&nbsp&nbsp&nbsp&nbsp&nbsp Edwin Penhorwood's (b.1939) song The Night is a cosmic love song. When Heaven Cries explores the ordinariness of tears shed by a sad lover. The exuberant Come Walk in the Garden with Me gives full glorious expression to Ms. Houston's upper vocal range.
&nbsp&nbsp&nbsp&nbsp&nbsp The final selections on the CD are by David Burge (b.1930), an avant garde pianist, well-known for his recordings of George Crumb and William Albright, master classes, teaching and writing. In recent years Burge has returned to his early passion for composing, and drawing on his love for German lied he has composed a six-song cycle, interspersed with four piano solos on a woman's progression from childhood through old age. Robert Schumann's Frauenliebe und Leben was the inspiration and here we have two songs followed by a piano solo Renewal. First Love ends each verse with a varied vocalese that seems improvisational, allowing the voice to bloom, especially in high notes, with masterful piano accompaniment. The final song Song in Memoriam September 15, 1989, Jan DeGaetani is a lullaby.

The CD can be purchased at http://dslweb.nwnexus.com/nwac/beauty/
Back to Top
Back to Review Index
Printer Friendly Format
Home &nbspCalendar &nbspAnnouncements &nbspIssues &nbspReviews &nbspArticles Contact Us