Book Review: Lotte Lehmann & Her Legacy by Gary Hickling
Review by John Campbell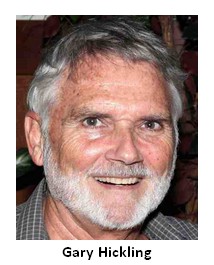 Our Artsong Update online friendship with Gary Hickling goes back to the beginning of our website in August 2002 when, at Gary's request, we agreed to link sites.
Gary has maintained his powerful obsession for German-born, lyric soprano Lotte Lehmann (1885-1976) (American citizen since 1945) for many years. His book caps his years of research and his collecting her recordings and now making them available on Apple iBooks free of charge.
Recounting his discovery of the singer, he writes: " I had a Japanese baritone friend who didn't know how to drive, so I was persuaded to chauffeur him from UCLA, where we were both studying, to Santa Barbara, for private lessons with Lehmann. I had hardly heard of her, so you can imagine what it was like for a 20-year-old to meet his first genius. And what an energetic, charismatic one at that! She had retired from over 10 years at the Music Academy of the West, which she had helped build, but was still bursting with enthusiasm, and the joy in sharing what she knew. I immediately began listening to her recordings."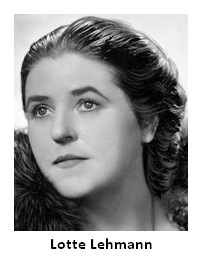 Since we don't have an iPad I will defer to David Cutler's review.

It is an exceedingly fresh and new way of looking at one of the greatest of 20th-century singers. With a physical biography, yes you can get all the information you need, but with this multi-media iBook you really do get so much more. There are more than 150 audio and video excerpts—for example, illustrating the difference between an early version of a song and the same one recorded 20 years later. The video excerpts are fascinating as well, and include Lehmann singing along with a bird! There are plenty of other technical aids to help the reader go to the desired section. There are also plenty of appendices for the collector or even the curious student, including some rare recordings and a discography. The discography lists not only commercial recordings, but the huge amount of live material now available from this great singer. It is right up to date as well as it lists the latest transfer of the 1939 Richard Strauss's Der Rosenkavalier from Immortal Performances. The recorded examples—throughout each chapter—all have a number on them which relates to their place in the discography. The appendices also detail her roles and song repertoire as well as a bibliography."
"Lehmann made her debut as early as 1910 in Hamburg and she became the outstanding Marschallin in Der Rosenkavalier of her day. Surprisingly, it was not her most frequently sung role—that was Manon in Massenet's opera! She created the role of the composer in Strauss's Ariadne auf Naxos. She sang at the Metropolitan Opera from 1934 to 1945, having emigrated to the United States in 1938 from Austria, and she continued to sing up to 1951, after which she taught. Among her most famous students were Marliyn Horne and Grace Bumbry. As John Steane said in his book The Grand Tradition, 'Her voice gives us so many of the pleasures a singer can afford….She was able to a remarkable extent to sing opera with the intimacy of a Lieder singer, giving out a glorious stream of voice, yet attending imaginatively to the enunciation and coloring of the text.'"
"If there is a tiny niggle, perhaps the simplicity of the approach and also the comparisons with other voices, which although interesting, could deflect from the singer herself. However this iBook is a tremendous achievement, a joy to read and a huge advertisement for what can be achieved. It should be taken up as a wonderful example of how to bring the great voices of singers of the earlier 20th century to a new generation via this refreshing method."
Andrew Quint describes the book:
"Gary Hickling's Lotte Lehmann & Her Legacy is an enhanced eBook—that is, an electronic book in which the written word is accompanied by audio and video content—compatible with Apple devices, including desktop computers, laptops, iPads, and iPhones. This iBook (Apple's version of an eBook) is the product of the author's consuming 55-year enthusiasm for the singer, whom he first met in 1961. Hickling's expertise and fluent, lucid communication style has been honed over many years of radio broadcasts, including his current gig on Hawaii Public Radio, a show called Singing and Other Sins. It's fair to call Hickling Lehmann's leading discographer, and his extensive collection of audio recordings plus relevant documents, articles, and correspondence was ultimately donated to Stanford University's Archive of Recorded Sound. The eBook project assures a wider dissemination of at least some of the remarkable assemblage of materials Hickling has gathered over decades. Volume II, by the way, is in the works."
The complete reviews can be found here:

The iBook, Lotte Lehmann & Her Legacy can be downloaded here: https://itunes.apple.com/us/book/lotte-lehmann-her-legacy/id1054596705?mt=11 .
Printer Friendly
Back to Top
Back to Review Index
Home &nbspCalendar &nbspAnnouncements &nbspIssues &nbspReviews &nbspArticles Contact Us