A Winning New CD of Hall Johnson Songs
&nbsp&nbsp&nbsp&nbsp&nbsp Hall Johnson (1887-1970) is one of the most performed composers of art song. Many recitals and CDs have a song or two, but in this new release soprano Louise Toppin and pianist Joseph Joubert have created a superb CD devoted exclusively to his songs, titled He'll Bring it to Pass. Hall Johnson saw his role as preserver of the Negro spiritual in its authentic form and used the melodies and rhythms for development in his choral compositions. The popularity of his songs with professional singers like Marian Anderson led to his settings for solo recital. His influence on subsequent generations of arrangers is great.
&nbsp&nbsp&nbsp&nbsp&nbsp In 2000 Ms. Toppin and Mr. Joubert collaborated on a project to publish a collection of Hall Johnson spirituals and songs by Carl Fischer Publisher. She and tenor William Brown sang on the two CDs made for teachers to be included with a book, titled The Hall Johnson Collection, that had some of Johnson's best known songs in multiple keys. Released in 2003, the book included Johnson's Green Pastures song book, a volume of twenty-five songs from the Broadway musical and movie, originally published in 1930.
&nbsp&nbsp&nbsp&nbsp&nbsp At that time the performers had discussed additional songs not in the anthology; songs that were equally well crafted but not currently published nor available on CD. In listening to all sixty-eight minutes and nineteen songs I found three spirituals and one art song that are new to me. The spirituals are Heaven is one Beautiful Place, I Got to Lie Down and Le's Have a Union. His most famous art song, Mother to Son, is a setting of a text by Langston Hughes, a lyrical song of matter-of-fact advice from a mother explaining that "life ain't been no crystal stairs" encouraging her son to follow her example and keep climbing through life's difficulties.
&nbsp&nbsp&nbsp&nbsp&nbsp From the first notes of the a capella City Called Heaven that opens the CD to the exuberant, high soprano ending of His Name so Sweet, we are treated to a full spectrum of vocal colors. Mr. Joubert is an ideal partner with a crisp touch and a well developed sensitivity to the vocal line. Their bold and direct approach serves the music well.
&nbsp&nbsp&nbsp&nbsp&nbsp Roll Jerd'n Roll was familiar from a record by Mahalia Jackson, the great, late gospel singer. In the concert version here, the song is very dramatic, especially in the piano accompaniment. I suspect that many times Johnson's traditional arrangements are used without his being credited and the notes just say "Traditional" for composer. All of his most popular songs, like Certainy Lord, Give Me Jesus, His Name So Sweet and Ev'rytime I feel de Spirit are here and so many more.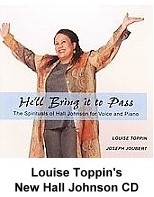 &nbsp&nbsp&nbsp&nbsp&nbsp Dr. Toppin has her doctorate from the University of Michigan and is president/director of Videmus, a non-porfit arts organization that is co-producer of this CD with Albany Records (Troy 486) He'll Bring it to Pass. Dr. Toppin has recorded fifteen commercial CDs of American music (primarily African-American repertory) and sang on both of the Willis Patterson anthologies. I spent time this winter listening to two other very impressive CDs of hers: Ah! Love, but a day (Videmus/Albany Records Troy 385), which has songs by American women composers, ranging from Amy Beach and Margaret Bonds to contemporary composers Libby Larsen and Jackie Hairston and Songs of Illumination (Centaur CRC 2375) music by T.J. Anderson (twelve songs), Adolphus Hailstork, Camille Nickerson and Evelyn Simpson-Curenton and a half dozen other composers. Each of these three CDs is recommended as essential to a collection of American art songs.

Heart on the Wall, a 2011 CD
Orchestral Songs by African-American Composers
Soprano Louise Toppin with the Dvorák Symphony Orchestra
Albany Records (TROY 1314)
CD Review by John Campbell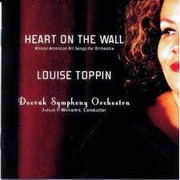 On her new CD soprano Louise Toppin is accompanied by the Dvorák Symphony Orchestra, conducted by Julius P. Williams in four song cycles by African-American composers: Robert Owens, Julius P. Williams, Robert L. Morris and Nkeiru Okoye.
The opening set gives the CD its title, Heart on the Wall, with poems by Langston Hughes set by Robert Owens (b.1925), an American expatriate composer who has lived in Germany since 1959. Owens was educated in Berkeley, California and Paris where he received a Diplôme de Perfection in piano. After concertizing around Europe he returned briefly to the United States as a professor at Albany State College. He began composing while there after he met Langston Hughes who gave him a book of his poetry, Fields of Wonder, to "see what he could do with them."
Back in Germany in 1968 he composed Heart on the Wall and by now has written more than fifty song cycles, operas and orchestral works. The first song, Heart, tells the story of the European theater character Pierrot, who hung his heart on a public wall and since no one cared he hid it away forever. The other titles are Rembrance, Girl, Havana Dreams and For Dead Mimes, a song that brings us back to Pierrot who is united in death with his faithful Pierrette. Remembrance uses the voice like a flute in the orchestral fabric and though Girl tells a story, most of the singing is a high-voice vocalise with a French flavor.
The conductor, Julius Williams (b.1954), is also the composer of songs commissioned by Ms. Toppin titled Myths of History with texts by her father, Dr. Edgar Toppin, writer, educator and scholar. Africa has a travelogue feeling in the music and a text that challenges the notion that Africa is a backward, underdeveloped continent. It was the site of humankind's first steps toward progress. The text of History focuses on racial self-esteem and Slavery points out that slavery is a universal phenomenon that has existed among all peoples at all times. The composer showcases Ms. Toppin's high soprano voice excellently in tonal orchestral settings. Texts are clearly articulated and never covered.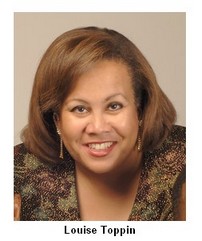 Rich, challenging orchestral settings are found in Lyric Suite by Robert L. Morris based on traditional texts. Dramatic Declaration: Rockin' Jerusalem! is followed by Gospel Blues: What Shall I Do?. The challenge of death "come creeping in my room" is a jazzy lament that is emotionally moving. Humoresque: Scandaliz' My Name! follows. I thought Kathleen Battle owned the lyric soprano recording of this text but I was wrong. Mr. Morris' setting is engaging and fun and Ms. Toppin's singing sparkles with warmth and humor in all those high notes. The mood shift is powerful when she follows with Lament: This May be My Las' Time set as a consoling lullaby gently sung. The set closes with an up-tempo orchestral setting Juba: Ev'ry Time I Feel the Spirit. In this song cycle composer Morris challenges the singer to be natural and emotionally transparent and she turns in a stellar performance.
The last orchestral song cycle, Songs of Harriet Tubman, by Nkeiru Okoye, tells of Tubman's life using her name changes as she grows into an American icon for liberation. As a child born in Maryland she is called Minty. In My Name is Araminta her focus is on being obedient and working hard so that her family can keep together. As a seven-year-old she is hired out as a nursemaid by her owner. My Name is Harriet, Now reflects on the internal changes in her after she is struck and left unconscious and realizes what it means to be part of a family of slaves. In I am Harriet Tubman, Free Woman the music opens out into jubilation as her resolve to bring others to freedom hardens. She was aided by William Still in Philadelphia who fed her and found her a job and would help many others as she led them out of the south. I am Moses the Liberator tells of the heavy responsibility she has taken on. Getting to freedom is challenging and is set to music worthy of Puccini's Turandot in intensity and orchestral color. Ms. Toppin's vocal passion is spectacular. Do not miss this CD.

Printable Format
Back to Top
Review Index
Home &nbspCalendar &nbspAnnouncements &nbspIssues &nbspReviews &nbspArticles Contact Us