These words opened the faculty recital by coloratura soprano Lauren Fowler on Sunday evening November 4 in the Gaines Theatre of Christopher Newport University. The audience enjoyed a versatile showcase of Dr. Fowler's varied musical talent, ranging from very early Italian art songs to contemporary jazz songs. The program began with three selections from a collection titled Twenty-Six Italian Songs and Arias. The first song was Amarilli mia bella composed by Giulio Caccini (1551-1618) who was a celebrated tenor and instrumentalist at the Medici court. You can hear Amarilli on a CD, Live in Italy, sung by Cicilia Bartoli, who very nicely and authentically ornaments the musical line. Dr. Fowler chose to ornament the lines in a different and no less interesting way. Also impressive were her trills in this song and Che fiero costume by Giovanni Legrenzi (1626-1690) and Tu lo sai by Giuseppi Torelli (1658-1709).
Moving forward 150 years we were presented Cinq melodies 'de Venise' by Gabriel Fauré (1845-1924): Mandoline, En sourdine, Green, A Clymème and C'est l'extase. Here the singer captured the French idiom, demonstrating the contrast between these two historic periods in art song. Charles Woodward's collaboration on piano was just right for both eras. An unusual feature was the use of gesture, even pantomime in presenting the mood and meaning of the text.
Richard Strauss' Brentano Lieder, Op. 68 closed the first half. As the vocal lines of Säusle, liebe Myrthe, Ich wollt' ein Straußlein binden and Amor flowed out, this writer became aware of the physicality of singing Strauss through the use of the singer's whole body for dramatic interpretation. Lauren Fowler caught just right the bittersweet tone of the second selection and the devilish delight of love in the third.
As the sound died away the audience applauded loudly and long. Our singer, dressed in a floor-length green taffeta gown, bowed. Her golden hair and sweet smile left a lingering impression. This was in stark contrast to the visuals on stage as the second half began. In a black knee-length cocktail dress with microphone in hand and flanked by local jazz trumpet luminary William Brown, Harris Simon, piano, James Masters, bass, and Howard Curtis, drums, she launched into Thelonius Monk's Rhythm-a-ning. The song opens with a call and response between singer and trumpet, then moves into accompaniment with the whole band. The audience was very enthusiastic as the song ended.
Taking time to introduce the musicians, Dr. Fowler followed with Amber Tones (a tribute to the life and times of Chet Baker), composed by William Brown and Steven Breese, from a recent and very successful production of Shakespeare's A Midsummer Night's Dream. Here our vocalist showed her agility in scat singing, accompanied only by trumpet and bass. Very exicting music making.
The vocal tone mellowed down to a purr on the line When I fall in love from the Heyman/Young standard, caressing the words in a controlled sensous emotional way.
The recital closed with Come Rain or Come Shine by Mercer/Arlen. Throughout the jazz set Lauren Fowler maintained a digified looseness, the microphone in her hand became an instrument. The writer was impressed by her generosity in sharing the stage by showcasing each instrumentalist. A celebration all the way.
Tod Fitzpatrick Opens
Tidewater Art Song Season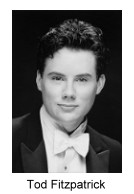 &nbsp&nbsp&nbsp&nbsp&nbsp Dr.Tod Fitzpatrick walked on stage wearing an elegant white vest with his white tie and tails, accompanied by Dr. Robert C. Smith, pianist. The resonant lyric baritone voice of this handsome young man has an unaffected naturalness that greatly pleased his audience at the Gaines Theatre at Christopher Newport University on Friday evening, August 30, Labor Day weekend, 2002. The first set, Beethoven's cycle of six songs An die ferne Geliebte (to the distant beloved) was composed in 1816 and was written as an unbroken continuum of sound. The piano connects one song to the next with no pause, except when the voice bridges the third to forth songs.
&nbsp&nbsp&nbsp&nbsp&nbsp The melodies, simple and folk-song-like, are enriched by continuous variation on their strophic form. These love songs have a devotional, dreamy quality. The lover is in love with love itself, often enjoying remembering little events as a substitute for a more vital energy shared with the beloved. This music was especially suited to Tod Fitzpatrick's beautiful voice, with its warm and lyrical tone, enhanced by the piano of Robert Smith.
&nbsp&nbsp&nbsp&nbsp&nbsp In the Three songs with viola by Frank Bridge, (1822-1888), the performers were joined onstage by Jennifer Snyder, violist. The songs are: Far From Each Other, Where is it that our soul doth go?, and Music, when soft voices die. Dr. Fitzpatrick sang with very clear diction and a strong commitment to presenting the inherent drama of the texts. Bridge played viola himself and used the instrument to enrich the musical line. These songs were first performed in 1908 with Bridge at the piano, but not published until 1982. (Information from the program notes).
&nbsp&nbsp&nbsp&nbsp&nbsp After intermission we heard five songs by the contemporary American composer, John Musto, three on texts by Langston Hughes.
&nbsp&nbsp&nbsp&nbsp&nbsp The program closed with Maurice Ravel's Don Quichotte à Dulcinée (3 songs). From program notes by Ned Rorem we learn these songs were composed for a movie starring Feodor Chaliapin. Owing to the composer's illness, they were not completed on time. "Perhaps it is fitting that the swan song of this sober stylist who believed he forever fell short of his dream, should be intoned by Don Quixote, a drunken Spanish dreamer in love with a creature of fantasy." Tod Fitzpatrick's very expressive face conveyed the meaning of the text underscoring the vocal communication he brought to his enthusiastic audience.
&nbsp&nbsp&nbsp&nbsp&nbsp After a standing ovation, Dr. Fitzpatrick and Dr. Smith returned to perform Ernest Charles' When I have sung my songs to you. Tod and his wife Elaine invited the audience to a reception at their home a short distance from campus where we hardcore art song aficionados could gather to continue this high experience.
John Musto and His Songs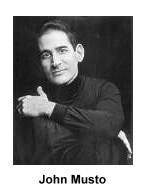 &nbsp&nbsp&nbsp&nbsp&nbsp Born in Brooklyn, New York in 1954, John Musto is recognized as one of American's gifted young composers. He was a piano major at the Manhattan School of Music and is in demand as both a classical and poopular pianist. The son of a jazz guitarist, he came naturally to an interest in improvisation and this led him to composition. He is mostly self-taught and his song writing incorporates several of his interests: popular songs and reading poetry, serious poems and socially conscious song texts from the 60's, jazz and especially the blues.
&nbsp&nbsp&nbsp&nbsp&nbsp Paul Sperry has written: "I think of him as the master of the sixth. The intro duction to [his songs] Lament, Could Be, Requerdo and Litany are wonderful examples of how Musto transforms a blues heritage into sophisticated concert pieces."
&nbsp&nbsp&nbsp&nbsp&nbsp Sperry goes on to compare Musto's songs to those of Chanler and Hundley and finds them "more difficult to learn and master, more extreme in musical, vocal and pianistic demands" but also rewarding for both performer and listener. He does not hesitate to use a twelve-tone row and still creates songs that are not forbidding to an audience.
&nbsp&nbsp&nbsp&nbsp&nbsp The first three Musto songs Tod Fitzpatrick sang are from a four-song sycle Shadow of the Blues with poetry by Langston Hughes, the venerable African-American poet (1902-1967). The song Litany with its lengthy piano introduction sets the feeling tone for the text: "Gather up, in the arms of your pity, the sick, the depraved ... all the scum of our weary city." We are urged to "gather up in the arms of your love those who expect no love from above." This song is a perfect example of Musto's interest and creative ability with serious poetry and socially conscious song text.
&nbsp&nbsp&nbsp&nbsp&nbsp Island is about the desire for release from a deep and overwhelming sorrow. The third song Silhouette is the most demanding of the three. Addressed to a "Southern gentle lady," the silhouette in question is that of a black man hung by the dark of the moon to show how Dixie protects its white womanhood. But the singer in a light-hearted mood ends the song "Southern gentle lady! Be good! Be good!"
&nbsp&nbsp&nbsp&nbsp&nbsp Musto's A last song (In Memorium, Jeffry French) from a three-song cycle titled Requerdo is ponderous, a song of goodbye to a love that just did not work out. The song ends with the thought that this is something the singer will contemplate in old age, not now.
&nbsp&nbsp&nbsp&nbsp&nbsp The final Musto song Requerdo (Remembrance), a setting of a poem by Edna St. Vincent Millay, is a light-hearted story of a young couple who've spent a long merry night together riding the ferry. Enthralled by each other, and obviously having little money, they now see the sun rise "dripping , a bucketful of gold." The humor is in the piano, the subtle blues beat is there also, with pauses - lingering to let us feel this "happening." This is a very sophisticated cabaret song. Tod Fitzpatrick's face and body language conveyed the weariness but it was a happy, satisfied weariness that let us feel it all. The line "We lay on a hilltop underneath the moon" suggests why this weariness seems so fulfilled. Our singer has seen his companion home and the lengthy piano ending and the singer's humming brought his evening to a close as he approaches his home.
More CNU
Back to Review Index
Printer Friendly Format
Back to Top
Home &nbspCalendar &nbspAnnouncements &nbspIssues &nbspReviews &nbspArticles Contact Us