Lisa Relaford Coston Sings Mahler's Kindertotenlieder
&nbsp&nbsp&nbsp&nbsp&nbsp On February 16, 2007 at the Ferguson Center's Music and Theatre Hall mezzo-soprano Lisa Coston and pianist Jeffrey Brown gave a stunning performance of Gustav Mahler's (1860-1911) Kindertotenlieder (Songs on the Death of Children). They demonstrated a seamless communication of text and music. Unfortunately the lights went down immediately after we received the text and translations. Though sung in German there was no way to miss the emotional content of the words. Their approach was as gentle as a child and as powerful as the overwhelming sadness of a child's death. Ms. Coston's effortless pianissimos and gloriously beautiful sound was enhanced by Dr. Brown's appropriate touch at the piano. The clear communication went straight to the heart, leaving listeners stunned by the beauty and drained by the sad pity of it all.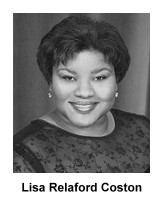 &nbsp&nbsp&nbsp&nbsp&nbsp For example, in the fourth song, In diesem Wetter (In this weather) a raucous piano sets the stage for a terrible storm. Our singer's serious face and restrained demeanor found her doing battle with the storm, only to become gentle and pained as she realizes that the children cannot be harmed - they are "covered by the hand of God." The applause was subdued as the music ended. It is hard to celebrate the superb performance when you are lost in such profound sadness.
&nbsp&nbsp&nbsp&nbsp&nbsp I would venture a guess that few, if any of us, had heard a live performance of this music before and certainly not with piano. The various recordings that I have lived with for 40 years are all with orchestra. Stripping away the lush string sound and the rich colors of Mahler's orchestration we are left with a spare but complex piano and the voice's soul-wrenching vocal journey through these poems by Friedrich Rückert (1788-1866).
&nbsp&nbsp&nbsp&nbsp&nbsp In the summer of 1901 Mahler set the first three poems. The following year a 42 year old Mahler married Alma Schindler and they had a daughter Marie (b.1902). Two summers later he completed the cycle and they had a second daughter Anna (b.1904). In 1907 the cycle took on a new meaning when Mahler's beloved daughter Marie died of scarlet fever. He was emotionally devastated and shortly after he was diagnosed with a serious heart condition. After two seasons with the New York Philharmonic he returned to Vienna where he died from a bacterial infection at age 51.
&nbsp&nbsp&nbsp&nbsp&nbsp In a lighter mood, the second half of the recital brought many of our favorite songs by Ms. Coston. Richard Hundley's (b.1931) Waterbird with its soaring vocals, Hall Johnson's (1887-1970) comedic Scandalize My Name, Moses Hogan's (1957-2003) profound Give Me Jesus and Margaret Bond's (1913-1972) consoling He's Got the Whole World in His Hands. There were new songs also, like Since God ... by Joseph Pollard White (b.1957) and Jean Berger's (1909-2002) La Mariquita. The story tells how Mariquita with her youth and long, black braids refused the love offered by a suitor but as her black braids ashen with age she wants his attention. He is no longer interested. There is a connection between Berger and Christopher Newport University since he gave master classes there at least twice. Our performers are both on the music faculty at the University.
&nbsp&nbsp&nbsp&nbsp&nbsp Their last song was a brilliant tour de force, A Word on My Ear by Donald Swann (1923-1994). With sour notes and an incomplete melody and every other violation of what we think of as music, it was outrageously funny and performed to a t by voice and piano.
&nbsp&nbsp&nbsp&nbsp&nbsp Last fall it was Rachmaninoff songs and now Mahler. Ms. Coston is at the peak of her vocal artistry and recital by recital she is exploring new vocal works and sharing them with her audience. I am thrilled to be one of her most enthusiastic listeners.
Rachel Holland Gives a Recital at CNU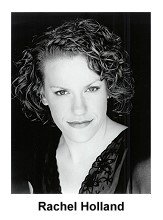 These dramatic, soaring vocal lines ended the aria "Do you still love me as once you did? For if you do not, I shall ask you to leave this house this very night!" from Vanessa by Samuel Barber (1910-1981). Rachel Holland, who is Director of Vocal Studies at Christopher Newport University, chose to open her first Tidewater recital with this demanding showpiece, just a beginning demonstration of how confident she is in her instrument, power and training. Pianist Jeffrey Brown, also on the faculty of CNU, underscored the emotional intensity of Do not utter a word from the Gothic tale written by Isaak Dinesen, pseudonym of Karen Blixen (1885-1962) and adapted for the stage by Gian Carlo Menotti (July 7,1911 - February 1, 2007), Barber's life partner.
For 20 years Vanessa has waited for the return of her lover Anatol, struggling to remain just as beautiful and youthful as she was then. It is no wonder that she was so intense in this aria. It turns out that this is Anatol's son. They marry, he gets her young cousin Erica pregnant and Erica watches as the couple go off together since she can not bear to destroy Vanessa's illusion.
Continuing the theme of the opening song, Ms. Holland followed with four songs from France by Henri Duparc (1848-1933). Duparc was a perfectionist who destroyed all but sixteen of his songs. In Au pays où se fait la guerre (To the land where war is being fought), the singer's lover has gone off to war and she sits in her tower in a lovely, natural setting. Moonlight and mystery in the piano brings the sound of striding footsteps below. It is only the page. She waits, remaining emotionally overwrought. In Extase (Ecstasy), a brief, lovely moment in time is so precious, so fleeting and captured perfectly in the beauty of her sound. Chanson triste (Sad song) and L'invitation au voyage (Invitation to a journey) are languorous, sensual songs with fine piano work and fully engaged singing.
All the music in the recital comes from the 20th century. Benjamin Britten (1913-1976) wrote his opera Peter Grimes in 1945. From it we heard the Embroidery Aria. Ellen pours out her passion and her heartbroken feelings for this misery of a man Grimes who is a seafarer. He has slapped her and allowed the death of a second orphan cabin boy. I hear anger in her voice as the song ends! In conversation after the recital we learned that Ms. Holland had performed the roles of Ellen and Vanessa while a graduate student at Indiana University. This experience allowed her performance to offer a much deeper understanding of the characters she created.
One of the most lushly romantic arias from all of opera is Marietta's Lied from Die Tote Stadt by Erich Korngold (1897-1957). There is a tear in the sweetness of the piano and Ms. Holland sang with a meltingly lovely sadness. This aria is all most of us know from the opera which is rarely performed. The piano postlude has a lightness after this intense, vocal meditation on love and loss of the beloved to death followed by speculation on resurrection.
The spacious lyricism of Sergey Rachmaninoff's (1873-1943) piano compositions is there in his songs. I only wish that the boldness that is in the voice in these songs had been matched in Dr. Brown's playing. After all, Rachmaninoff was as grand concert pianist and wrote music that made the performers equal partners. The singer is nostalgic for his home in Georgia, so much so that he says Oh, Never Sing to Me Again.
You hear a hopping frog in the piano in The Water Lily. The shy frog averts her eyes from the sky, only to find the moon reflected in the water. With a sort of French melodie sound in the piano, The Dream, which is really about the joys of sleep, builds energy in the piano which is overtaken by the vocal sound. Spring Waters celebrates the exaltation of spring. The piano is restrained here, letting the voice shine.
Rachel Holland appeared as Mrs. Hayes in Virginia Opera's Susanna by Carlyle Floyd in November, 2006. This recital, her first in our area, was delayed from February. We heard her in the Music and Theatre Hall at CNU on April 21, 2008. Here is an artist poised on the brink of a potentially fabulous career. We certainly hope to hear her soon in a leading role at the Harrison Opera House.

An Evening of Classical Song with Rachel Holland,
Lisa Relaford Coston and Charles Woodward
Friday, November 6, 2009, Music and Theater Hall at Ferguson Center for the Arts. Charles Woodward is a most sensitive pianist. Tuned in to all the subtle nuances of each song, each singer and each period of musical expression, and paired with soprano Rachel Holland and mezzo Lisa Relaford Coston, an audience of nearly 200 listeners were dazzled by their recital at Christopher Newport University. The opening, two duets by Gioacchino Rossini (1792 -1868), were La Regata Veneziana and La Pesca. A Venetian boat race is represented with the piano expressing the sounds of oars in the water while the girls in a breathless rush urge their boyfriends on to victory. The second song, titled in English Fishing seems to be a pun by the fun-loving composer. The message to the young man is to come out to the beach this evening and enjoy the sea breezes with his beloved.
Ms. Coston then sang Trois Chansons de Bilitis by Claude Debussy (1862-1918). The gentle beauty of the dangerous La Flûte de Pan (Pan's Flute) was overwhelming. La chevelure (Your Hair) has a sad beauty. Mrs. Coston's laser-focused tone was remarkable, especially in the speed and intensity of the ending of a song with such understated gentleness before. In Le Tombeau de Naiades (The Tomb of the Naiads), describes a walk through a winter garden searching for the satyr and nymphs from the summer past. A repeated dissonant tone in the piano creates an exquisite discomfort in the listener.
In Johannes Brahms (1833-1897) Unbewegte laue Luft, the word painting in the quiet opening that speaks of the only sound being the splash of the fountain gives way to the voice expanding to speak of ardent desire. Singing of the longing for life, the intensity begins to heighten, building to a climax. A soft afterglow ended the song. After applause for Ms. Coston there was a brief pause followed by more duets.
Our singers instantly transformed into coquettes in two songs by Henry Purcell (1659-1695): What Can We Poor Females Do? Such feigned innocence as they sing with a devilish chuckle of their only choices being to deny or comply to their lover's teasing. This was followed by No, Resistance is but Vain. Cupid will win no matter how often you repeat "no!" The voices wrap around each other in a lively playfulness. The singers are well matched vocally and sing with an easy rapport.
We were next suspended in the beautiful sound of deep emotional expression of solo songs by Ms. Holland. First she sang Gretchen am Spinnrade by Franz Schubert (1797-1828) and then Cäcilie by Richard Strauss (1864-1949) displaying what a fine dramatic actress she is as well. Gretchen is a girl coming apart over a lover who has disappeared. Her longing and fear are destroying her sanity. Cäcilie is also in love, addressing her lover with an overwhelming passion, inviting him to come live with her. The long lines of such vocally beautiful singing can melt the hardest of hearts.
Three songs by Samuel Barber (1910-1981) continue the vocal splendor of Ms. Holland's set: Nocturne with a wonderful soaring line in the ending of a song of fulfilled love watched only by the "blind eternal light;" Rain Has Fallen, with a text by James Joyce, is an old-fashioned love song in both text and setting - comfortable beauty; I Hear an Army, also with poem by Joyce, is overwhelmingly dramatic and displays Ms. Holland's strengths in this cry of she whose beloved has gone to war. The troubled heart continues to cry out even in the solo piano ending.
The encore begins with dialogue between Norma and Adalgisa and ends with a lovely duet of their undying friendship in the face of shame and death from the Bellini opera Norma. They finished with Ms. Coston doubling Ms. Holland's final high note! The audience exploded in applause and shouts of approval here and again when the singers appeared in the lobby during the art song tribe's meet and greet.