Attucks Theater Presents Beverly Kane Baker
&nbsp&nbsp&nbsp&nbsp&nbsp When Steve, whose first love is chamber music, was working on the 2005-2006 events calendar early last fall and first got wind of Virginia Symphony violist Beverly Kane Baker's concert scheduled for January 23, he was intrigued. Months later when he was sent the full details he knew this was an event not to be missed. Even though John had been in bed with a bad cold and a fever just 48 hours before, he dragged "Mr. Art Song" to the recently restored historic Attucks Theater on a damp Monday evening. Neither was disappointed in what they heard nor in the wonderful theater. The Attucks is a lovely, intimate space with a warm acoustic and was filled by an audience that included many of Ms. Baker's orchestra family as well as her church family, immediate family and friends.
&nbsp&nbsp&nbsp&nbsp&nbsp As the week went by we learned just what a busy performer Ms. Baker is. This was the first of three performances that week in which we heard her beautiful playing. This program was a 2006 Black History Month Celebration at the refurbished historic Attucks Theater. It was also a celebration of Ms. Baker, a most talented musician. The program titled Beverly Kane Baker and Friends, included Joann Falletta on guitar, Jennifer Snyder on viola and Charles Woodward on piano. All four have had years of working together in the Virginia Symphony.
&nbsp&nbsp&nbsp&nbsp&nbsp Dressed in a black gown with a sleeveless fitted bodice and a flowing skirt with a lavender, ankle-length sash and with a look of intense concentration, she played J.S. Bach's solo, Suite No. 1 in G Major. The flow of the music, urgent at times, at others gentle, was reflected in the movement of her skirt. Being familiar with this music on cello, hearing it on viola was a very different, more mellow experience.
&nbsp&nbsp&nbsp&nbsp&nbsp A modern piece, The Wind and the Rain by David Amram, had Charles Woodward at the piano accompanying Ms. Baker. The piece begins with a gentle piano opening which is soon joined by the viola. Later the piano adds exclamation points to the viola's continuing line which blossoms into a duet.
&nbsp&nbsp&nbsp&nbsp&nbsp My favorite pieces of the evening were Béla Bartok's (1881-1945) Duos for Two Violas. The communication between Jennifer Snyder and Ms. Baker was essential and visible. These seven short, pungent duets were selected from forty-four pieces originally written for violin. Bartok collected folk music of his native Hungary and Pillow Dance, Song of the Harvest, Ruthenian Dance, Pizzicato and others were reminiscent of peasant music. Bartok came to the United States during WW II and died of leukemia in 1945.
&nbsp&nbsp&nbsp&nbsp&nbsp It was a special treat to have Maestro Joann Falletta on guitar join Ms. Baker in Franz Schubert's Sonata in A minor, Arpeggione. The guitar opens the piece but soon there is a dialogue between two equal stringed instrumental voices that closely cooperate to create a most pleasant sound. A viola can sustain a line while the plucked sound of the guitar soon fades away. Maestro Falletta's guitar sounded particularly resonant in this intimate setting.
&nbsp&nbsp&nbsp&nbsp&nbsp In the second half of the program the two violists played Canonic Sonatas Numbers 1 and 2 by Georg Philipp Telemann (1681-1767). It was impossible to be analytical while this infectious music was unfolding. It seemed best to go with the flow and just enjoy the music moment by moment.
&nbsp&nbsp&nbsp&nbsp&nbsp The Johannes Brahms (1833-1897) Sonata No. 2 in E-flat for piano and viola allowed us to experience Mr. Woodward's polished concert technique in all of its richness. There is a sensual self-indulgence in this music. When Ms. Baker reached for that far note her body swayed and allowed us to see the choreography of the pianist's hands. It is no wonder that it pleases audiences so very much. The program left the audience with a sense of unity and a glow of happiness.
&nbsp&nbsp&nbsp&nbsp&nbsp Before the week was over we saw Ms. Baker perform in a Mozart program at Christ and St. Luke's and later in a magical Mozart program by the Virginia Symphony, both reviewed below.

Allen Shaffer's Mozart Program at Christ and St. Luke's
&nbsp&nbsp&nbsp&nbsp&nbsp On January 27, 2006, Mozart's birthday, Allen Shaffer, organist and choirmaster, organized a 250th Anniversary concert at Christ and St. Luke's. To set the appropriate mood, the program opened with an organ mass by an anonymous, mid-eighteenth-century composer, influenced by the Italian opera sinfonia and aria which had so much influenced young Mozart. Billye Brown Youmans was the featured soprano soloist in Mozart's Laudate Dominum from Vesperae solennes de confessore, K. 339, written in Salzburg at age 24. With an excellent choir joining our soloist in the second verse, her voice filled the large space with exciting high notes and glowing lines. This glorious piece ended far too soon.
&nbsp&nbsp&nbsp&nbsp&nbsp Continuing the vocal part of the program Ms. Youmans sang the Alleluia from Exsultate, jubilate, K. 165 and then joined the choir after bowing to enthusiastic applause for her solo. Henry Faivre was organist for Ms. Youmans and Ave verum corpus, K. 618 later in the program. Composed in Baden, June 17, 1791, in the last year of Mozart's life, this piece gives us an example of Mozart's fully mature choral writing. It was quite beautifully sung by this accomplished choir.
&nbsp&nbsp&nbsp&nbsp&nbsp Another high point in the program, also dating from 1791, was the Adagio in C Minor and Rondo in C Major, K. 617, written in Vienna for glass harmonica, flute, oboe, viola and cello. This chamber quintet displays a charming juxtaposition of timbres between the organ (in lieu of glass harmonica) and the winds which engage in a colorful dialogue while "the low strings provide a soft accompanimental cushion" as the program notes express it. With Debra Cross, flute; George Corbett, oboe; Beverly Baker, viola; Nancy Keevan, cello and Allen Shaffer on organ, this was a hauntingly beautiful example of Mozart's mature chamber writing.

TodiFest presents Bach @ the Beach/Bach on the Bay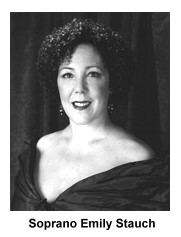 &nbsp&nbsp&nbsp&nbsp&nbsp In their lifetime, J.S. Bach's (1685-1750) fame was in no way equal to Georg Philipp Telemann's (1681-1767). Telemann was the pop star of his day. Bach only got his job in Leipzig at Tomaskirche in 1723 because Telemann was not available. As we know, history has given a different evaluation. On July 22 at Baylake United Methodist Church, soprano Emily Stauch gave a superb performance of Bach's vocal music accompanied by a musical ensemble with David Boone featured on the oboe.
&nbsp&nbsp&nbsp&nbsp&nbsp The program opened with string accompaniment for a single aria Heute noch, lieber Vater from the Kaffee-cantata, BWV No.211 (Coffee Cantata). A young woman argues with her father over her addiction to this new drink. Offering to give it up only if he will find her a gallant lover for a husband. Lively, passionate singing put across this humorous scene.
&nbsp&nbsp&nbsp&nbsp&nbsp Telemann, who wrote some 3,000 pieces of music, was represented by his Partita in G Major No.2 (1716) for oboe, cello and continuo from his Die Kleine Kammermusik. Jeffrey Phelps on cello has recently been appointed conductor of the Governor's School for the Arts Orchestra. Harpsichordist John Sidarius rounded out the trio in this light-hearted music. The piece showcased the level of technical accomplishment of the oboe player in 1716 with many brief sections of charming music. Mr. Boone's playing was excellent and the sense of ensemble was the best in this program.
&nbsp&nbsp&nbsp&nbsp&nbsp The Wedding Cantata, Weichet nur betrübte Schatten, BWV 202, was the first of several Bach wrote to be sung during the wedding feast. The first aria, with its dreamy tempos, opens with strings and the oboe as soloist, who is soon joined by Ms. Stauch who sings of the delights of the coming of spring. As love comes with the opening up of nature, there are sweet oboe interludes and duets with the voice. Cupid's treasure is to see one heart kiss another. "Here waves surge, here triumphant palms laugh and awakes lips and breast." The violins pave the way with sweet melody. It closes with the wish for years of contentment and love bringing forth flowers (children).
&nbsp&nbsp&nbsp&nbsp&nbsp With a single rehearsal and a performance on July 18 at St. John's in Hampton the sense of emsemble, so important to Bach's music, had not completely jelled in this the last performance by these fine musicians. More rehearsal time in future years of the festival is essential.

Chamber Music for Guitar, Viola and Recorder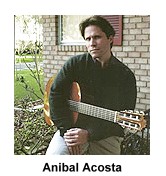 It was a recital as refreshing as a mountain picnic by a clear, cool brook presented in early summer by a trio of accomplished chamber musicians at Chandler Recital Hall, Sunday, June 28, 2009. Anastasia Migliozzi, viola; Anibal Acosta, guitar; and Stephen Walsh, recorder and piano opened the program with Trio Sonata BWV 527 by J.S. Bach (1685 -1750) with Mr. Walsh on recorder. Bach Six Trio Sonatas BWV 525-530 began as pieces for organ but the temptation to arrange them for various combinations of instruments has proven irresistible over the centuries. Plucked strings on guitar and viola offered rich textures to the sustained musical lines of the recorder while bowed viola passages added even more color. The pacing was winning and the fluid communication among the players was very natural.
The second part of the program offered us more Bach: Air in G (also known as Air on a G String) on recorder and guitar and Bourrée, a lively dance in quadruple time with the guitar adding richness.
Ms. Migliozzi joined guitarist Acosta on Hungarian composer Béla Bartok (1881-1945) Romanian Dances, written in 1915 for piano. To my ear the first of the six dances had a bitter-sweet feeling in a Gypsy melody. The second was reminiscent of Jewish folk music. In the third piece Ms. Migliozzi played a reedy drone tone, one of the strangest sounds a viola can make, which was ornamented by both strummed and plucked guitar to form an eerie and exciting dance. By contrast, the rich, full sound in a slow romantic dance builds energy as it progresses. The fiddle tune that closed the set sounded like a hoedown. It was a brief but very exciting experience.
Stephen Walsh, who trained as a pianist, played a set of piano pieces in each section of the program. Three Lyric Pieces by Norwegian composer Edvard Grieg (1843 -1907) is lovely, lyrical music with just enough accidentals to keep listeners intrigued. The piano replaces the voice in short poems that are neither epic nor narrative yet deeply emotionally evocative. I have long listened to Grieg's piano poems on CD and on LP before that but live is even better! In sharp contrast, three selections from Robert Schumann's Waldscenen (Woodland Scenes) offers more surface drama than Grieg's music but failed to draw me in emotionally. Mr. Walsh played extremely well the pleasant, clever, entertaining music. I heard Schubert in the third section and read later that Schumann was much influenced by Schubert's short, lyrical pieces, but unlike his model, he failed to sustain my interest.
The program ended as it began with all three musicians playing a Baroque trio sonata. This time it was a fun-to-hear George Telemann Trio Sonata in A minor that was just right - a dessert for our summertime picnic. We are so pleased that the trio is still together making beautiful music.
Printable Version
More Chamber
Back to Top
Back to Review Index
Home &nbspCalendar &nbspAnnouncements &nbspIssues &nbspReviews &nbspArticles Contact Us