&nbsp&nbsp&nbsp&nbsp&nbsp Because we had a commitment to attend the Jason Dungee senior recital (reviewed in our last issue), we asked Andrey Kasparov, conductor of Creo to attend a rehearsal. He graciously agreed and we were able to see another composer working directly with performers including the mezzo-soprano Lisa Relaford Coston.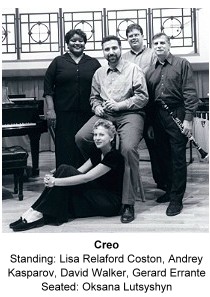 &nbsp&nbsp&nbsp&nbsp&nbsp Creo is the contemporary music ensemble in residence at ODU and gives two concerts each year in Chandler Hall. The guest conductor and composer for this program was Alicia Terzian from Argentina. Dr. Terzian studied composition with Alberto Ginastera at the Buenos Aires National Conservatory, from which she graduated in 1958. In 1962 she went to a monastery in Italy to study Armenian sacred music and later studied conducting.
&nbsp&nbsp&nbsp&nbsp&nbsp In 1978 Terzian founded Encuentros, a contemporary music group which plays Argentine avant-garde and other contemporary Latin-American music to audiences around the world. She has won many awards for her compositions and has been a professor at her alma mater the University of Buenos Aires.
&nbsp&nbsp&nbsp&nbsp&nbsp The first piece on the program was Yágua ya yúca (Tiger that kills) for percussion with recitations by the percussionist David Walker. This work is inspired by a closing ritual for carnival performed by two tribes of native peoples using masks of a bull, tiger and fox. "The work is dedicated to the Chiriguanos and the Chanes whose lives, among other native people, were sacrificed to building the Americas."(Information from program notes).
&nbsp&nbsp&nbsp&nbsp&nbsp This auditory canvas on which the listener can paint his own emotional reactions was very moving. The audience at the performance gave Mr. Walker a very enthusiastic response. Though at the rehearsal the composer seemed very displeased with the percussionist's work, this listener found it the most comprehensible and successful of her three pieces.
&nbsp&nbsp&nbsp&nbsp&nbsp Dr. Terzian conducted the ensemble in her composition Les yeux fertiles (The fertile eyes), commissioned by Radio France. This work is based on atonalism with "very personal microtonal melodic elements" and uses electronic procedures to project and generate sound transformations. Fragments of five poems by French surrealist poet Paul Eluard make up the text of this complex piece in which the vocalist is treated as another instrument.
&nbsp&nbsp&nbsp&nbsp&nbsp It opens with an a capella phrase "I cannot be known better than you know me..." The phrase is divided by instrumental music so that you get no sense of what is being said, even though the composer carefully taught Lisa Coston the nuances of delivering the vocal line. Once the music was added, syntax was obscured and it was apparent that this piece was not about setting words to enhance meaning.
&nbsp&nbsp&nbsp&nbsp&nbsp From the program booklet we learn that the second movemant starts with the melodic lines in the instrumental parts doubled by the humming of the instrumentalist. This section is then followed by a strident and violent development where the carefully nuanced text "Only one gust...to sweep the dust... to devastate the cultures...to down the birds...to destroy the fumes...to destruct the balance..." is literally yelled by the singer as the instrumentalists play fortissimo. The composer decided that the singer should be heard and a microphone was given to Ms. Coston so that the yelling was even louder.
&nbsp&nbsp&nbsp&nbsp&nbsp As the amplification was worked out group cohesion disintegrated and the singer used laughter as a foil for the absurdity of what they were about. At the end of this section the cacophony ends and you can once again relax into the text because the instrumentalists are quiet now. You hear "I have created you to the measure of my solitude. Our infinite solitude it has been long without a song...There is no longer any exit..." All of this in French. At the actual performance the audience found parts of the piece laughable.
&nbsp&nbsp&nbsp&nbsp&nbsp The musicians of Creo are versatile, flexible and can produce on demand the desired result for the composer. What they cannot be responsible for is how the music will be received by the listener. Perhaps the composer wished to give an experience of the pain and utter devastation spoken of in the poetry. A sort of late 20th century verisomo, perhaps?
&nbsp&nbsp&nbsp&nbsp&nbsp The instrumentalists for both pieces were F. Gerard Errante, clarinet; Leslie Fritelli, cello; Natalia Kouznetsova, violin; Oksana Lutsyshyn, piano; and Melissa Sinda, flute.
&nbsp&nbsp&nbsp&nbsp&nbsp The third piece was much more listenable. Voces is a collage of a few lines of poetry from Lorca, Neruda, Whitman and several others pieced together by the composer. The work includes an electronic tape, first appearing as background but growing to become very independent, obscuring the live music and destroying the clarity.
&nbsp&nbsp&nbsp&nbsp&nbsp Andrey Kasparov who conducted the piece is a genial person who shepherded the proceedings along. Dr. Terzian ran the tape recorder adding the pre-recorded material to the music created on stage. Two brief conversations will give the flavor of working with a composer versus the score alone. "Just take your time" as the composer waves her hand counting the beat. "But that's 45 mm" responds the conductor. "No, it's 50mm, just take your time."
&nbsp&nbsp&nbsp&nbsp&nbsp "Take off your ring and strike the strings with your hand flat" instructs the composer. "What about using a block instead?" The composer says no and goes on to instruct the pianist on the use of the pedal in great detail. Moments later, the full ensemble plays and the piano sound and all its detail is lost because of the electronic sounds on the tape.
&nbsp&nbsp&nbsp&nbsp&nbsp The piece began with a capella mezzo voice. Lisa Coston floats out a tone and as she finishes the clarinet repeats the phrase. This is followed by a touching lament. When she sings "What are the voices" the tape introduces the electronic voice sounds. This was very effective. Later in the piece the electronic tape sounds became very independent, obscured the live music and destroyed the clarity.
&nbsp&nbsp&nbsp&nbsp&nbsp A fragment of the Thin Man theme shows up in the Our Father lines followed by a jazzy "I can sing the saddest verses tonight..." The lines, from Beckett are recited while a brush creates the sound of mice in the piano. Then follows a decisive crescendo. Lovely melodic lines from Federico Garcia Lorca soothe the listener with piano and cello accompaniment to end the piece.
&nbsp&nbsp&nbsp&nbsp&nbsp There were bonuses for being at a rehearsal. Hearing the music more than once was helpful, seeing the room being tuned as drapes are opened to create the optimal sound-space, and of course seeing the intimacy of people working together to create music.
&nbsp&nbsp&nbsp&nbsp&nbsp In closing I want to acknowledge the two other very successful pieces on the program. Michal (2000) written by Andrey Kasparov (b. 1966) for solo clarinet and played by F. Gerard Errante. A modern piece using a wide range of sounds to create a vocalise for clarinet. In the quiet passages I am sure I heard two voices created by one player. We are hoping to hear this piece again.
&nbsp&nbsp&nbsp&nbsp&nbsp The other piece Miroir de Célestine (1990) a six-movement piece for percussion (David Walker) and harpsichord (Oksana Lutsyshyn), written by Maurice Ohana (1914-1992). The harpsichord often takes the role of a continuo that the percussion weaves around. These are delightful and for the most part light-hearted pieces. Watching the way the performers interacted was instructive and a pleasure.
&nbsp&nbsp&nbsp&nbsp&nbsp We are very fortunate to have a modern music group in our area, especially one of this level of accomplishment and we look forward to next season.
Back to Top
Printer Friendly Format
Lisa Relaford Coston and Creo
At Prince of Peace
&nbsp&nbsp&nbsp&nbsp&nbsp Creo, the Contempoary Music Ensemble at Old Dominion University, gave a concert at Prince of Peace Lutheran Church in Virginia Beach on October 20, 2002. This was the second in a series of six free concerts sponsored by the church.
&nbsp&nbsp&nbsp&nbsp&nbsp Lisa Coston reprised a song cycle, Girl-Butterfly-Girl, that she sang last December at Creo's concert at ODU's Chandler Hall. This lovely cycle of four songs is by Tsippi Fleischer (b.1946), a very courageous and creative Israeli woman composer who has chosen to set poetry by Lebanese and Syrian poets in Arabic/Hebrew/English. Courageous, because even to acknowledge the humanity of "the enemy" is a political statement in the Mid-East today. Lisa Coston chose to sing the piece in Arabic with its hard guttural "h" and throat clearing rolled "r's." This is "Fleischer's most performed work" for which she won the Prime Minister's Award. "The work is based on Arabic scales (magamat) which are selected by a principal of common intervalic structure. These scales strongly influence both melodic and harmonic language of the piece." (Quote from program notes).
&nbsp&nbsp&nbsp&nbsp&nbsp In the first three songs the singer is accompanied by alto flute (Melissa Sinda) and piano (Oksana Lutsyshyn). In the fourth song, the a capella Girl-Butterfly-Girl, it is a challenge to locate notes, "A girl who dreamed she was a butterfly or a butterfly dreaming that it was a girl..."
&nbsp&nbsp&nbsp&nbsp&nbsp Three other pieces on the program were for percussion. David Walker played multiple percussion instruments in William Kraft's (b.1923) French Suite: II Courrante and IV Gigue. This is every exciting music, unique in that it is a melodic composition done with unpitched percussion instruments. David Walker brought the piece to life through his excellent playing.
&nbsp&nbsp&nbsp&nbsp&nbsp Mr. Walker was joined by Bryan Maurer and Joey Drummond in John Cage's (1912-1992) Trio for Three Percussion Players: Allegro, March, Waltz, conducted by Andrey Kasparov. John Cage grew up in Los Angeles and studied with Henry Cowell and Arnold Schoenberg, who told Cage that he had "no gift for harmony." To make up for this deficiency Cage created music of great originality, including inventing the prepared piano, formal structures based entirely on rhythm, and using ambient noise and silence as sound sources in his compositions. The March is a sophisticated piece using tone color very sparingly, the opposite of the usual all-stops-out march music. Waltz is a very quiet piece that fades away rather than ends.
&nbsp&nbsp&nbsp&nbsp&nbsp The third percussion piece Variations on a Ghanian Theme by Dan Levitan (b.1953) is a complex piece for all three fine young percussionists. An African cowbell was added to the drums to explore many of the rhythms one might hear in Ghana.
&nbsp&nbsp&nbsp&nbsp&nbsp Andrey Kasparov (b.1966) composed the solo piano piece on this program Sonata No.1 "in tre canti ostinati". An ostinato is a persistently repeated figure, motive or phrase. The composer uses the principle of ostinato in the soprano voice in the first movement, tenor ostinato in the second and bass ostinato in the third. This fiendishly difficult music was exceptionally well played by Oksana Lutsyshyn who is married to the composer.
&nbsp&nbsp&nbsp&nbsp&nbsp In the third movement the ostinato is a deep rumble which goes on at a dizzying pace. Its seriousness sets it apart from the showy display of a Chopin or Liszt. There is so much sorrow in this music. The mood brightens as the pace slows in the right hand but the bass ostinato returns to bring the piece to a somber close.
Back to Top
Printer Friendly Format
Creo's Winning Contemporary Music Recital
&nbsp&nbsp&nbsp&nbsp&nbsp Picture a stage, bare except for a lithe female seated on a chair playing a cello and you will have an image of the experience of Tanya Anisimova playing Bach's Sonata No.1 in G Minor for solo violin, BWV 1001. Imagining the sound of the music is more difficult to conjure. Ms. Anisimova arranged this violin piece for cello. Creatively she has re-imagined this familiar piece as Bach might have written it had he all the resources of the contemporary cello. The concert at Chandler Hall, December 2, 2002 also featured Song on Mt. San Angelo, a solo piece written by Ms. Anisimova (b.1966) as part of a project while a resident at the Virginia Center for Creative Arts housed at Mt. San Angelo, an estate in Northern Virginia. Most impressive in this two-part composition, which makes extensive use of double stops, is the second section's somber, deeply moving beauty and richness with a second and third voice created on a solo instrument.
&nbsp&nbsp&nbsp&nbsp&nbsp Andrey Kasparov, director of Creo and Tanya Anisimova attended high school together in Moscow. For many years they had lost contact but with Anisimova now living near Charlottesville with her husband, the Russian painter Alexander Anufriev, they have renewed their friendship. Kasparov founded the ensemble Creo in 1998 ("creo" is the Latin root for "create," "creative," etc.) to present innovative, creative music composed mainly after 1945, as well as other 20th century works. Recent performances have included four concerts at the Society of Composers Inc. Conference and the American premières of numerous works at the Music From Serbia project. Last fall Creo performed several concerts at the University of Iowa, Iowa City.
&nbsp&nbsp&nbsp&nbsp&nbsp The program opened with two selections from Elliott Carter's (b.1908) Eight Pieces for Four Timpani. The elegant, even quiet piece VIII. March used silences very effectively and the fine percussionist David Walker very effectively created different timbres playing on different places on the drums. In VII. Canaries, the sound spectrum was very different, louder and more intense. Sounding a single stroke and letting wonderful overtones interact with the continuing musical line was very moving. This piece expressed sadness and later anger.
&nbsp&nbsp&nbsp&nbsp&nbsp The first vocal piece, Elegy "an den Knaben Ellis" (1990) written by Ashot Zograbyan (b. 1945) was performed by F. Gerard Errante, clarinet; Sungzhin Peter Lee, cello; Lisa Relaford Coston, mezzo-soprano; Oksana Lutsysyhn, piano; Andrey Kasparov conducting. The song To the Boy Ellis was composed on a text by the German poet-symbolist Georg Trakel (1887-1914). Ellis, long dead, has been carried beyond the realm of time into the psychic energy of the poet who uses images from nature (blackbirds, dark forest, blue coolness of a mountain stream, rich purple grapes and the gold of a dying star) to bring a vivid sense of the dead boy to the listener. It is a strange soundscape. Detached, cool, disembodied vocal and instrumental sounds float through and disappear. The clarinet pursues its own path, almost a contra voice to the others. The song ends with a fine, thin cello sound that fades way.
&nbsp&nbsp&nbsp&nbsp&nbsp After intermission percussionist David Walker played for us a marimba solo Prism (1986) by Keiko Abe (b.1937), a Japanese percussionist and composer and one of the world's best known marimba players and teachers. From the program notes, Abe is quoted: "I wanted to write a study for concerts which gave life to the instrument, using a two-mallet technique only. The process of creating my own two-mallet piece ... was an enjoyable one, and I jotted down as many characteristic marimba melodies as came to mind." With a very precise technique, the music gave a sense of a juggler dancing through many fragments of tunes.
&nbsp&nbsp&nbsp&nbsp&nbsp Ms. Anisimova returned to play a piece written for her by Ezra Laderman (b.1924) at Yale, Single Voice (1993). It is a highly structured improvisation and was performed by her with great freedom. As with much modern music, it is an assemblage of musical statements. With Ms. Anisimova playing it became a virtuosic showpiece.
&nbsp&nbsp&nbsp&nbsp&nbsp Lisa Relaford Coston sang Sappho Fragments , set by composer Steven Stucky (b.1949) and first performed in 1982. This song cycle is set to text found on strips of papyrus as single words, short phrases and isolated syllables, later pieced together. These brief words create in the listener independent images. The writer invites the muses to herself as a sensual exploration, only to be overwhelmed by the experience of love, once she has opened herself. The last fragment reads "Now in my heart I see clearly a beautiful face, shining, etched by love." It was a woman's face. There is wonderful word-painting in the music. Especially impressive was the musical line shattering as the singer sang "love shattered my heart." This cycle, performed without pause, contains exciting, intimate and intense whisper-like singing, fast passages, and remote passages, all of which contributed to music that left this listener filled with joy. The ensemble included Tanya Anisimova, cello; F.Gerard Errante, clarinet; Natalia Kouznetsova, violin; Oksana Lutsyshyn, piano; Melissa Sinda, flute. High praise for grand music-making is deserved by all these wonderful performers.
Back to Top
Printer friendly format
More Creo
Back to Review Index
Home &nbspCalendar &nbspAnnouncements &nbspIssues &nbspReviews &nbspArticles Contact Us